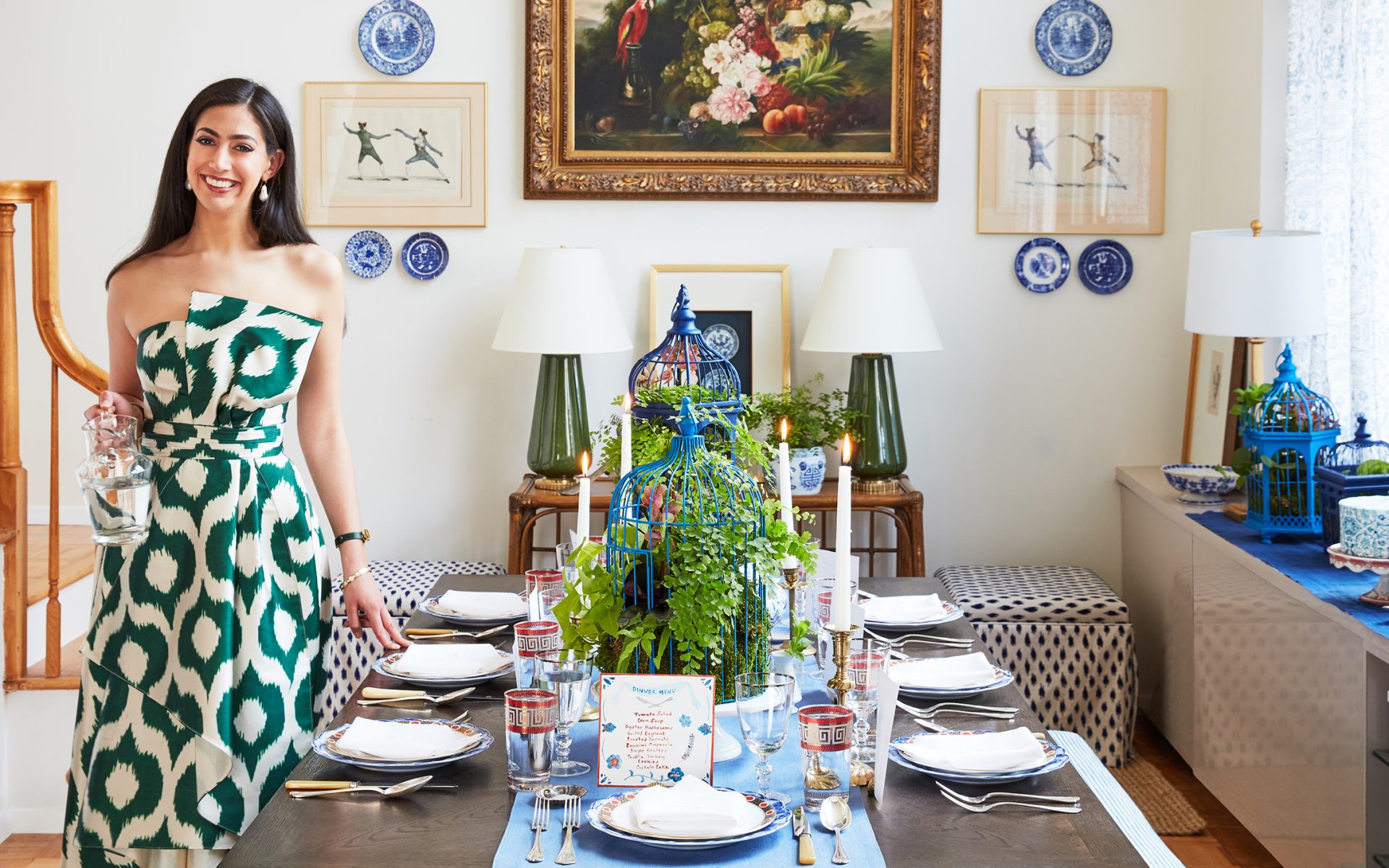 7 Tips for Entertaining from the Culinary Influencer Known as 'Chefanie'
Nass lets us in on her secrets to making entertaining easy
Pastry chef and culinary influencer Stephanie Nass knows a thing or two about how to throw a party. Nass is the founder of the Victory Club, a roving art-inspired supper club, and Chefanie, her wildly successful cake-decorating venture that uses elegant motifs printed on edible paper to transform cakes. She's created confections for Tory Burch, Sam Edelman, Aerin Lauder, and Brooks Brothers. And don't try to hire her to cater an event during Fashion Week—she's booked solid. Ahead of her event at the Green Thumb in Watermill on Saturday, August 18, where she'll be sharing tips on entertaining, we took some time with Nass to gather her wisdom on hosting the perfect summer soiree. Here are a few choice selections from our chat.
1. Pick a Few Foods You Can Make in Advance 
A chilled soup ("Asparagus soup is one of my favorite summer go-tos") or a pasta salad can be made the day before a party and limit stress the day of.  For dessert, "you can make your sponge cake a day or two in advance and it will be fine," Nass says. "You can even forget the frosting and just serve it with layers of whipped cream and fruit. Cake doesn't need to be fussy."
2. Ditch the Bar for a Signature Cocktail
"Having a bar adds an unnecessary level of complication," Nass says. She advises picking a signature cocktail for the evening, along with wine or champagne. Nass likes to put out bottles of wine on the dinner table, so guests can fill their glasses when they like. "I also like to greet people with a flute of champagne when they arrive," she adds. "It makes them feel like the party's started right away. That way there's no awkward lull."
Recommended: Star Chef Zak Pelaccio Teams Up with Sculptor Kris Perry for a Festival that Blends Art and Cooking
3. Consider Dietary Restrictions
Instead of singling any one of your guests out and making them something different than what the rest of the party is eating, Nass suggests making a variety of options that could work for different diets. "If you usually use chicken stock in a soup, consider making it with a vegetable stock that vegetarian or vegan guests could enjoy too. Make sure every guest gets to feel spoiled." An added bonus: no extra cooking for the host.
4. Set the Table Ahead of Time 
You can have a table set a few days out and just add details, like fresh flowers, right before the event, Nass says. "I could drive myself crazy worrying about fussy table settings, but I want there to be a relaxed, happy vibe for the summer."
5. Take the Stress Out of Cake Decorating 
If you do want to wow your guests with a showstopper dessert, consider grabbing some of Nass's Chefanie sheets. They start at $15 and take minutes to apply. You can even get them with custom designs, if you've got something special in mind.
6. Put Thought into Seating 
Nass recommends considering your guests' shared interests or business connections when putting together a seating chart. Are two of your guests opera enthusiasts? Are there people who work in the same field? This type of consideration can help ensure lively conversations throughout the meal. "I do always try and seat the person who's traveled the farthest next to me," Nass adds.
7. Personal Touches Make the Evening Special
Instead of typing up place cards or menus, Nass uses watercolors to hand-paint them. "I started doing it a few years ago," she says. "There's something magical about the human touch of it." She also serves warm bite-size chocolate chip cookies after the entrée has been cleared but before dessert has been served. "It keeps everyone happy and the conversation lively while I get the plated dessert ready."
Next Post