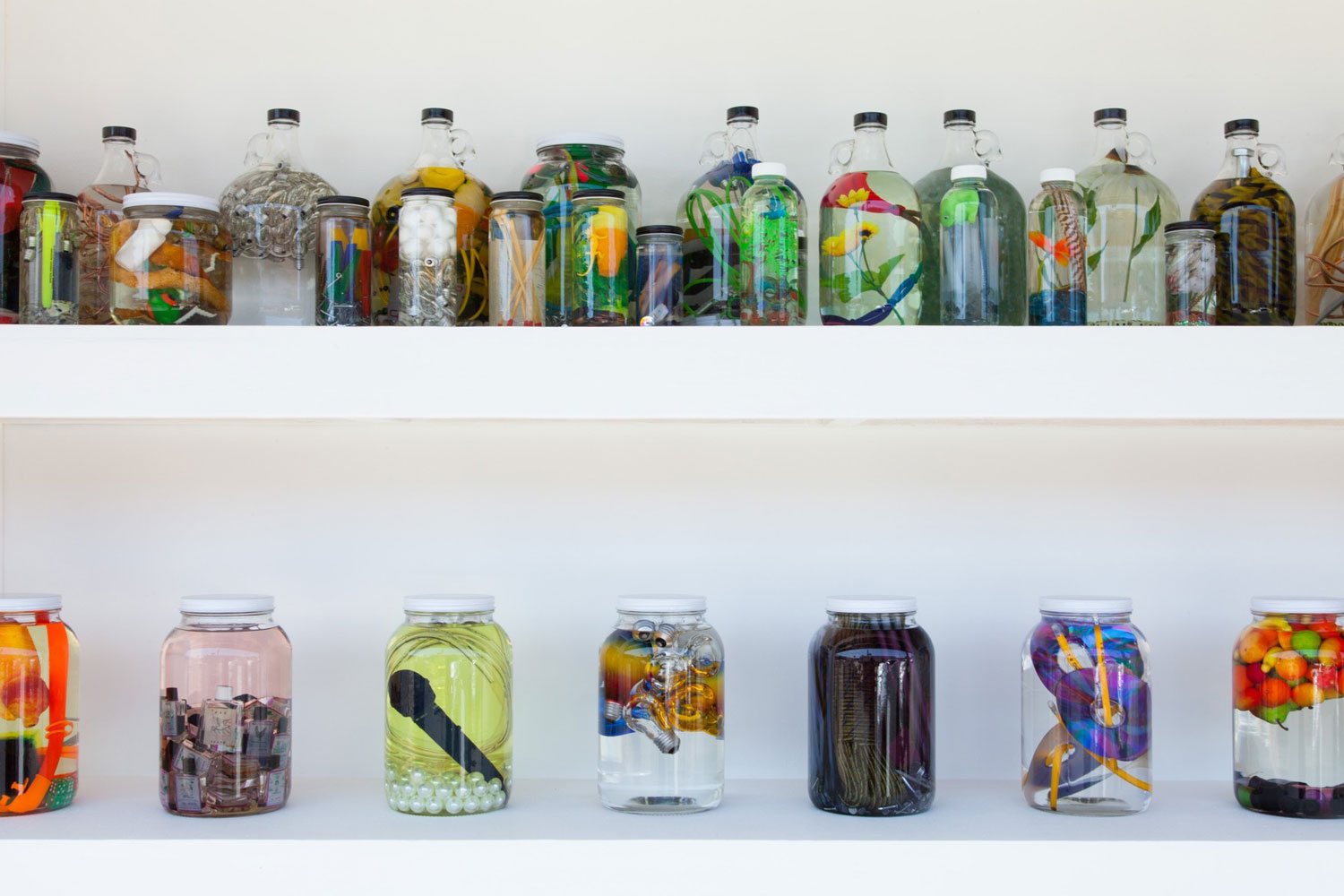 Stefan Simchowitz's New Project Transforms a Newsstand into a Sidewalk Potion Shop
The art patron hopes that other gallerists in L.A. will copy his model
A once abandoned newsstand in Los Angeles is now a sidewalk potion shop. "Astral Oracles" is an exhibition of supernatural concoctions by the artist and practicing witch Lazaros. Lining the shelves that used to display magazines are glass jugs filled with colorful, talismanic objects—flowers, coins, and house keys among them—layered and suspended in clear oils. For the duration of the show, which is presented by gallerist Michael Thibault and is up through September 5, the artist will be on hand on Fridays and through the weekend (from 10 a.m. to 2 p.m.) to prescribe a cure for every malady, whether you need a potion to conjure love, happiness, or clarity.
"Astral Oracles" is the inaugural show of dealer Stefan Simchowitz's aptly named Newsstand Project, the newly opened exhibition space that now occupies the former kiosk on the corner of Beverly Boulevard and Kings Road. "I wasn't looking for a project space," Simchowitz told Galerie in a recent phone interview. Earlier this year, however, as he walked past the shuttered newsstand, he saw that it had all the amenities a gallerist would kill for: minimal overhead, low rent, and the consistent foot traffic of patrons traveling between coffee shops and Pilates studios.
It's no secret that amid rising real estate costs and dwindling foot traffic, emerging and midlevel galleries are struggling to keep their doors open. To keep contemporary art afloat, "you have to find low-cost, high-impact solutions," said Simchowitz, a dealer and art patron known for his outsize social media presence and his disruptive approach to the market, especially concerning his conduct with the emerging artists he supports. (In 2014, the New York Times even dubbed him the art world's 'Patron Satan.')
"I play this game in my head where I take the annual operating cost of an institution and I divide it by the number of people who visit," he said. "It's $80 to $120 for an experience. I've always been fascinated by this idea of how you reduce that cost of a user experience dramatically."
Recommended: The Ultimate Art Guide to Los Angeles
The plan for the Newsstand Project is a low-investment, clear-eyed proposal to diverge from an ailing gallery system. A rotating cast of collaborators, including galleries and institutions, can occupy the space, and the artists themselves can more deeply engage with the public by manning the newsstand themselves—but only during strategic hours. ("You can save money on staffing by going online and seeing when the restaurant next door is busy," said Simchowitz.)
On a recent Sunday, during the brunch rush of the nearby Kings Road Cafe, Lazaros was on hand during the newsstand's buzzy grand opening to walk visitors through his work: The metal ingredients of his potions ward off evil, he explained, while the array of colors inside give off different vibrational energies.
"Do you have one that helps with road rage?" one visitor asked.
"I could make you one," the artist replied. "I make custom works all the time."
Thibault reported "strong sales" throughout the day, but Simchowitz says that isn't the goal of the Newsstand Project. "It's a mechanism to engage," he said. "If we don't sell something, fine. If we do sell something, fine. The best-case scenario is that we keep doing shows and it engages people. There are hundreds of newsstands in L.A. alone. I hope people will copy me."
Next Post