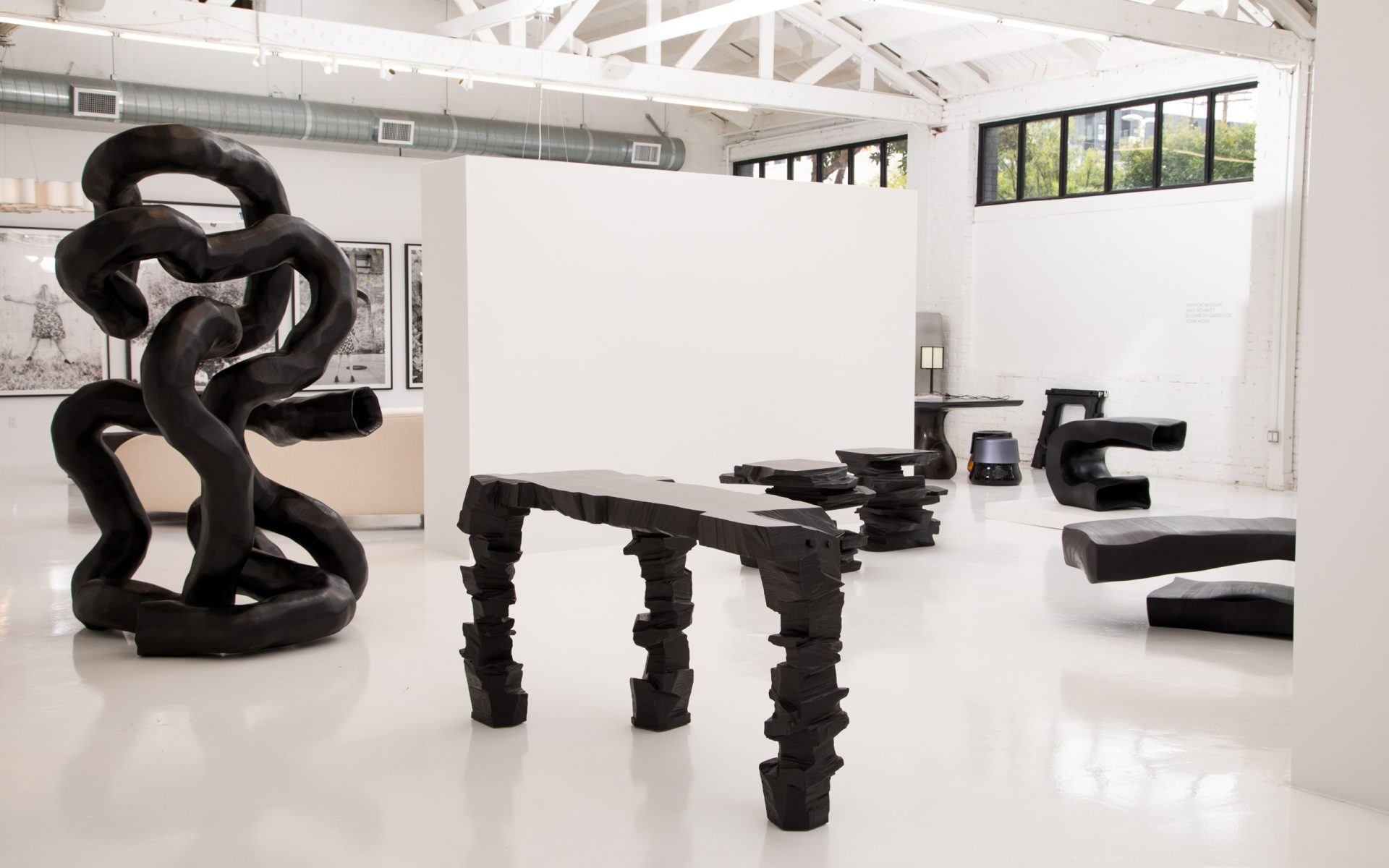 Stefan Bishop Debuts Dynamic New Work at Ralph Pucci in Los Angeles
The Oregon-born designer taps his subconscious to create sculptural jet-black furnishings
For designer Stefan Bishop, inspiration for his sculptural furnishings strikes when he's in his cavernous Los Angeles studio and fully engulfed in the process of working with his hands. "That's when my mind has gone offline," he tells Galerie. "Shapes jump out at me, and then things start to percolate."
In his current show at Ralph Pucci's L.A. gallery, open by appointment, Bishop has turned these creative impulses into a bold new series of consoles, shelves, tables, and mirrors. Raised in southern Oregon, the designer notices forms that spring from his subconscious reflect the woodland surroundings of his childhood. "What's interesting is that pretty much all of my work stems back to shapes that are tied to archetypal images found in nature," he says.
Although each of the eight pieces on view sports a bewitching black char, they are in fact part of two distinct collections. One of the initial works Bishop created for the show was a large shelf with a jagged face resembling a craggy cliff, part of the Calescent series. "When Ralph saw it for the first time, he thought it looked like stacked embers from a fire—it has a very rugged, dark, heavy textural quality to it."
Recommended: Meet the Ceramist Creating Tableware for Michelin-Starred Restaurants
The second line, called Zoetic, "describes something that is alive or vital—and so these pieces have this creature-like element to them," he says. Among the creations in this collection are a sinuous cocktail table with flowing lines that bends almost like a crowbar and a large-scale twisting sculpture that follows an intestine-like tract. "The massive serpentine piece is the only one that's purely sculptural," says Bishop of the latter work. "It's the largest one and consists of 350 separate pieces of wood to give it a long coiling snakelike figure."
In addition to their environmental references, both collections are tied together through Bishop's complex construction process, which begins with planks of ash, walnut, and poplar woods. They are then stacked or shaped and laminated, after which they are lightly charred and subsequently dyed black with pure India ink. "It creates a deeper rich black," he explains. "The last step is to finish them with a top coat of varnish or wax."
Bishop says the most challenging part of his process is having more ideas than he has time to realize. "They're all very labor-intensive pieces. And even though I have assistants to help it's still a slow-moving machine, and I'm constantly editing down what I'm going to work on next so there aren't any bottlenecks."
A forthcoming show that had been scheduled for May at Pucci's New York outpost has been canceled for the time being, but Bishop is still spending time during the quarantine working on pieces in his Glassell Park workshop. "I am going to riff on the Calescent series for a number of things in New York," he says. "I love it when my work messes with the elements—when something made out of wood looks like stone or something bronze resembles a puddle of liquid. I'm constantly seeking that sort of crossover."
RALPH PUCCI Presents Stefan Bishop from chris fortuna on Vimeo.
Stefan Bishop's show is currently open by appointment only at Ralph Pucci in Los Angeles, 1025 North McCadden Place. 
Next Post