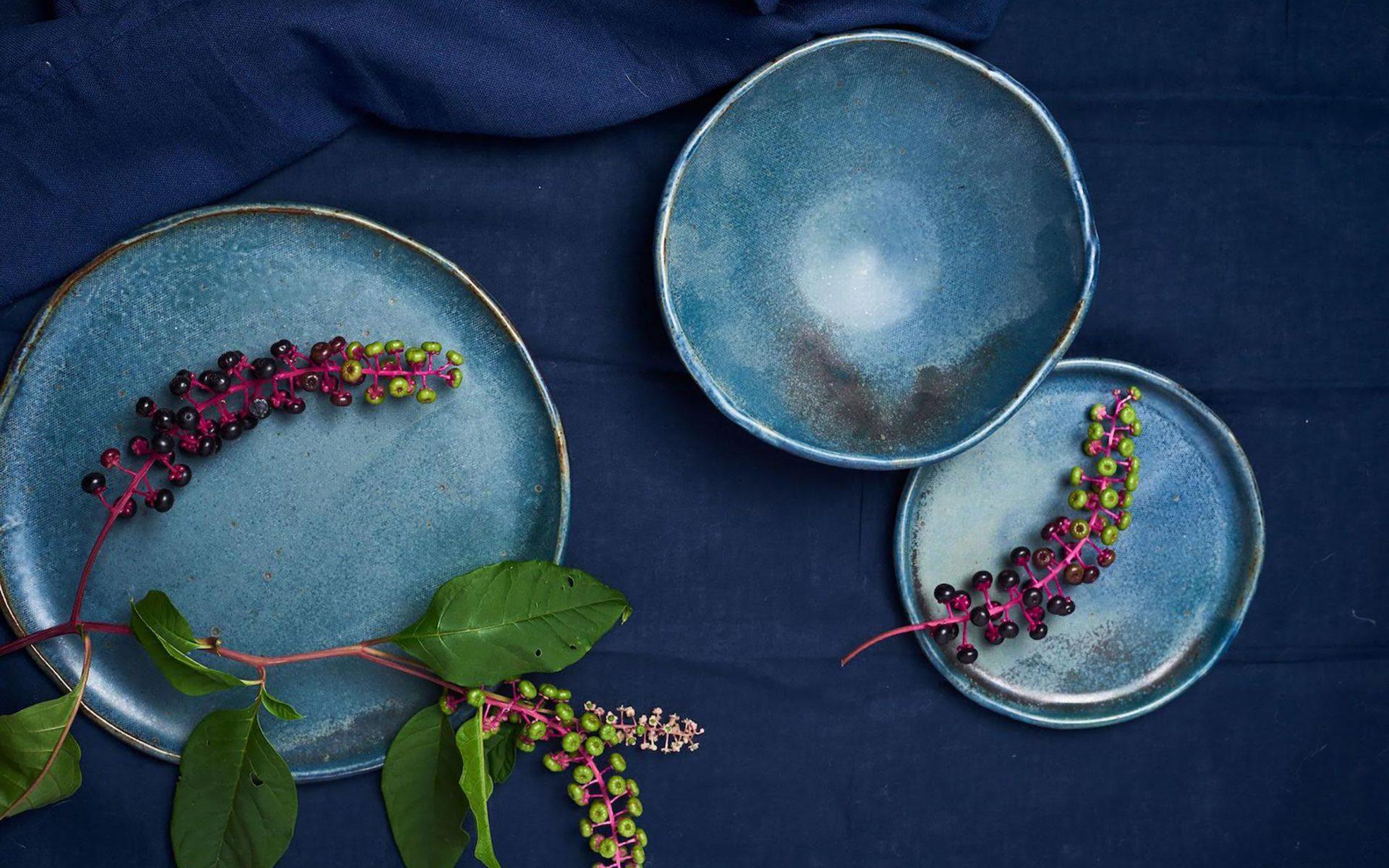 Meet the Ceramist Creating Tableware for Michelin-Starred Restaurants
Connor McGinn Studios, which just introduced an online shop, is behind the luminous plates at Goodman's Bar and Blue Hill at Stone Barns
Top New York restaurants like Goodman's Bar at Bergdorf Goodman, Blue Hill at Stone Barns, and Willow by Charlie Palmer in Rhinebeck draw guests from around the world for the epicurean experience by a Michelin-starred chef. But it's the craftsmanship of Connor McGinn and his artful plates that elevate the dishes to another level.
Based in Tarrytown, New York, the ceramist creates the sculptural dishes that he refers to as "a canvas for food," and his experiments in glazes, firing, and cooling have made those backdrops as Instagram-worthy as the meals themselves.
While McGinn never intended to make a career in the arts, his interest started when he enrolled in a college ceramics course as elective and kept signing up every semester. "There was never any intention of doing anything with it professionally," he recalls. "It was something that was a reprieve from stats and economics classes and a way for me to meditate in a way, too, to either let my mind wander or focus."
Following graduation, McGinn joined the Peace Corps and worked as a small business development adviser in Togo for two years, working with artisans and farmers in rural West Africa. A friend stationed in an African village of potters exposed him to another way of making and firing. "Everything they did was just fascinating to me because it was completely different than anything that I'd ever learned," he recalls.
McGinn's career path then took another wild turn when he translated his cooking hobby into an occupation, joining some friends who had worked in several Danny Meyer restaurants before opening Restaurant North in Westchester, New York. There, his worlds collided: The culinary team asked him to create unique, handmade plates for an upcoming second eatery. "Looking down the barrel of a career in kitchens is daunting," he says. "Even done in the most thoughtful, strategic way possible, it is a pretty grueling lifestyle, so looking for different options, this one fell into my lap."
Recommended: Where to Find New York's Most Artful Desserts
McGinn left his sous-chef post to concentrate on ceramics while bartending on the side, which lead to a second commission for original restaurant plates. Just over a year ago, he opened his own studio space in Tarrytown.
Hospitality is front and center in all of his designs, both in the aesthetics of presenting food and the surfaces necessary for creating an appetizing dining experience. Where his first designs were uniform, they were also uninspiringly plain. "I reevaluated my whole process and tried to take a step back and figure out how to keep that consistency that is necessary for pieces to be functional in a restaurant but also make them each unique."
The boundaries of McGinn's designs have been pushed by his collaborations with chefs, including the team at celebrated farm-to-table restaurant Blue Hill at Stone Barns, which regularly tasks the ceramist with making something that hasn't been made before. "They're just constantly innovating and constantly creating new dishes; they're at the peak of innovation in the food world," says McGinn. "Situations like that are at first frustrating because you expect there to be some sort of boundaries or guidance, but once I've gotten used to that relationship, it's been really rewarding and really challenging at the same time because you have to come up with these really unique ideas."
With most restaurants in a holding pattern during the COVID-19 pandemic, McGinn has found new ways to keep the studio going and is using the days at home to explore new techniques. To adapt in the current climate, McGinn introduced an online marketplace to offer unique tableware to those looking to create a restaurant-like experience at home. He's also started upcycling scrap clay into decorative tiles for a kitchen backsplash and shower he's building inside the coworking studio Makers Central. And finally, he's dabbling in translucent porcelain lighting. "These are all little pet projects that I've been wanting to explore but haven't had the time for—until now."
Next Post