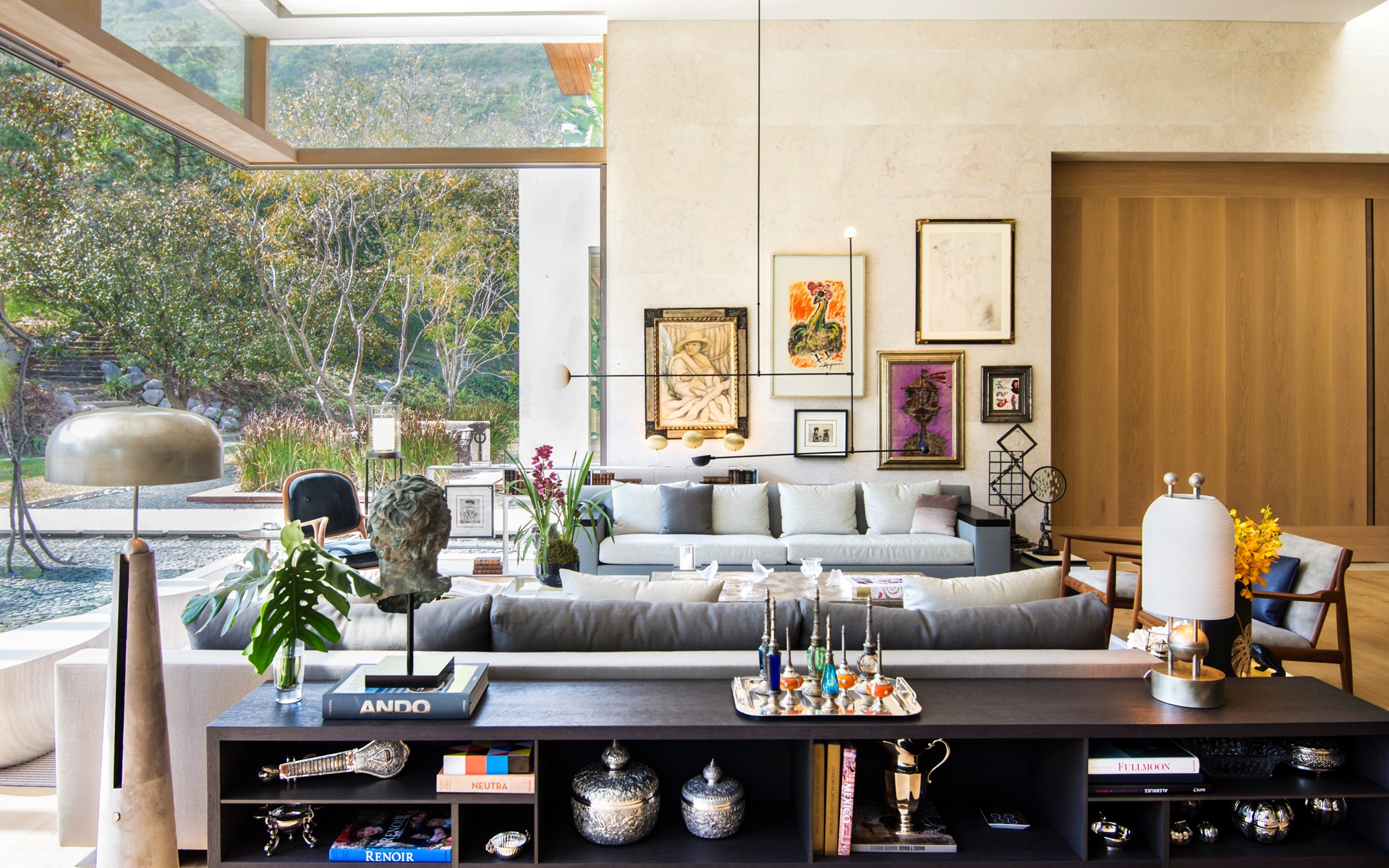 Simon Hamui Crafts a Contemporary Mexican Villa Filled with Dynamic Artworks
Completed in collaboration with Gantous Arquitectos, the bright and airy residence features intriguing pieces by Javier Marin, Gabriel de la Mora, and Xawery Wolski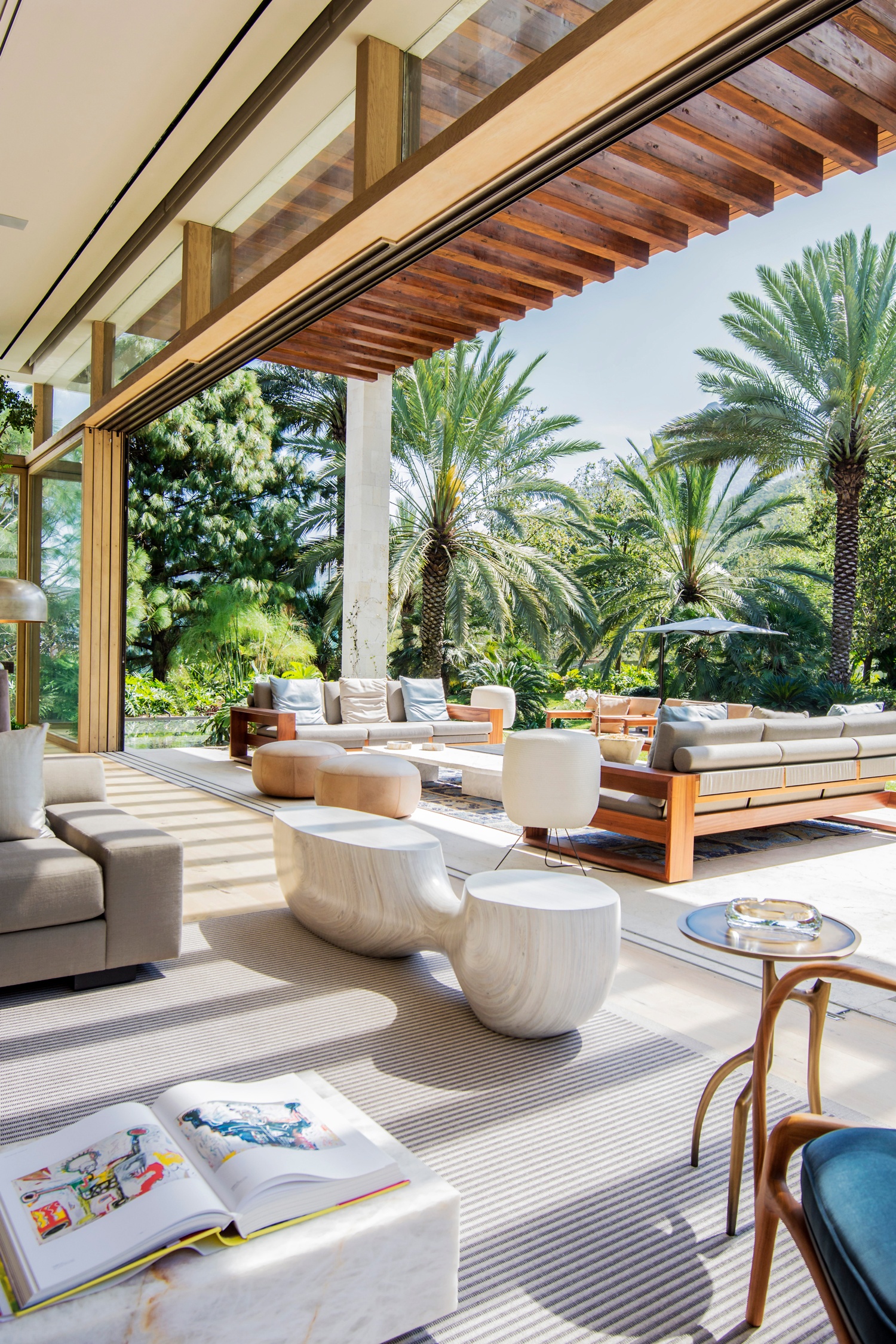 For designer Simon Hamui, updating a contemporary mountainside villa in Mexico for a pair of repeat clients was a prime opportunity to create a soulful escape filled with custom furnishings and eclectic works of art. But the first order of business was reworking the proportions of the two-story home, which—despite its recent construction—required more natural light and substantial floor plan alterations. "They wanted to create a much warmer environment," the Mexico City–based talent tells Galerie. "So we installed big windows that opened up to the garden as much as possible and improved flow by integrating and expanding many of the interior areas."
The most noticeable change is the transitional space from main living room to outdoor garden, which features a veranda crowned with a trellis that produces a striking interplay of light and shadow. "The idea was to mend the two areas together," explains Hamui, who began his practice in 1991 crafting bespoke furnishings before expanding the business to include interiors. "We looked at using pieces for the outside that also had an indoor feeling, so when the spaces opened up they would tie together."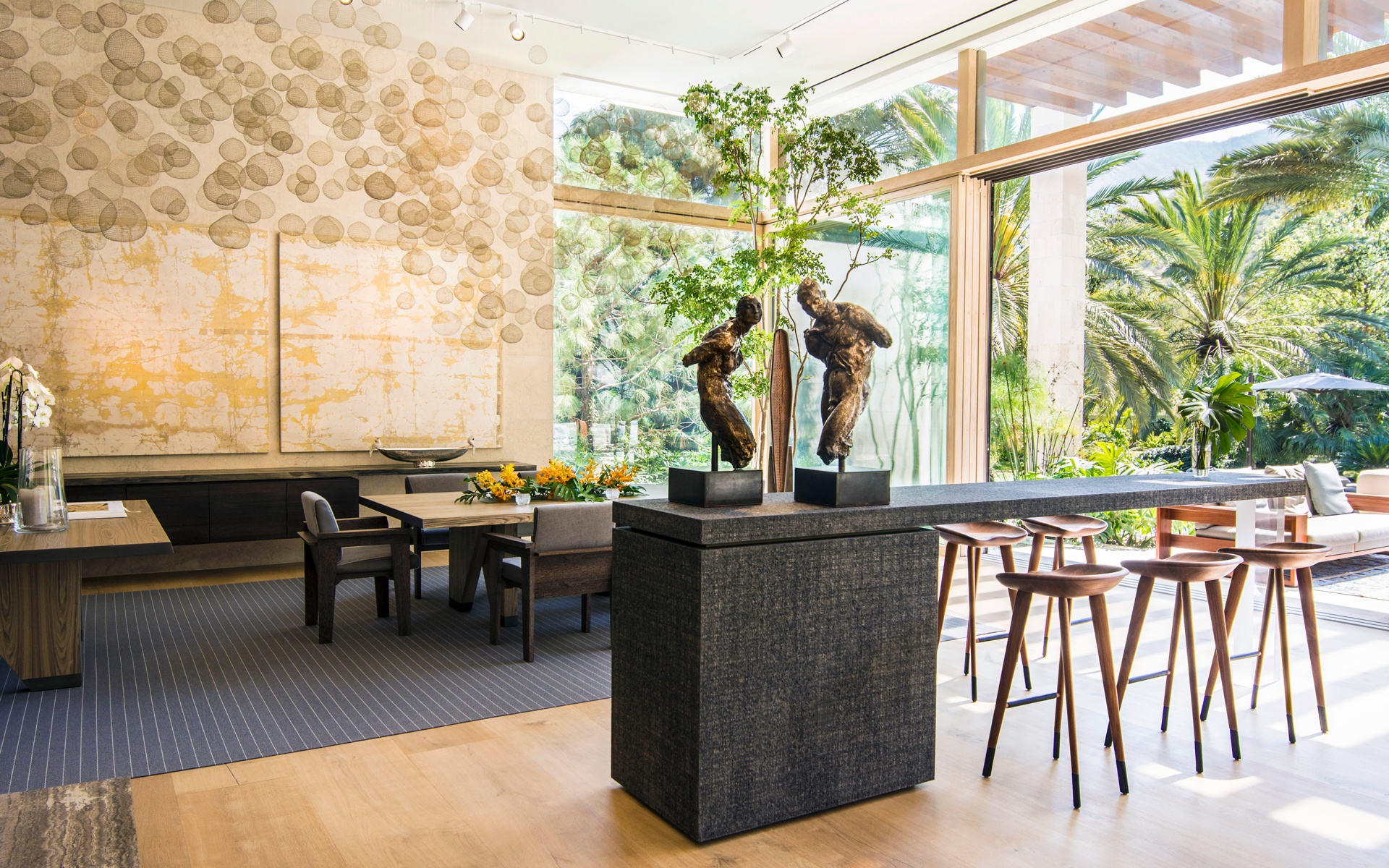 True to Hamui's serene aesthetic, which favors a palette of earthy colors, the expansive living area features muted tones in the form of white-oak floors and creamy stonework. "I always incorporate natural elements because I like the richness, character, and what they bring into an environment," he adds. Providing bursts of energy are a silvery Ingrid Donat cocktail table as well as a gallery wall of intriguing pieces that were already in the clients' collection.
The area flows into the dining room, separated by a massive ocean-block travertine fireplace custom designed by Hamui and adorned with blacked-steel accents. "The idea was to have a fire feature in the center of the main space so it was exposed on all sides," he says. Among the other bespoke furnishings are the area's dining table, bar, and buffet—and he also conceived a show-stopping wine room encased in glass.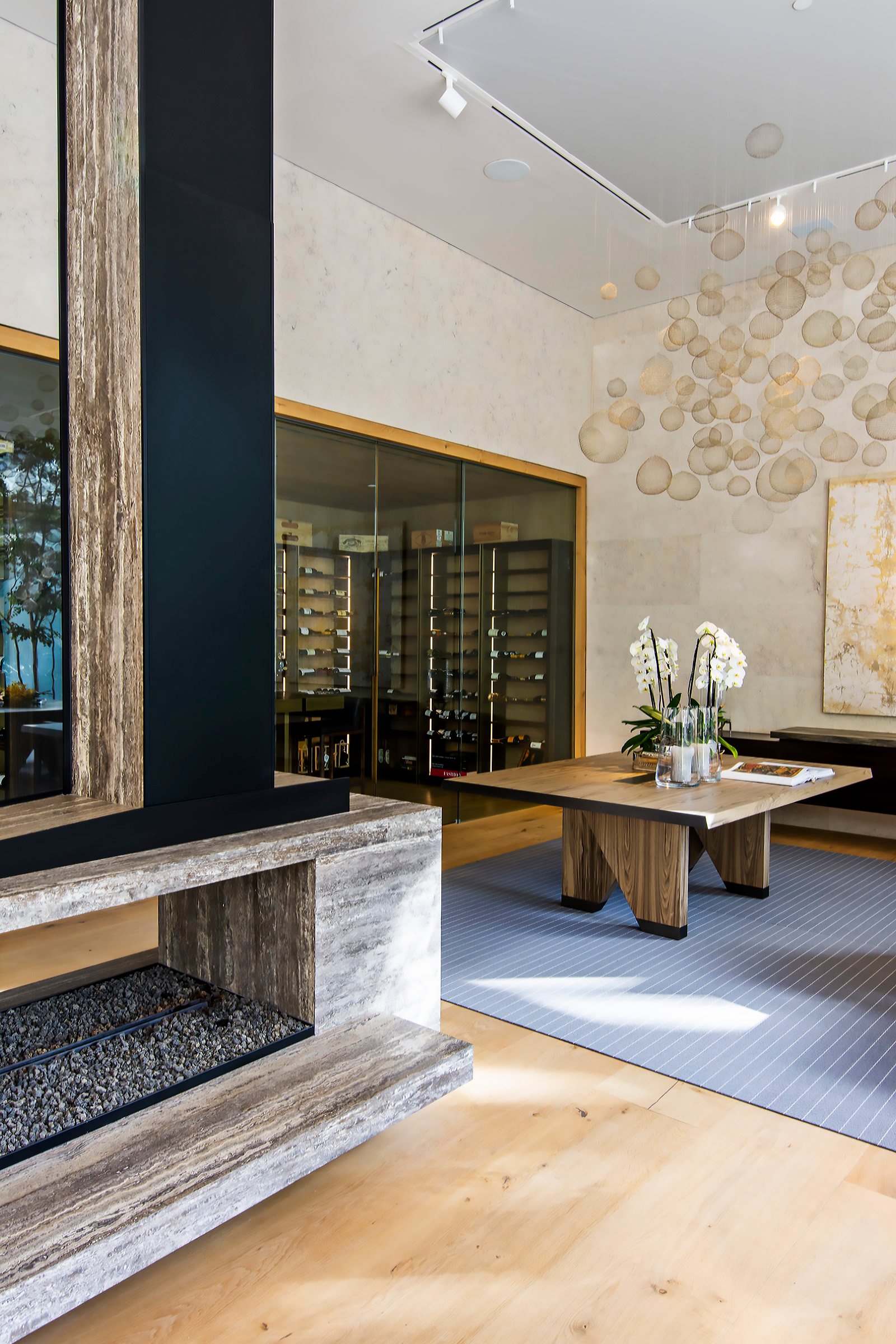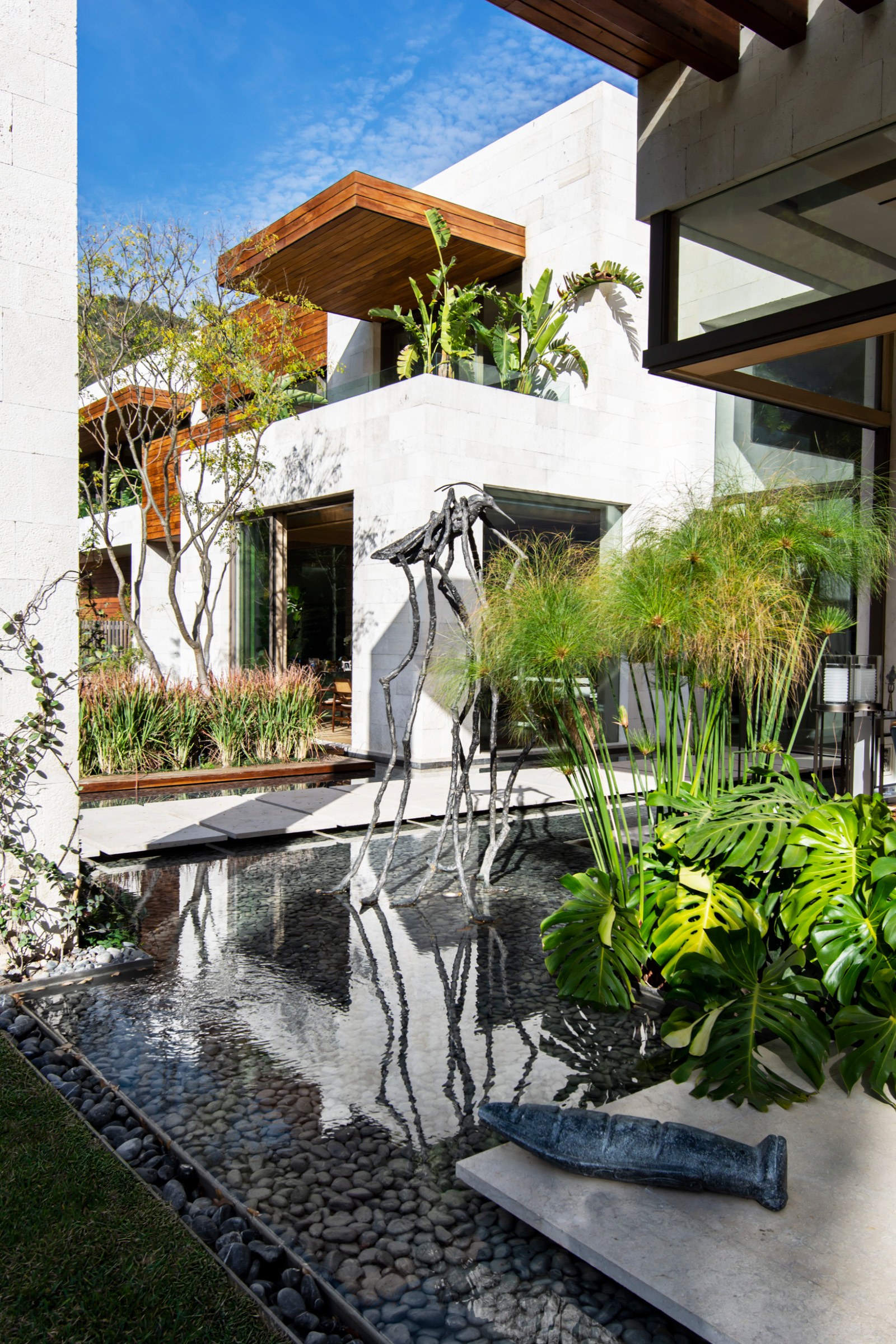 In addition to utilizing the existing works of art, Hamui assembled perhaps the most symbiotic pairing in the dining room, which features two canvases by Gabriel de la Mora and a hanging installation by Xawery Wolski. Also based in Mexico City, de la Mora is known for conjuring thought-provoking works rendered in a variety of unlikely media. The pieces on the wall, for instance, are plaster canvases recovered from the ceilings of old Mexican houses about to be torn down. "Gabriel has this method of bringing new life into objects that have a history," says Hamui. Another textured work by the artist created out of discarded shoe soles hangs in the entryway. "They beautifully reflect the passing of time."
To accompany de la Mora's canvases, Hamui sought a special commission from Wolski, a Polish-born sculptor whom he discovered during Milan Design Week. The resulting installation floats above the dining table, comprising a series of thin-wire globes that reflect the track lighting above. "They are almost like embroidery," notes Hamui. "We were looking for a dialogue of art—something that could coexist with one another."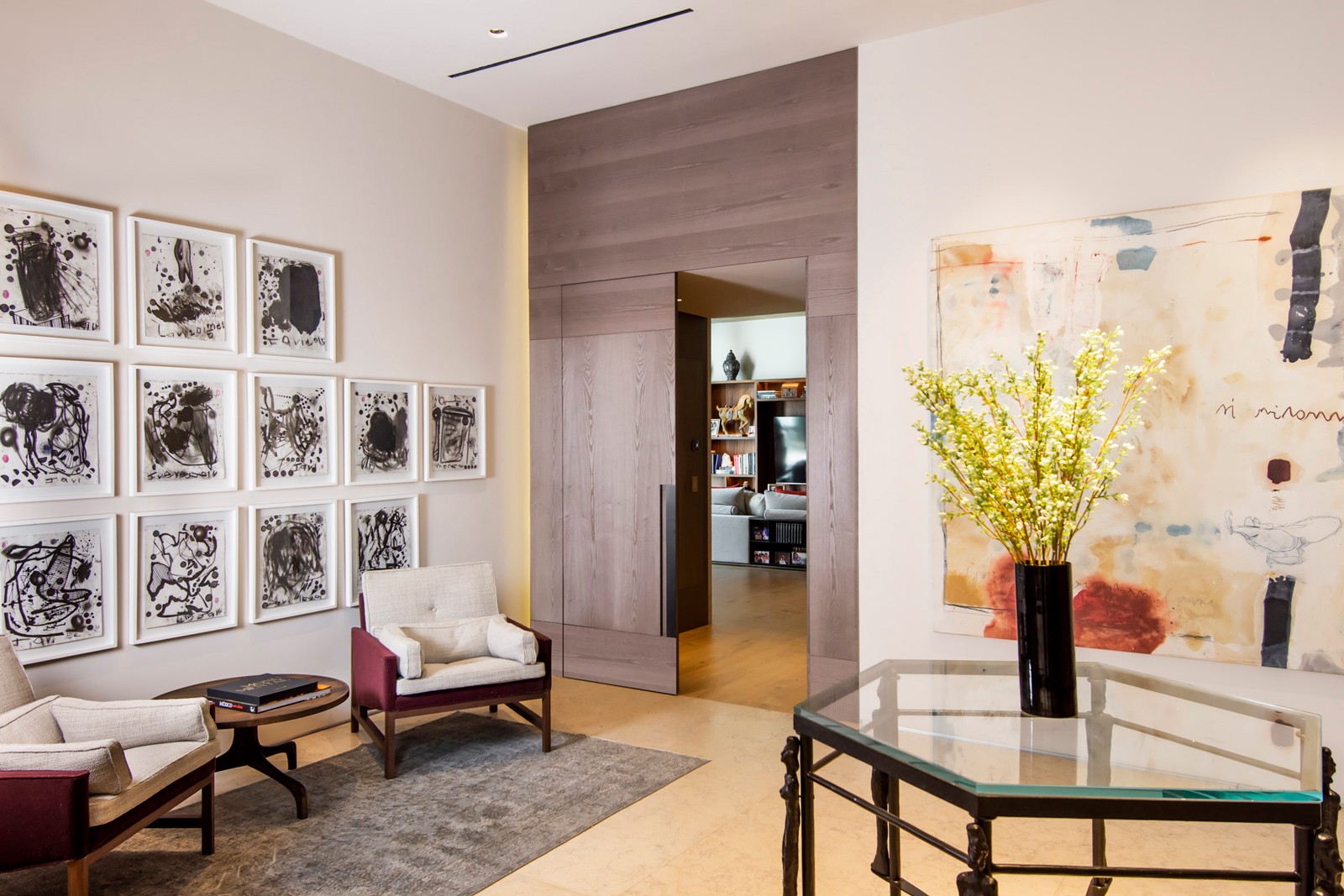 Other artful pairings include a sitting area with a frenetic large-scale canvas by Italian abstractionist Luca Bray that is juxtaposed with a wall of black-and-white works purchased at a charity event and made by local children. There's also a striking work by Zapotec painter Rufino Tamayo, who blended European surrealism with Mexican folk art, which hangs next to a custom Apparatus horsehair pendant in the quartzite-lined entryway.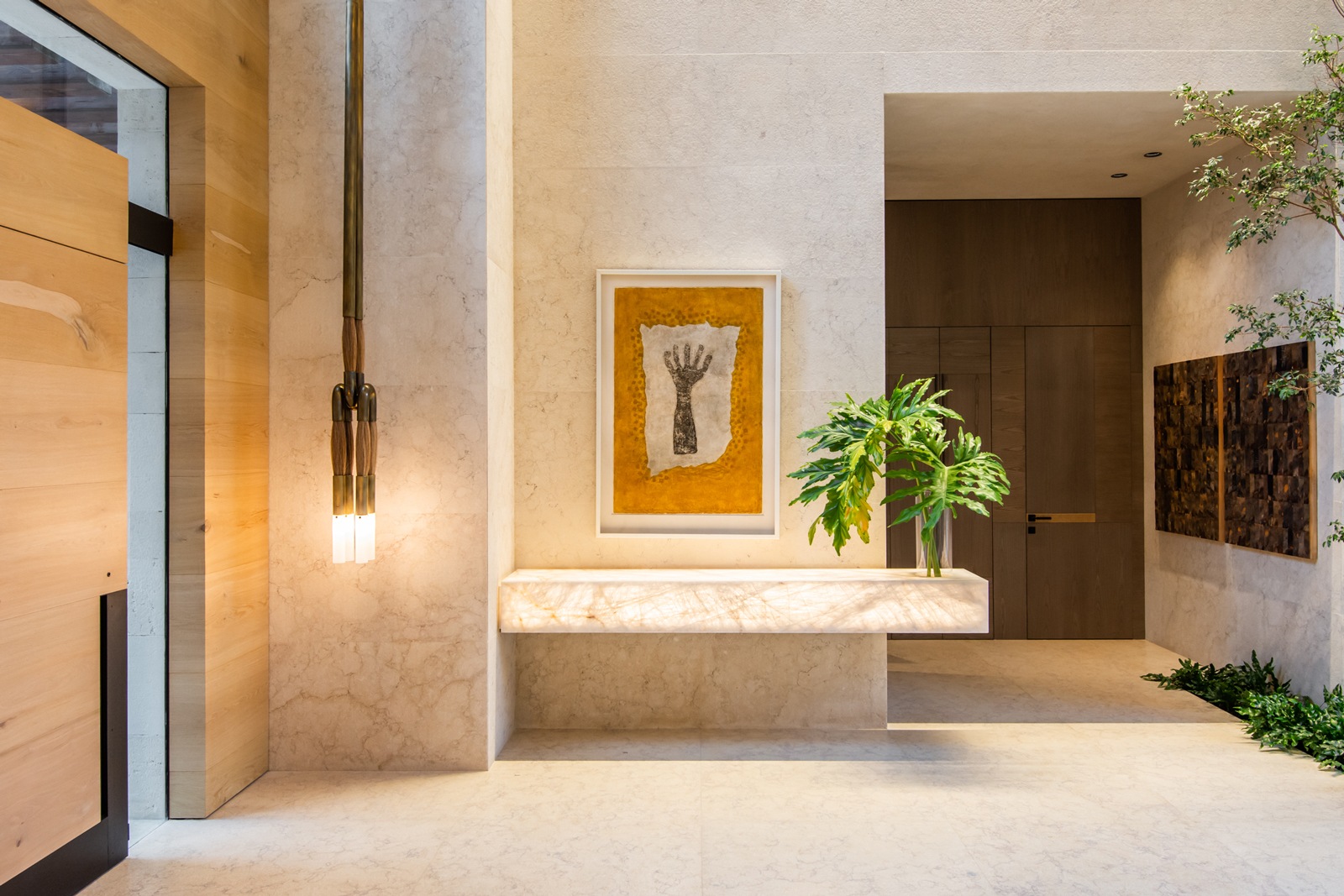 Upstairs, Hamui created a sprawling primary suite encompassing a sleeping chamber, music room, bath, fitness area, and closet. But the main floor is really where he got to flex his creative muscles. "The great room is so cohesive because of everything that it encompasses—not just the art," he says. "From what I understand, it's the place where the family likes to hang around the most." And given the grandness of the space, its works of art and design, and garden access, it's certainly not hard to see why that's the case.
Next Post