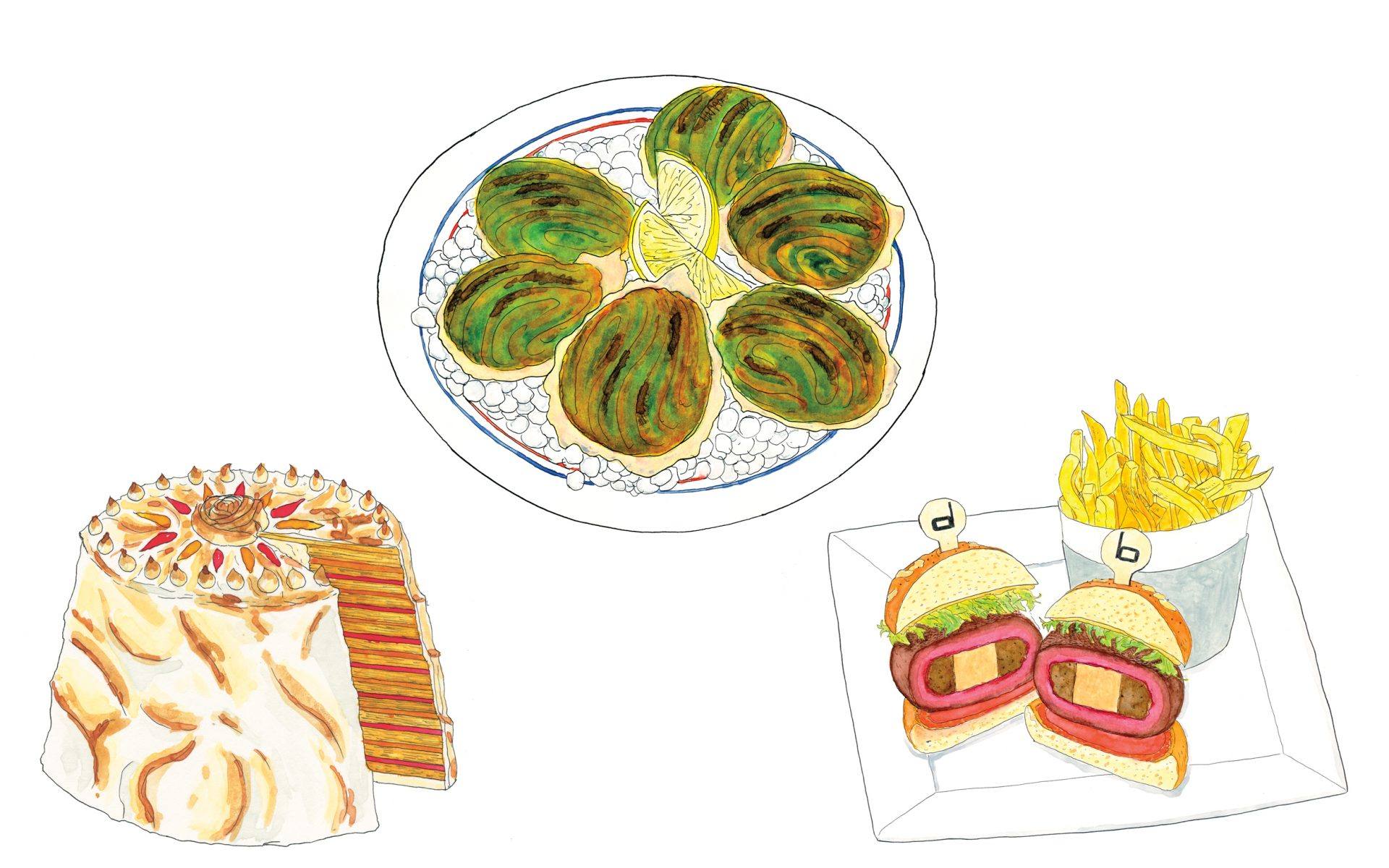 Discover 240 Recipes That Shaped Culinary History
Signature Dishes That Matter melds the most iconic restaurant meals with delectable drawings by Adriano Rampazzo
What do oysters Rockefeller, a mille-feuille, and a DB Burger have in common? Not only did they all spring from the minds of some of history's most inventive chefs, but each has also penetrated the social consciousness to the point where its name alone practically melts in your mouth.
Such is the premise of Signature Dishes That Matter (Phaidon), an engrossing collection of 240 standout recipes that altered the course of gastronomic history. Starting in 1686, when Sicilian immigrant Procopio Cutò invented gelato out of his Paris café, the book delves into the backstory of beloved creations that have made chefs like Caesar Cardini, Robert Cobb, and Alfredo di Lelio (the toques behind the Caesar and Cobb salads and fettuccine Alfredo, respectively) legends among food lovers as well as household names.
Culinary heavy hitters curated the selections, each cheerfully illustrated by Adriano Rampazzo, who trained at Central Saint Martins in addition to working as a cook for four years. Christine Muhlke wrote narratives that serve forth the historical context plate by plate. "I'm always interested in connecting the dots between dishes," says Muhlke. "Something you think is new in Brooklyn may have roots in 18th-century England."
Recommended: 6 of New York's Most Beautiful New Restaurants
Contributor Howie Kahn found another lesson in chef Anne Rosenzweig's famous 1985 lobster club. "Her swapping in delicious lobster meat for the sandwich's original bland turkey signals to me that things that seem stuck can improve once attended to by a progressive woman," he explains. "It's both a relevant message and an incredible sandwich."
A version of this article first appeared in print in our 2019 Late Fall Issue in the section "The Artful Life." Subscribe to the magazine.
Next Post