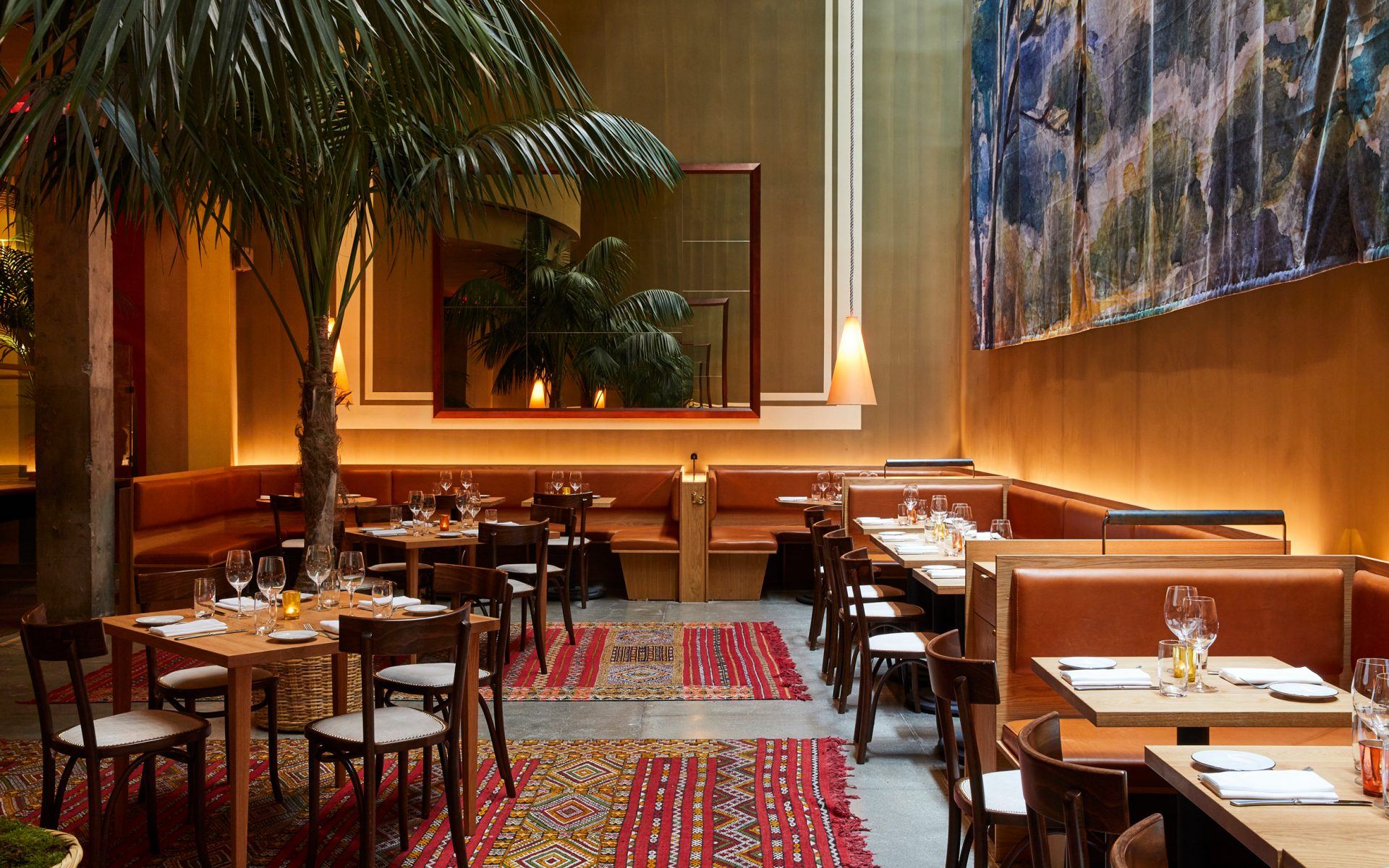 6 of New York's Most Beautiful New Restaurants
From Nomad to the Seaport, these chic eateries are making a splash with their high design
1. Il Fiorista
17 West 26th Street, Nomad
Combining a restaurant, floral boutique, and education center, Nomad's Il Fiorista incorporates locally sourced flowers and herbs as well as eco-friendly packaging as a way to emphasize sustainability. Founded by Italian husband-and-wife duo Mario and Alessandra De Benedetti, the light-filled space was masterminded by architect Elizabeth Roberts and boasts murals painted by artist Leanne Shapton as well as custom furniture by Spanish designer Patricia Urquiola.
2. Farmacy Kitchen NYC
62 Spring Street, Soho
This buzzy London import, which was founded in Notting Hill three years ago, has just opened a six-month residency at Chefs Club Counter in SoHo, its first presence Stateside. The eatery's mission to provide healthy, plant-based foods is reflected with potted plants, hanging greenery, bamboo accents, and olive-velvet-upholstered booths.
3. Malibu Farm
89 South Street, Seaport
California doesn't feel quite so far away when you dine at the newly opened Malibu Farm in the Seaport district. Providing healthy and fresh Californian fare is founder Helene Henderson's goal, aided by locally sourced produce, including red baby kale, butternut squash, and purple beets. Interior designer Vanessa Alexander, who crafted the flagship in Malibu as well as outposts in Hawaii and Japan, brought in a variety of natural materials (among them saddle leather and bronze) to create an effortlessly chic West Coast aesthetic.
4. The Deco Food + Drink
231 West 39th Street, Garment District
Opening in New York's Garment District in October, the Deco Food + Drink will be a grand food hall harkening back to New York's glamorous Art Deco era and playing off the neighborhood's fashionable history. A sleek and sophisticated interior reflecting the Deco influence is apparent with geometric-patterned columns as well as a Pantone blue, white, and brass color scheme. Nine vendors offering diverse culinary expertise will set up shop in the space, a large cocktail bar will be the central gathering area, and private areas will also be available for larger events.
Recommended: 5 Must-See Design Exhibitions in New York City This Fall
5. Felice 56
15 West 56th Street, Midtown
The idyllic Tuscan countryside as well as the bustling city of Florence both provided key sources of inspiration for the Chambers Hotel's new restaurant, Felice 56. Studio Robert McKinley created warmth in the dining room, coffee bar, and cocktail bar by juxtaposing materials like exposed concrete and oiled wood, as well as employing a limewashed finish. A large-scale watercolor by Italian artist Fiona Corsini di San Giuliano, which was commissioned for the restaurant, makes a statement in the main dining room along with a skylight and a high ceiling.
6. Cathédrale 
112 East 11th Street, East Village 
The Rockwell Group–designed French-Mediterranean restaurant Cathédrale mixes rock and roll with monumental majesty. The interiors were inspired by the famed East Village rock venue the Fillmore East and incorporate vintage concert posters from the music theater as well as rock-era inspired ambience. The most dramatic space is the dining room, with a soaring 26-foot ceiling as well as a wire-mesh sculpture, Fillmore by artist Edoardo Tresoldi, creating the illusion of a domed church ceiling.
Next Post