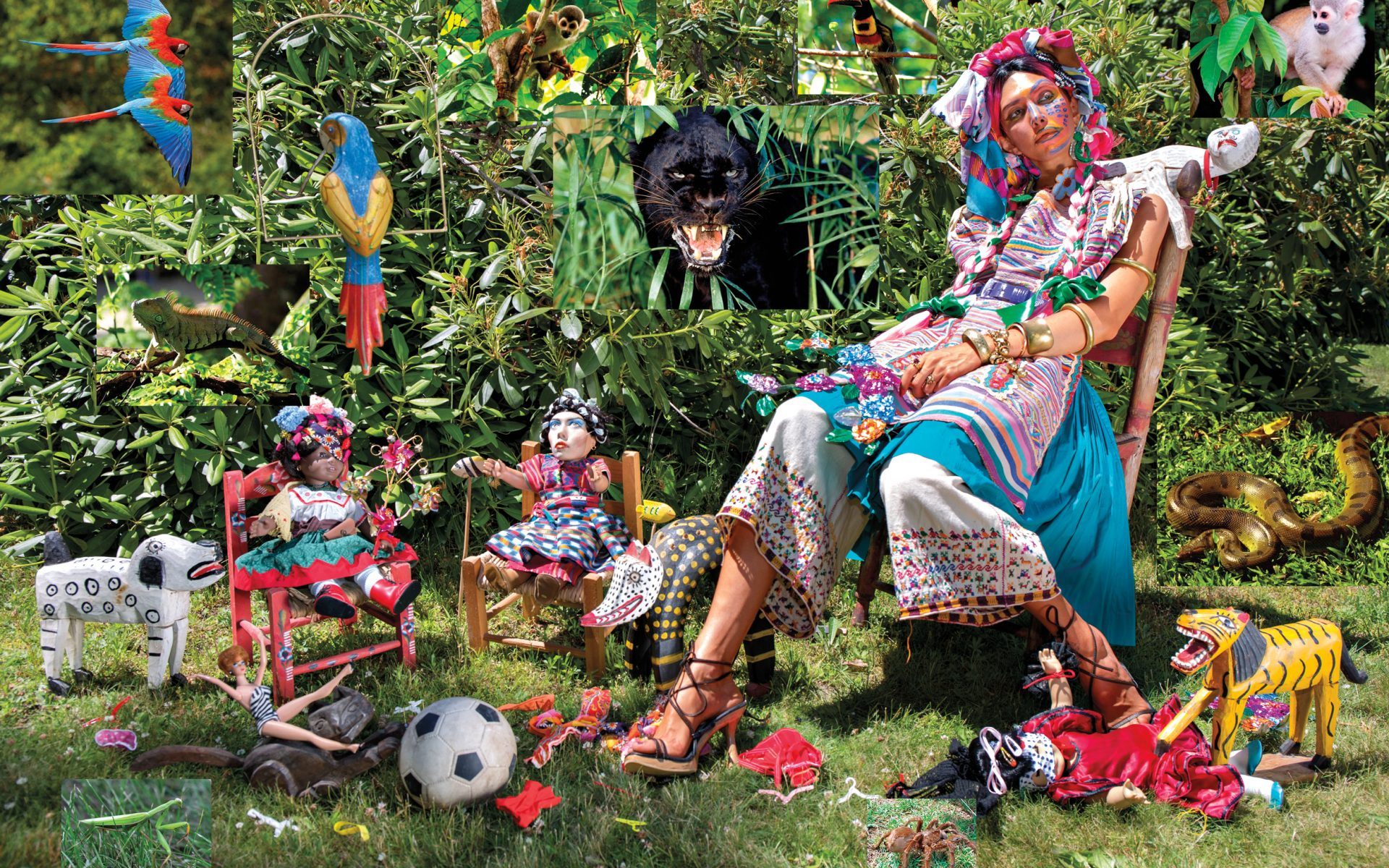 See Works from Martine Gutierrez's "Indigenous Woman" Project Before It Closes
Pieces from the art-publication work, which was presented at the recent Venice Biennale, are on view at the Modern Art Museum of Fort Worth, Texas through January 12
It's not often that an artist takes on the role of subject, creator, and muse in their body of work. But that's exactly what Martine Gutierrez did for her recent project "Indigenous Woman," a 146-page art publication that was showcased at New York's Ryan Lee Gallery and the most recent Venice Biennale. A number of works from the series are now on display at the Modern Art Museum of Fort Worth, Texas, through January 12, 2020.
For the highly singular project, the Brooklyn-based artist designed and produced fantastical fashion editorials filled with self-portraits and pop culture symbols in an effort to highlight how identity is a social construct and explore questions around diversity and consumerism. One slick black-and-white series, "Body En Thrall," depicts Gutierrez in fictional scenes, posing around a swimming pool. "Demons," meanwhile, features Aztec, Mayan, and Yoruba deities of the ancient world. Peppered throughout the issue are witty advertisements for fake products, such as a mascara that comes with the tagline, "Maybe she's born with it, maybe it's white privilege."
The magazine, presented in a style and format resembling Andy Warhol's Interview, is an attempt to celebrate "Mayan Indian heritage, the navigation of contemporary indigeneity, and the ever-evolving self-image," according to Gutierrez's editor's letter. "It is the ultimate project for self-representation," says Jeffrey Lee, director of Ryan Lee Gallery. "She controls all aspects of the image while deconstructing the mechanisms of how notions of standards and ideals function in mass media."
Recommended: Hong Kong Artist Wong Ping Brings His Witty Animations to ICA Miami
The artist, who graduated from Rhode Island School of Design in 2012, has also exhibited in acclaimed group shows at the Hayward Gallery in London; Wadsworth Atheneum Museum of Art in Hartford, Connecticut; Kunstmuseum Bonn in Germany; and the New Museum in New York. Says Lee of Gutierrez, "She has a highly unique vision."
A version of this article first appeared in print in our 2019 Winter issue in the section On Our Radar. Subscribe to the magazine.
Next Post