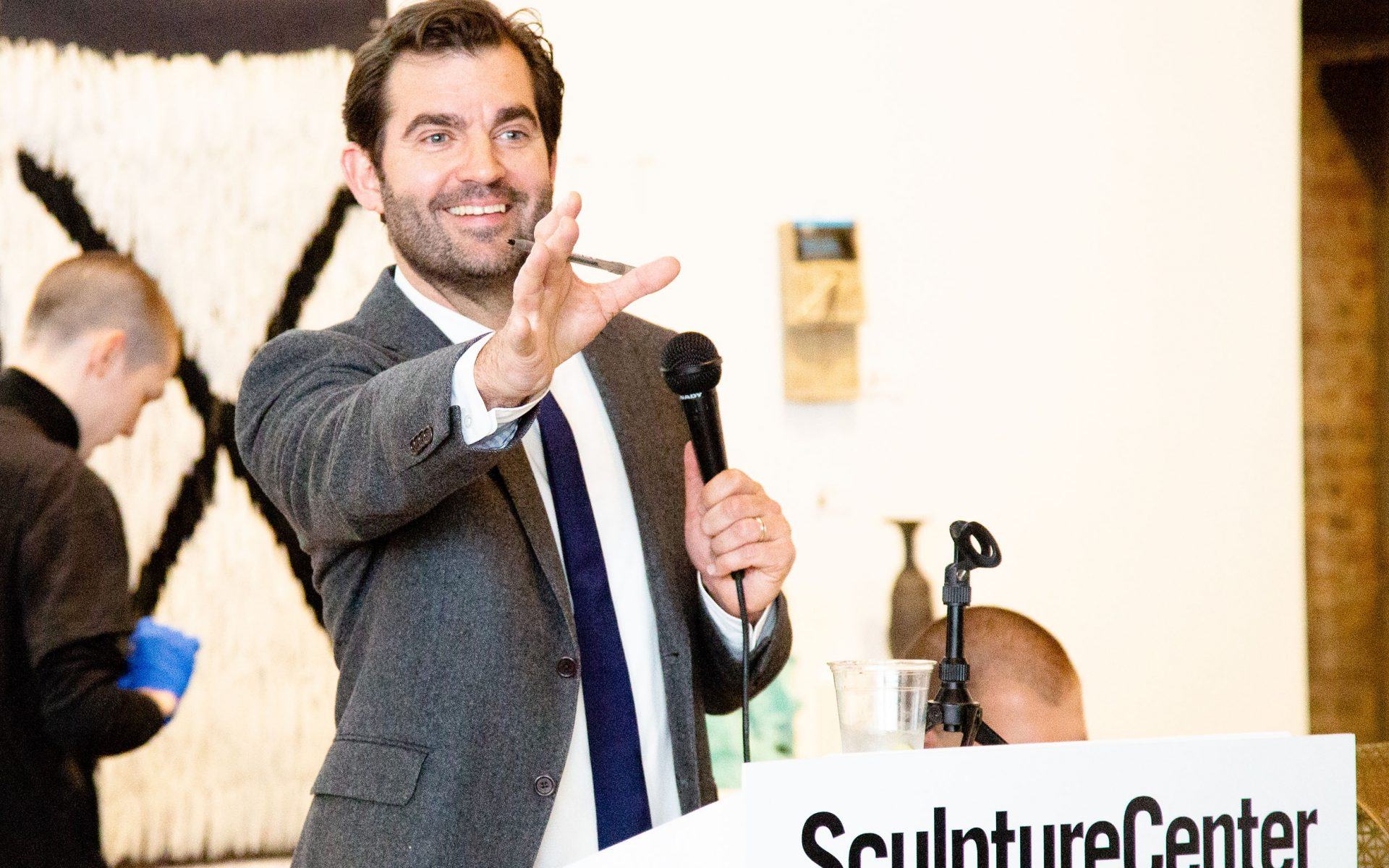 Why Collectors Flock to SculptureCenter's Annual Art Raffle
Galerie talks to Lowell Pettit, who's been emceeing the Center's Lucky Draw benefit for over a decade
On Tuesday night, over 200 art lovers will pour into SculptureCenter in Long Island City with an admission ticket costing $750. At the end of the night, each and every one of them will leave with a work of art.
The event, a raffle called Lucky Draw, is an annual tradition for the cutting-edge art museum. The rules of the draw are simple: Every person who purchases a ticket will have their name added to a bingo tumbler. When somebody's name is called, they can claim one of some 200 artworks on view at the museum, which have been either donated or created for the event by an impressive roster of contemporary talents.
It's also a beloved tradition for Lowell Pettit, the event's master of ceremonies, who spoke to Galerie about the exciting evening.
"I'm a friend of SculptureCenter for sure, and by function of chance and tradition I stepped into the role of master of ceremonies," says Pettit, who estimates that this will be his 13th year emceeing. A career art consultant by day, Pettit initially became involved with the institution when he was living in Long Island City with his wife and business partner, Courtney. (The couple, in fact, hosted their wedding party at the museum.)
Situated in a former trolley repair shop in the burgeoning Queens neighborhood of Long Island City, the institution has been staging ambitious exhibitions since it was founded in 1928. It recently tied up the first U.S. institutional exhibition to explore the oeuvre of Istanbul artist Banu Cennetoğlu and is preparing to unveil a major installation by Jean-Luc Moulène, "More or Less Bone," at the end of this month.
The proceeds from Lucky Draw help fund this programming, and after a dozen years as emcee, Pettit and the museum seem to have gotten the event down to a science. The night opens with a live auction of four works by Oliver Osborne, Ann Craven, Josh Smith, and Sanya Kantarovsky. Then Pettit raffles off the remaining 200-plus works on the walls. To keep the night moving along, those participating in the draw are encouraged to identify their favorite artworks ahead of time.
"Most people will come in and isolate their top 20 or 30," Pettit observes. "My advice is that you have to isolate your top 150." After all, only a lucky few will be among the first two dozen called.
Recommended: A New Collaboration at The Shed Offers an Elegy for Artist Gerhard Richter
This year's roster is flush with impressive and exciting names whose career experience runs the gamut from emerging to established: Emma Kohlmann, Danielle Orchard, Shahryar Nashat, Jannis Kounellis, and Matt Keegan are just a few of the trending artists in the mix for 2019. Naturally, each year sees a few standout works more coveted than others.
"There is a small measure of anxiety, because you can't say, 'Oh, no, I missed the only piece I want.' No one wants to say that or hear that," says Pettit. "Many artists actually join us for the evening. The good news is that most people get it. The ethic is loud and clear, which is, 'We're all winners.' Everybody's leaving with an object large or small, and all the proceeds go toward SculptureCenter and its programming."
This is a particularly significant point for Pettit, who sees the institution as uniquely important to New York City.
"It's lost on a lot of people that sculpture is especially difficult in a place like Manhattan. You have a ton of people who are interested and engaged and who are collecting, but the reality is very few people literally have the temperament—and more importantly, the space—to appropriately showcase it.
"The size of our tiny little island seems to get smaller and smaller," he continues. "It makes it that much more important to have a venue that seeks to showcase artists with the audacity to work in three dimensions on a large scale."
SculptureCenter's Lucky Draw spring benefit will be held on Tuesday, April 16. Doors open at 5 p.m.; the auction and draw begin at 7:30 p.m. The museum is located at 44-19 Purves Street, Long Island City, New York
Next Post