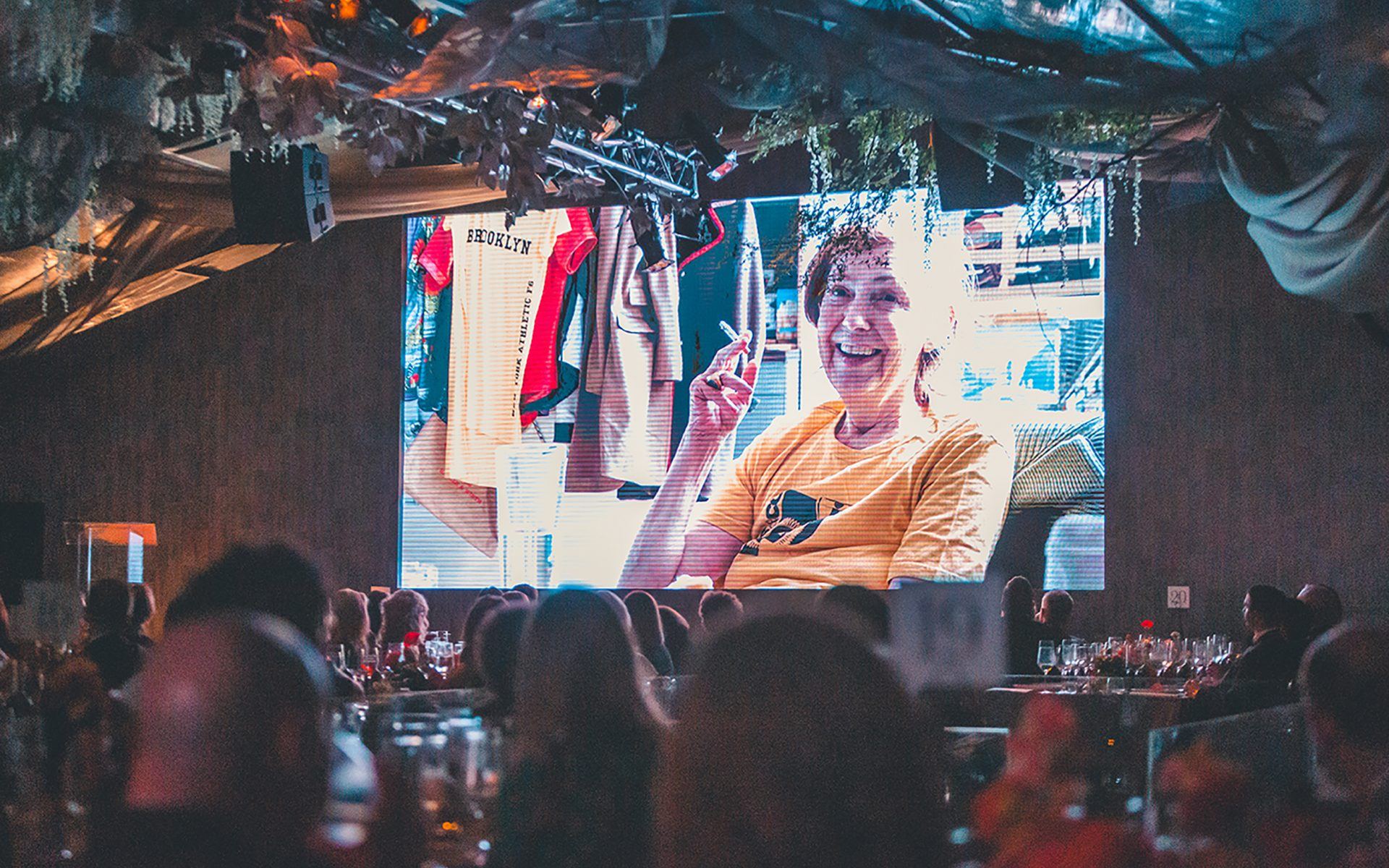 Art-World Luminaries Turn Out to Honor Sculptor Isa Genzken at Nasher Prize Gala
Theaster Gates, Deedie Rose, and Nancy Nasher were among the art-world notables celebrating the artist's achievements
Billed as the world's most significant award dedicated to contemporary sculpture, the $100,000 Nasher Prize is given annually by Dallas's Nasher Sculpture Center to one artist who has had "an extraordinary impact" on the medium. This year's recipient, German artist Isa Genzken, was honored at a gala dinner on Saturday, April 6, as the museum welcomed a crowd of some 300 art-world notables, including prominent patrons such as Deedie Rose, Alden and Janelle Pinnell, and Derek and Christen Wilson, as well as members of the Nasher family.
Though health issues prevented Genzken from traveling from Berlin to receive the cubic trophy of travertine—the same material that clads the Nasher's Renzo Piano-designed building—she sent a brief message, read by Nasher director Jeremy Strick at the start of the dinner. "With my sculptures, I have always tried to build a bridge between my native home, Germany, and my adopted home, America," she wrote. "I love America and I love Dallas, and I am looking forward to being back soon. I wish you all a nice evening. Celebrate it beautifully."
And so it was. The festivities began with cocktails on the museum terrace, overlooking the graceful 1.4-acre garden dotted with sculptures by Mark di Suvero, Alexander Calder, Willem de Kooning, Richard Serra, and others. Inside, a small gallery featuring three pieces by Genzken, on view through April 28, illustrates the range of her smart, subversive, unpredictable work—from one of her 1980s concrete-and-steel creations rooted in minimalism to more recent examples of her signature, visually arresting assemblages of everyday and cast-off objects that reflect her interest in pop culture, consumerism, and the fabric of urban life.
Recommended: Nasher Prize-Winning Sculptor Isa Genzken Through the Eyes of Three Artists She Inspired
"Genzken's oeuvre, as with our past laureates, is wonderfully difficult to categorize," Strick noted in his opening remarks. "The way she arranges material can be fragmented, urgent, and contingent, but it is always layered with a fine understanding of how we relate to the physical things around us."
Guests enjoyed a four-course dinner created by Wolfgang Puck, featuring lobster agnolotti and roasted pheasant breast, inside a tent constructed atop the garden's fountain pools and incorporating a tree that floral designers spectacularly draped with white wisteria, larkspur, and delphinium. Among those in attendance was last year's Nasher Prize laureate Theaster Gates, along with fellow artists Piero Golia, Simon Denny, Charles Long, and Tatiana Trouvé. Also present were art dealers Howard Read and Zwirner director David Leiber, Dallas interior designer Emily Summers, and curators Hou Hanru, Laura Hoptman, and Beatrix Ruf.
Hanru was part of the jury that selected Genzken, while Hoptman and Ruf have curated major exhibitions of the artist's work. All three had participated in panels the previous day as part of the Nasher Prize Dialogues series of public programs that not only accompany the annual gala events in Dallas but are organized in various international cities throughout the year to promote discussion of and perspectives on sculptural practice today.
There was a poignant moment early in the evening, as Strick paid tribute to the late curator and inaugural Nasher Prize juror Okwui Enwezor, who died in March after a battle with cancer. Strick described him as "a visionary who, like Isa Genzken, was unafraid to ask the world to reconsider the way it tells its cultural story."
It was Nancy Nasher, daughter of the museum's founders, Patsy and Ray Nasher, who handled the official award presentation. In addition to praising Genzken's "provocative career" as being "marked by fierce individuality and deep conviction, diversity of skill and ingenuity," she called the artist "a catalyst for the practice of freedom in sculpture."
Following dinner, the Champagne continued to flow in the museum's lower level, where spirited gala-goers danced—none more enthusiastically than Nancy Nasher's older sister, Andrea—to a DJ's mixes well past midnight.
Next Post