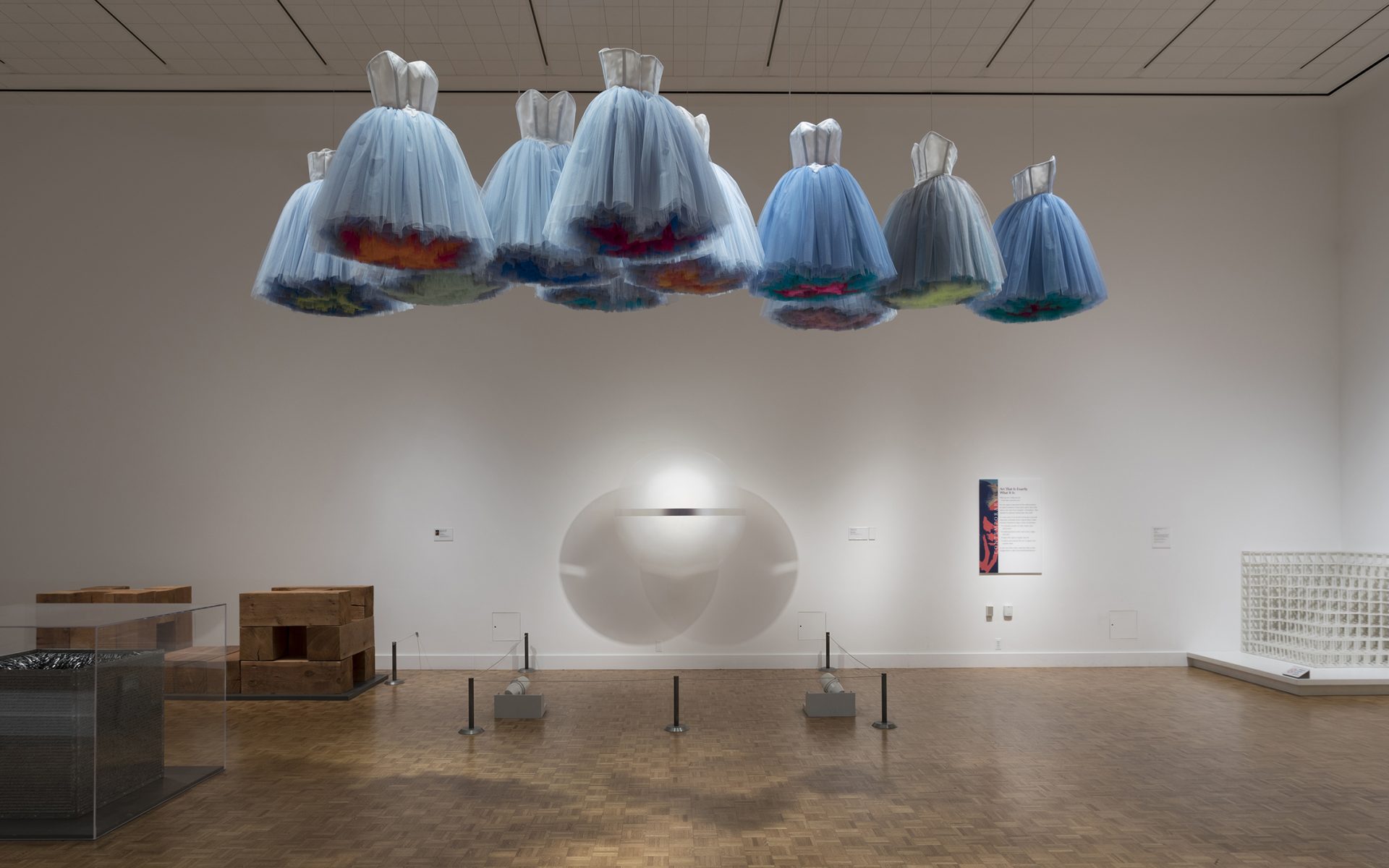 Ruben and Isabel Toledo Blend Art, Industry, and High Fashion in Detroit Show
The husband and wife duo find inspiration in the collections of the Detroit Institute of Arts
Fashion designer Isabel Toledo and her husband, artist and fashion illustrator Ruben Toledo, have looked to the permanent collections of the Detroit Institute of Arts as inspiration for a new show. For Ruben & Isabel Toledo: Labor of Love, the artistic duo have taken inspiration from works by Diego Rivera, Eva Hesse, Donald Judd, Robert Motherwell, and others, to create a breathtaking new body of work.
"It was more the alchemy of the room, those pieces together, that really triggered your imagination to go there," Ruben tells Galerie about Labor of Love, the first exhibition of this kind for the couple, and for which they jointly created works in conversation with the museum's collections. "I specifically didn't want to see one particular anything. I wanted to see the marriage. I wanted to weave everything together. That's where I come from — the world of making, and weaving, and cloth. That totally inspired me, right away."
The Cuban-born, husband and wife team, have established mega careers in art and fashion over the past 35 years. Isabel, known for her artisanal, superbly-constructed pieces, dressed Michelle Obama for her husband's 2009 inauguration. Ruben's surrealist illustrations have appeared in top fashion magazines and journals and he's created limited edition works for Louis Vuitton.
The Toledos, both of whom left Cuba and arrived in West New York, New Jersey under the age of ten in the late 1960s, mention being fueled by "faith, optimism, and entering the unknown." They met in high school and were married in 1984, the same year Isabel launched her career. Together, they've crafted a life centered on gorgeous garments and visionary art.
The Toledos' new works are staged in dialogue with the museum's collections across three floors of the DIA, inside seven galleries, including African, Egyptian, African-American, Early American, and Modern.
The centerpiece is a large-scale installation by the Toledos inspired by Diego Rivera's 1933 opus Detroit Industry Murals, a series of nearly 30 frescoes whose panels depict industry at the Ford Motor Company and Detroit itself.
Here Ruben's Color Code paintings re-interpret the women representing the Four Races in Rivera's work, painting them as four fabulous reclining subjects, on pleated linens, like the pleated petticoats that Kahlo wore.
Instead of a skin tone (as Rivera depicted in his murals with red, black, white, and yellow) each woman has a unique camouflage pattern as skin. Ruben was inspired by the dazzle camouflage painted on ships during World War I, which were meant to mislead enemy ships.
Recommended: The Haas Brothers Create Otherworldly Collection with L'Objet
"For me it was Diego's murals," Ruben said as he and Isabel walked us through the show on a recent visit to the museum. "The more you went into it, it was completely a new life. But then, looking deeper, there is so much mythology in it, history, and ancient civilization versus now, and that really fascinated me. I think that's what my work is all about."
Further into the main installation, an army of mannequins sculpted by Ruben, and dressed in Isabel's exquisitely-crafted garments, tells a story of migration and cross-pollination, which is part of the Toledos' immigrant narrative in the U.S. The mannequins wear delicate veils and head masks that resemble flower petals, embroidered coats, and lace gowns with fabrics sourced from 300-year-old textile mills in Switzerland and France.
In the same room with the mannequins, another work titled Black Cloud, features black silk taffeta gowns hanging from the ceiling, hovering over Isabel's very first sewing machine, a visual that is both haunting and awesome.
Recommended: The St. Regis New York Introduces Salvador Dalí-Inspired Tea Service
Navigating the museum's labyrinthian galleries, Isabel's Joy, a sculptural black silk taffeta piece, influenced by a Robert Motherwell drawing, Nude, dominates the Modern gallery. Also in that gallery, Isabel's Synthetic Cloud, pastel-colored tulle gowns hang like soft clouds over hard-edged, geometric works including Donald Judd, Eve Hesse, Sol LeWitt.
In the Early American wing, First Lady Silhouette Is an ode to the beloved Michelle Obama. A mannequin wears a double-faced blue gown, on the breastplate of the dress, Isabel incorporates fabric of the lemongrass-colored ensemble Obama wore a decade ago. Ruben's drawings of the Obamas famous stroll to the White House in 2009 adorn the dress too.
In the African-American gallery, visitors are confronted Alison Saar's visceral sculpture Blood/Sweat/Tears, in which a woman covers her face as tears cascade down her nude body. In response, Isabel designed Escape, a strapless, pleated gown in electric blue with colorful exposed threads resembling tears running down the dress.
The detail and structure of Escape and other gowns in the show reveal the true couturier that Isabel is. She cut her teeth as an intern for the larger-than-life Diana Vreeland at the Metropolitan Museum of Art's Costume Institute in the early eighties, where she repaired gowns by Madeleine Vionnet, Cristobal Balenciaga, and Madame Grès. "Each," she says, "had a fingerprint."
Back in 2017, Labor of Love's curator, Laurie Ann Farrell, invited fashion legend André Leon Talley, and the Toledos, to Detroit to speak on a panel. The Toledos were instantly enamored with Detroit's storied relationship with manufacturing and its deep connection to design.
"This is the mecca for American industry and American design," says Ruben jubilantly. "It's really where it all melded."
Ruben & Isabel Toledo: Labor of Love will be on view through July 7, 2019 at the Detroit Institute of Arts.
Next Post