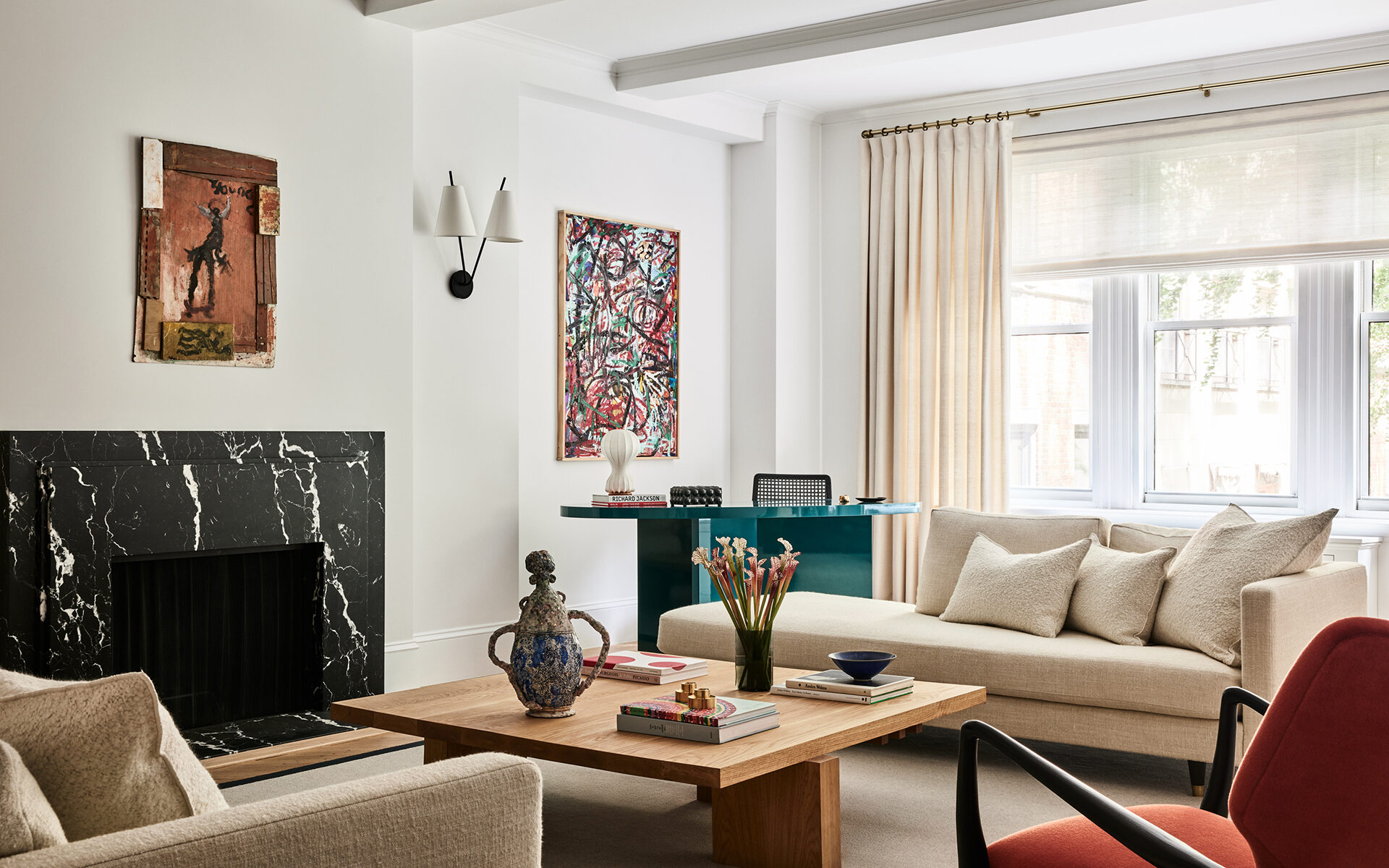 The Rubell Family's New York Pied-à-Terre Features a Tasteful Mix of Art and Design
Designer Monica Fried crafts a timeless apartment with works by Rudolf Stingel, Rashid Johnson, and Sayre Gomez
It was the building that first grabbed the attention of Michelle and Jason Rubell. The Miami-based couple was looking for a New York pied-à-terre when they discovered a large residence in a pedigreed address on the Upper East Side. The unit had the high ceilings and pre-war details they wanted but the square footage was bigger than they needed. When a more conservative space later opened up, the Rubells already knew it was the one. "I loved the whole energy of the building and the bones of the apartment," says Michelle. "But it definitely needed a lot of work."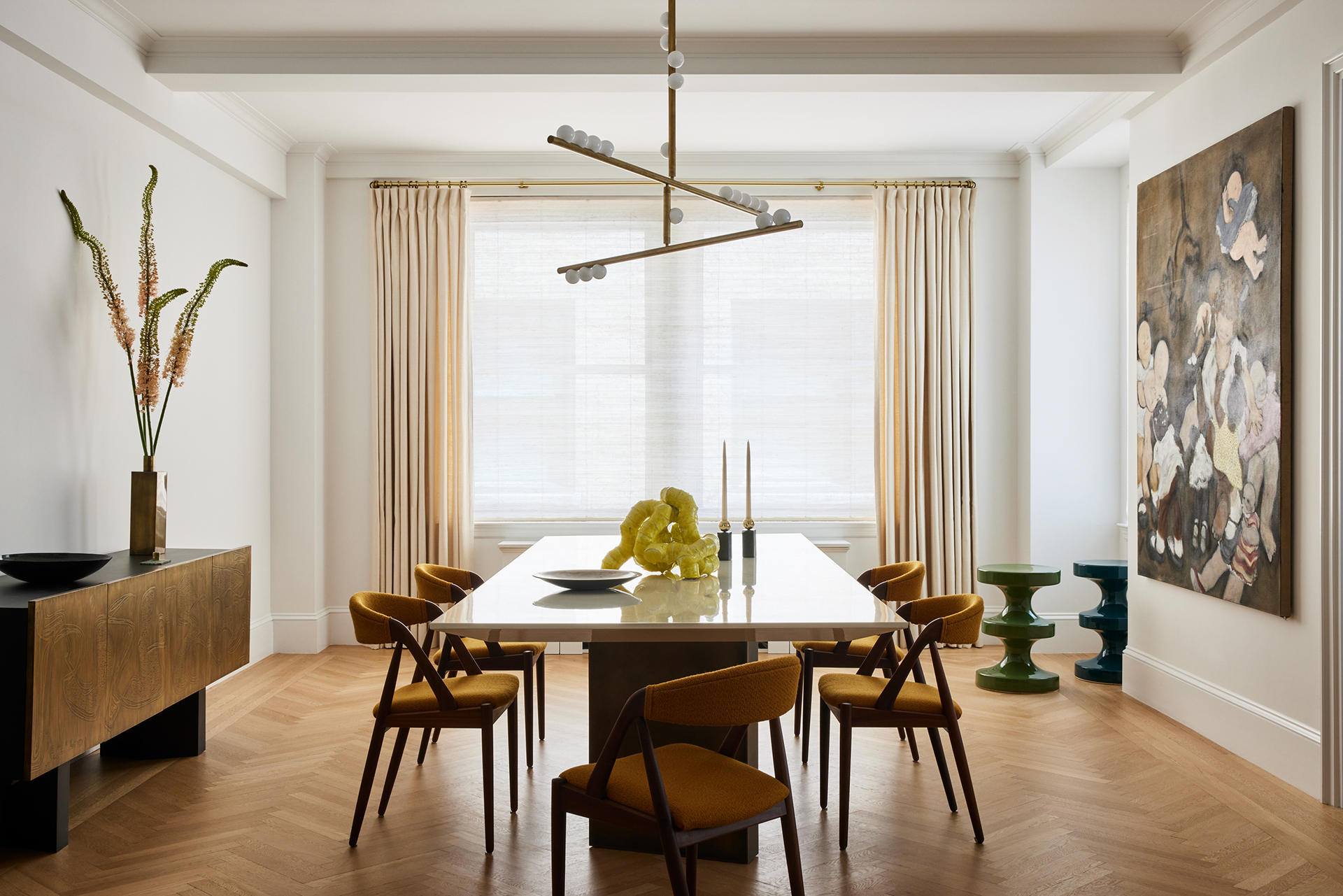 Their broker, a long-time friend of the couple, introduced them to New York–based designer Monica Fried, who says she helped them transform the interior into something "usable and chic, sophisticated and understated," with a sense of place different from the Rubells' more contemporary, art-filled home in South Florida, where Jason serves on the board of the Rubell Museum alongside his parents, Mera and Don Rubell.
"The apartment had been updated in the '80s in a very formal, Park Avenue style, with lots of color and moldings," says Fried, who took inspiration from the structure's romantic courtyard that faces some of the neighborhood's most iconic townhouses. "The rooms flow really beautiful together, and I think that's one of the things about pre-war apartments you can't replicate—those gracious, big rooms."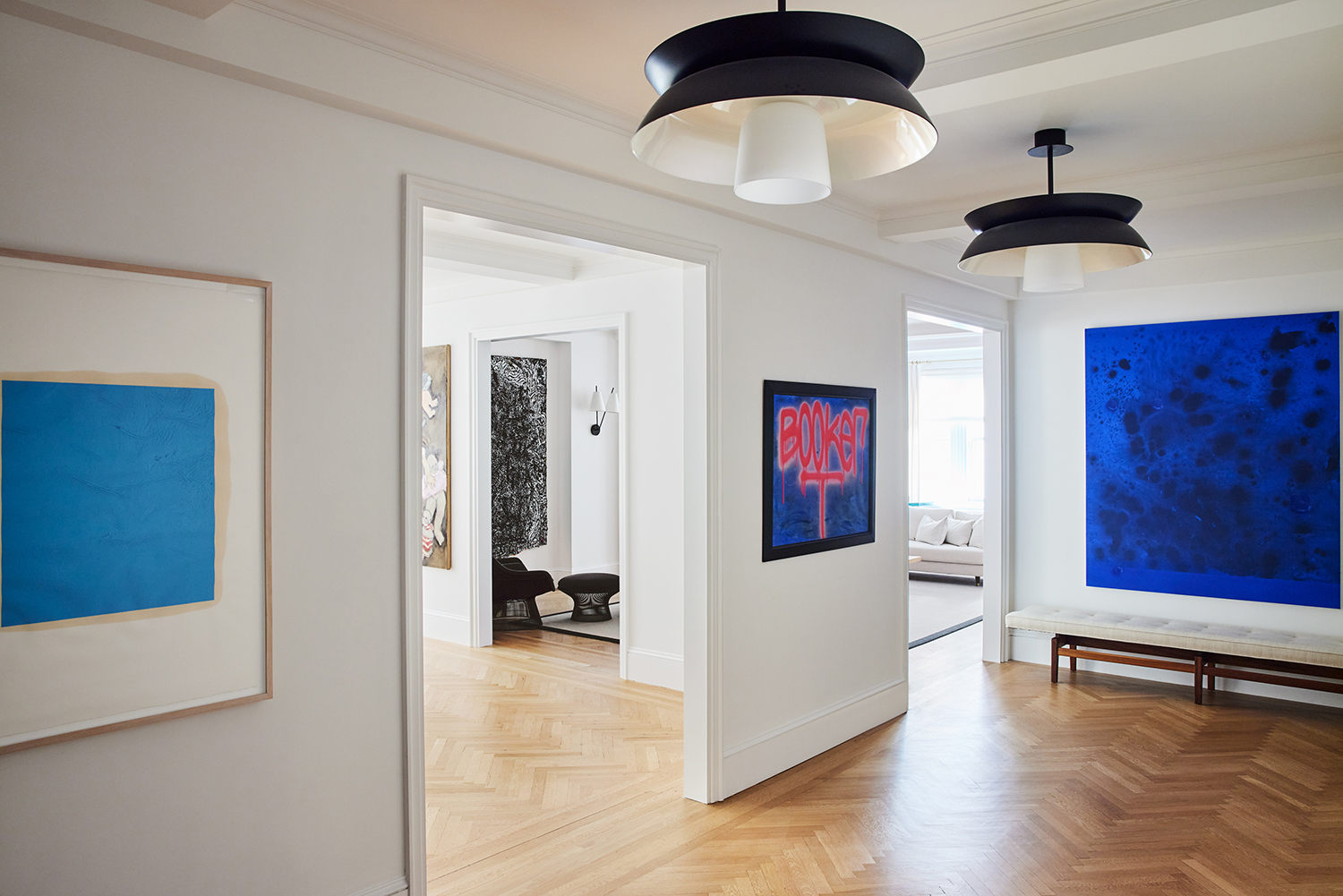 Part of the home's six-month redesign was to reconfigure the floor plan and pare back the ornateness to allow the art to shine. Original parquet floors were preserved but refinished in a lighter hue, while the walls that offered plenty of real estate for displaying artwork were left intact.
In a surprising move, the team even closed off a doorway at the far side of the entryway, where a cobalt-blue canvas by Sayre Gomez provides a powerful focal point. Sculptural lighting by Lindsay Adelman, who Michelle first met at a Miami design fair, and Eric Schmitt was installed to enhance a restrained assortment of thoughtfully selected furnishings, such as custom lacquer and bronze dining table with vintage Kai Kristiansen chairs and a Jens Risom bench.
"Because it's a pied-à-terre, they wanted it to be easy," Fried tells Galerie. "It wasn't supposed to be a stuffy, formal apartment. They want to feel casual in there, but also, it has to pair up with their art and how they live."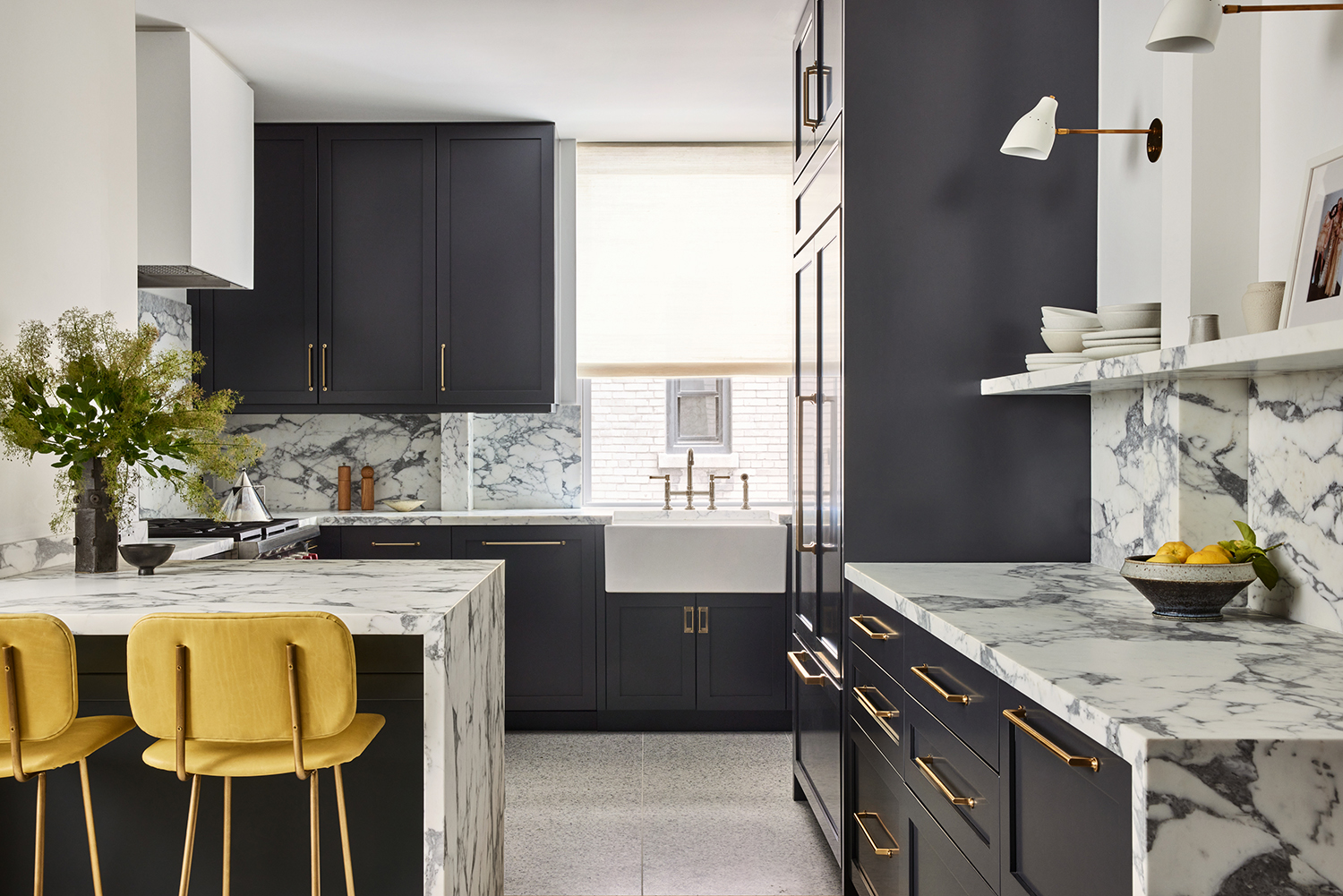 Fried also opened up the kitchen, originally a tight cluster of chopped up spaces. "We still wanted the formality of a kitchen that was separate from the dining room," says Rubell. "It's a space now where we can all hang out together or you can be alone and cook and be cozy."
On one side of the room, Fried installed a custom banquette and table, surmounted by Apparatus pendants and a Thomas Struth photograph, while on the opposite, a collection of black cabinets with brass pulls are wrapped in a heavily veined stone. "I personally love the traditional veining but doing it in a modern way with the waterfall edge," says Fried. "I try to stay away from things that are too trendy so that in 20 years, you still feel that these are great materials."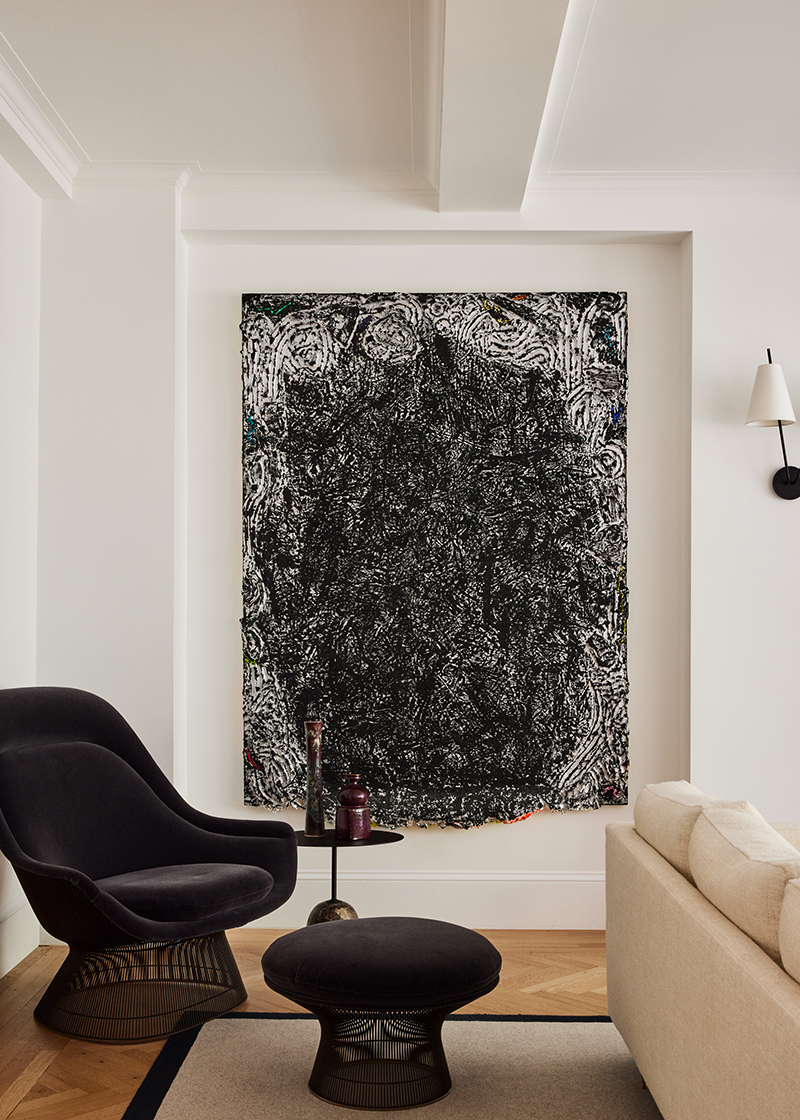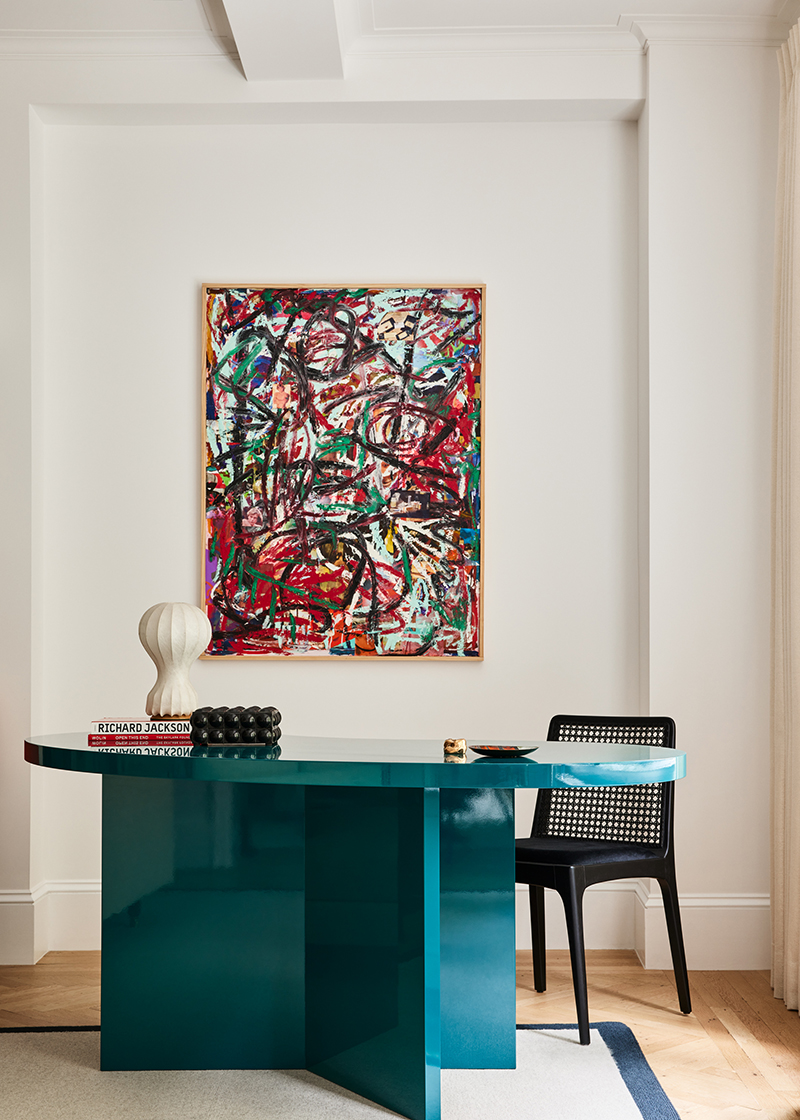 In the living room, the fireplace received a refresh while a few jewel-toned pieces, like a teal lacquer desk from the Invisible Collection and fiery red vintage armchair, added an invigorating jolt against the home's overall neutral palette. In shopping for the Manhattan apartment, the clients guided Fried to a North Miami neighborhood filled with vintage design stores, where they selected an array of accents including the main bedroom nightstands, several table lamps, and a few objets d'art. "It's a mix of old and new and eclectic which is something I like to do, where nothing feels too predictable or staged," says Fried. "It feels more like found, curated, cool pieces that come together. The apartment in general has a lot of neutrals, so it allowed for great color and art."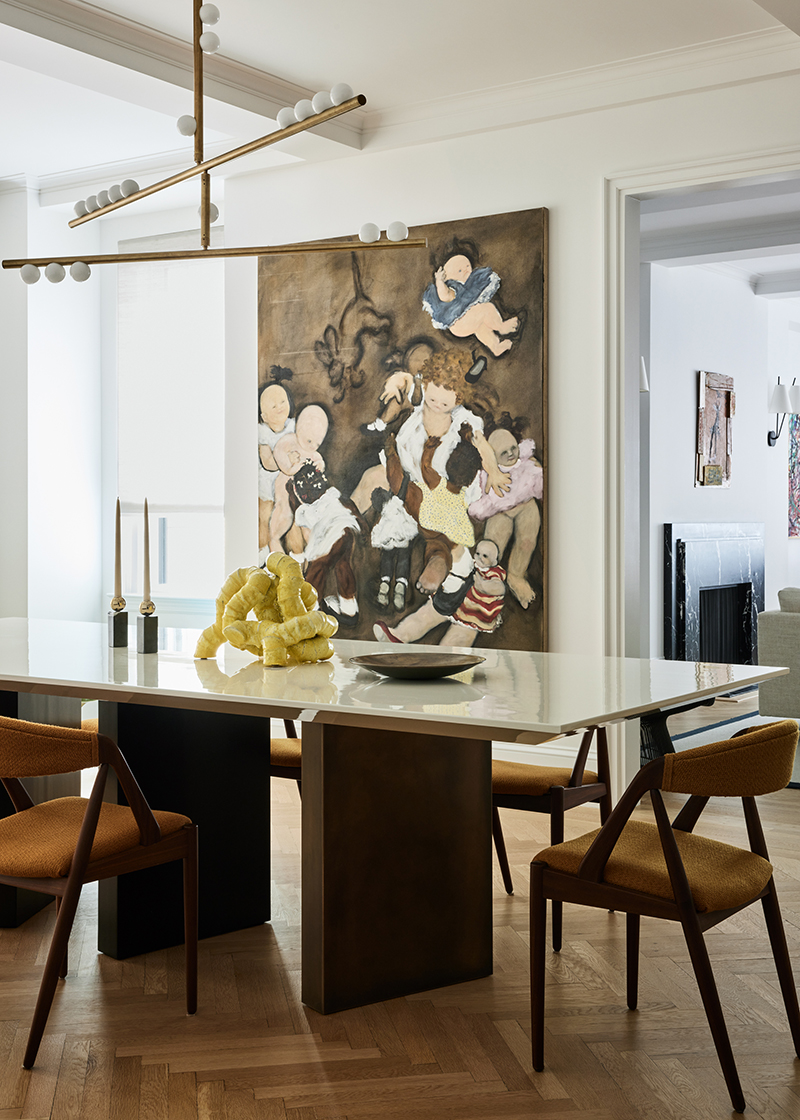 Art was actually the home's finishing touch, with the family taking a slower approach to installing, including leaving space open for the collection to grow. (In fact, one work destined for the apartment had to be swapped out because it didn't fit up the stairwell.) "We never really design spaces around specific pieces, because we change our art a lot," says Rubell. "We didn't even install the whole house with the art because we decided we wanted to do it a little more organically. We're fortunate that we've been able to collect and have great works, but the apartment has been a more contemplative."
Now complete, the pied-à-terre provides a familial atmosphere when the Rubells visit the city. Michelle sums up the atmosphere perfectly when she says, "the minute we come in we feel very much at home."
Next Post