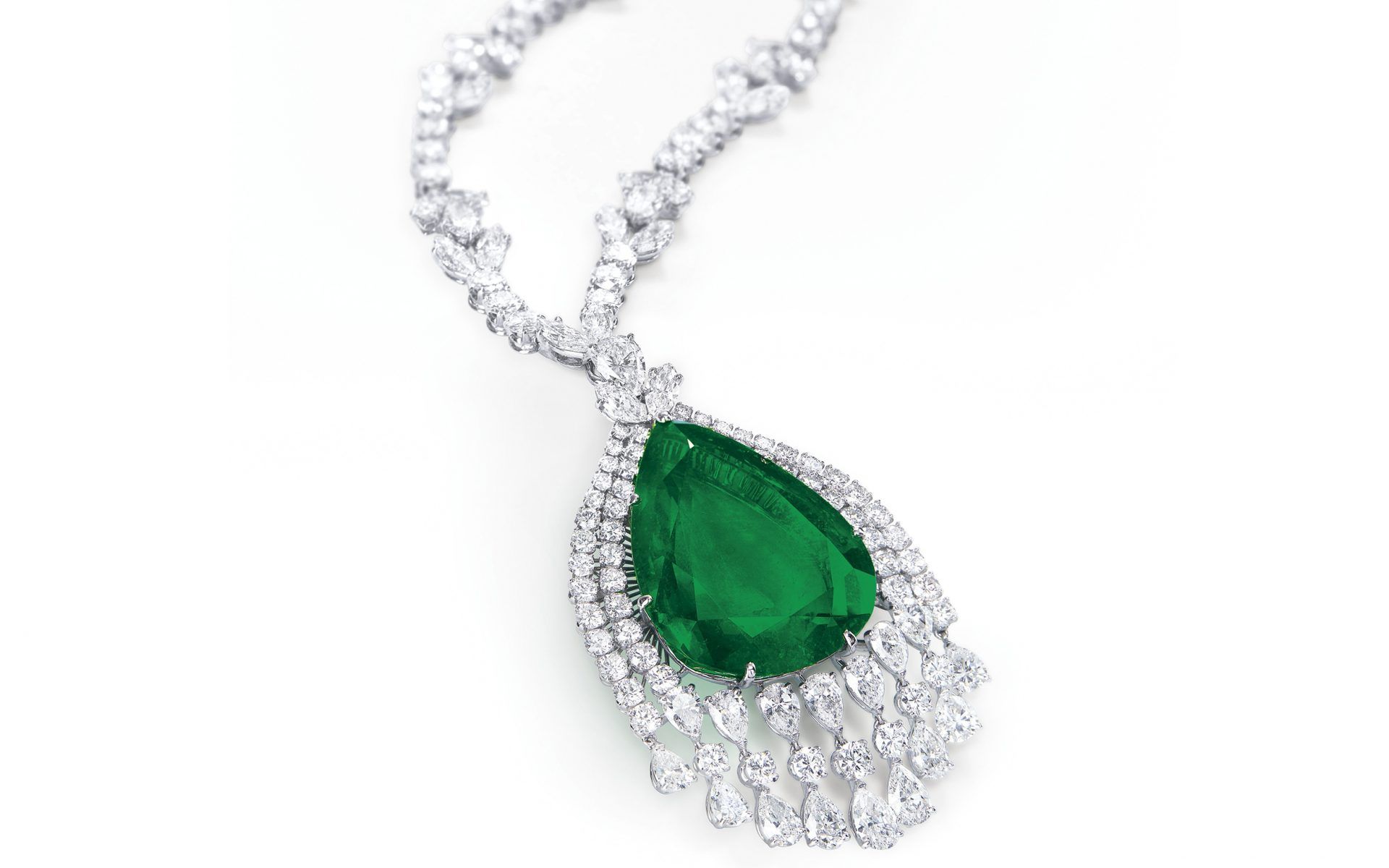 Stunning Emerald Once Owned by John D. Rockefeller Jr. Heads to Auction
The historic jewel is slated to go up for sale during Luxury Week at Christie's Geneva
One of the highlights of this May's Magnificent Jewels sale at Christie's Geneva is a pear-shaped emerald as rich in provenance as it is in beauty. The historic gem, which today weighs 75.61 carats, has passed through the hands of Russia's Grand Duchess Vladimir, John D. Rockefeller Jr., and the famed dealer and lapidary Raphael Esmerian. The stone hails from the Russian Imperial collection, a magnificent array said to date back to the reign of Catherine the Great.
Considered one of the grandest ladies of the Romanov dynasty, the duchess died in 1920, and her brilliant collection of jewels was divided among her children. She bequeathed what was then a rectangular-cut emerald, one she'd received as a wedding gift, to her son, the Grand Duke Boris Vladimirovich, who sold the gem to Cartier in 1927. The French maison remounted the emerald in a diamond sautoir, where it remained for two decades until Raphael Esmerian suggested cutting it to its present shape.
Recommended: 40 Artists Donate Works to Sotheby's Sale Benefitting the Hammer Museum
Rockefeller purchased the gem, now a necklace, shortly thereafter, and it vanished from public view for some 20 years. When it reemerged at a Swiss auction in 1971, it was Esmerian who claimed it. Years later, it came to be in the collection of a private but notable collector who suspended the gem in the current setting, as it will appear in next month's sale.
Christie's Magnificent Jewels auction on May 15 is the third event in a series of sales comprising Luxury Week in Geneva. (The first, spotlighting rare watches, will be held May 13, while the second—fine wines—takes place the following day.)
Headlining Magnificent Jewels this year is an aquamarine-and-diamond Fabergé tiara, also once belonging to the Grand Duchess Vladimir, that's estimated to go for anywhere between $230,000 and $340,000. Another highly sought-after item is the Jonker V diamond ring from Harry Winston. At 726 carats, the Jonker V was the fourth-largest gem-quality diamond ever discovered when Johannes Jacobus Jonker unearthed it in 1934. Today, it weighs 25.27 carats and is expected to sell for $2.5 to $3.5 million.
Christie's Magnificent Jewels sale is scheduled for May 15 at the Four Seasons Hotel des Bergues in Geneva.
Next Post