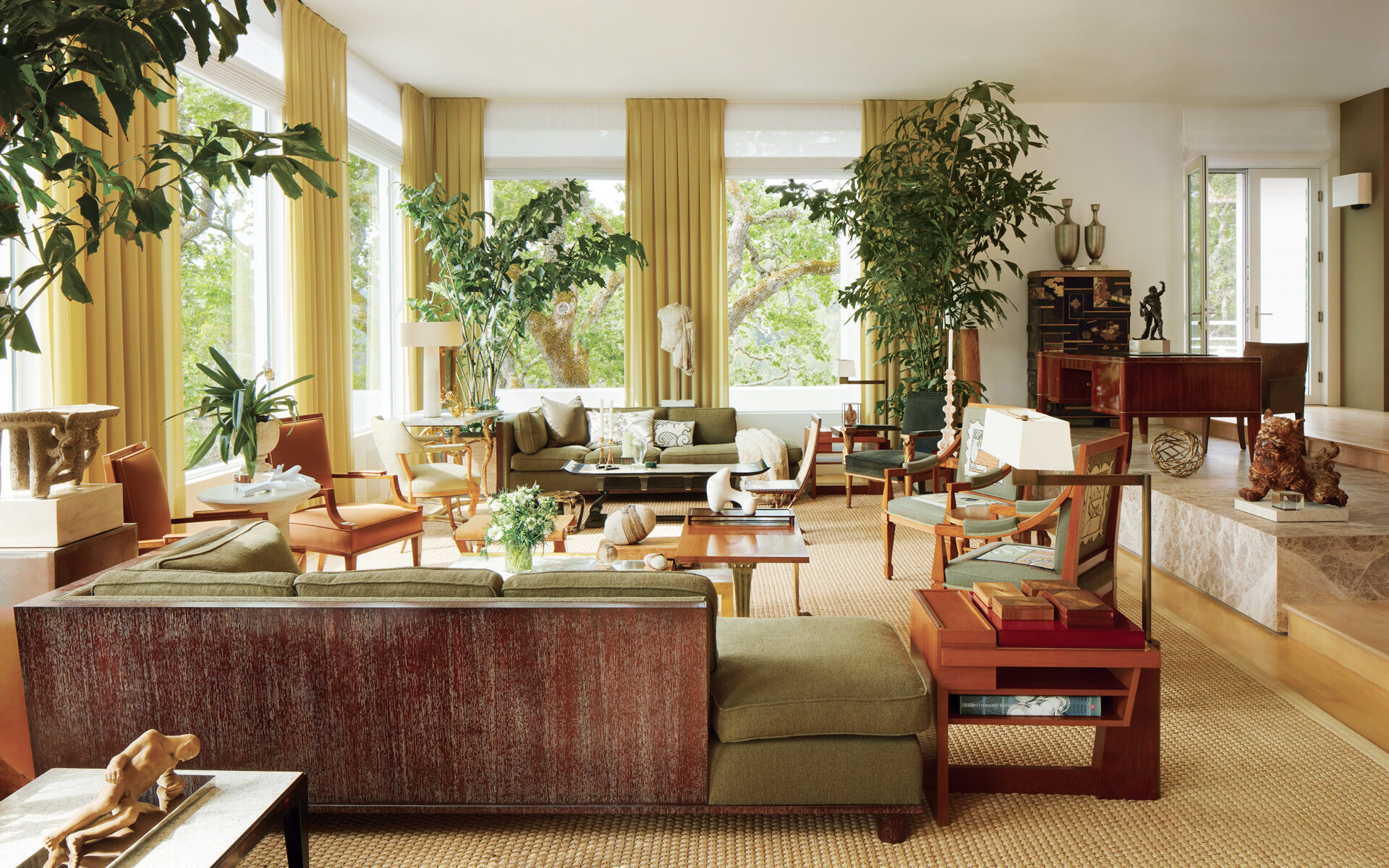 Design Virtuoso Roger Thomas Conceives Strikingly Different Homes for Himself in Venice and Northern California
Two distinctive residences reflect the designer's deep and varied interests in fine and decorative arts
For four decades Roger Thomas was the design mastermind behind luxurious, high-impact casino hotel interiors from Las Vegas and Mississippi to Macau—"evocatecture," as he likes to describe his work—serving as the creative collaborator of gaming resort mogul Steve Wynn. Having retired in 2020, Thomas now splits his time between a pair of residences that prove his knack for making a memorable impression isn't lost on a domestic scale.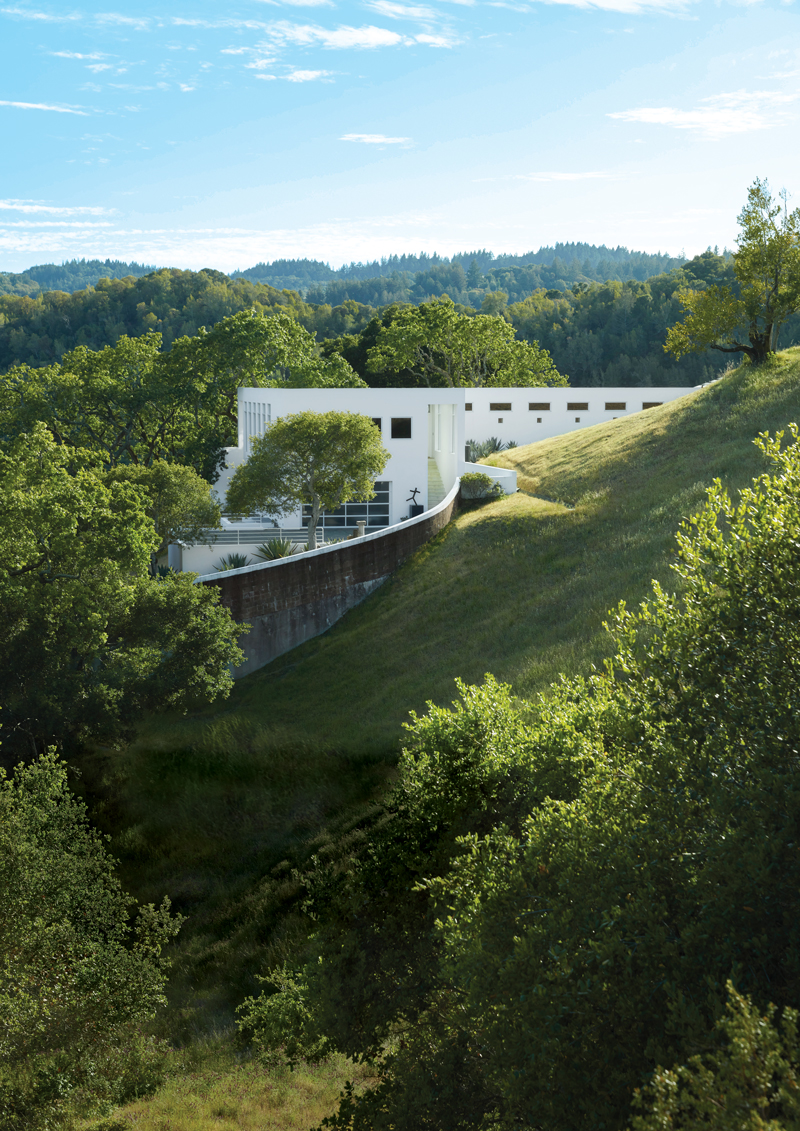 Those two homes, one a minimalist-modern refuge tucked into a wooded slope in Marin County, north of San Francisco, and the other, an apartment in an 18th-century palazzo overlooking Venice's Grand Canal, could hardly have more disparate settings. But both, in distinct ways, reflect Thomas's affinity for the poetic, his appreciation for history and personal narrative, his refined sense of light and color, his passion for beautiful objects.
"Life is too short not to live in something you really love"

Roger Thomas
"Life is too short not to live in something you really love," says Thomas, who explains that he and his husband, Arthur Libera, a licensing agent for artists and makers, acquired the California home 16 years ago, when he was working in Las Vegas and spending weekends in the Bay Area, where Libera's business is based. Designed in the early 1990s by architect Daniel Solomon, the residence perches on eight hilly acres with "views out to old lichen-covered oaks," Thomas says, "that just hit my heart."
He and Libera initially made few changes, but with Thomas's impending retirement, the couple decided it was time for significant updates and enlisted Thomas's childhood friend, architect Byron Kuth and his wife and partner, Elizabeth Ranieri, to oversee the work. For starters, they replaced the home's French windows with large single panes, allowing in more light and opening up the views. Most dramatically, they converted the space occupied by an indoor swimming pool into a guest room and a library with a cozy fireside sitting area. 
Thomas, an avowed "accumulator," took the opportunity to make some adjustments to the sophisticated mix of furnishings that combines vintage pieces by T. H. Robsjohn-Gibbings, John Dickinson, and André Arbus with his own designs for Ferrell Mittman, Quintus, and other firms. He added artworks that had been in his Las Vegas home or in storage, including a pair of 1981 Andy Warhol portraits of him that join a Donald Judd wall sculpture in the library. A diverse range of art objects abounds, from a Greek lecythus to numerous Saint Sebastian sculptures, a subject of particular fascination to Thomas in part because, he explains, for centuries "it was one of the few excuses for investigating the male figure."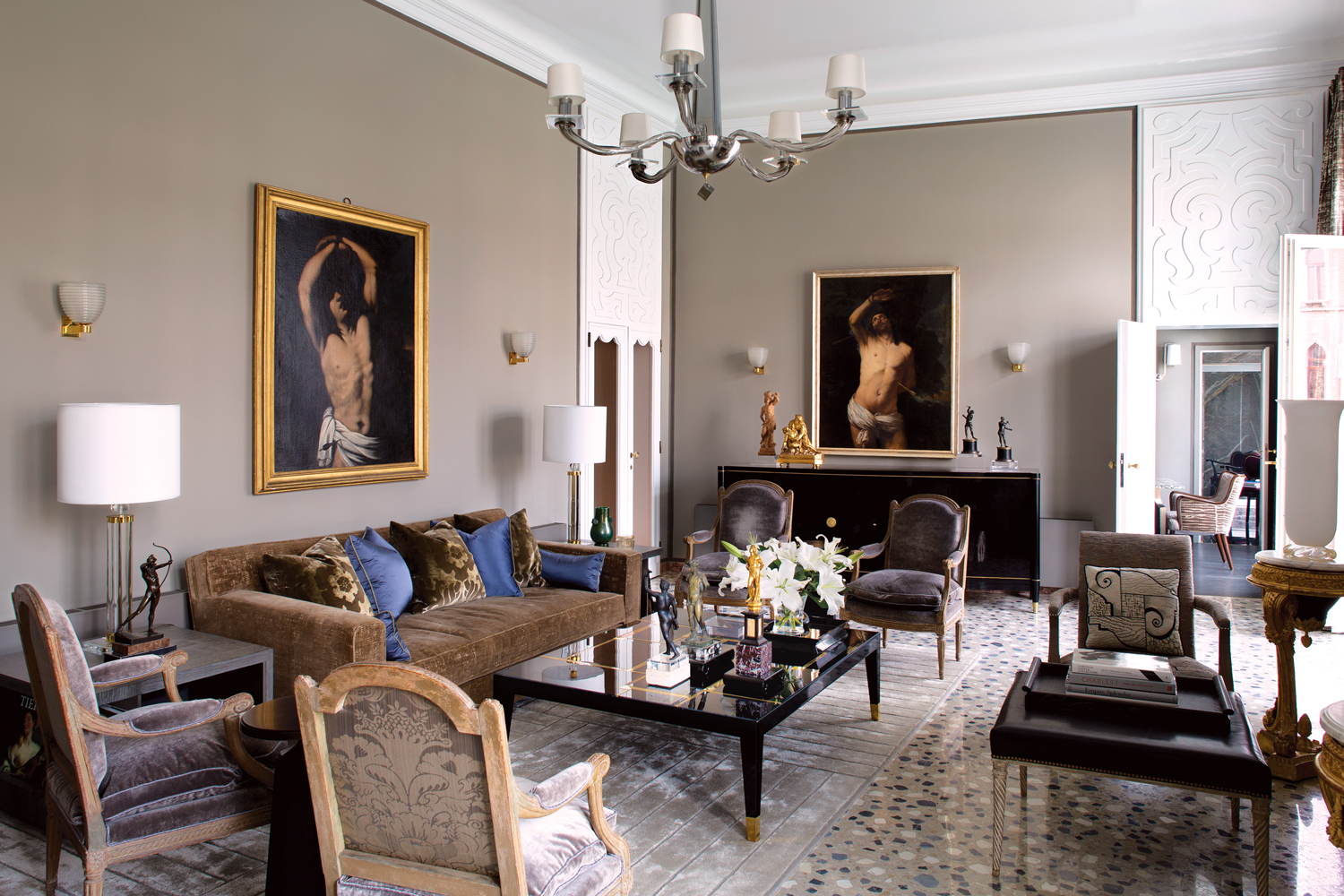 It's an interest that is even more dramatically on display in the couple's Venice apartment, a project they embarked on not long after renovations on the California house got under way. The canal-side residence, a few minutes' walk from the Ponte dell'Accademia, comprises half of the piano nobile—in this case, the second floor—of a historic palazzo known as Ca' del Duca Sforza. The name comes from Francesco Sforza, the 15th-century Duke of Milan, who began building on the site what would have been the largest residence on the Grand Canal if only a diplomatic dispute hadn't intervened. In the 16th century, some of Venice's most illustrious artists reputedly had workshops at this location: Titian, Tintoretto, and Veronese are all said to have "spilled paint here," says Thomas.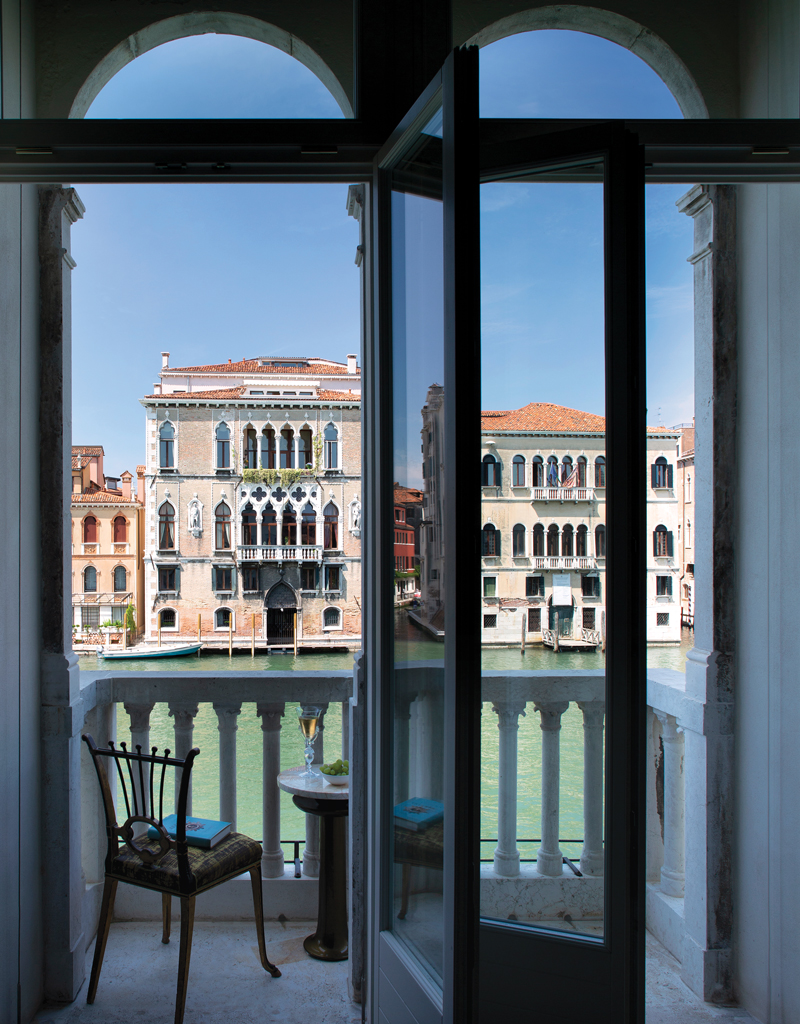 But the apartment needed major upgrades, beginning with new plumbing and electrical work and proper bedrooms. There were elements of the existing decor, most likely dating to the mid-20th century, that Thomas preserved: the graphic terrazzo floors, elegant doors, and abstract bas-relief panels in the living room, which he speculates might have been created by one of his Italian design heroes, Tomaso Buzzi. 
"I've always felt right when I'm here... It makes my imagination run wild"

Roger Thomas
Across much of the apartment Thomas emphasized cool silvery and slate tones, even matching the living room's gray walls to the Grand Canal by standing on the balcony with a paint deck one afternoon. The most notable exception is the primary bedroom, whose palette of corals and crimsons was inspired by the stucco of a neighboring palazzo.
Adding to the Venetian flavor, Thomas incorporated fabrics by Rubelli—the Rubelli family are his "best friends in Venice," he says—updated pulls and door handles with hardware by the local foundry Valese, and tapped Matteo Barbini of the distinguished family of Murano mirror makers to produce multiple commissions. Furnishings by Italian designers such as Osvaldo Borsani, Paolo Buffa, and Carlo Scarpa can be found throughout.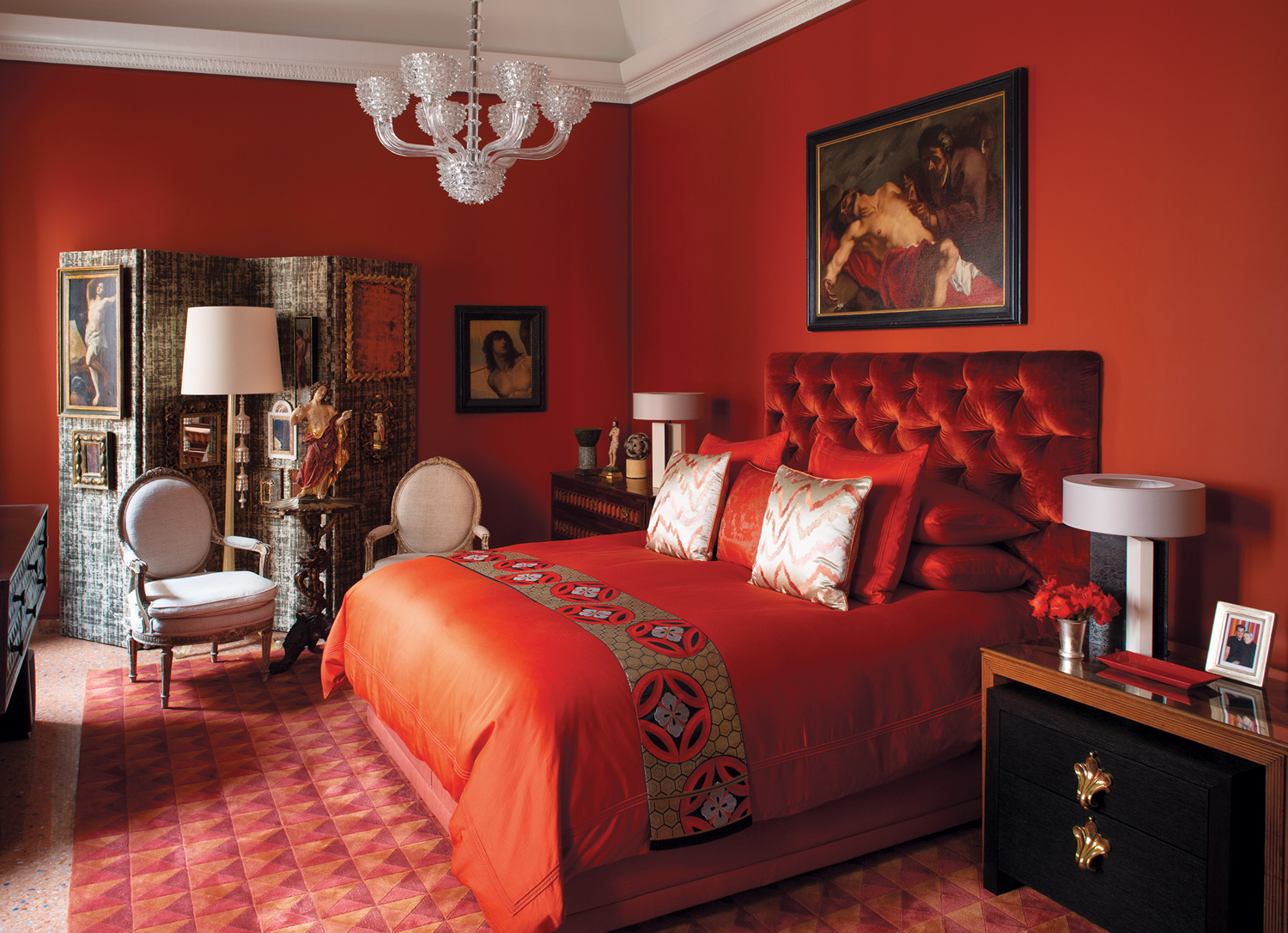 But it's the ubiquitous paintings and sculptures of Saint Sebastian—lots of "shirtless martyrs," jokes Thomas—that make the biggest impression. Especially in the living room, where a moody Saint Sebastian attributed to the early 17th-century Caravaggist Bartolomeo Manfredi hangs above the sofa and a more beatific, unattributed example surmounts a De Coene Frères lacquer cabinet. All that flesh, rendered in oil paint, bronze, or clay, lends the rooms an air of artful sensuality—something Venice has in abundance.
"I've always felt right when I'm here," Thomas says. And when the couple isn't in Northern California, there's really no place he'd rather be. "I feel inspired every moment I am in Venice," he says. "It makes my imagination run wild."
A version of this article first appeared in print in our 2022 Spring Issue under the headline "Double Take." Subscribe to the magazine.
Next Post