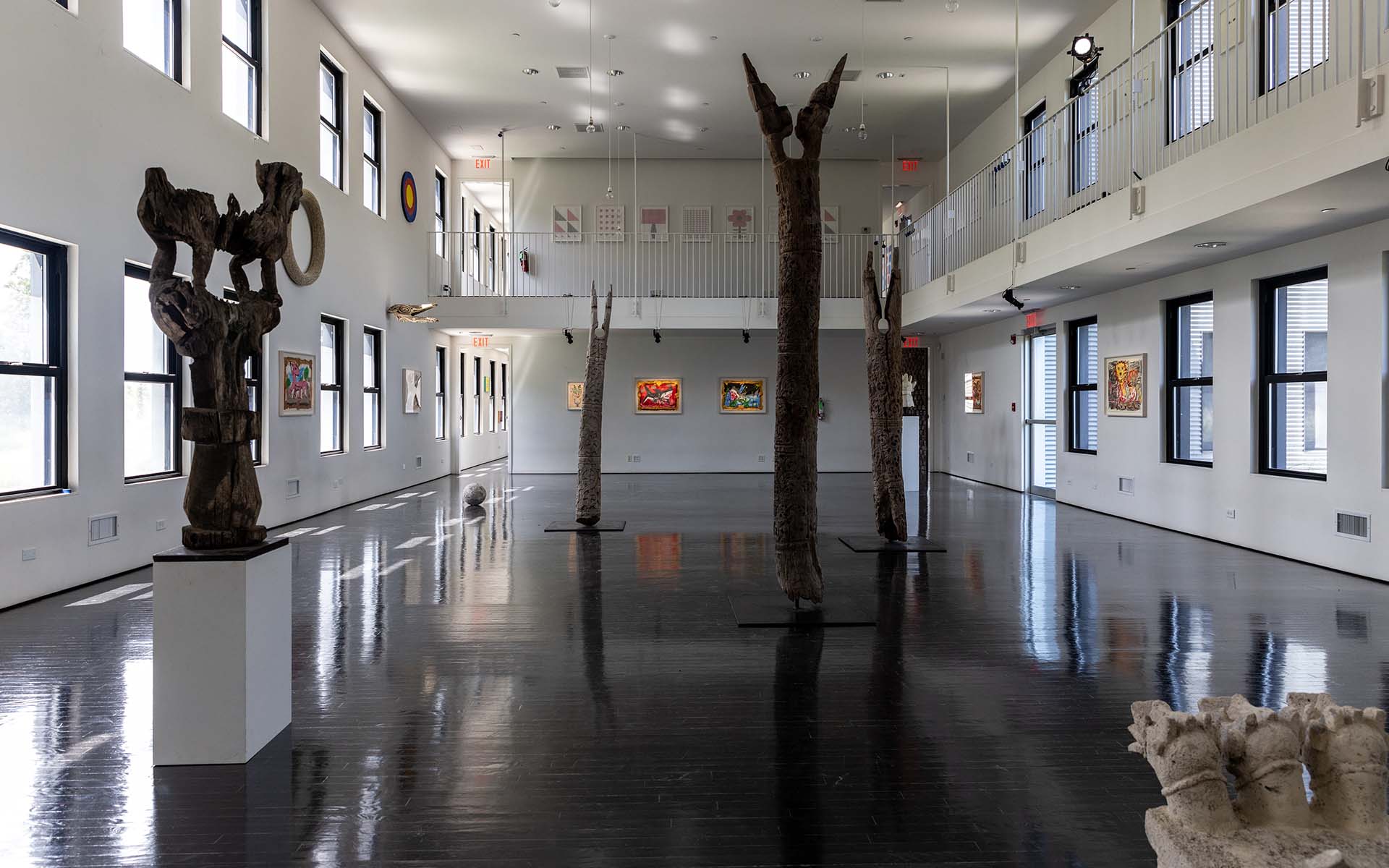 Robert Nava's Whimsical Beasts Take Over the Watermill Center in the Hamptons
The sought-after painter's summer residency has coincided with the 30th anniversary of Robert Wilson's fabled art space
Robert Nava spent his youth swimming in the lakes of Indiana, however, this summer, the Brooklyn-based painter's choice for a dip is the Hamptons' quaint town of Watermill. As a fellow at the multidisciplinary art foundation the Watermill Center, Nava has been immersed in the region's abundant natural vistas and mesmerizing sunsets during his month-long sojourn at a building designed by the institution's founder, Robert Wilson, and architecture firm Roger Ferris + Partners. Nature is both a familiar and uncharted territory for the painter, whose dynamic paintings and drawings conjure a pop lexicon that nods to ancient mythology.
Monsters, angels, and demons are common protagonists for Nava's chaotic juxtapositions that recall children's drawings as well as the oeuvres of Jean-Michel Basquiat and Jean Dubuffet. The 37-year-old's material choice only supports his delivery: crayon and grease pencil marks convey an immediate dialogue with viewers. The public's reaction to Nava's subverted whimsy is mixed with amusement, curiosity, and nostalgia—tying the care-freeness of childhood with an adult ennui.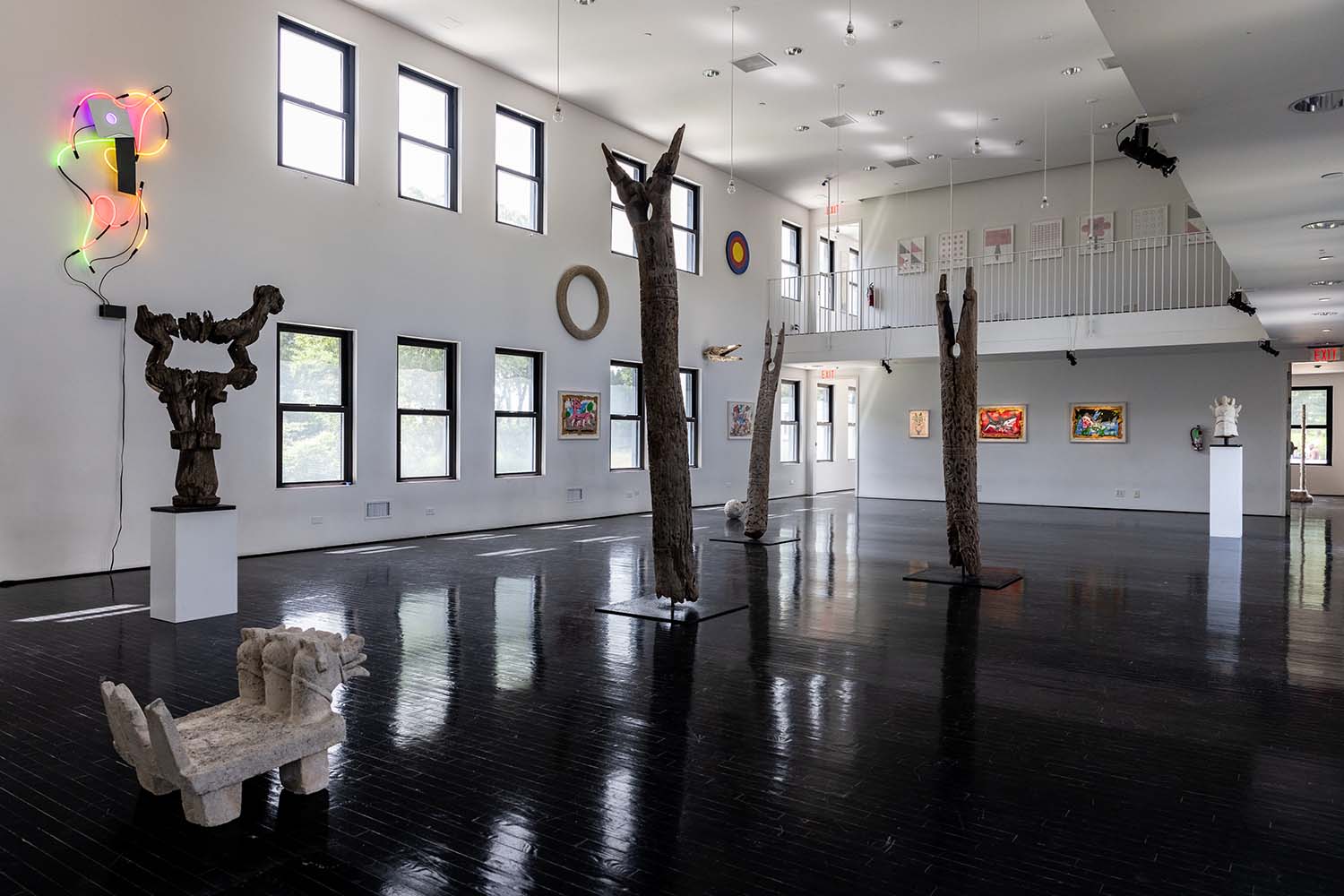 Back in July, the Watermill Center hosted an intimate dinner for its friends and supporters, prepared by Amagansett-based chef Cali Faulkner, to introduce its new season international residents and provide a sneak peek into Nava's first-floor studio space. Between paint tubes, sketches, and paintbrushes, the walls exhibited Nava's recent residency drawings that brim with comical characters. From a vicious rabbit to fiery dragon and a coy unicorn, the figures add splashy hues of pinks and oranges to the esteemed institution's green-washed atmosphere. 
The evening was a prelude to the center's legendary annual summer benefit, which has in the past hosted the likes of Lady Gaga, Willem Dafoe, Isabelle Huppert, and Robert Downey Jr,. Titled "STAND," the July 30 gala was attended by artist Carrie Mae Weems, Arne and Marc Glimcher of Pace Gallery, Performa founder Rose Lee Goldberg, as well as numerous collectors and art patrons. The guests engaged with the residents' performative installations, including a large egg in which the Brazilian artist Robson Catalunha serenaded to passersby and Turkish-Bosnian sister duo Deniz and Yeliz Celebic's dance around a tree wrapped with a serpent. The party also unveiled the New York artist Adam Parker Smith's resin, steel, and urethane sculptures of sleeping bags peppered around the garden.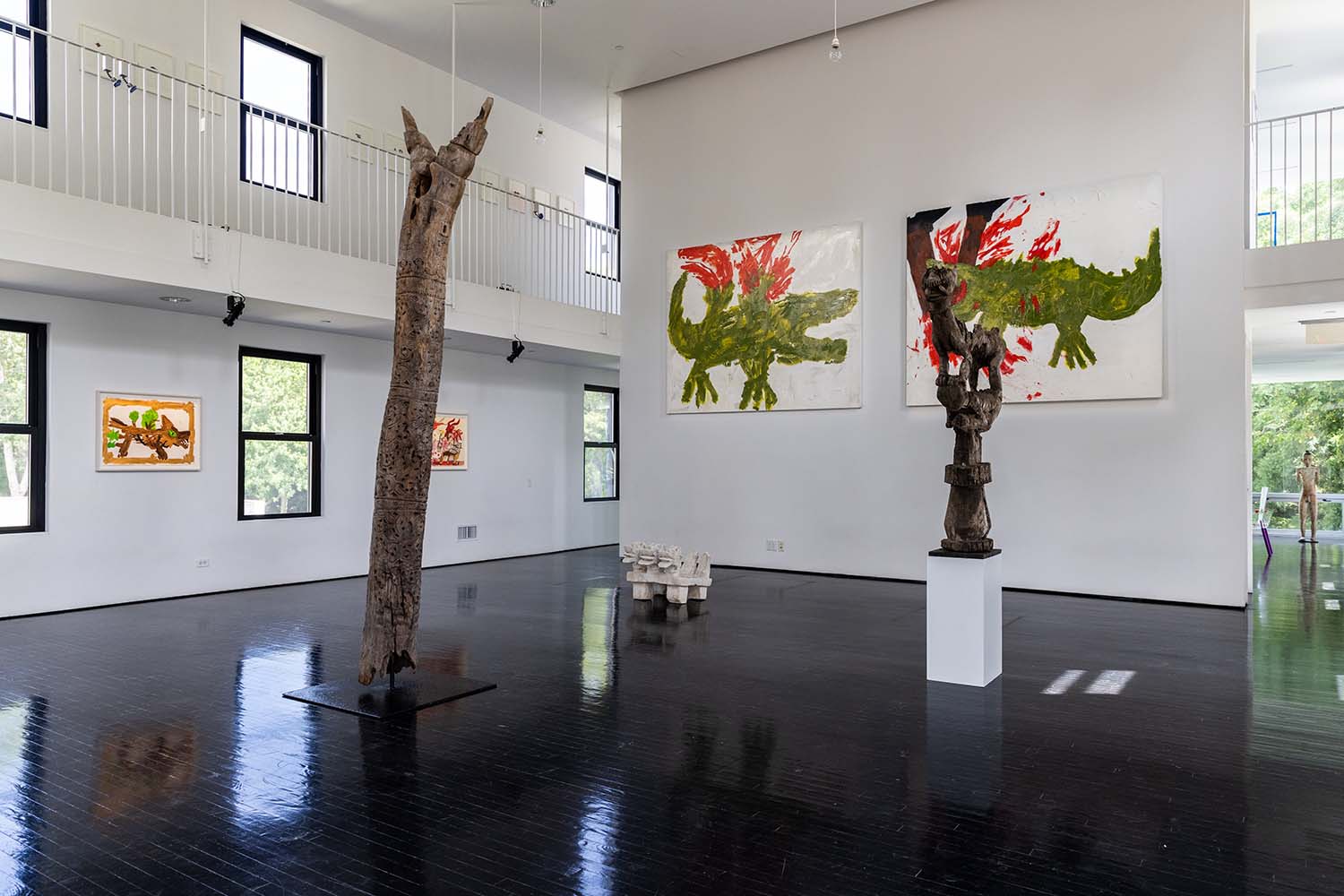 For the evening, Nava's newest works made their way into the Southwing gallery, where they are exhibited along with the artist's 2021 works inside a soaring bi-level space. In Demon Cat (2021), a winged feline with large eyes, a set of horns, and whiskers seems in an attack position, while in Soul Arms Lion (2021), the notoriously savage creature holds a gentle expression and and cartoonish posture. The artist's erratic crayon gestures all blend in the lion's yellow fur, zigzagged tail, and the black background.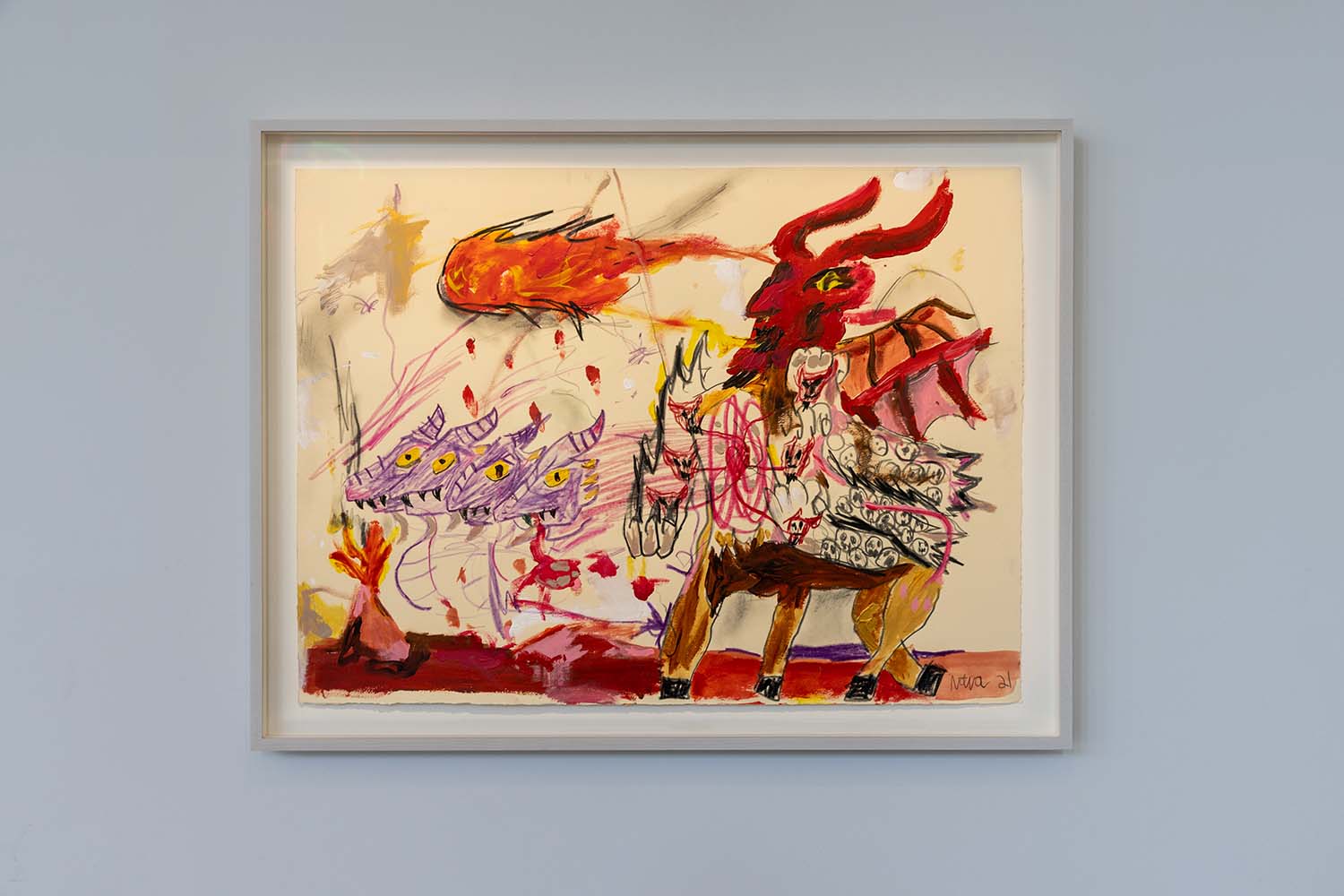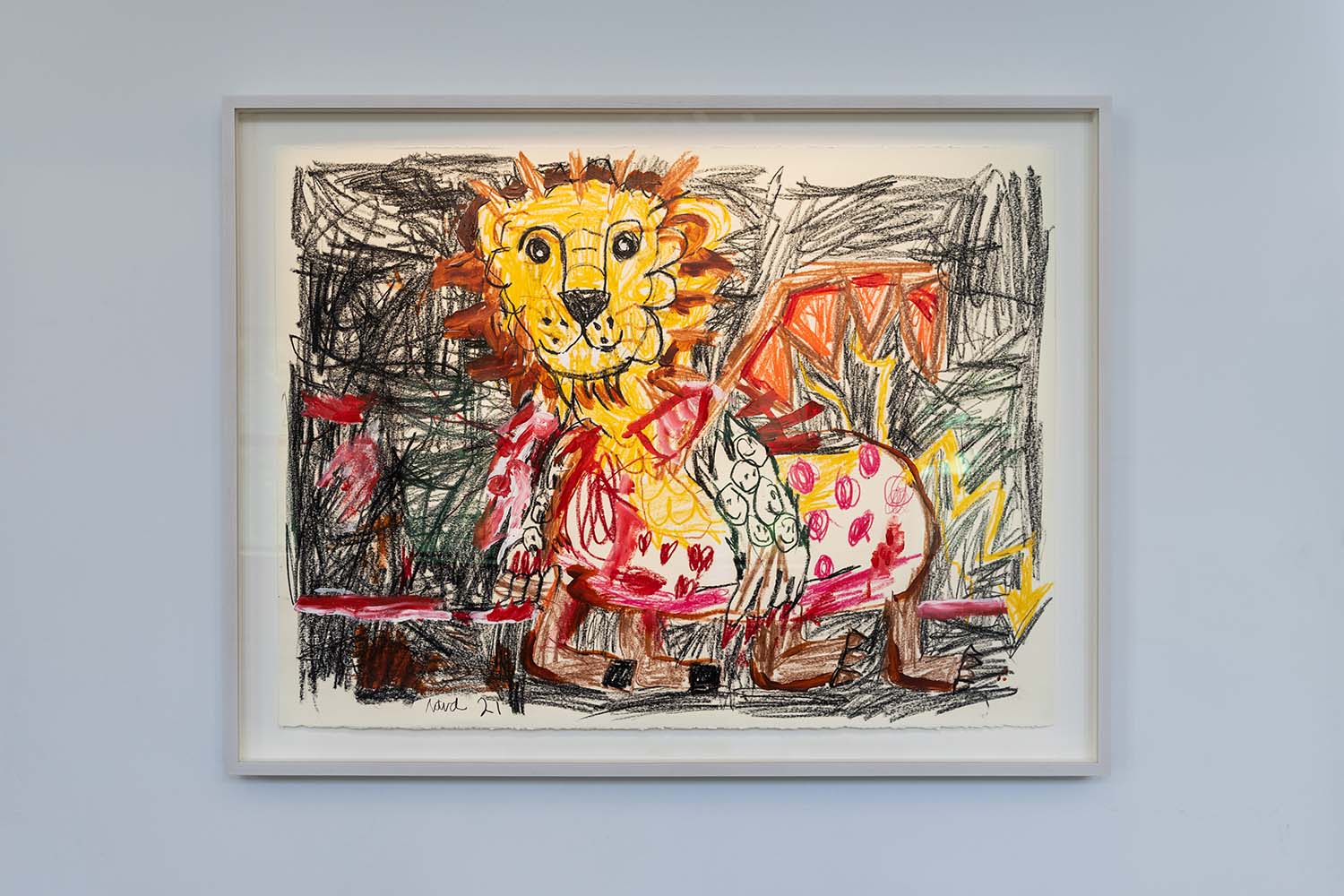 After graduating from the Yale University's lauded MFA program in painting over a decade ago, Nava's career skyrocketed in the last half decade with an immense collector interest. Today, he is among the most visible young painters who disrupt figuration's canonized trajectory with a style that defies easy categorization. While a rising demand escalated his paintings' price tag to tens of thousands of dollars, his secondary market reached a new extent last March with the sale of his 2021 canine painting Frozen Bark to £478,800 ($636,511) in a Sotheby's auction in London.
Amid the hype, Nava found seclusion in Watermill's ample natural splendor, yet his paintings' signature mayhem has not been compromised. From fire-spitting dragons to flesh-hungry rabbits, the mythical beasts these days inhabitants of the Southampton's charming hamlet.
Robert Nava's solo exhibition at the Watermill Center is on view through Labor Day. 
Next Post