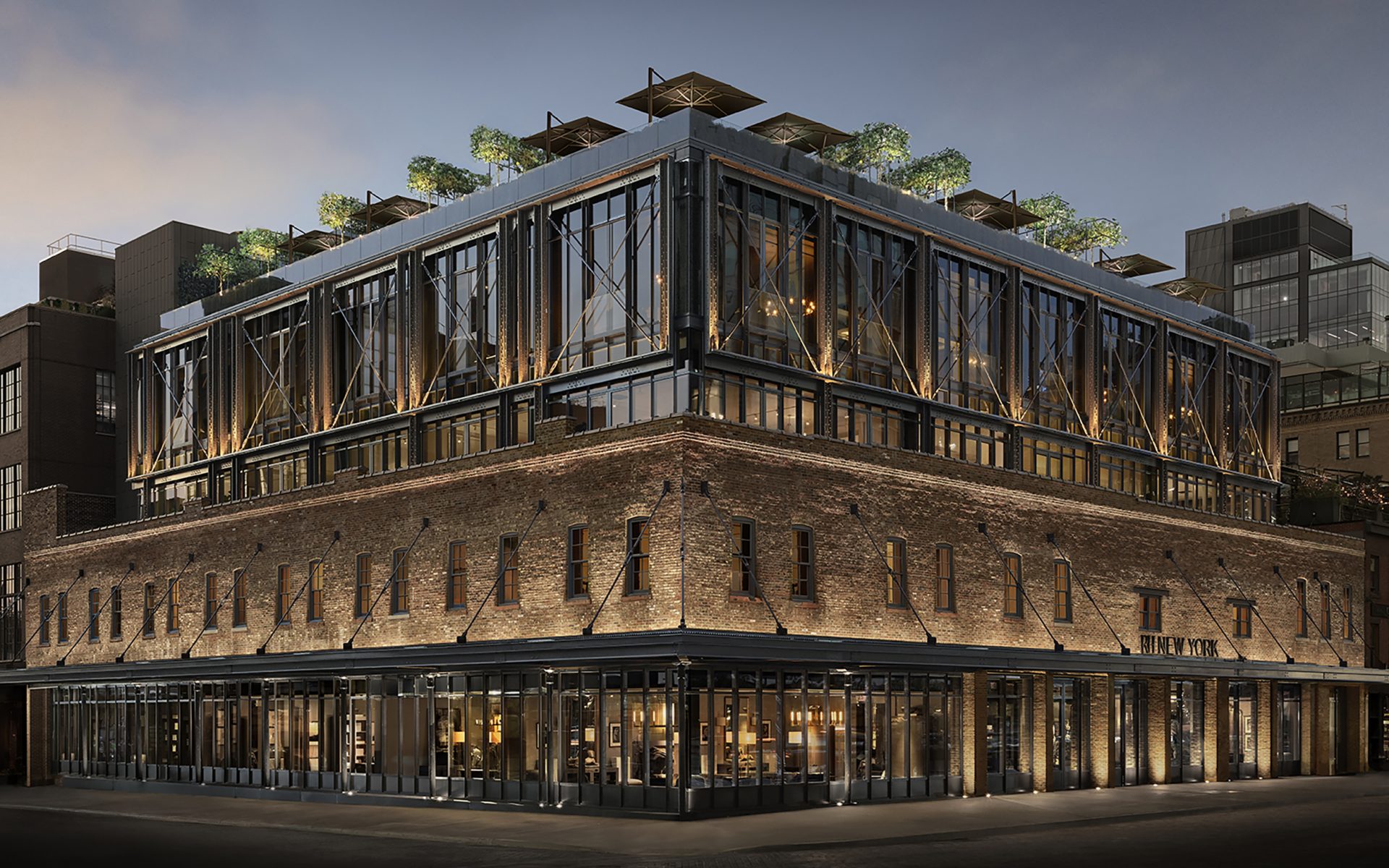 RH's Massive New York Store Takes Luxury Shopping to Another Level
The 90,000-square-foot-space includes design services, restaurants, and an over-the-top art installation.
"We like to say our work really reflects our beliefs," said Restoration Hardware chairman and CEO Gary Friedman, addressing a group of stylish onlookers at the grand opening of the new RH New York, the latest design gallery for the luxury lifestyle brand. During his ribbon-cutting presentation in early September, Friedman shared that this location in the Meatpacking District—the fifth such hybrid retail-hospitality space in the RH empire—after locations in Chicago, Toronto, West Palm Beach, and Nashville—is representative of the company's five core values, or what Friedman calls the "RH Rules." These include "Vision is everything," "Love us or leave us," "There is no school for cool," and "Fast is as slow as we go."
"We have to have the courage to destroy today's reality to create tomorrow's future," said Friedman. "We have in RH, in this gallery, completely destroyed our old reality. This isn't a little better, this is massively better. It's a complete leapfrog from RH's current reality."
RH launched its next-level design galleries in 2014 with RH Atlanta, The Gallery at the Estate in Buckhead. A food and beverage program was introduced the following year at RH Chicago, The Gallery in the Three Arts Club. The 90,000-square-foot New York gallery, located on a prime corner of the Meatpacking District—a neighborhood famous for its cobblestone streets, celebrity hot spots, and swanky neighbors—takes the evolution to a whole new level of luxury.
Seven years in the making, the gallery is situated in a historic landmark building once owned by John Jacob Astor. The redbrick exterior has been masterfully preserved and updated with cast-iron architectural elements by Friedman and design architect James Gillam of Backen, Gillam & Kroeger. 
Following Friedman's presentation, anxious shoppers poured through the doors, where the polished ground floor opens into a majestic view of the atrium, with a high-speed glass elevator as the central showpiece. A concierge behind an antique Armand Jonckers desk that once graced a jazz club in Belgium welcomes guests to the space. Nearby is the 1960s Grand Bolster sofa that's available for purchase exclusively at this location. Pieces from New York–based designer John Birch's I-Beam collection are to the left and right beneath showstopping Marignan round chandeliers.
Dotting the walls are artworks from Portia de Rossi's General Public. The grand staircase is flanked by a glowing installation by Los Angeles–based artist Alison Berger, titled New York Night, comprising 120 illuminated crystals stretching 90 feet to the ceiling against a background of charcoal Venetian plaster.
Within the gallery are other new offerings, including RH's Interior Design Studio and 0n-site presentation rooms that allow designers outside RH to work with their clients—this location is the first time RH has embedded an interior design outfit in one of its galleries.
Also special to RH New York are the curated spaces devoted to each of the RH brands, including Interiors, Modern, Outdoor, Baby & Child, and Teen, and an apothecary-like atelier for bed and bath linens.
Understanding that a full day of shopping might require a break for refreshments, the space offers two outlets: Barista Bar, where you can have a craft espresso or juice and a house-made pastry, and the rooftop Park & Wine Terrace, which offers a delectable dishes as well as sweeping views of the neighborhood and Hudson River.
Overseen by celebrated restaurateur and founding president of RH Hospitality, Brendan Sodikoff (4 Charles Prime Rib and Au Cheval), the Rooftop Restaurant is a meticulously designed grid of black umbrella-covered banquets adorned with Kelly Hoppen pillows, which create the ultimate country-club-esque environment in RH's debut indoor-outdoor restaurant, where the menu is a tantalizing array of dishes from shareable plates of burrata to comfort bistro fare, like slow-roasted chicken, gourmet burgers, and sinful grilled cheese.
"We're proud to be part of the evolution of the Meatpacking District," said Friedman. "It has this sense of history, it has this sense of community, which we believe really resonates with the RH brand."
Next Post