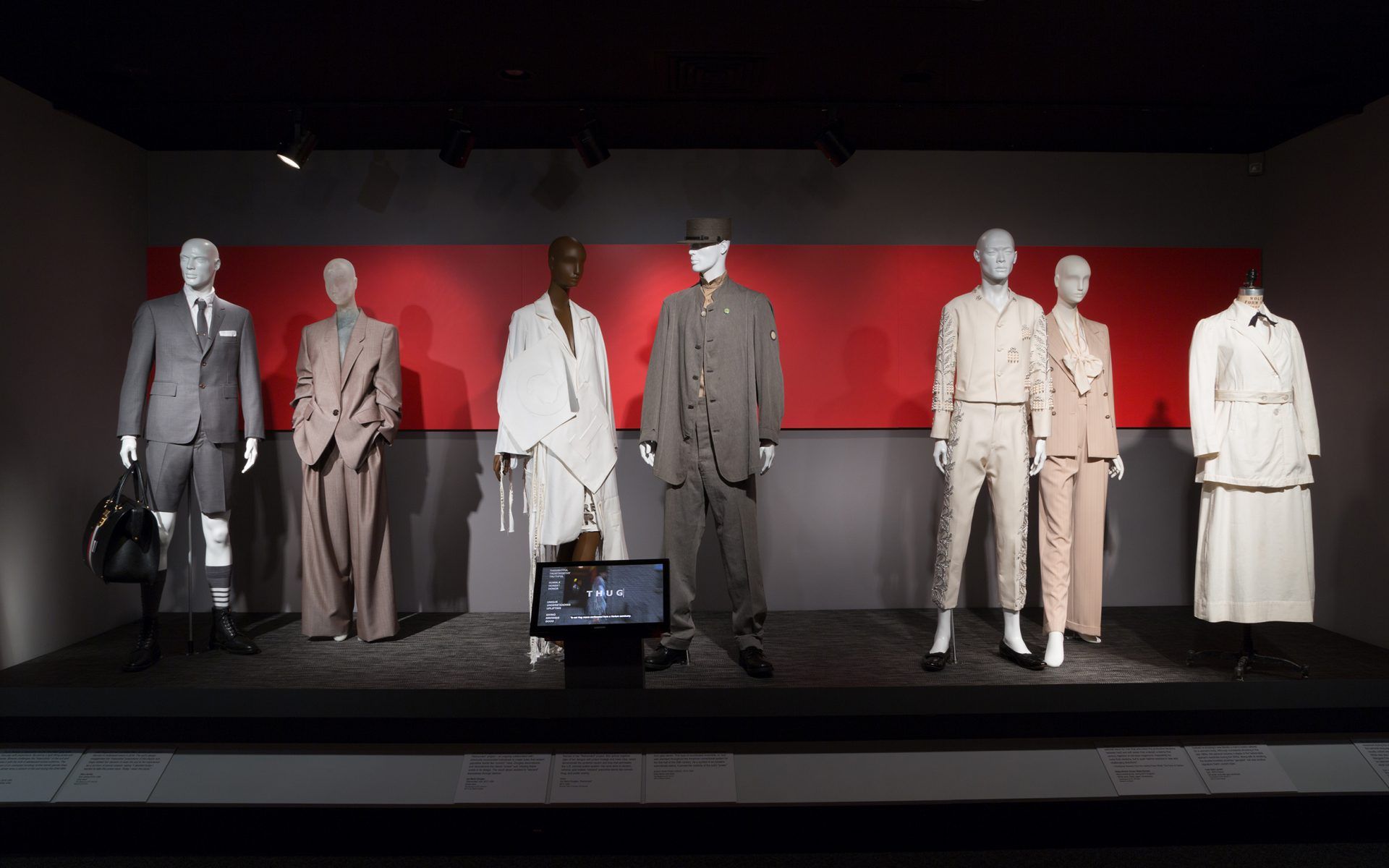 FIT's New Fashion Exhibition Explores 'Power Dressing' Through the Ages
At the Museum at FIT, modern designs by Carolina Herrera, Marc Jacobs, and Pyer Moss are displayed alongside vintage apparel
From Dior's "We Should All Be Feminists" t-shirts to Lingua Franca's "I Miss Barack" embroidered cashmere sweaters to Public School's Make America New York hats, modern-day dressing often involves wearing your politics on your (literal) sleeve. However, combining fashion and message is hardly a new phenomenon. Now, the Museum at FIT in Manhattan is exploring what power dressing has meant through the ages with an exhibition that draws from the museum's 50,000-piece permanent collection.
"It's a really broad topic, and there's a way in which this exhibition is probably going to raise more questions than offers answers. Essentially, it's trying to examine the questions of what makes a garment powerful and what we mean when we say that some garment is an aspect of power dressing," says Emma McClendon, the associate curator of costume at the Museum at FIT, of the show, titled "Power Mode: The Force of Fashion," which is on view through May 9, 2020.
Broken into five themes, the show concentrates on different aspects of power and how a person's sartorial choices reveal their position within. The most obvious introduces the show with a display of military uniforms presented next to pieces by Ralph Lauren and other contemporary designers whose use of color, silhouette, braiding, patches, and metallic details is inspired by the look.
Recommended: 10 of the Best Fashion Museums in the World
"The uniform itself is designed to make the wearer into an extension of the state's power," McClendon tells Galerie, "but it also sends a complex semiotic code, a language to other people in the military forces that's all about hierarchy and about power."
Putting a twist on the theme is a display of gold and silver ensembles by Philipp Plein and Gareth Pugh that represent fashion as armor, an idea that's been endorsed in recent years by journalist Bill Cunningham and Rihanna or Billie Eilish.
Other vignettes are dedicated to suiting (including designs by Thom Browne and Marc Jacobs, as well as a piece from emerging talent Joy Marie Douglas's Rebranded Project, which works with those formerly incarcerated) and status, where items that demonstrate wealth are prominently displayed. Here, garments from the 18th century, which denoted money through the sheer quantity of luxurious fabric used, are presented opposite It Bags with designer logos and two iterations of fur—a real leopard fur coat from the 1960s by Dior juxtaposed against a faux fur Dolce & Gabbana jacket.
The final sections are dedicated to sex and sexuality, which includes everything from lingerie to Versace's famed 1992 bondage collection, and resistance dressing, where items range from MAGA caps and "pussyhats" to runway pieces with a political message, such as items by rising fashion star Pyer Moss.
"Resistance and fashion are often put against each other," explains McClendon. "We typically think of fashion appropriating the authentic message of a resistance movement and commodifying it. In this highly visual, immediate era of communication that we're living in, the boundary between resistance clothing and fashion is much more blurry than we've had in the past. We can't just say one co-opts the other. Resistance moments are very much concerned with crafting an aesthetic, and fashion is engaging with that, which in turn inspires future resistance movements."
The entire exhibition, which took over two years to create, is meant to spark conversations about the colors, slogans, and forms that have been used to denote power and take stock of where we are now. But with a new year and presidential election on the horizon, there's bound to be much more to talk about in the era to come.
"Power Mode: The Force of Fashion" is on view at the Museum at FIT, 227 West 27th Street, New York, through May 9, 2020.
Next Post