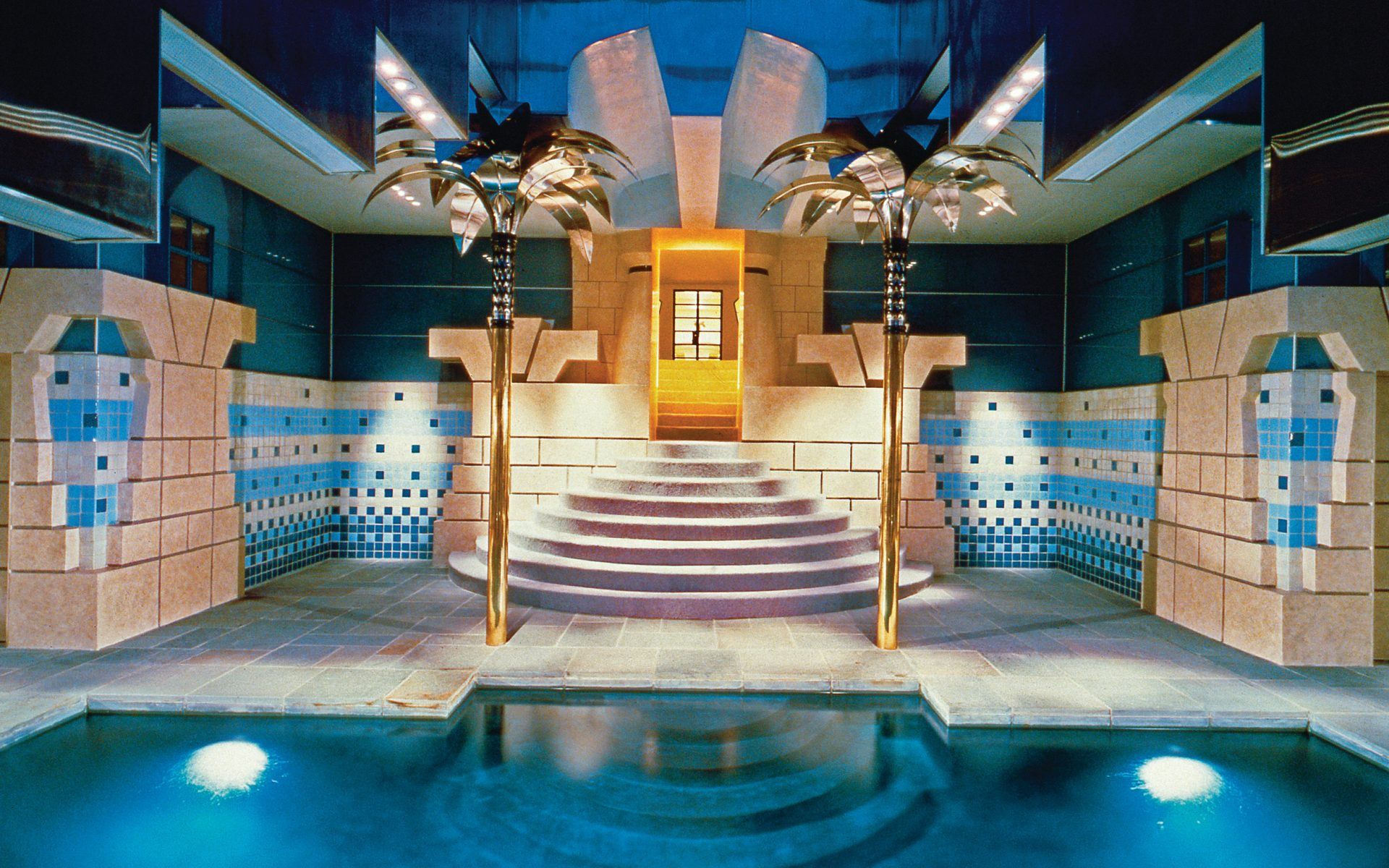 See the Most Radical Postmodern Interiors from Around the World
A new book celebrates maximalist, eye-catching buildings by Robert A.M. Stern, Helmut Jahn, and Charles Moore
Both exalted and derided for its playful exuberance, Postmodern architecture emerged in the 1960s as a radical response to the clean-lined modernist structures that dotted many a mid-century metropolis. By deploying classical geometries in oversized scales as well as eclectic material palettes, architects like Michael Graves, Ettore Sottsass, and Robert A.M. Stern created a generation of dramatic buildings that were undeniably eye-catching and delightfully nonconformist.
Now, noted curator and writer Owen Hopkins is releasing Less Is A Bore (Phaidon Press; $50), a title that riffs on modernist Mies van der Rohe's "less is more" maxim. The 224-page volume catalogues some 200 Postmodern icons around the world—from Robert Venturi's Vanna Venturi House in Philadelphia to the New York's World Financial Center, designed by César Pelli. And while the book is mainly comprised of whimsical façades, the riotous interiors are just as dazzling. See below for five standout examples.
1. Robert A. M. Stern: Residence and Pool House
Llewelyn Park, New Jersey, 1982
During a renovation of a Georgian Revival estate in suburban New Jersey, architect Robert A.M. Stern added a glass-enclosed pool area in what was formerly a recessed terrace. Featuring stylized historical motifs, the dreamy space creates a compelling dialogue with the existing house, as well as an ideal place to take a refreshing dip.
Recommended: Inside Robert A.M. Stern's Perfectly Tailored Park Avenue Headquarters
2. Paolo Portoghesi, Vittorio Gigliotti, Sami Mousawi and Nino Tozzo: Mosque and Islamic Cultural Center
Rome, 1995
While its exterior features such classic Italian materials as travertine and masonry, the Mosque of Rome's interior boasts a forest of stark-white columns meant to resemble trees whose twisting branches offer structural support. "There is no better symbol with which to express the diversity inherent in the unity of Islam," said architect Paolo Portoghesi, in 1991. "The roots, trunk, branches, and leaves of the tree, like the various countries in which Islam prevails, are all different, yet work together as a complete organism."
3. Charles Moore: Moore/Andersson Compound
Austin, Texas, 1984
Architect Charles Moore, who won the coveted AIA Gold Medal in 1991, crafted this maximalist stunner as his personal residence upon moving to the Texas capital in the mid-'80s. The collage-like fireplace, pictured above, speaks to the architect's penchant for putting a colorful spin on historical motifs.
4. John Outram: Duncan Hall, Rice University
Houston, Texas, 1996
This soaring atrium within Rice's Duncan Hall features kaleidoscopic patterns in virtually every direction. The elaborate vinyl ceiling mural, for instance, boasts a stunning design that architect John Outram drew by hand on a standard sheet of paper and then digitally enlarged.
5. Helmut Jahn: State of Illinois Center
Chicago, 1985
Acclaimed architect Helmut Jahn crafted 17-story building, which features a dizzying Escher-esque lobby, to house a slew of Illinois's state agencies. Boasting a 160-foot high rotunda, the colorful atrium was designed to articulate the government's commitment to transparency.
Next Post