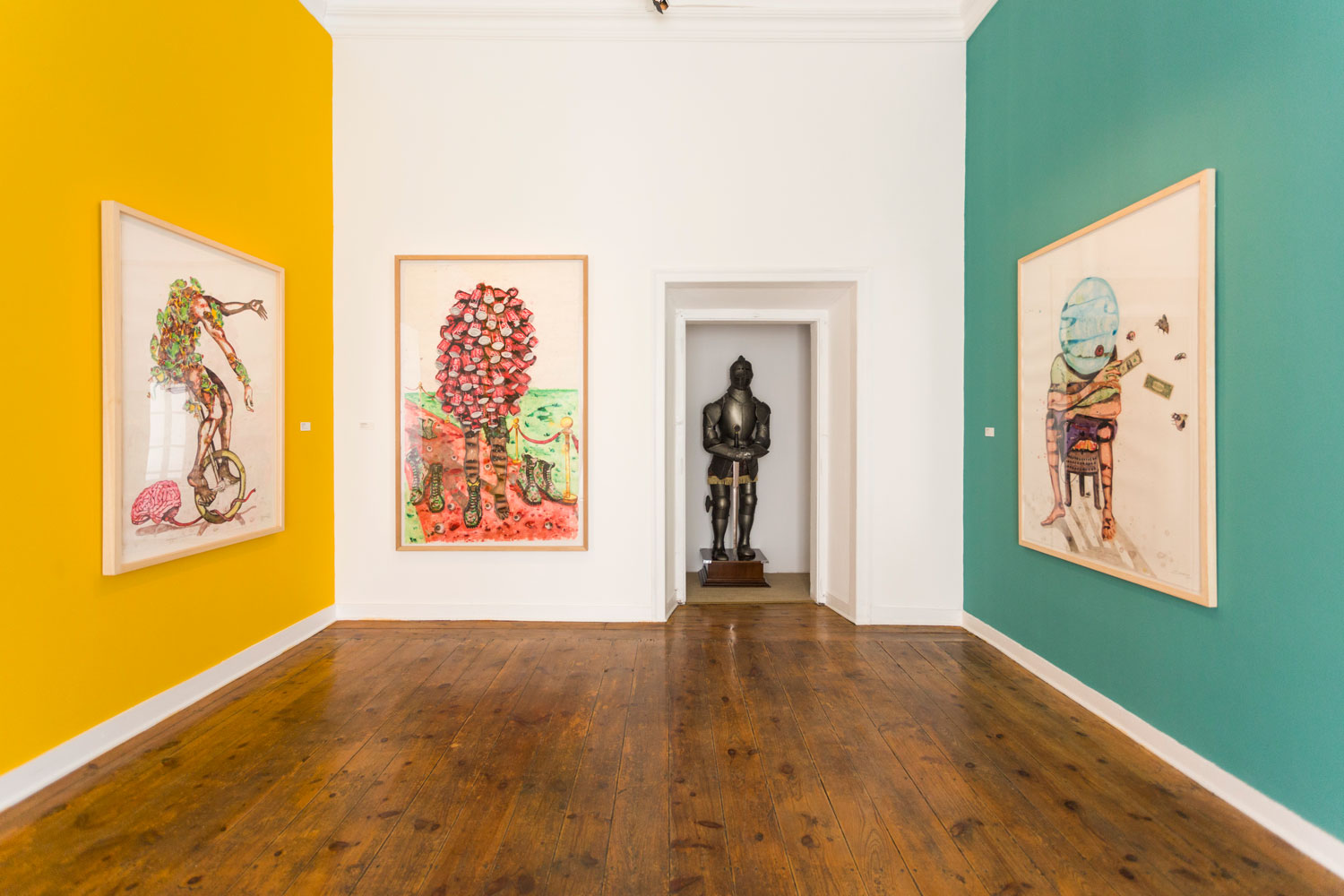 This New Festival Aims to Showcase the Best in Contemporary African Art
With a history that extends back to Roman times and the one-time royal home of Iberian kings, Évora, Portugal, is like a microcosm of medievalism. Fortified city walls dating to the 12th century surround the town's winding, cobbled streets, and a grisly 16th century chapel lined with 5,000 human bones—known as the Capela dos Ossos—sits near its center.
Yet despite these vestiges of a distinctly European past, the city is currently the site of something altogether new: Evora Africa, a three-month-long celebration of contemporary African art and music.
Launched in May, Evora Africa, is held in and around the stately 14th century Cadaval Palace, which remains today, as it has for 600 years, the home of the family of the Dukes of Cadaval.
Featuring more than 30 artists, musicians, and performers hailing from Mali to Mozambique, the festival combines traditional music and dance with intimate concerts and DJ sets performed weekly through August 25.
An extensive exhibition spans an entire floor of the palace showcasing work from over half a dozen of the biggest names—both established and emerging—in African art today. Included are Billie Zangewa's intimate collaged scenes stitched on silk from the early 2000s, Amadou Sanogo's slightly surreal contemporary paintings created as recently as 2016, and Malick Sidibé's midcentury black-and-white images—some of the most iconic in the canon of modern photography.
"It was important to us to spotlight artists that haven't widely been or ever shown here in Portugal to represent a broader picture of Africa today," says Alexandra de Cadaval, founder of Evora Africa.
Recommended: 5 African Artists to Watch Right Now
Although de Cadaval—of the palatial venue's namesake—has lived in various regions of Africa for the better part of the last decade, she worked with two specialist curators—André Magnin and Philippe Boutté—to realize the Evora Africa show.
Magnin helped curate the first non-Western contemporary art exhibition presented at Paris's Centre Pompidou in 1989 before establishing, with the help of Boutté, The Pigozzi Collection in Geneva, known to be the largest private collection of contemporary African art.
"This project required us to pool all of our experiences," says de Cadaval. "There's never been a big concentrated attention to African art in Portugal that I know of."
Indeed, Portugal was one of the first European countries to colonize African land when it took over the previously uninhabited Cape Verde islands for trade in the 15th century; it was also one of the last to decolonize its African territories, with Angola gaining its independence in the late 1970s.
"Africa is in everything in Portugal," says de Cadaval, "whether expressly or not and it should be celebrated."
To that end, Evora Africa succeeds in showcasing the work of contemporary African artists with the same reverence that the city tends to the legacy of its European history. The heirloom furniture and objets d'art (save one coat of armor) have all been removed from the Cadaval Palace suites now serving as gallery spaces.
The works on view, however, tend to represent the traditional forms of art the European landed gentry collected centuries ago: portraiture, devotional works, and scenes of everyday life.
Instead of family portraits, for example, an extensive selection of images from the Diaspora series of Senegalese art and fashion photographer Omar Victor Diop lines the palace walls. This series feature the artist—lavishly outfitted in both common Western African fabrics and colonial Western wear—set against richly colored backdrops, holding a variety of sporting equipment like soccer balls and goalie gloves.
Recommended: Why Contemporary African Art is in Hot Demand
Riffing on the conventions of traditional portraiture, Diop creates scenes that offer a succinct critique of colonialism while rewriting the visual narrative of history to be more inclusive.
In another room, Phumzile Khanyile's candid photos from her recent Plastic Crown series depict two black women—one donning a ring of hot curlers on her head as she smokes a cigarette, the other sporting a metallic painted birthday tiara—present an expanded understanding of what it means to be part of a noble family.
The interior rooms are not the only part of the palace that have gotten a contemporary update. Arches and walls around the building's courtyard and facade now boast the intricate and boldly colored geometric paintings of 82-year-old South African artist Esther Mahlangu, a long practitioner of the Ndebele nation's traditional artistic technique reserved for and passed down through generations of women.
At a temple dedicated to Diana, the Roman goddess of the hunt, Evora Afrika celebrated its opening with a Bwaba dance performance known as "The Masks of the Moon." The ceremony will be performed every full moon just outside the city walls at the Almendres Cromlech, the Stonehenge-like megalithic complex that dates back to roughly 6000 BC.
De Cadaval notes that Évora, named as a UNESCO World Heritage Site, has always been a place of sustained cultural exchange—a legacy she hopes Evora Africa can help continue.
"This is more than just addressing a colonial past," she says. "Art is about embracing traditions and making new ones."
SaveSave
SaveSaveSaveSaveSaveSave
SaveSave
SaveSave
Next Post