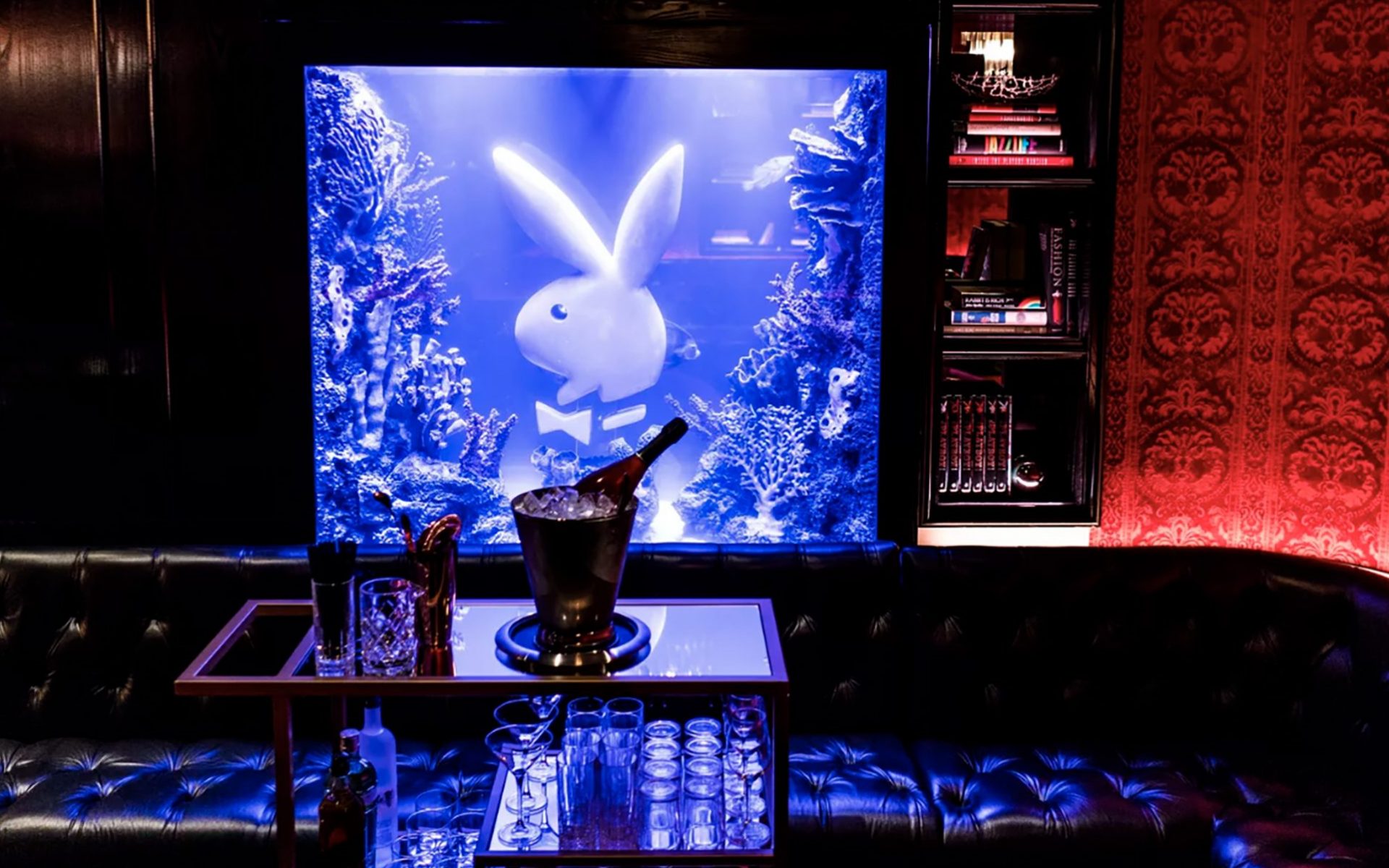 The Playboy Club, Lavishly Reimagined, Makes a Comeback in New York City
Designed by Cenk Fikr, the new club aims to 'capture the lifestyle' of Playboy
While it's a common occurrence for famous New York City stores, restaurants, and hotels to go out of business, it's the rare entity that's able to make a comeback. The newly reopened Playboy Club is giving it a shot.
While the original New York location of the Playboy Club has been closed for nearly 30 years, the dimly lit new version has revived much of the imagery that the previous iteration was known for. There are waitresses clad in bunny ears, black corsets, and Playboy-branded cufflinks while the walls are lined with vintage photos from the magazine. There are even nods to the infamous grotto at the Playboy Mansion, which is now in the midst of a restoration thanks to new owner Daren Metropoulos.
The 14,000-square-foot club was designed by Cenk Fikri, who also crafted the lavish GoldBar in downtown Manhattan and London's Bar 190. He told The New York Times that his only instruction on the project was "to create something that captured the lifestyle" of Playboy and that "from a designer's perspective, it's almost like putting a race-car driver in a Ferrari and taking the brakes off."
Recommended: Inside Robert A.M. Stern's Perfectly Tailored Park Avenue Headquarters
Fikri added, "It almost sort of reminds me of this Sean Connery, 007 lifestyle."
The luxe decor features floors of Carrara and Nero marquina marble, long black leather sofas, walls made from black Bendheim glass, and an array of gold accents, plus a 350-pound fish tank. Only a portion of the club is open to the public, while the other four lounges are accessible only to members. Membership starts at $5,000 a year and goes up to $100,000. The New York Post reported that the new club has already sold $2.2 million in membership fees, with women making up 45 percent of the members.
The Playboy Club is now open at 510 West 42nd Street, New York. 
Next Post