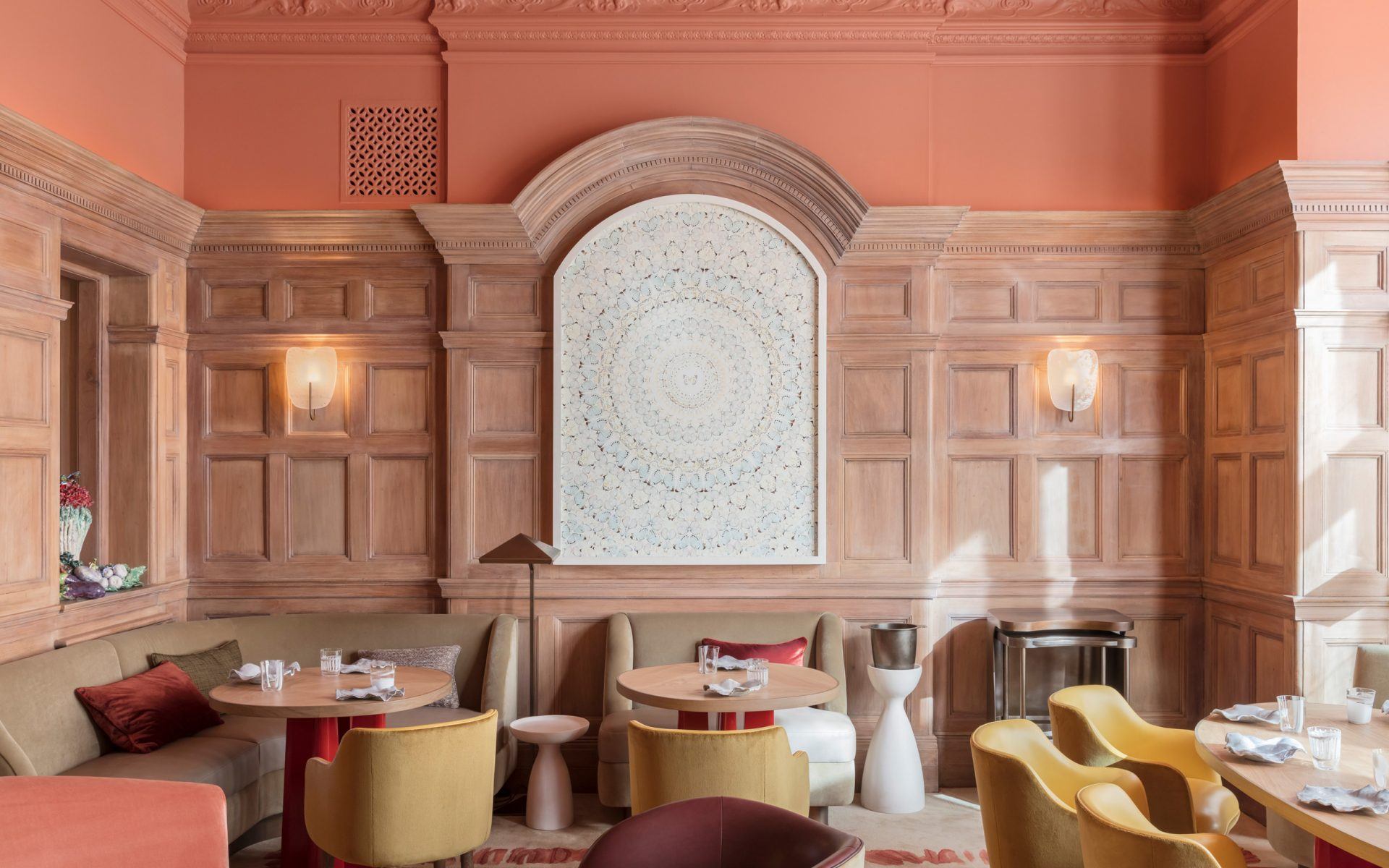 Pierre Yovanovitch Revamps the Connaught's Michelin-Starred Restaurant
The sumptuous makeover marks the tenth anniversary of Hélène Darroze at the Connaught
To mark the ten-year anniversary of the Michelin-starred restaurant Hélène Darroze at the Connaught, acclaimed Paris designer Pierre Yovanovitch has unveiled a dazzling refresh of the London hot spot.
Known for creating effortlessly chic interiors, Yovanovitch channeled chef Hélène Darroze's signature plates to mastermind a refined yet cozy atmosphere that puts an emphasis on craftsmanship. For instance, all of the furnishings were custom-made, including curved banquettes and chairs sheathed in leather or velvet in a soothing palette of pinks, tans, and greens. There are also bolder pops of color, like the fire-engine red table bases that are made out of lacquered ceramic.
Recommended: See the Connaught Hotel's Art-Filled Townhouse Curated by Gagosian
During the two-month revamp, Yovanovitch also lightened the dark-stained oak millwork several shades and swapped crisp white paint for a rich, peachy hue. Past patrons will be delighted that the pair of custom Damien Hirst paintings were kept following the makeover and still enjoy pride of place in the main dining room.
Downstairs, the newly installed Chef's Table boasts a view into the kitchen and features bespoke Matteo Gonet sconces, a pink-marble table that seats ten, and a cobalt fresco by French artist Rochegaussen.
Recommended: Pierre Yovanovitch Transforms a Brussels Townhouse for Major Collectors
The acclaimed menu, which earned Darroze two Michelin stars, has also been tweaked: Meals now start with a seasonal consommé served in custom Ema Pradere–designed bowls and visitors can choose plates based on the origin of the main ingredient, down to selecting the exact boat on which the fish was caught.
"Every dish I have ever created is part of who I am," Darroze said in a statement. "This refurbishment has afforded me a perfect platform to showcase them all now at their very best."
Next Post