Philippe Starck Reveals the Inspiration Behind His Take on the Dior Chair
An otherworldly installation during Salone del Mobile unveils the designer's avant-garde reinterpretation of the iconic Medallion chair, which has long been associated with the fashion house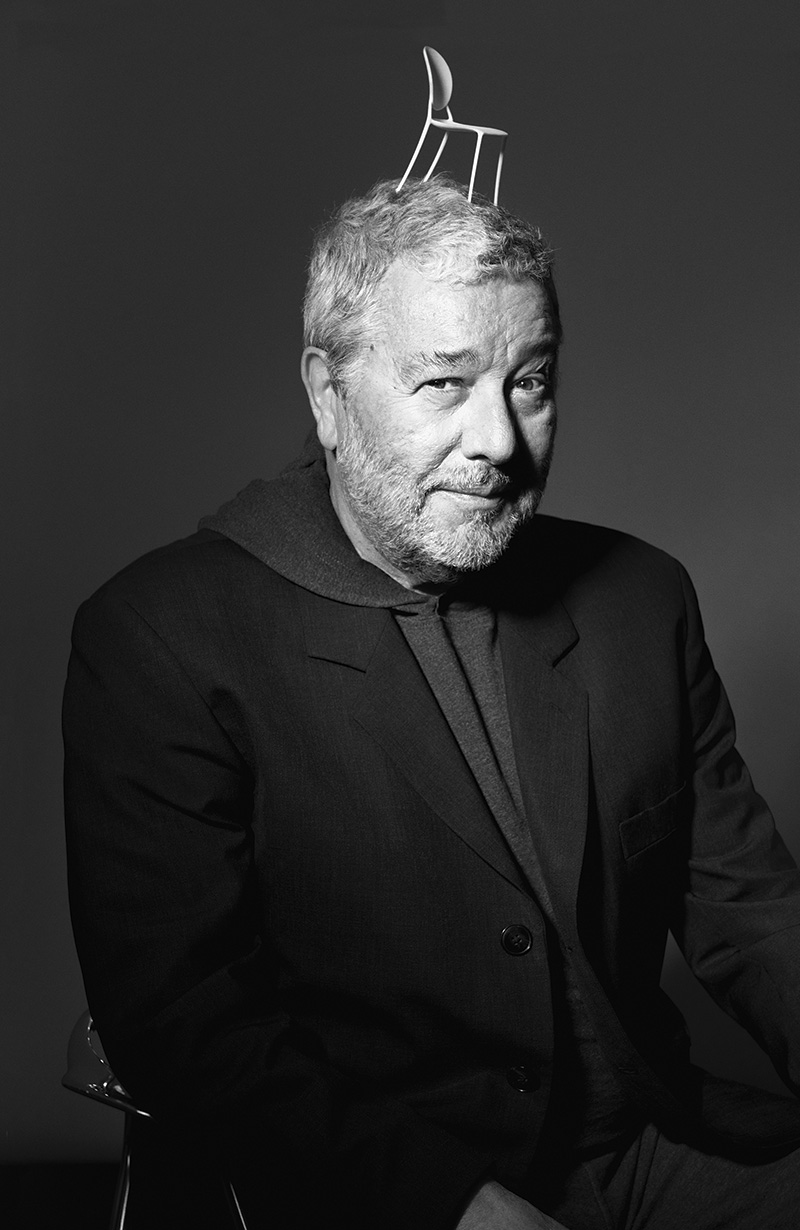 Chairs have the extraordinary ability to influence your demeanor. They can encourage you to sit up straight or loll contentedly. They can make you feel sexy, confident, or delightfully carefree. Christian Dior no doubt understood this undeniable power when he chose a Louis XVI–style Medallion chair, distinguished by its oval back, for his atelier at 30 Avenue Montaigne in Paris some 75 years ago. The elegant and distinctly French seat was a perfectly stylish perch for Dior's discerning clientele, who appreciated his modern silhouettes and eye for detail. Decades later, the chair is a House of Dior icon, a symbol of its enduring legacy.
But just as Dior's current creative director, Maria Grazia Chiuri, mines the house's heritage to reenvision fashion that speaks to the future, the Medallion chair has been given its own reinvention by Philippe Starck, the French design polymath responsible for a formidable list of seminal furnishings and spaces. Named the Miss Dior chair, Starck's new version strips the original down to its purest possible silhouette, rendered entirely in aluminum, resulting in an object that is both timeless and boldly contemporary.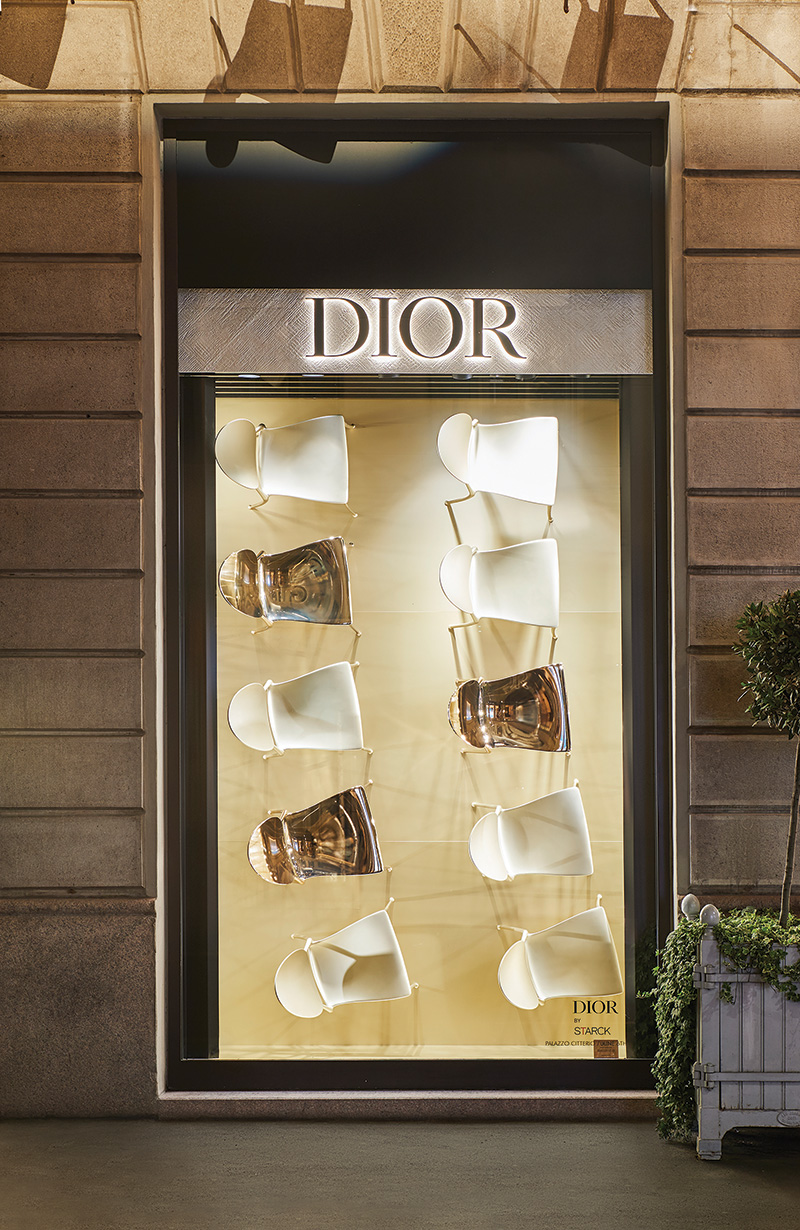 "For Miss Dior, I worked to take away all the flesh and just keep the bone," Starck says of the chair, which will be installed in and available for order at Dior boutiques worldwide in late December or early January, depending on location. "The bone is the skeleton, to keep absolutely the understanding of the icon, of the shape, but with the minimum of materiality and the minimum of energy to do it and the minimum of weight. Because that's the only way to work now for philosophical and ecological reasons."
Starck has riffed on Louis XVI furniture before, most famously with the clear plastic Louis Ghost chair, his hugely popular design for Kartell. But the Miss Dior, he notes, is different in its inspiration and references. "The Louis Ghost speaks about a common memory and the desperation, the invisibility," Starck says. "So when Dior asked me to work on the project, it was almost the opportunity to finish a loop. I was not working on a common memory. I was working on an icon."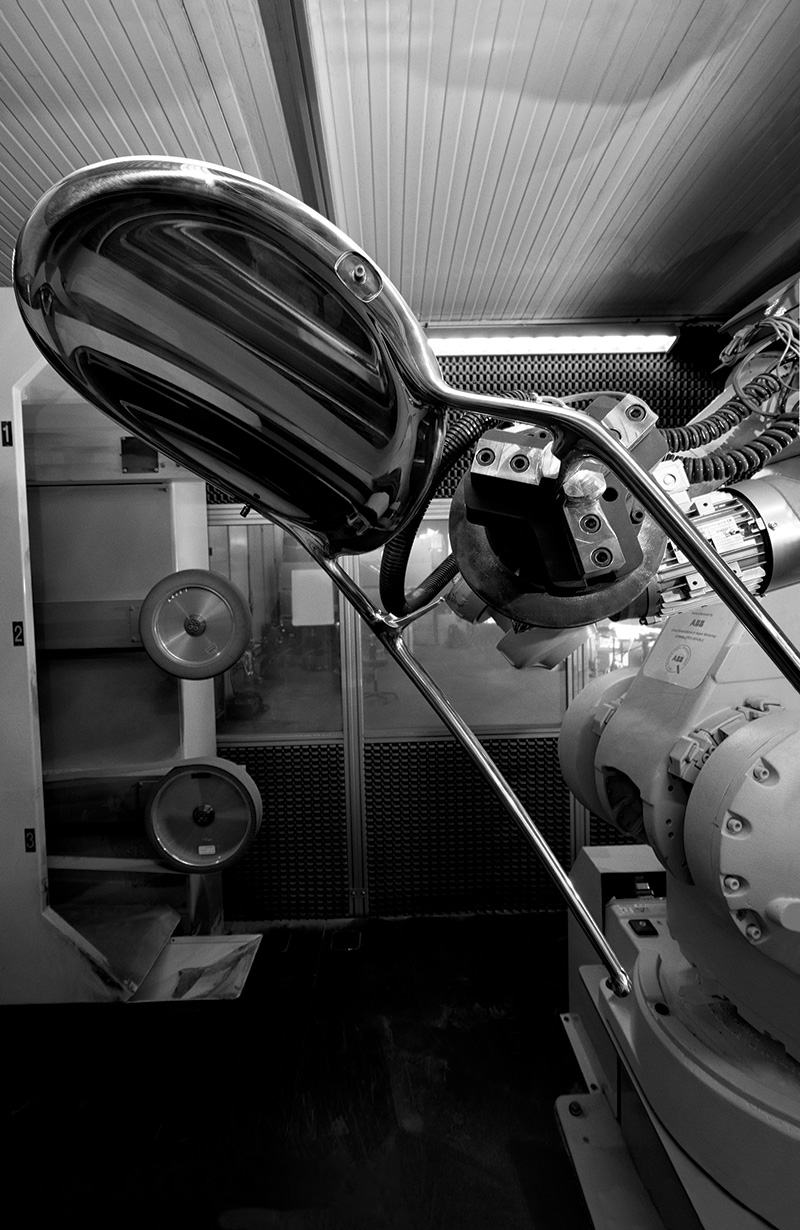 Not just any icon, but one that the designer harbors fond memories of from his childhood. "My grandmother had this salon with a chair similar to the Christian Dior Medallion that was always covered with a slipcover," he recalls. "When I was very young, I spent days under the skirt of this armchair, under the skirt of Christian Dior. It was my first house, my first nano-universe."
"I was not working on a common memory. I was working on an icon"

Philippe Starck
Launched in June during Milan's Salone del Mobile, Starck's Miss Dior chair was unveiled in dramatic fashion, in a darkened underground exhibition at the Palazzo Citterio. Surrounded with smoke and a veil of mystery, all of the iterations of Starck's design were displayed on circular pedestals, arrestingly illuminated from above. The chair comes in a variety of versions—with or without armrests, as well as options for a single armrest—and each is available in four colors (aluminum, black chromium, gold, or pink copper), plus two finishes (polished or satinated). The presentation emphasized the chair's feminine silhouette, sleek lines, and enduring beauty. "In my work, I always try to find the square root, when you divide, divide, divide, divide a number," says Starck. "After a time, you cannot divide anymore, and I never stop until I am absolutely convinced that I am there."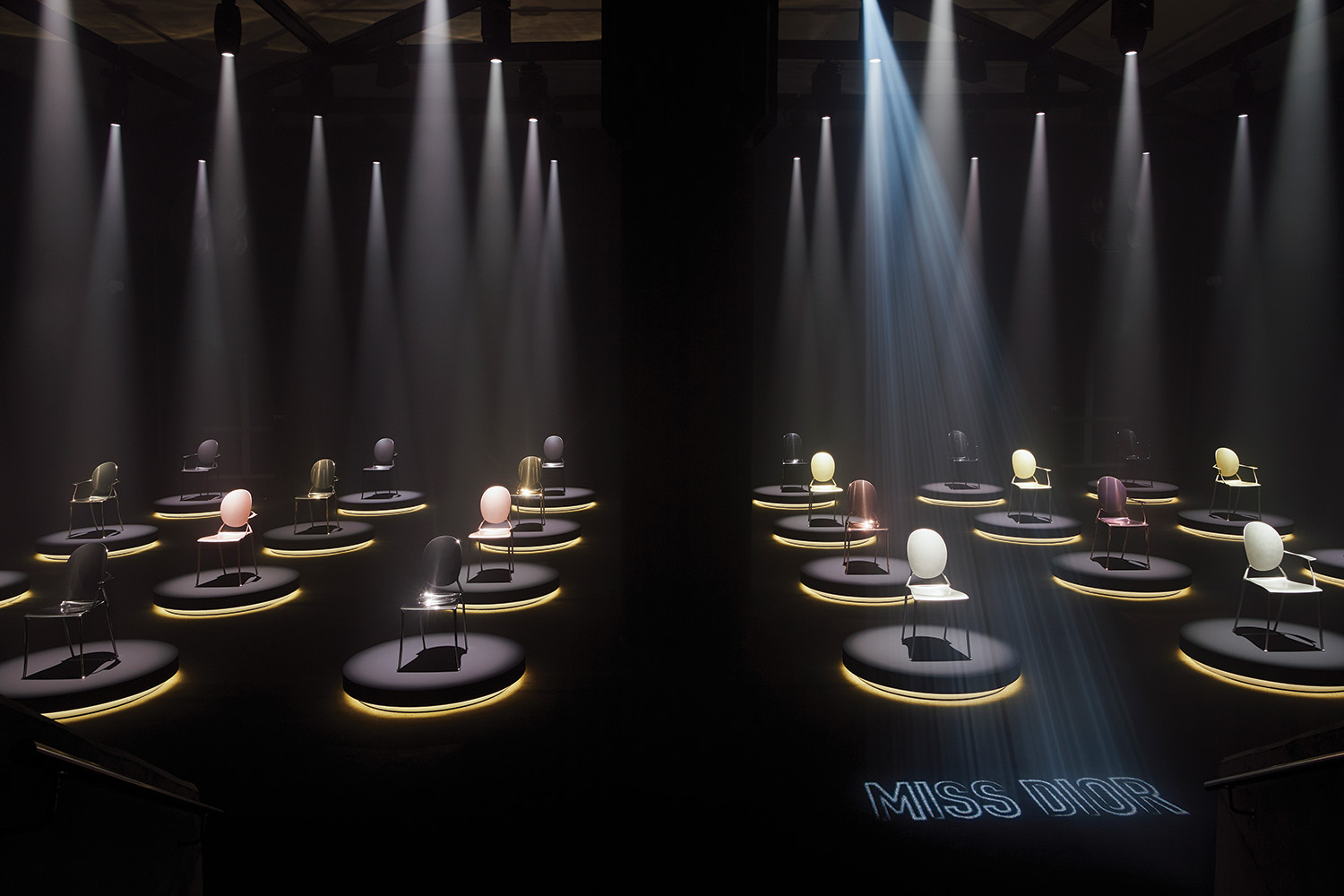 To achieve this level of rigor and perfection was far from straightforward. Starck was turned down by craftsmen around the world before he found a studio in Italy that was willing and able to execute his vision using injection-molded aluminum to create the thinnest components possible. "Everybody had refused and said, 'It's impossible. You are crazy,' " Starck recounts. All of the effort paid off, he argues, noting, "The result is absolute high-tech perfection."
A version of this article first appeared in print in our 2022 Winter Issue under the headline "Updating a Classic." Subscribe to the magazine.
Next Post