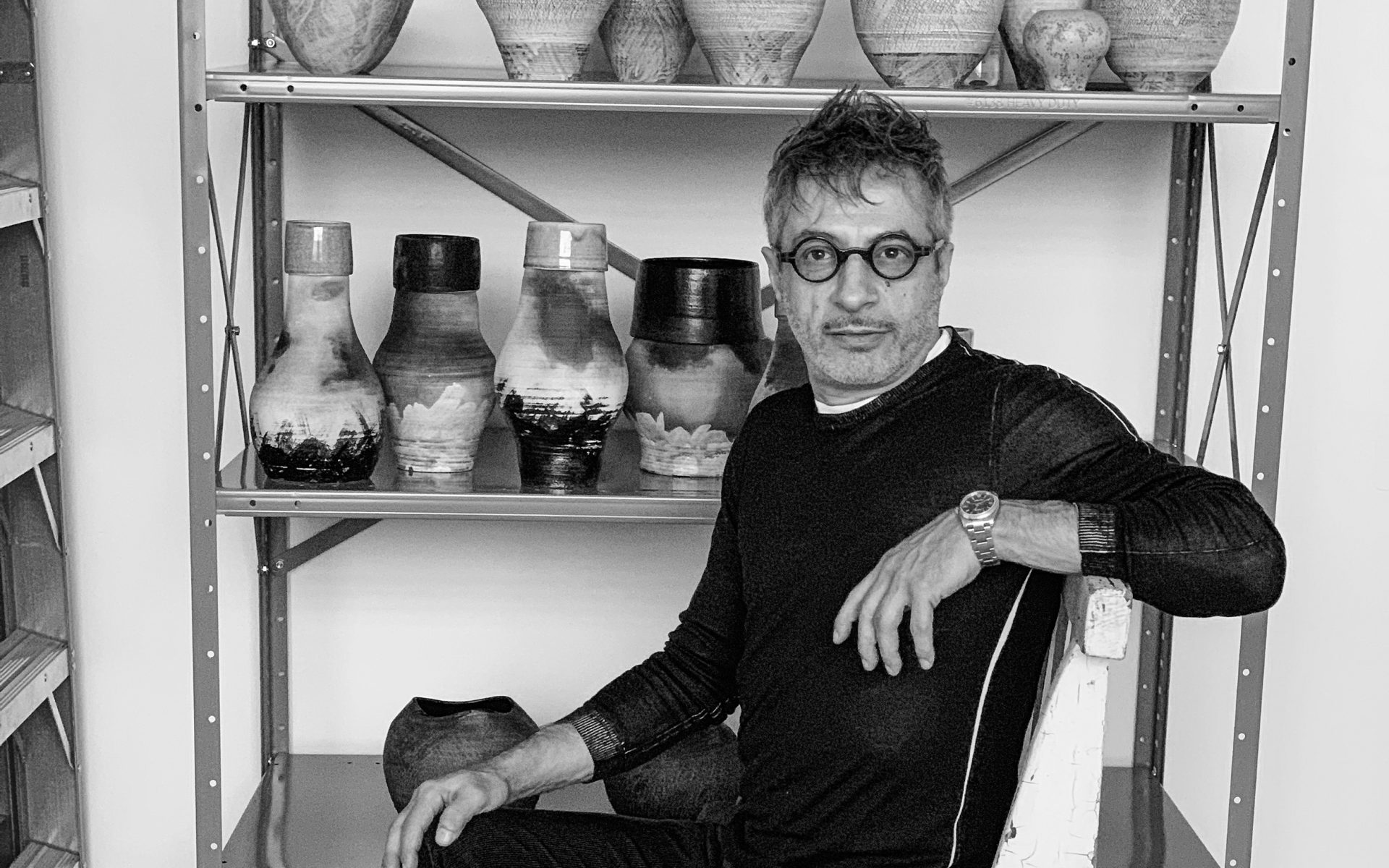 Fashion Designer Peter Speliopoulos Debuts First Home Collection
Multilayered textiles and one-of-a-kind ceramics are the cornerstone of Speliopoulos's new line
It's no secret that fashion's love affair with interior design runs deep. One of the latest to make the switch from the runway to interiors is Peter Speliopoulos, a former creative director at Donna Karan and Cerruti, who has applied his love of textures to a new collection of home accessories. From ceramics to linens, his namesake line features material-driven indulgences that reflect his eye for detail and expert sourcing connections—including the finest mills in Italy and the best embroiderers in India.
Although he's studied ceramics since 2011, Speliopoulos decided to devote himself to it only after Donna Karan closed in 2015. He worked creating crackles and glazes, but soon he realized how much he missed his connections to Italy and the fabric atelier there that had become like a family. "Fabrics have always been my real strength," he says. "Now I'm translating that into home objects using skins and shearling. There's something very sensual and seductive. It's about touch, which also relates back to the ceramics."
A focus on texture and materiality runs through all the facets of his collection. The embroidery on a pillow echoes the crackle on a vase. "I love things that are quite raw and savage," he explains, "but executed with a lot of elegance and refinement." Often combining different materials, the pillows and throws resemble mixed-media collages, making the creations the perfect statement pieces whether in a minimalist room looking for one big gesture or in a maximalist space begging for more, more, more.
Recommended: Sheila Hicks Creates an Accessory Collection for Stella McCartney
"Peter has always had great taste and an amazing and very singular eye for color and texture, which carries over from his work in fashion beautifully into home," says Roman Alonso of Los Angeles's Commune Design, which carries Speliopoulos's pieces in its design shop. "The work is also very sensuous and sophisticated."
And his ideas for the line don't end with just the current offerings: "I'd love to collaborate with the decorators or architects," Speliopoulos says. "I could do suede curtains, embroidered leather chair backs, even one-of-a-kind bedspreads." 
A version of this article first appeared in print in our 2019 Fall Issue under the headline "Pillow Talk." Subscribe to the magazine.
Next Post