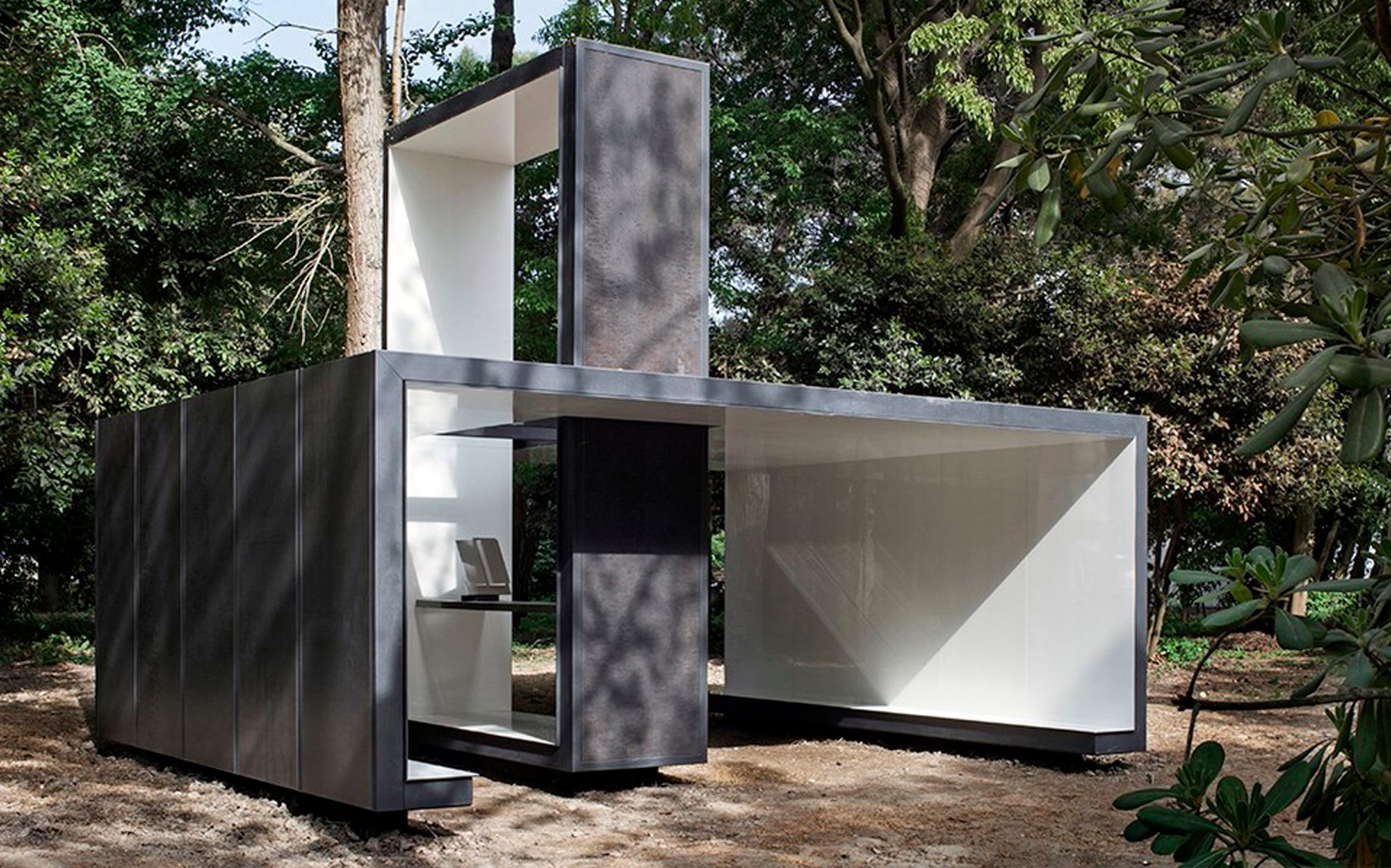 See Highlights from the 2018 Venice Architecture Biennale
This year's edition is dedicated to the theme of "Freespace"
Thousands of architecture and design aficionados descended upon the city of Venice for the opening of the 16th Venice Architecture Biennale last week. This year's edition, which runs through November 26, is curated by Irish architects Yvonne Farrell and Shelley McNamara under the premise of "Freespace." The sprawling, multi-dimensional fair once again takes over most of the Venetian archipelago, centering around the Giardini's national pavilions, the former naval shipyards of the Arsenale, and a slew of off-site events at historic palazzi and museums on practically every city corner.
Farrell and McNamara, co-directors of Dublin-based Grafton Architects, intend "Freespace" to be purposefully vague and open to interpretation. "The theme encompasses the freedom to imagine the free space of time and memory," the duo tells Galerie. "It binds past, present, and future, building on inherited cultural layers and weaving the archaic with the contemporary."
We scoured the 63 national pavilions—and work by more than 70 architects—to present the standouts below.
Switzerland (Giardini)
What better way to express the concept of "Freespace" than a seemingly empty pavilion. Awarded the Golden Lion for Best National Participation, the Swiss presentation "Svizzera 240: House Tour" offers a peek into the interior of a typical new apartment. Taking the viewpoint that most people look for housing via the Internet, which rarely presents a clear idea of scale, the collaborating architects—Alessandro Bosshard, Li Tavor, Matthew van der Ploeg and Ani Vihervaara—divided the pavilion into a labyrinth of rooms with doors, windows, and cabinetry of varying scales, making for an experience that's both unexpected and enchanting.
The Netherlands (Giardini)
Presenting the Netherlands as a place that fosters new forms of creativity, the exhibition "Work, Body, Leisure" transforms the Dutch Pavilion into an orange locker room, where a multitude of doors become portals to the country's history of social experimentation. Organized by Marina Otero Verzier, director of research at Het Nieuwe Instituut, the exhibition examines architecture's response to emerging technologies of automation. Selecting contributions by architects, artists, designers, historians, musicians, and theorists through an open call, Verzier labels each section with a hashtag. #PLAYGROUND, for example, features artist Constant Nieuwenhuys's New Babylon proposal for an automated society devoted to creativity and play, while #BED, is a re-staging of John Lennon and Yoko Ono's famous 1969 anti-war protest Bed-In for Peace, at the Amsterdam Hilton.
Germany (Giardini)
Celebrating the fall of the Berlin Wall, which stood for 28 years, and the reunification of Germany, which happened 28 years ago, the German Pavilion explores urban and architectural design that addresses aspects of division and integration. The exhibition "Unbuilding Walls," curated by the Berlin design studio Graft and German politician Marianne Birthler, presents simulated sections of the Berlin Wall as conveyors of information about architectural projects that played a part in the process of healing. Among the 22 featured projects are the reconstruction of the Reichstag by Norman Foster and the building of the Band des Bund, a group of government buildings that form a bridge over the river Spree connecting East and West. Addressing the issue of barriers, fences, and walls beyond the German borders, the exhibition also offers The Wall of Opinions, a video installation that documents the voices of people who live in the shadow of walls between Israel and Palestine, the USA and Mexico, North and South Korea and other divided people.
Australia (Giardini)
Devoid of any visible architecture, 10,000 native plants have taken over the newly designed Australian Pavilion. Featuring 65 native species of Western Plains Grasslands, which are nearly extinct in their native ecosystems, the installation addresses issues related to the country's built environment and its endangered plant community. Organized by architects Mauro Baracco and Louise Wright, in collaboration with artist Linda Tegg, the project includes the installation Skylight, that simulates the sun's energy to sustain the plants indoors, and the video series Ground, which documents different sites across Australia where contemporary architecture is working in harmony with nature.
Saudi Arabia (Arsenale)
Making its inaugural appearance at the Architecture Biennale, the Saudi Pavilion presents "Spaces in Between," which explores new possibilities for the use of transitional spaces. The young Saudi architects Abdulrahman and Turki Gazzaz, founders of Bricklab, were selected in a competition judged by a panel that included pavilion curators Dr. Sumayah Al-Solaiman, Dean of the College of Design at Inam Abdulrahman bin Faisal University, and Jawaher Al Sudairy, Director for Research at Al Nahda Society. Addressing the country's expanding urban boundaries, where vacant lands and highways separate social interaction, the architects have designed a series of connected cylinder-shaped modules, which range in size and present the stories of rapid urban development, views of the cities from the car and places of isolation and inclusion. Ironically, the stylish structure, which functions equally as a dwelling and a site for conveying content, was constructed from resin, a byproduct of petroleum, and sand—both plentiful resources in Saudi Arabia.
Canada (Arsenale)
Architect Douglas Cardinal and curators Gerald McMaster and David Fortin teamed up to organize "UNCEDED: Voices of the Land," an exhibition showcasing the work of 18 Indigenous architects and designers from Turtle Island (the name of North America according to some Indigenous groups) through an immersive multimedia experience. A long-and-winding road, the presentation twists and turns through an old warehouse in the Arsenale, mixing photo-murals and super-graphics with jumbo video projections. Divided into four thematic territories, the enlightening exhibition offers stories about indigeneity, resilience, sovereignty and colonization and how indigenous architects draw upon these tales to enhance their work and help heal their communities.
Grand Duchy of Luxembourg (Arsenale)
Questioning the ownership of land, the exhibition "The Architecture of the Common Ground" for the Luxembourg Pavilion presents models and plans from historical and contemporary proposals for buildings that have public spaces under them. Curated by Florian Hertweck , a professor at Master in Architecture / University of Luxembourg, and Andrea Rumpf , Director of LUCA Luxembourg Center for Architecture, the exhibition analyses the planned use of communal space below 13 structures. Designed by internationally known architects, the buildings include Le Corbusier's 1936 Paris apartment building Ilôt insalubre 6, with two floors of free space for communal use; Paul Rudolph's 1954 Trailer Tower in Sarasota, Florida, an elevated structure that was to be built by connecting prefabricated mobile units; and Kevin Roche's plan for New York's Federal Reserve Bank Tower, which weirdly looks like a skyscraper on stilts.
Holy See (Island of San Giorgio Maggiore)
Another first-time participant in the Architecture Biennale, the Holy See presents an ambitious outdoor exhibition of ten Vatican Chapels Pavilion on the Island of San Giorgio Maggiore. Taking a cue from architect Gunnar Asplund's Woodland Chapel, which he built for a Stockholm cemetery in 1920, curator Francesco Dal Co (an Italian architecture historian) invited a group of internationally renowned architects to reflect the universal nature of the Catholic Church and invited them to build full-size chapels. The designers include such names as Italian architect Francesco Cellini, whose interpretation is a striking black-and-white, open-air, geometric structure; British architect Sir Norman Foster, whose wooden latticework chapel suspended by cables and masts above a timber floor is in perfect synergy with the surrounding environment; and Japanese architect and historian Terunobu Fujimori, who designed a stable-like building, which is curiously entered through a very narrow gate.
SaveSave
SaveSave
SaveSaveSaveSave
SaveSave
Next Post