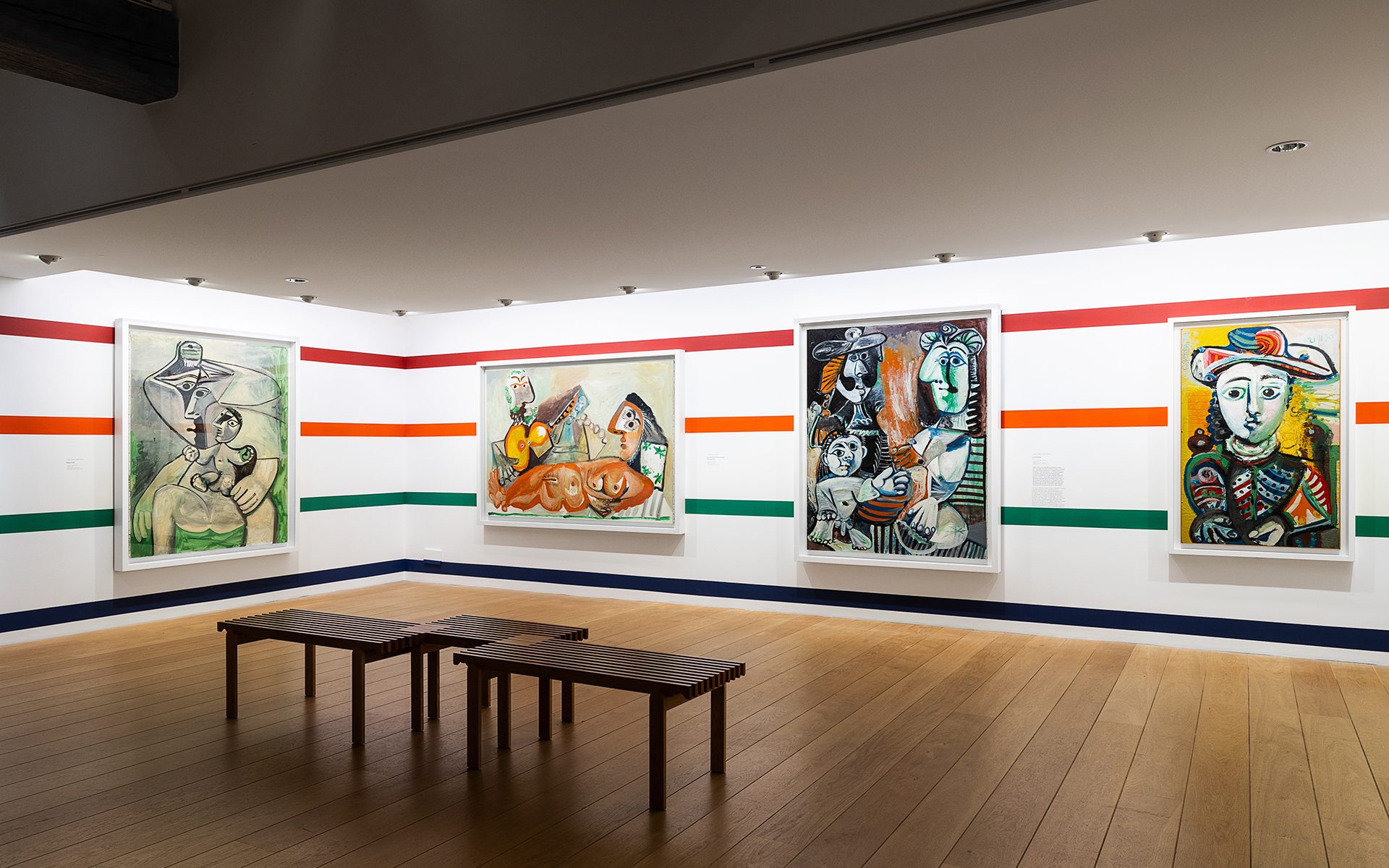 This Triumphant Picasso Exhibition in Paris Sheds New Light on the Legendary Artist
On view at the Musée National Picasso-Paris through August 27, the must-see show was curated by fashion designer Paul Smith
There will be plenty of tributes to Pablo Picasso this year, which marks the 50th anniversary of his 1973 death. But few will have the energy and exuberance of "Picasso Celebration: The Collection in a New Light!," Sir Paul Smith's exhibition at the Musée National Picasso-Paris. Smith, known for his joie de vivre and love of color, has brought both to the museum, presenting 192 examples of Picasso's artwork—some familiar, some less so—against a riot of patterns and hues akin to his instantly recognizable fashion designs that reverberate with an enthusiastic use of all the colors, all at once. It could have been a visual overload. Instead, it's an absolute triumph.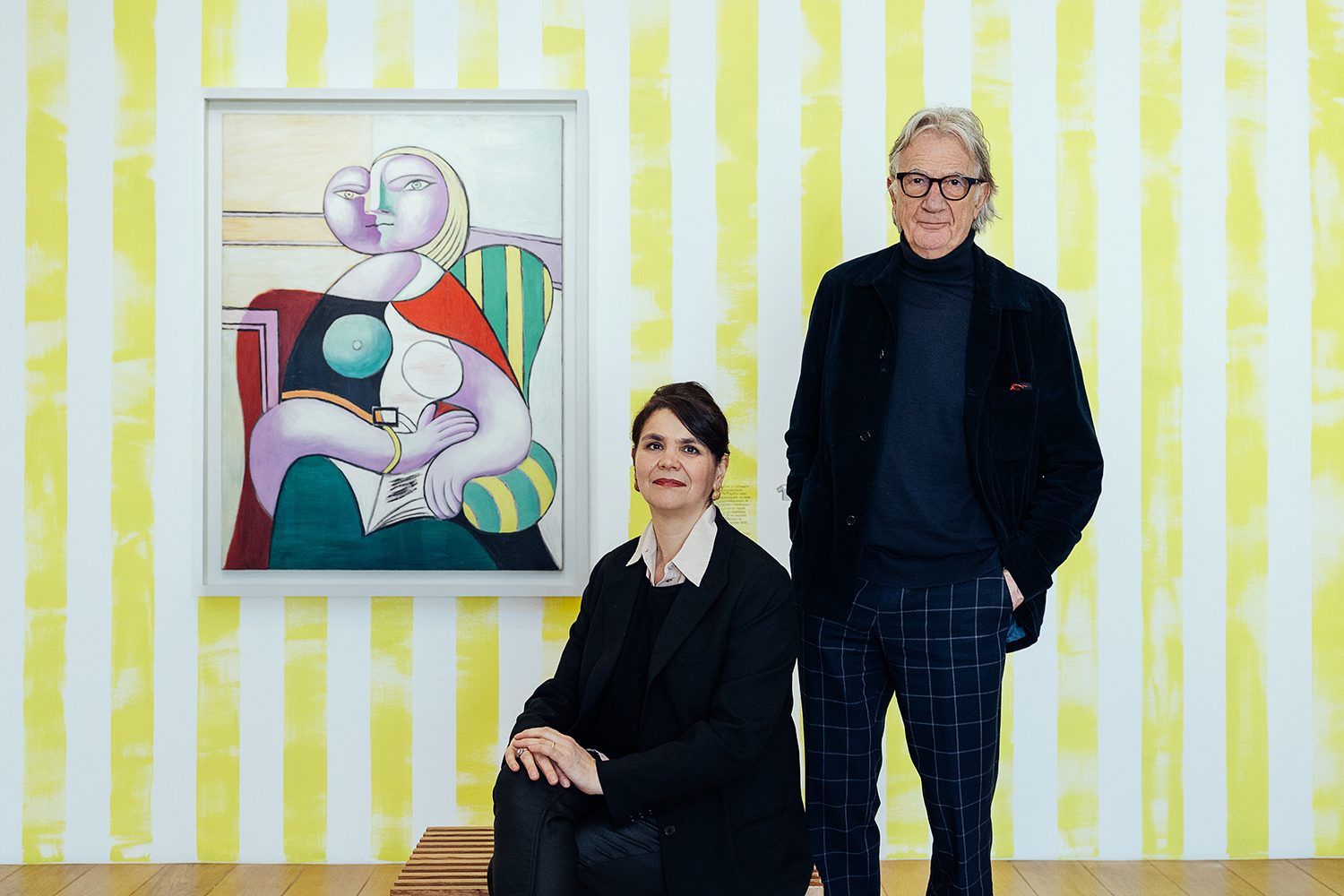 Strolling through the museum's elegant rooms ahead of the exhibition's March 7 opening, Smith is dressed in his uniform black velvet jacket, today teamed with a slim checked trouser. "The brief was a carte blanche," he says. "They asked me to show Picasso in a new light. I'm not an art historian, but I am a very visual person."
From the onset, Smith makes it clear that this is not your standard show. A wall studded with bicycle seats nods to Smith as the master of ceremonies—he has always been a keen cyclist. But the wall opposite, bare but for Picasso's Tete de Taureau (a bull's head made from a bike saddle and handlebars), establishes the Spaniard as the artist visitors are here to see.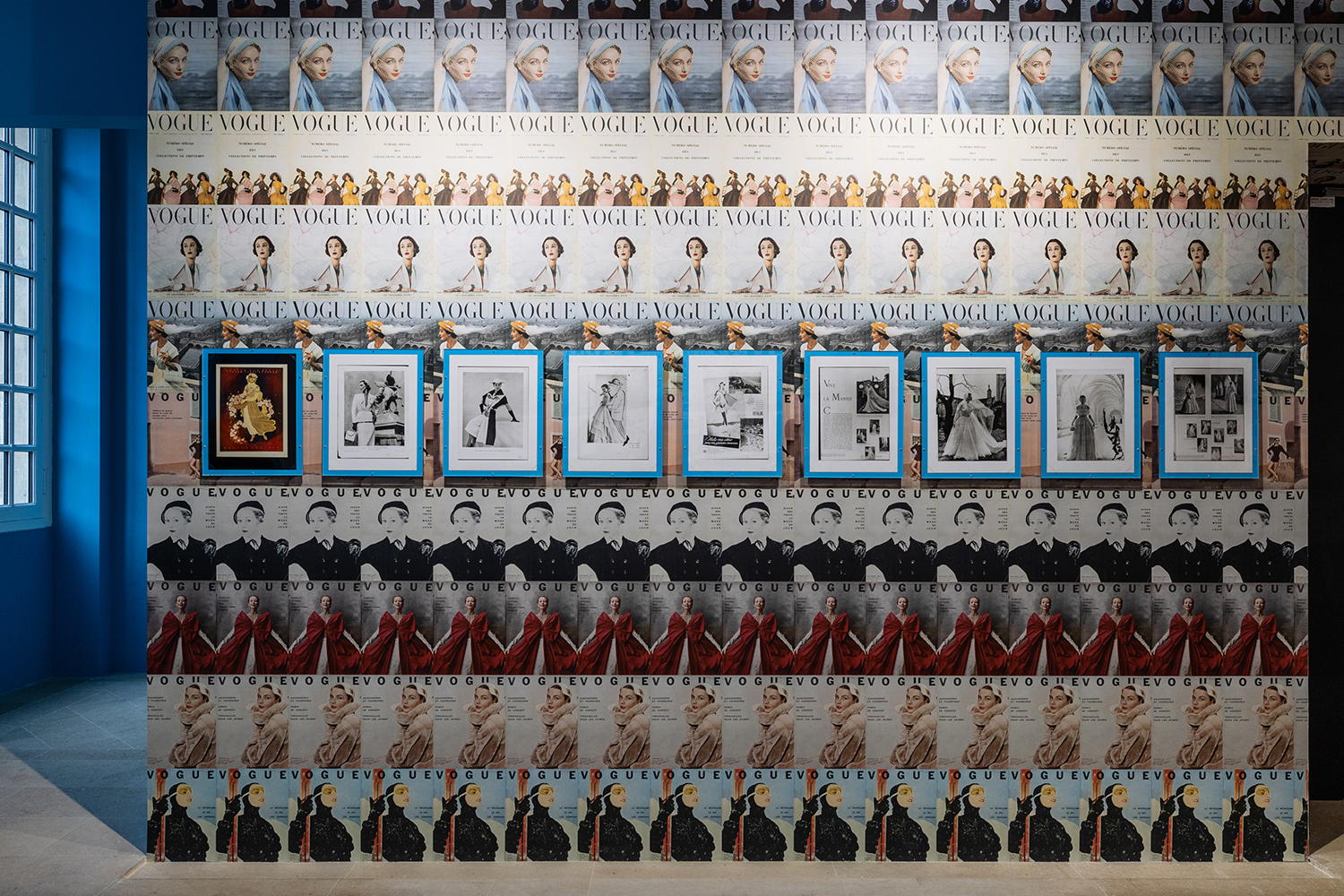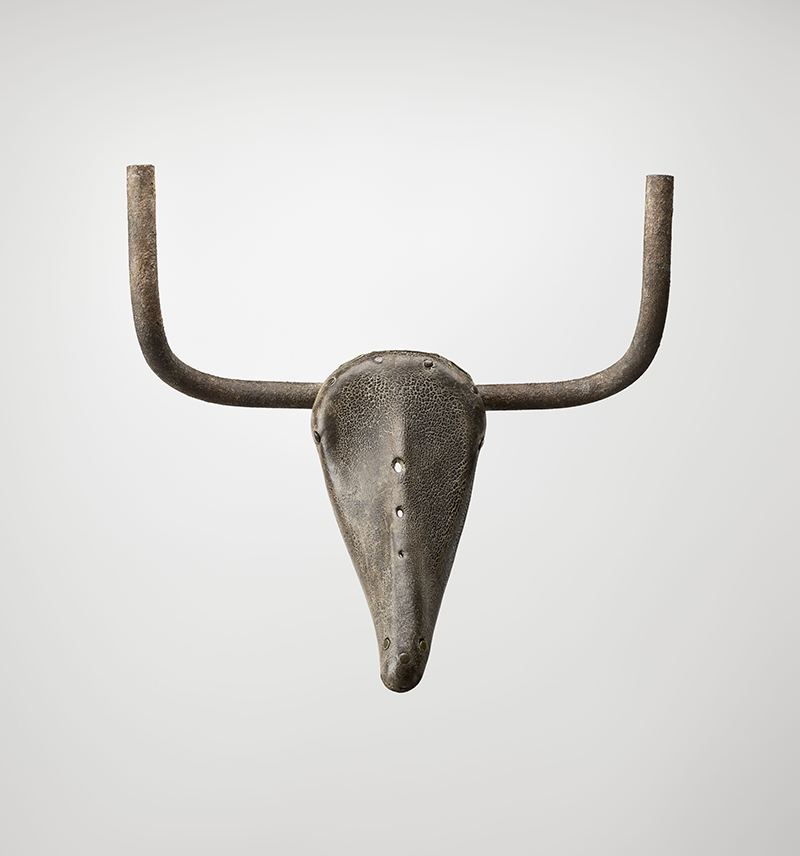 From there on, it's a helter skelter ride through Picasso's life: pages of Vogue covered with his subversive scribbles; explorations into Cubism hung on walls lined with brown Kraft paper; the sketches for the Demoiselles d'Avignon against a throbbing pink. "I wanted an optimistic, skin-like color," Smith tells Galerie. Collages are hung among a panoply of hectic wallpapers acquired en masse from a failed factory in Pennsylvania. Among them is the Nature morte à la chaise cannée from 1912, considered to be the first fine art collage ever made. "He was a master of invention," says Smith. "You feel that he wasn't afraid to try whatever was on his mind."
"I'm not an art historian, but I am a very visual person"

Sir Paul Smith
Brought on by the death of his friend Carlos Casagemas in 1901, Picasso's Blue period reduced the artist's palette to the one color for a year. This time in the artist's career is shown in a deep blue room, the lugubriousness of the Woman with the Cloudy Eye (surely one of the greatest portraits ever) heightened by the azure monotone of the space. Bullfighting sketches are enveloped in blood-red gloss, while the iconic paintings of his "Seated Women" series, including lover Marie-Therese and her successor Dora Maar, are shown amid roughly painted stripes. ("It's not Buren," says the museum's president, Cécile Debray, smiling, referring to the French painter who has made the stripe his raison d'etre and whose outdoor intervention at the Palais Royal is just a couple of kilometers away.)
This interplay of wall and work pulls Picasso's stylistic use of stripes into focus, reinforcing the portraiture's fragmentary psychological complexity. The loose late figurative works—mostly derided at the time of his death—now look contemporarily relevant, as a driving force for Basquiat and Baselitz.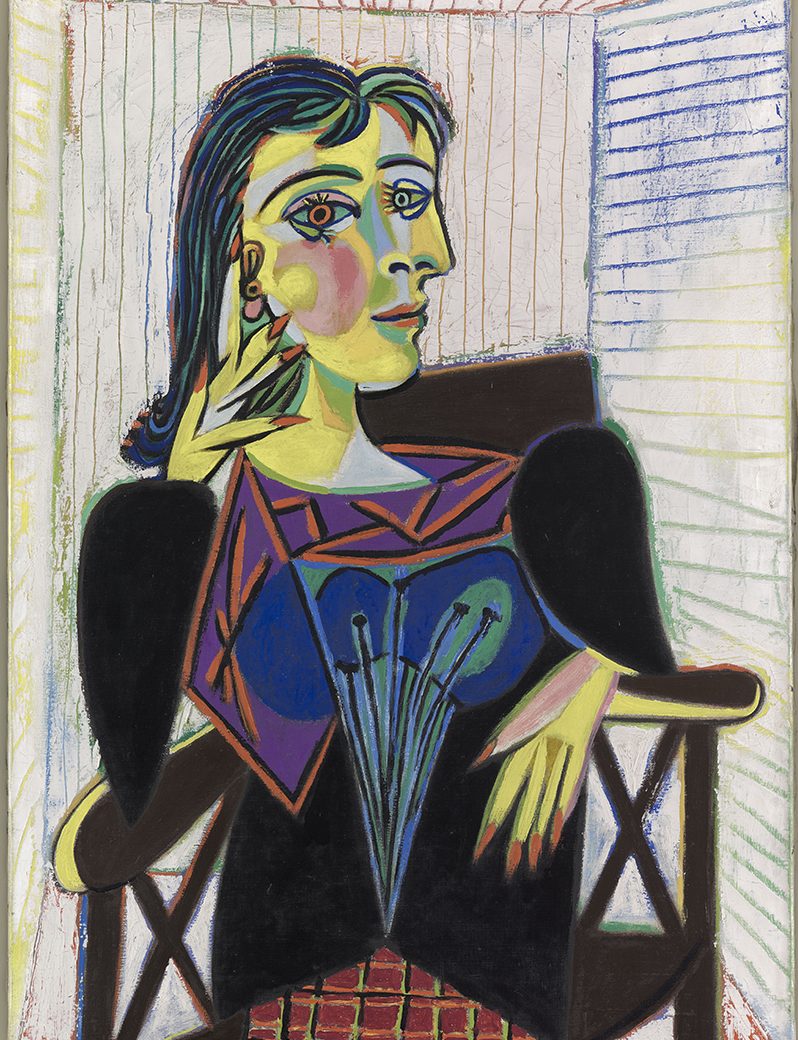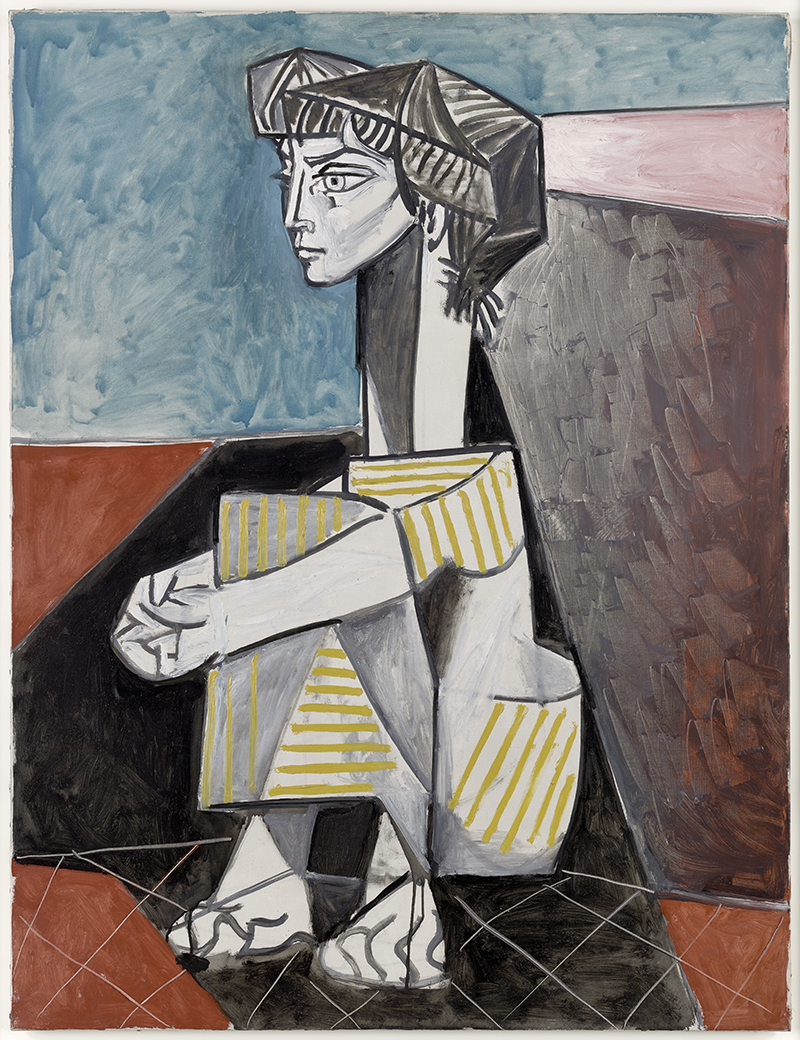 Picasso's legacy certainly intersects with many facets of contemporary art and throughout this joyful and accessible exhibition Debray and curator Joanne Snrech have added scholarly text in each room, giving art history and context to the installations. "People asked me if I wasn't worried that everything would be overwhelmed by Paul's interventions," says Debray, who joined the museum a year ago, inheriting the project from her predecessor, Laurent Le Bon. "But with Picasso, the work is so strong that just doesn't happen."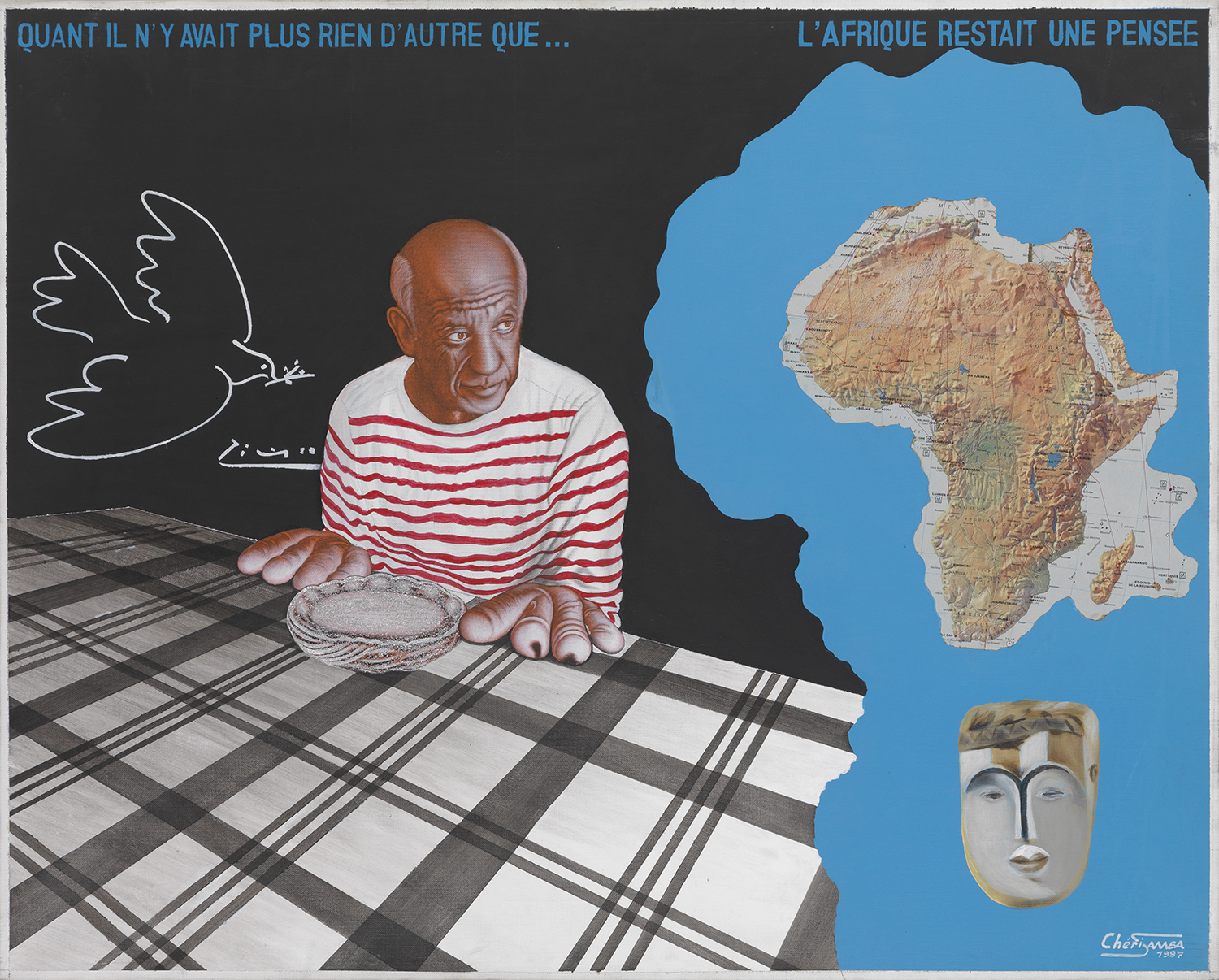 Of course, these days Picasso can't be taken on without critique: his misogyny; his careless attitude to Africa and its artifacts. Debray has dealt with this, maybe a little hesitantly, by inserting contemporary works among Smith's selections. Two Louise Bourgeois pieces speak of the travails of womanhood. A new collage by the Congolese artist Cheri Samba shows the artist at a cozy kitchen table with a map of Africa and a mask hovering over the canvas. A dazzling 2016 trompe l'oeil by the Argentinian Guillermo Kuitca, of a road disappearing into a hectic Cubist landscape, reflects the enduring influence of Picasso's 70-year career.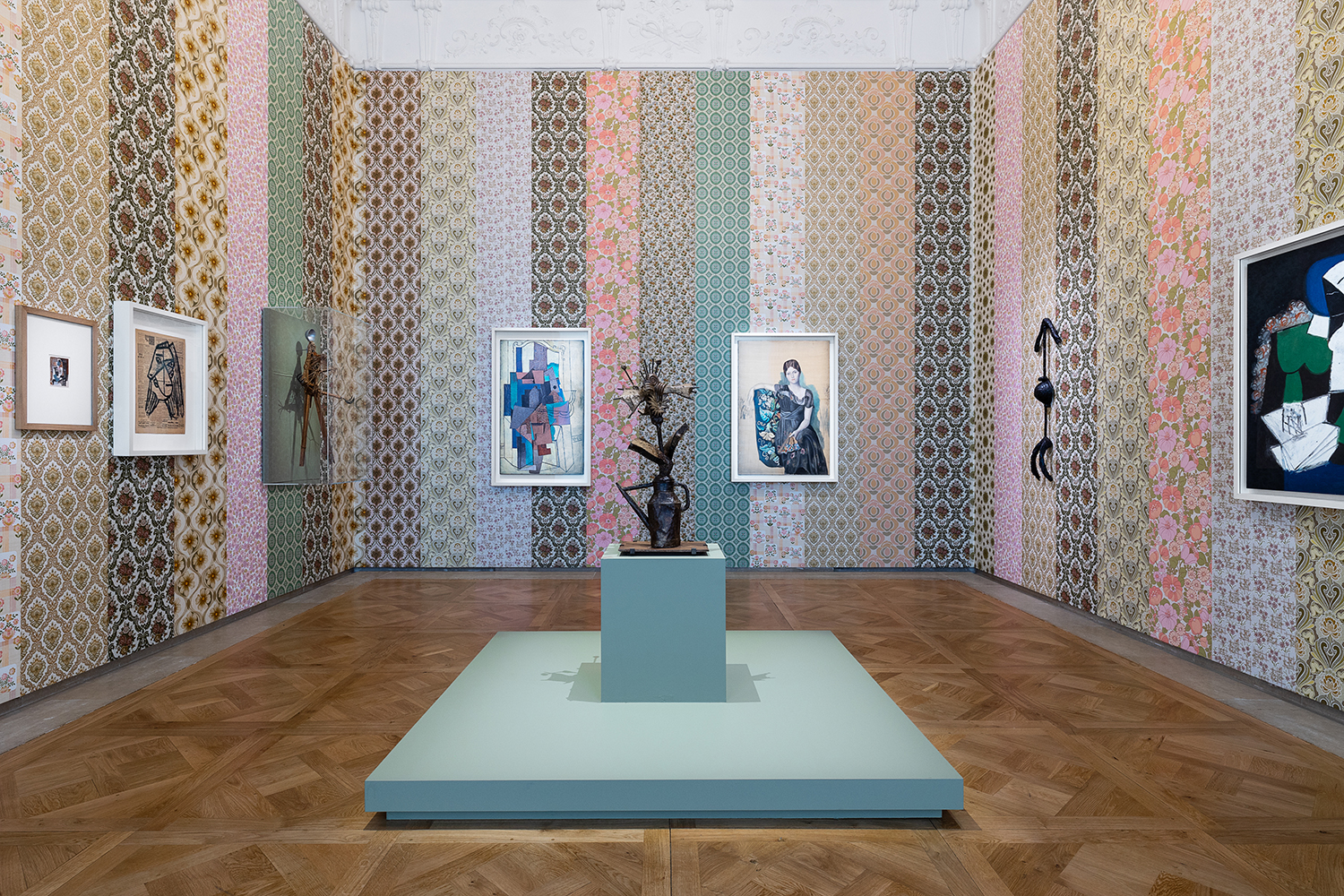 That fortitude is a perfect parallel with Smith—after being in business for 50 years, the designer, at the age of 76, is still making 16 collections a year. "The job is working out how to stay relevant," says Smith, who does this as much through his English tailoring-with-a-twist as in he does with his namesake stores that bear out his love of setting a scene. "I'm used to making quick decisions, and editing, in every collection we make. It's not curating but it's near."
At home in London, he lives with work by British painters including William Coldstream and Euan Uglow. "My wife, Pauline, studied at the Slade," he points out. But his lockdown was spent fully immersed in Picasso, trawling through 200,000 works, making choices that were spontaneous and intuitive. "Picasso and me, we became good mates," he laughs.
"Picasso Celebration: The Collection in a New Light!," is on view at the Musée National Picasso-Paris through August 27. 
Next Post