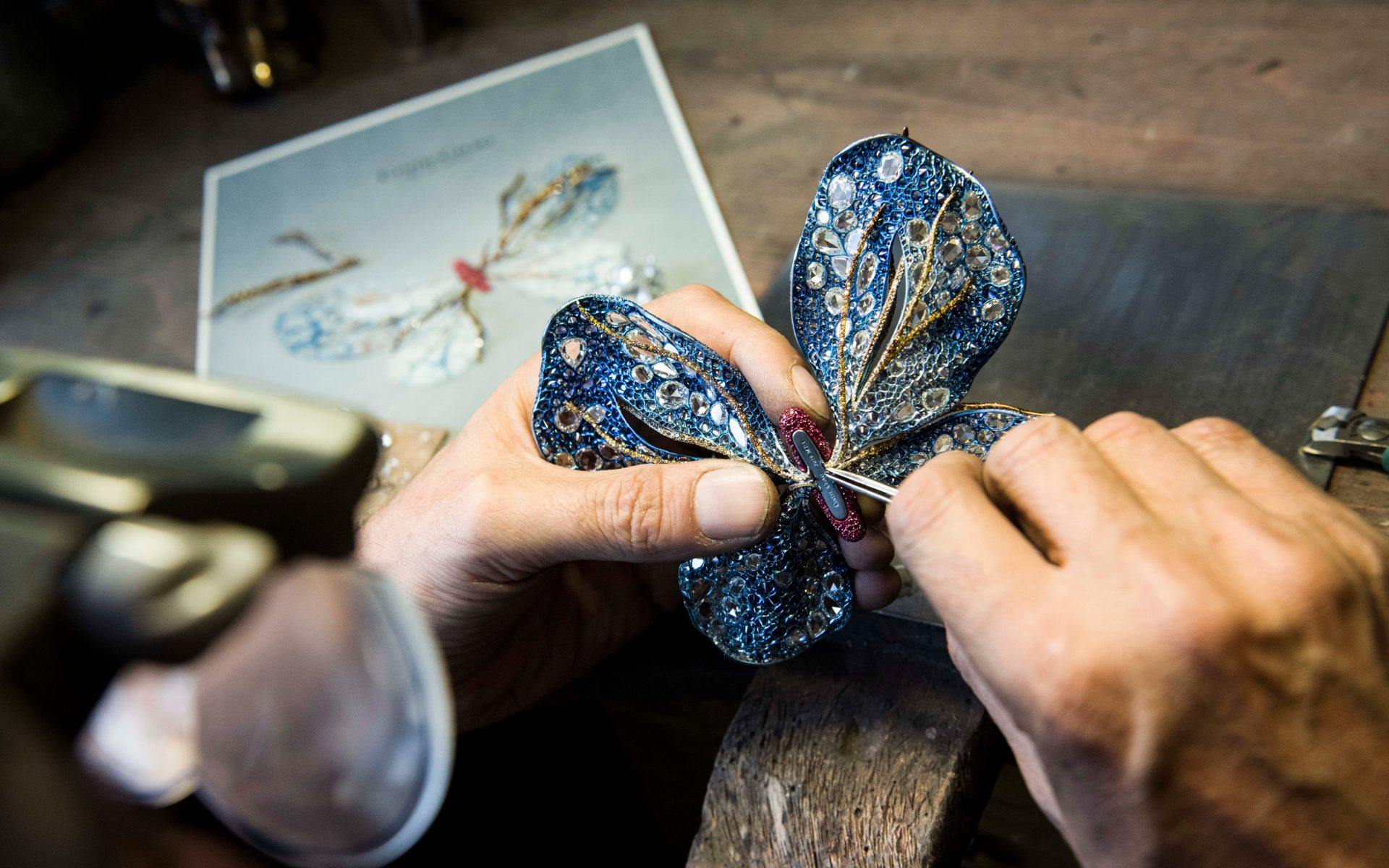 See the Standout Jewels from Paris Haute Couture Week
From Chanel's new tweed-inspired collection to Boucheron's modern makeover of an iconic design
Each January, top tastemakers flock to the City of Light for Paris Haute Couture week, a showcase of the very best fashion shows from a host of exceptional designers. The event also marks the time when the high-jewelry maisons unveil their newest creations at the prestigious Place Vendôme and beyond.
Louis Vuitton caused a stir with news of its latest acquisition: the second-biggest diamond ever discovered. (The first one belonged to the British royal family.) The spectacular 1,758-carat uncut diamond dubbed Sewelô was discovered last April in the Karowe mine in Botswana and was bought by the brand earlier this year. (It is reportedly being cut down and crafted into a special piece for a bespoke commission.) In other news, the Taiwanese high jeweler Cindy Chao was celebrating the induction of an early Butterfly brooch into the collection of the Musée des Arts Décoratifs, marking the first time a Taiwanese jeweler enters a French museum collection.
Below, Galerie shares some standout creations.
Chanel's Iconic Tweed Transformed into High Jewelry
Tweed has been an integral part of Chanel ever since Coco Chanel transported it from the world of menswear and British aristocracy into women's fashion during the 1920s. Every season it appears in various forms, be it ready-to-wear, accessories, and even makeup. Now, for the first time, it appears in high jewelry. Of course, translating the irregular texture of lumpy, uncombed wool into jewelry is no easy feat. Under the direction of Virginie Viard, who took over as creative director last year, the collection includes 45 pieces crafted with a variety of precious stones in interlocking patterns.
Recommended: Meet High Jeweler Emmanuel Tarpin, De Grisogono's New Artist-in-Residence
A Classic Design Gets a Makeover at Boucheron
An iconic design that curls in an asymmetric fashion around the neck, Boucheron's original question mark necklace dates to 1879. This month, it gets a bold update with a series of eight dazzling new pieces conceived by Boucheron creative director Claire Choisne. Christened the Point d'Interrogation collection, the pieces include a version with a cluster of sculptural hydrangeas coated in iridescent mother-of-pearl and one with a shimmering set of golden wheat stalks. The most elegant version features a simple line of diamonds with 11 cultured pearls.
Cindy Chao's Art-Inspired Masterpieces
Cindy Chao, who founded her namesake brand Cindy Chao The Art Jewel in 2004, presented several new pieces for the Black Label collection, her most prestigious line, with just 36 one-of-a-kind pieces created each year. The standout is her Aurora Butterfly Brooch, which features extraordinary triangular rose-cut diamonds, pigeon's blood Burmese rubies, and beautiful gradations of deep-blue sapphires layered with glowing yellow diamonds. Also on view is her Emerald Sculptural Bangle, featuring an extraordinary 7.61-carat heart-shaped Colombian emerald; and her Damask Rose Brooch crafted using an 18th-century wax sculpting technique. "Cindy's creative legacy from her father who was a sculptor and grandfather who was an architect sets her apart from other jewelers," says Francois Curiel, chairman of Christie's in Europe and Asia. "A prominent client once told her that she has a mind of an architect and the hands of a sculptor, hence the three-dimensional quality of her work, both designing the front and the back of each piece."

Unexpected Color and Form at Dior 
Featuring 39 new designs, Dior's new Dior et Moi high-jewelry collection showcases a mix of exceptional and precious stones in unconventional colors. In a contemporary twist, lacquer appears in 15 unexpected colors and is sprayed on brushed gold. Diamonds and emeralds in an assortment of cuts are paired with red spinels, tourmalines, and turquoise—but it's the glittering opal that packs the biggest punch, as seen in this double ring.
Recommended: The 11 Most Spectacular High Jewelry Creations from Paris Couture
Exceptional Stones at Chopard
It was all about the natural beauty of gemstones at Chopard, which presented an assortment of precious and rare stones from around the world. On view in the vitrines were beautiful examples of an unheated sapphire, a pear-shaped pigeon's blood ruby, a Colombian emerald weighing a staggering 61.79 carats, and a vibrant turquoise-hued 34.63-carat Paraiba tourmaline. The maison made the decision to set the stones on rings or simple earrings to celebrate their natural brilliance.
Next Post