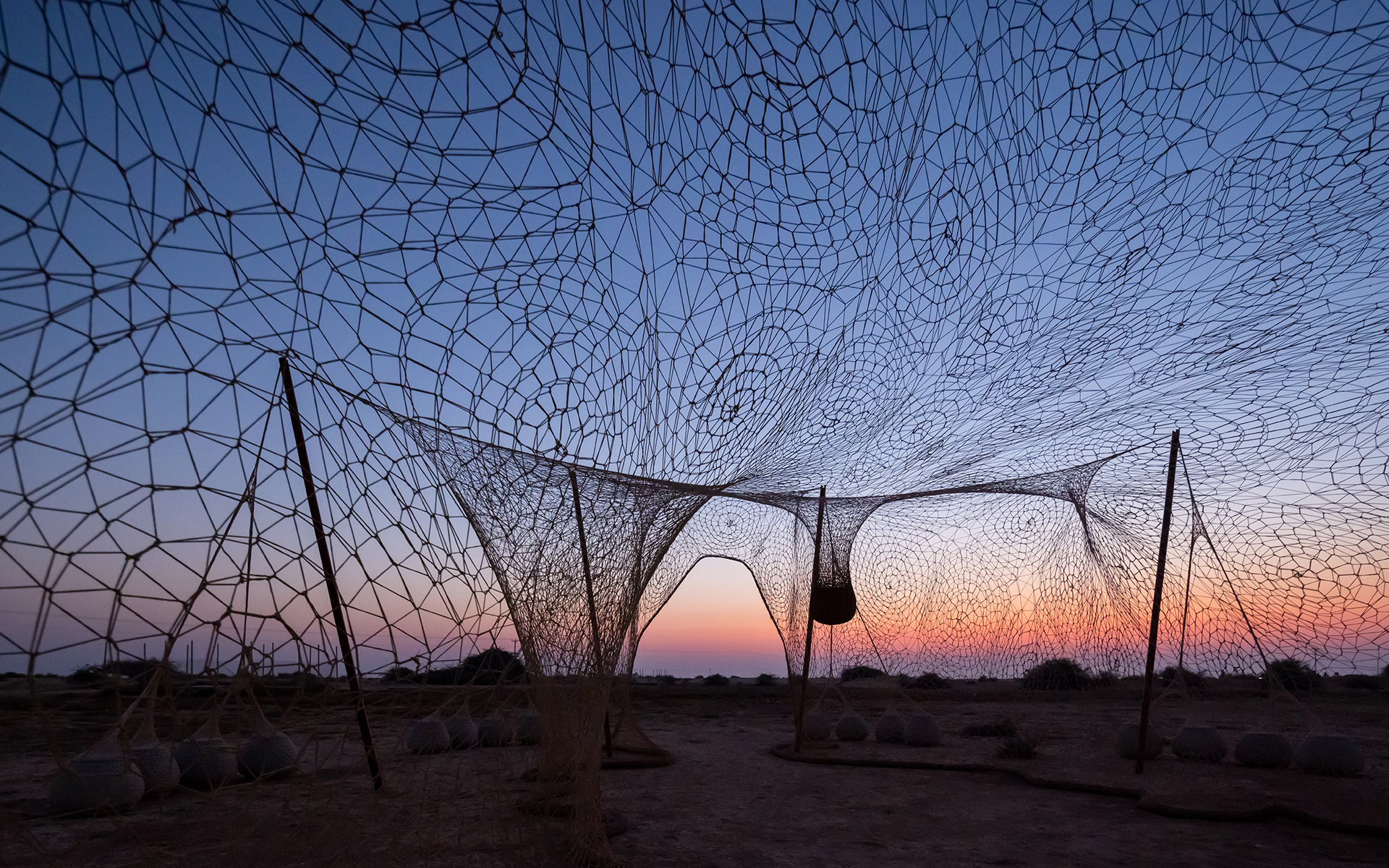 Olafur Eliasson, Jeff Koons, and Yayoi Kusama Transform the City of Doha into a World-Class Outdoor Museum
In the run up to its hosting the FIFA World Cup, which kicks off on Sunday, Qatar has installed nearly 40 new artworks
Much has been written about Qatar and its capital city Doha lately. On Sunday, the FIFA World Cup kicks off, and in the heated lead-up to the event, many topical issues such as its human rights agenda, treatment of immigrant workers and lack of LGBTQ+ rights have been thoroughly picked over and condemned. It is against this complex backdrop that an extraordinary array of significant outdoor artworks have arrived in town, not only provoking important discussion but spotlighting Qatar's ongoing investment in cultural capital.
"You simply ask yourself, how did they get here?"

Olafur Eliasson
Ranging from a vast desert installation by Olafur Eliasson to a leaping inflatable sea mammal by Jeff Koons, Qatar has enabled some of the most ambitious recent works by international artists over 10 years. The program is headed by Sheika Al-Mayassa, who studied in the U.S. before cutting her teeth in the industry at the Tribeca Film Festival. She was in her 20s when her father, Hamid Bin Khalifa Al-Thani, charged her with commissioning a Museum of Islamic Art. (The stunning building by IM Pei was completed in 2008; its exhibition displays have been expertly reworked this year.) Now 39-years-old, and likely to be seen sporting an of-the-moment Chloe trainer under her traditional abaya, she defends the importance of building a cultural economy as a progressive force in a young country.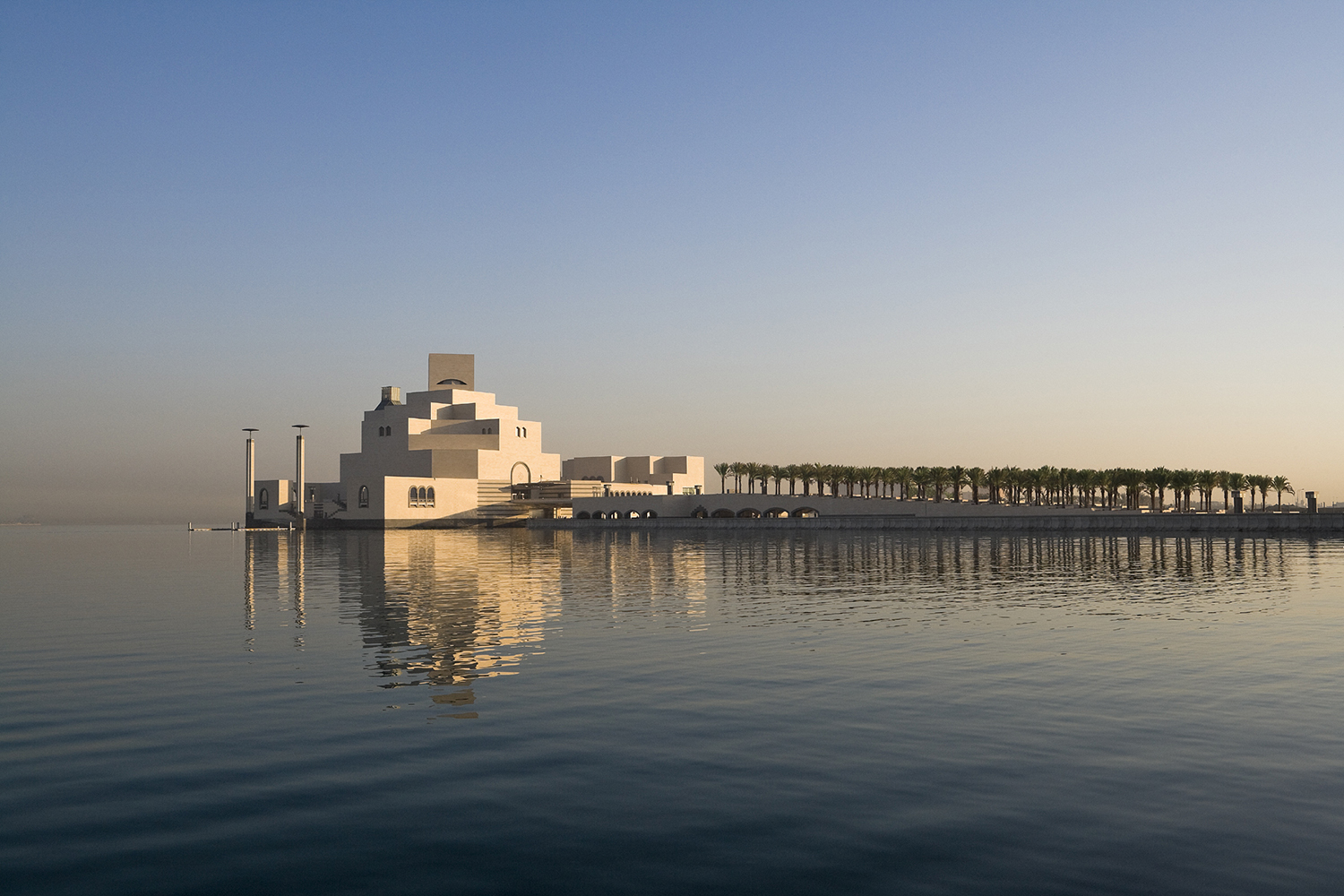 Indeed, the artists have come willingly. Two weeks ago, Ernesto Neto, the beguiling Brazilian talent, was here in mint green trousers and a shirt plastered with a "Vote Lula" patch, presenting his new intervention in the desert. "Public art becomes more naked when it's in this landscape," he said, sitting inside his cocoon-like installation, its delicate net walls crocheted from yarn spun from recycled PET. Inside its entrance hung a rattan bag filled with cloves. "Cloves smell very thin," says Neto by way of intriguing explanation. "The desert is very silent but full of life, strong plants and tough insects. I wanted to give it something soft." A cracked ceramic globe in its centre is filled with grasses from northern Brazil—a sort of landscape exchange.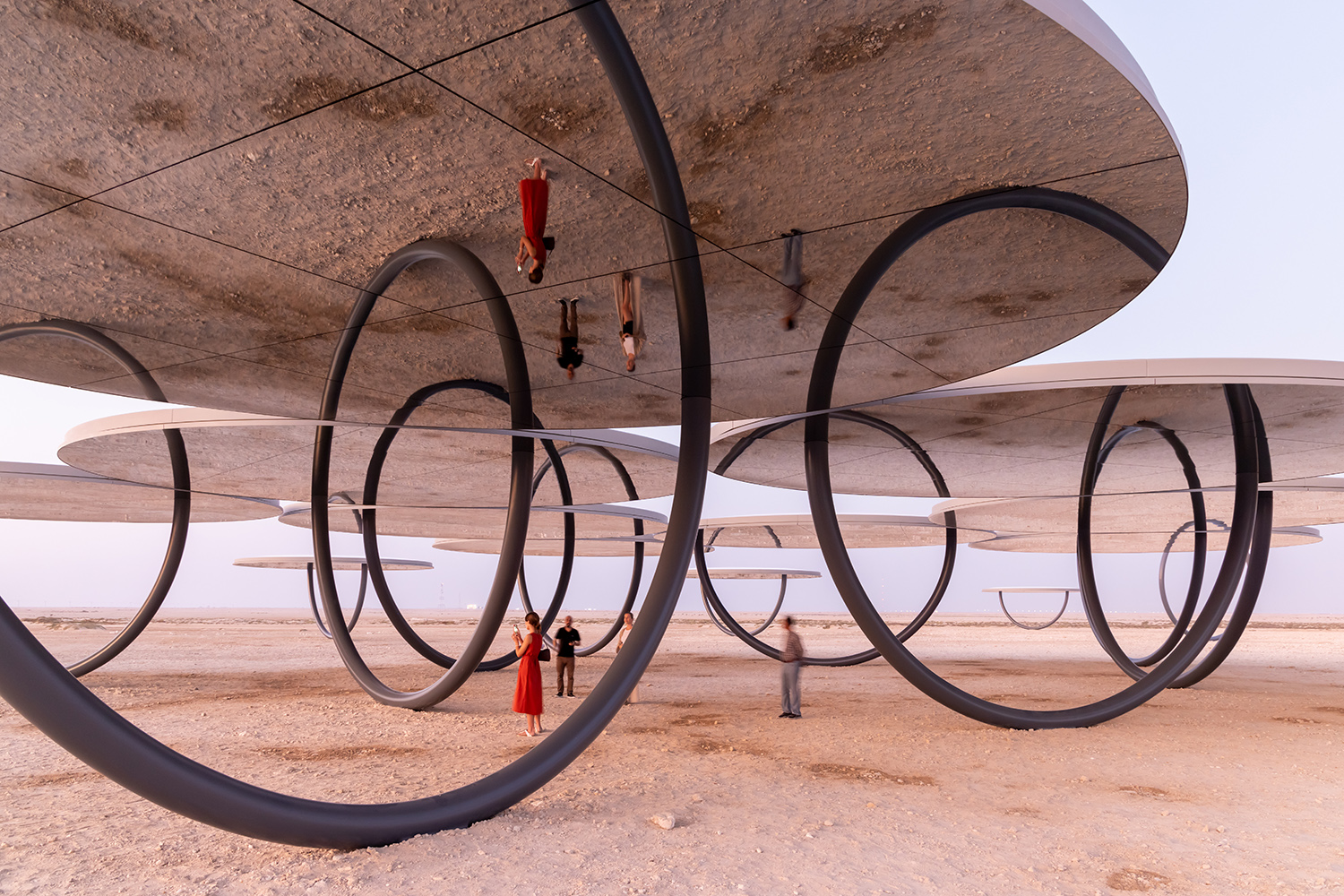 Eliasson's installation stands nearby. Titled Shadows traveling on the sea of the day, it is an altogether more architectural event. A cluster of mirror disks supported on cleanly wrought steel rings are a combination of computational wizardry and human intervention that create shadows and reflections that change with every passing second of the day. As the architect Alejandra Aravena, who is tasked with the reinvention of Doha's Flour Mills into a state-of-the-art museum for film, fashion, cars and contemporary arts, says: "You simply ask yourself, how did they get here?" According to Eliasson, the groupings emerged from the way the bedouins would put up their camps, creating protection from the sand and winds, and shade for their camels, while never losing sight of the sky by day or night.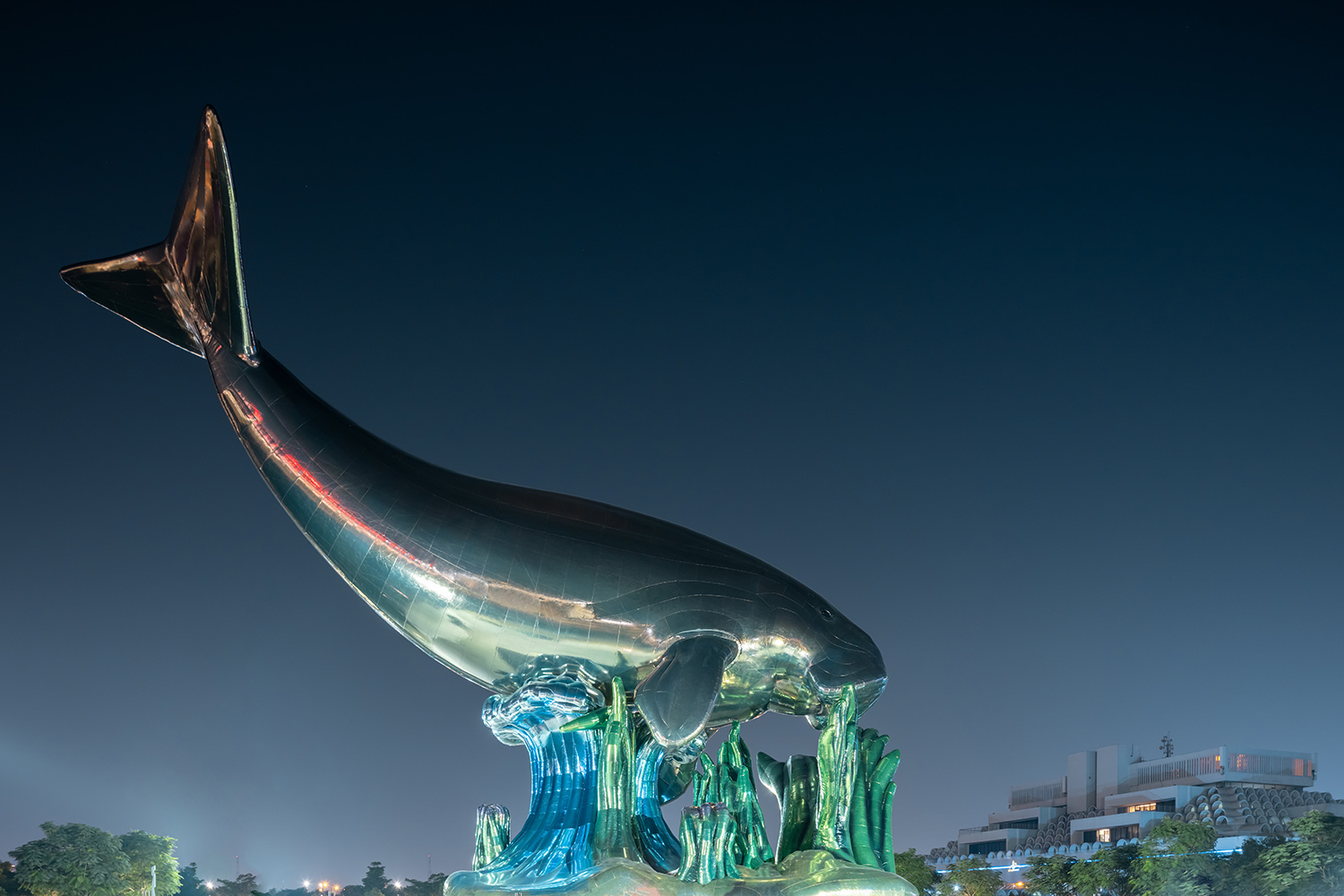 Someone who does know how they got here is the Colombian Jorge Villegas who has been the project manager of each extraordinary artwork here. In the case of the Eliasson, it took a year, and foundations 1.5 meter deep to install the work. In the case of Jeff Koon's Dugong, which now leaps over Doha's Corniche, and is surely set to become a symbol of the city, the 65-foot-high, 100-foot-long artwork arrived in six crates and was installed in a week. Named after an endangered mammal that has lived in the Gulf seas for millenia, it is intended to remain in place for six months, it's blue, green and copper-colored stainless steel skin being continually inflated throughout its stay.
Over at a newly constructed beach, and next to a temporary stadium made from 974 shipping containers, which will be struck after the World Cup is complete, are Ugo Rondinone's Doha Mountains. The series of 5 boulder-stacked totems are in the Olympic colors, which Qatar believes highlights the country's devotion to Olympic values. Doubters might well wonder if a bid for the Olympics isn't far away. While outside the Sheraton Grand Resort Hotel, Katharina Fritsch big blue chicken has been standing guard for a while now.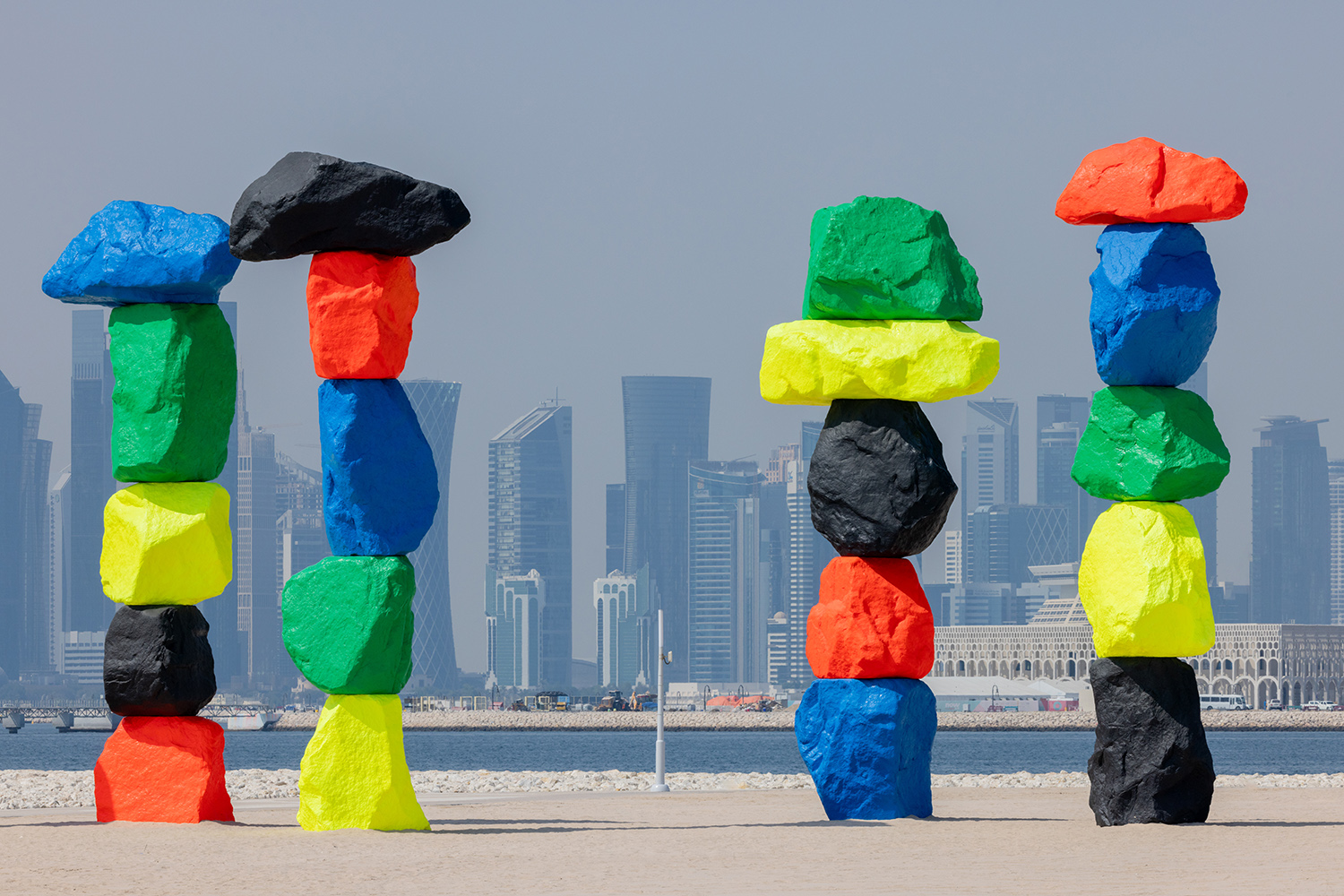 Some installations are aimed squarely at public participation, not least Shezad Dawood's playground which is also near the Corniche. Its mini buildings, to encourage childrens' games, are derived from Doha's modernist architectural icons, including William Pereira's famous pyramidal Sheraton Hotel from 1982. "It's never too early to introduce kids to architecture, to get them to think about what's around them," said Shawood, standing next to mini National Theatre. "But I chose these buildings—all made in the 1980s—because they represent this nation's move towards independence and self-determination."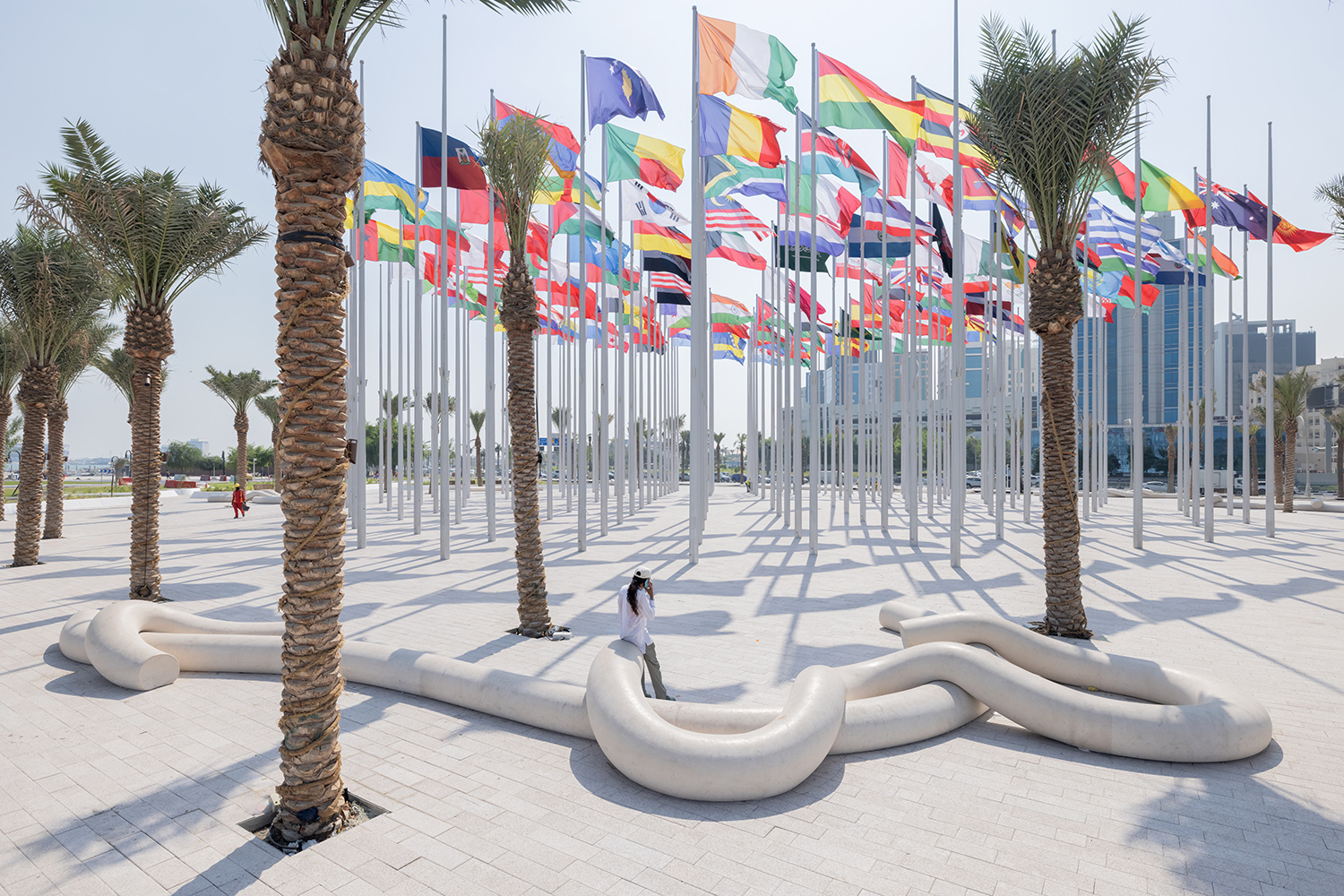 Nearby, Najla El-Zein's takeover of Flag Plaza—filled with the flags of 119 countries with authorized diplomatic missions in Doha— is one the biggest projects to be delivered. Titled Us, Her, Him, El-Zein said "It's about the importance of collectivity to individual achievement," and comprises a series of 13 exquisitely carved, sculptural benches, using 250 tonnes of Lebanese limestone. "We sculpted them in a workshop in Beirut every day for two and a half years," explained El-Zein, who is Lebanese. "In their various shapes— some looped, some interlaced, some lonesome—they talk about our loves, relationships to one another."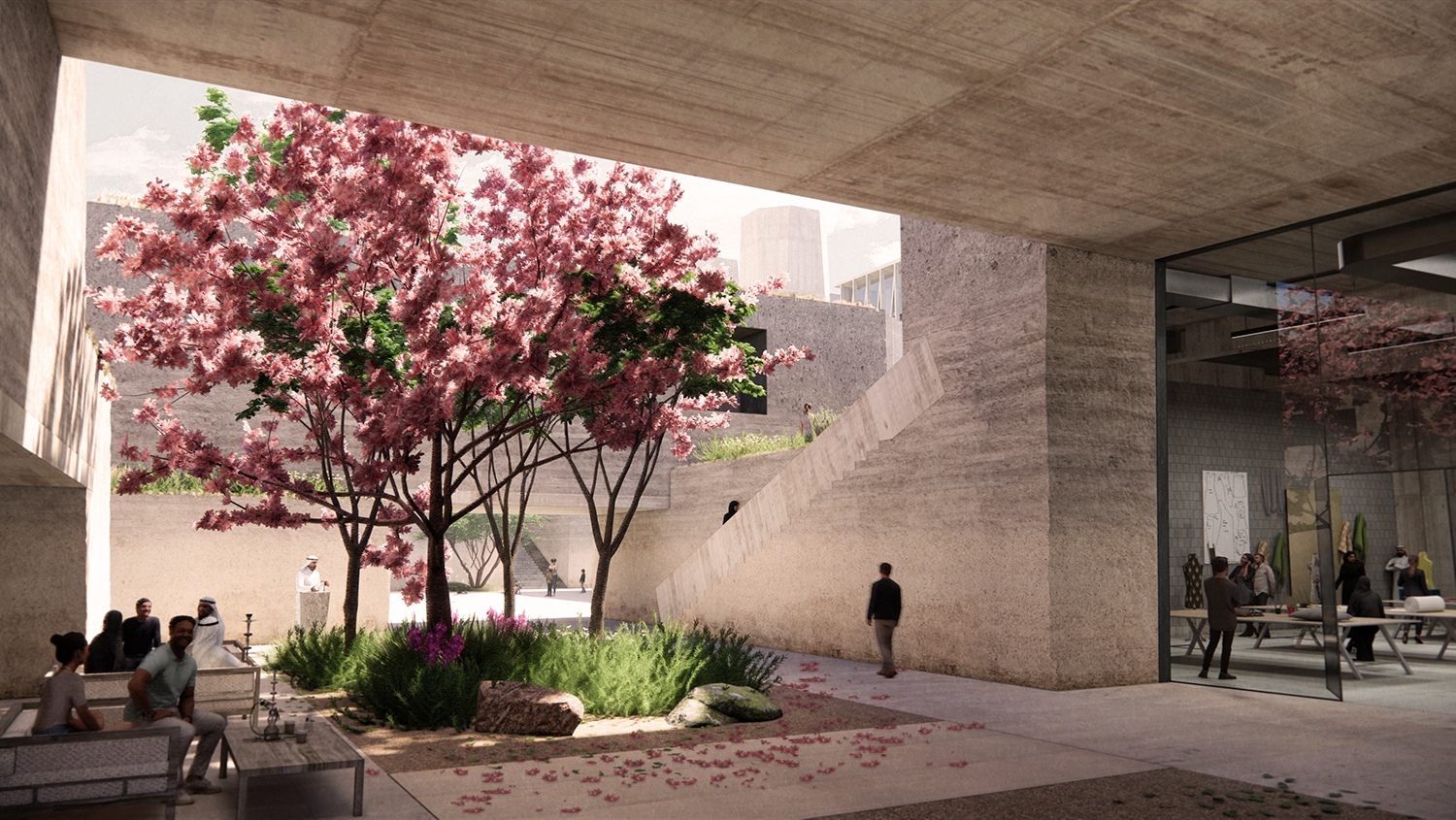 If this isn't enough, there is more to come. The debates will rage around Qatar's human rights, but the Chilean architect Alejandro Aravena's reworking of the Flour Mills into the Art Mills will continue to gather pace. "Artists are the people who are registering and recording life as it is today," says Aravena. "We came to this project with no museum experience and no knowledge of the region. We are learning a lot and we are learning fast."
Next Post