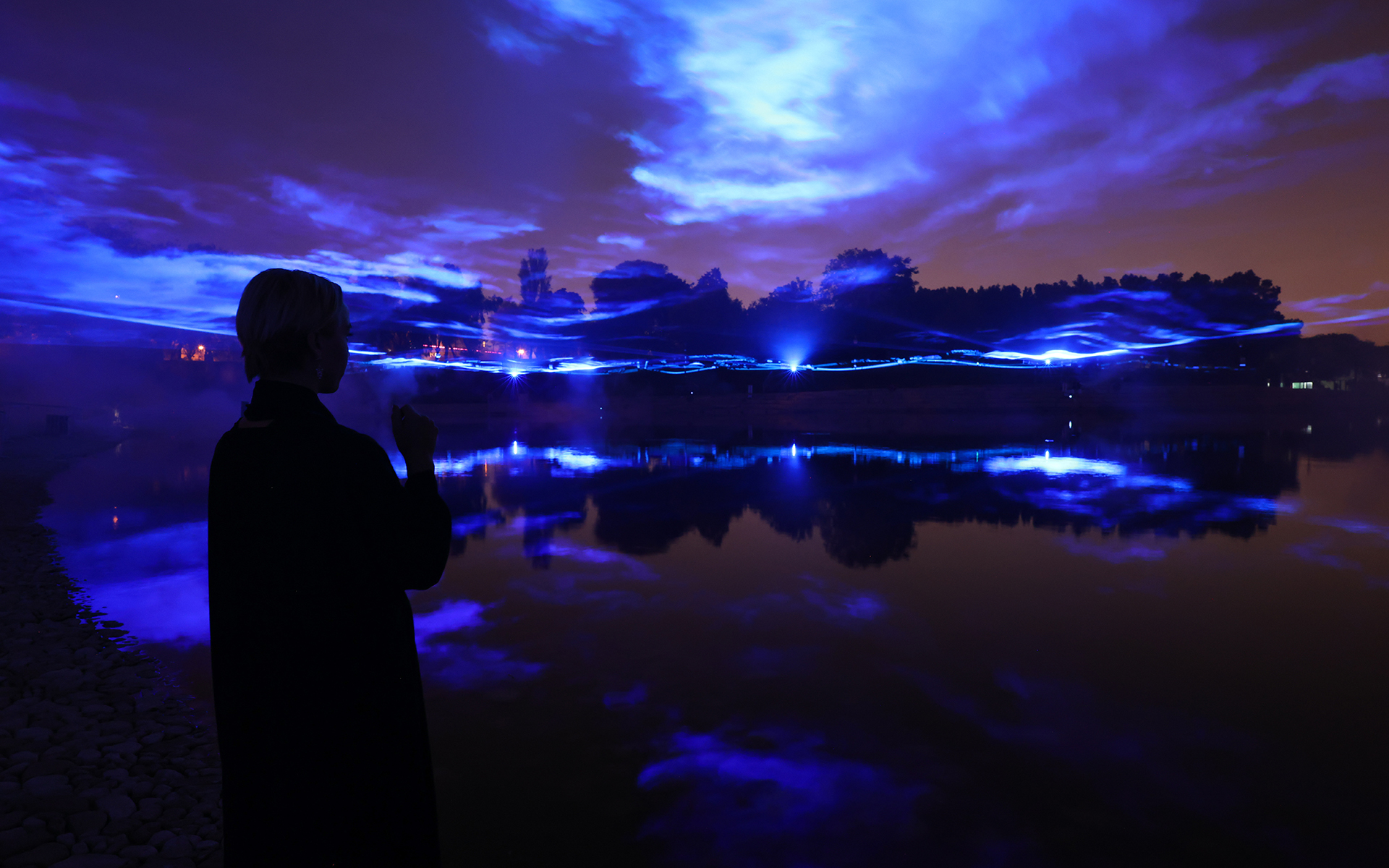 The Noor Riyadh Art Festival Illuminates Saudi Arabia's Capital City
On view through November 19, the immersive event features 190 creative installations that turn Riyadh into a dazzling gallery without walls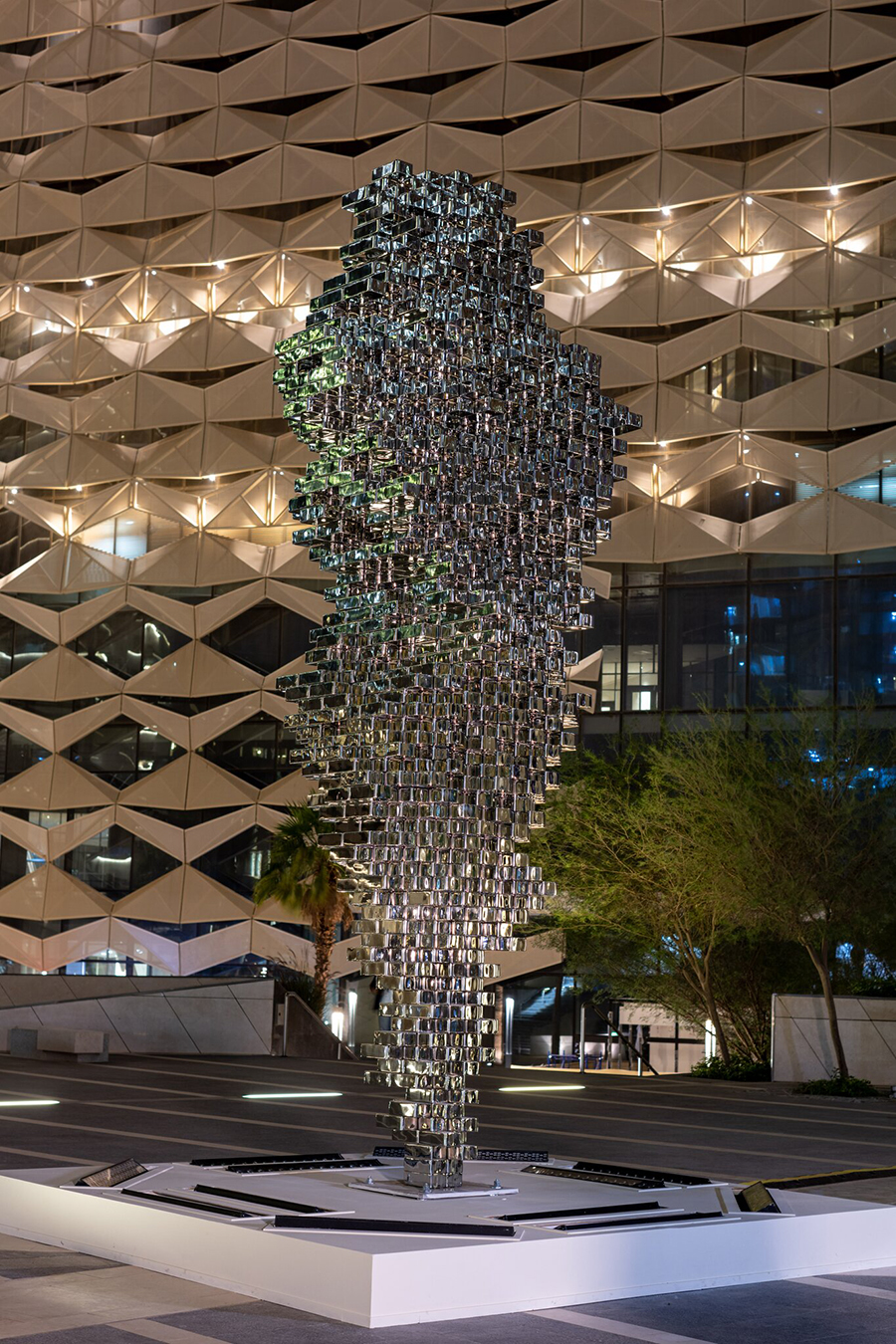 Presenting a festival of light and art, Noor Riyadh returns to illuminate Saudi Arabia's capital for its second annual edition with 190 creative installations by over 130 artists from more than 40 countries, on view across various locations in Riyadh until November 19. Exploring the theme "We Dream of New Horizons," which is centered around a sense of hopefulness for the future, the festival aims to promote a positive outlook for the Middle Eastern country's current societal transformation and spirited architectural renewal. One of the most ambitious international festivals of its kind, the event transforms the city of some seven million into a dazzling night-time "gallery without walls," which reaches across the largest urban area of any light art festival worldwide.
Curated by Hervé Mikaeloff, Dorothy Di Stefano, and Jumana Ghouth, the immersive experience highlights work by such internationally renowned artists as Doug Aitken, Jean-Michel Othoniel, and Jennifer Steinkamp, who are joined by major Saudi talents including Ahaad Alamoudi and Muhannad Shono.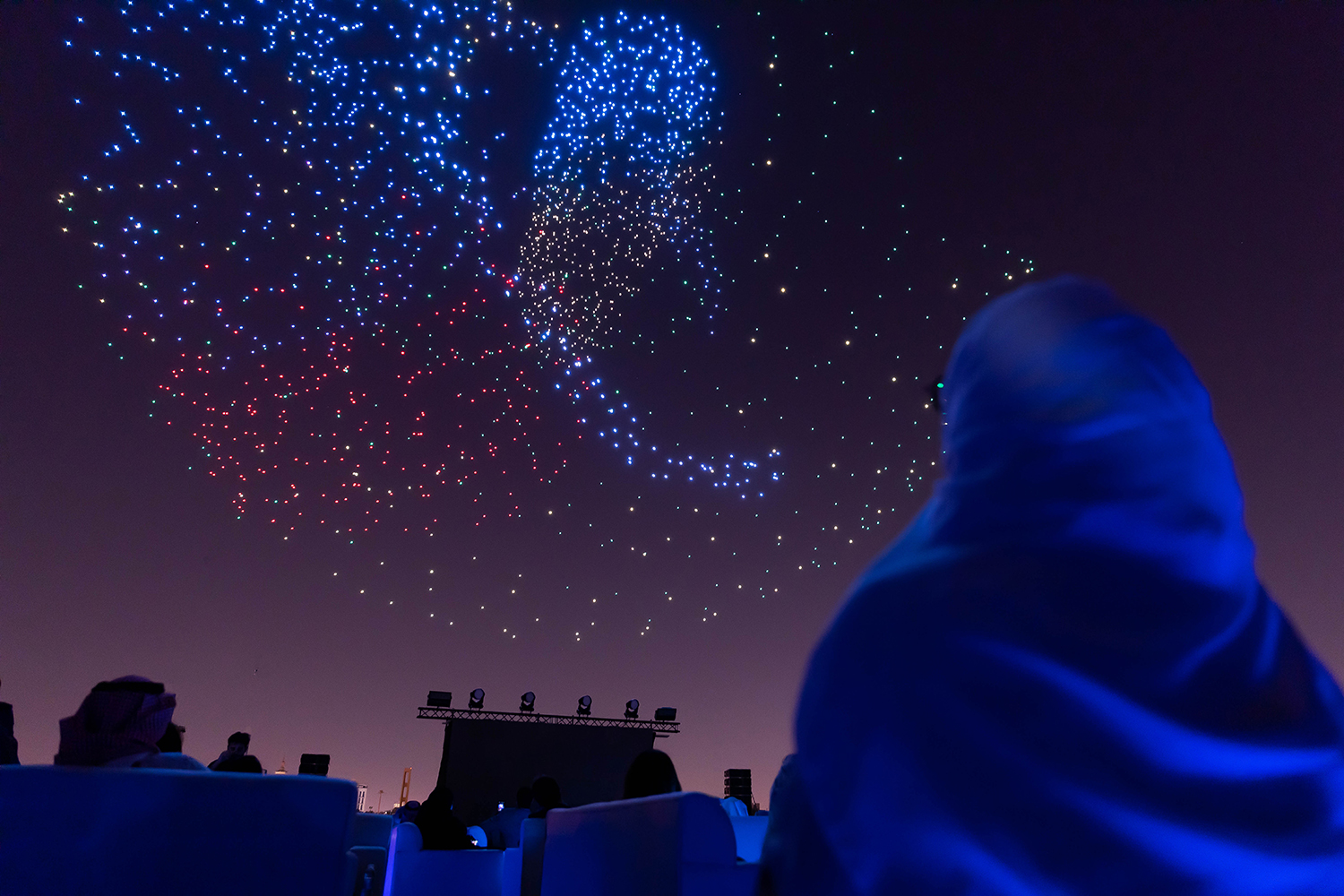 The festival kicked off with a massive nighttime drone show by Marc Brickman, featuring 2,000 colorfully lit devices flying in choreographed formations for an arresting 12-minute performance in King Abdullah Park. Synched with dramatic music created by film score composers, Brickman—the artist-in-residence at the Empire State Building for the past ten years and the producer of legendary light shows for Pink Floyd and numerous other bands—arranged a sequence of integrated abstract forms in the sky that started out spiritually but soon took on more somber overtones, which seemed to convey the state of the world today. When asked about that quality of the airborne piece, aptly titled the order of chaos: chaos in order, the California artist affirmed: "I like to make people think."
Set in the heart of the freshly developed King Abdullah Financial District, Jean-Michel Othoniel's abstract sculpture, Yardang, sparklingly references the wind-eroded ridges in the kingdom's rocky realms, such as Al Ula, where the highly publicized Desert X takes place. Constructed from mirrored metal bricks, the shiny sculpture rises from the ground like a twisting tornado or spinning sandstorm—reflecting while abstracting the dynamic architectural structures that surround it. While it's the French artist's first project in Saudi Arabia, Othoniel has created a number of other public works in the region, including an imaginative installation of 114 fountain sculptures for the National Museum of Qatar in Doha.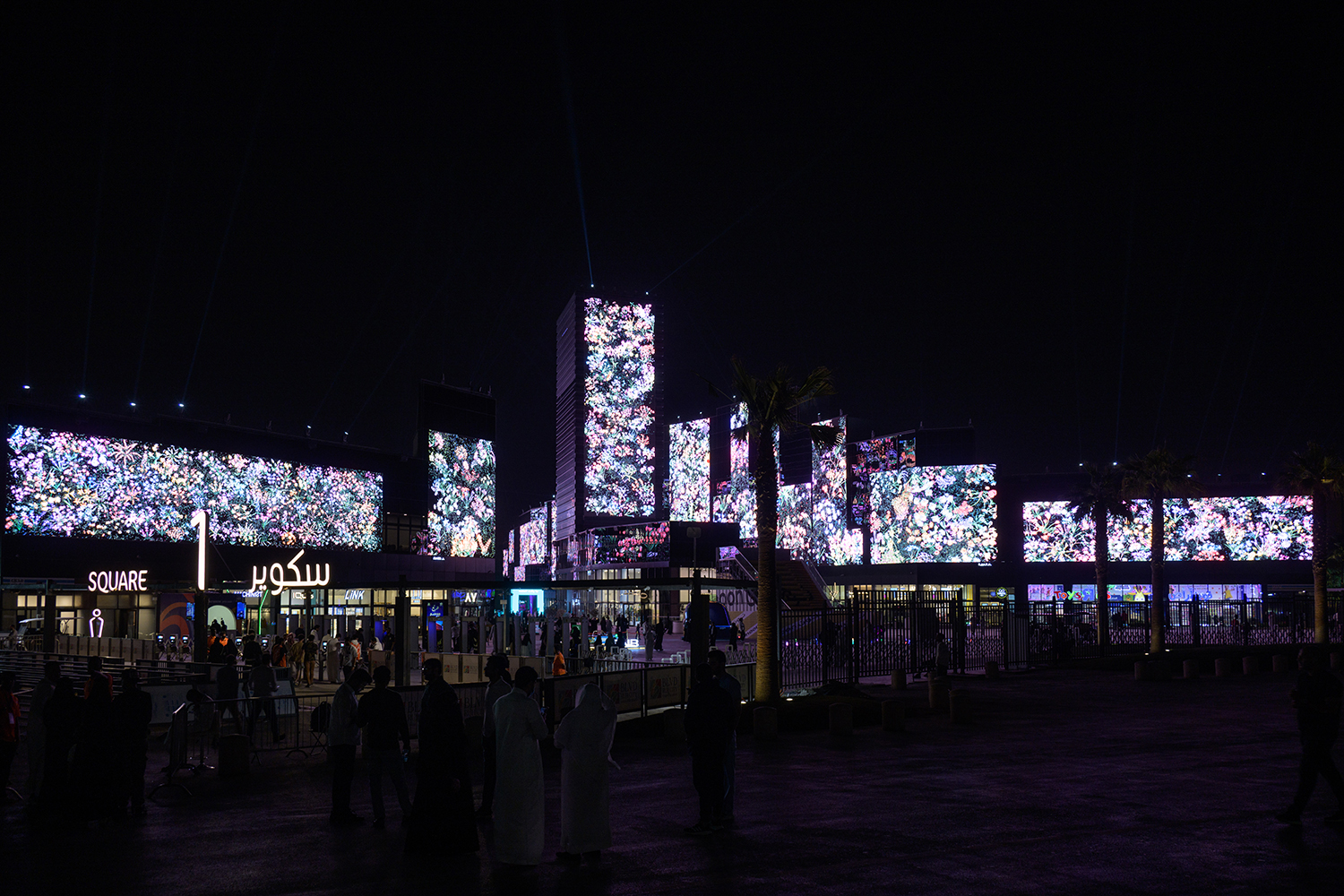 In an exceedingly lively area called the Boulevard, which has been dubbed the Times Square of Riyadh, Jennifer Steinkamp's ongoing Botanic video installation animates the downtown shopping and dining district with an immersive projection of colorful, colliding plants which meditatively transition between breaking apart and coming back together. Displayed on dozens of billboard-size screens, the powerful piece—which has also been presented on the jumbo advertising screens of the actual Times Square—brings a bit of nature into an otherwise commercial zone, while reminding viewers that nearly everything sprouting from the desert nowadays is manmade, with a big helping hand from technology.
In the more historical area of Wadi Hanifa, in the southern section of Riyadh, Saudi artist Ahaad Alamoudi—a rising star who wittily works in video, installation, and performance while splitting her time between London and her hometown of Jeddah—had workers construct a pair of traditional pigeon towers for a stirring light and vocal performance. Creating multiple holes in the towers to cast beams of light into the dark of night, Alamoudi placed larger cut-out circular windows high up in the turrets for conversing singers to perform a mawwal (a traditional form of poetic Arabic music) vocal piece. Mixing the metaphors of pigeons carrying information and the mawwal singer expressing a sentiment, her Ghosts of Today and Tomorrow installation appears to be welcoming a brighter future while lamenting a loss of the past.
Transforming another superlative spot in the city, Dutch artist Daan Roosegaarde has flooded the skies over Salam Park Lake with blue LED laser lighting scanned on airborne streams of mist to create a calming cloudlike movement of rich undulating color projected across the popular public park. Titled Waterlicht (Waterlight), this sprawling installation creates a dream landscape about the poetry of water in the face of rising tides, which is an important part of the environmentally conscious artist's "clean air and clean energy" vision for the future. Summing up his concerns in the park, Roosegaarde rightly told Galerie at water's edge, "Our world is changing, whether we like it or not."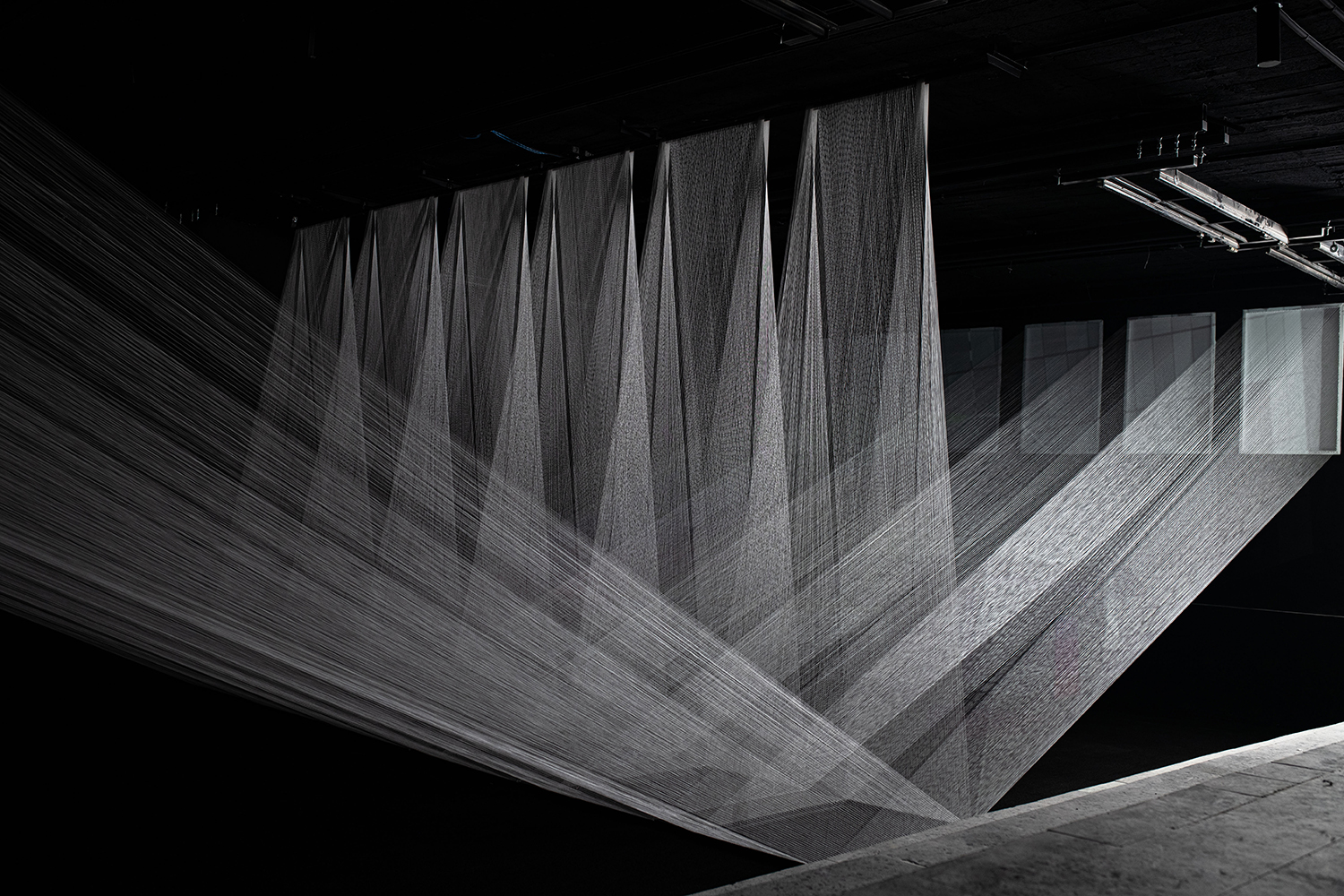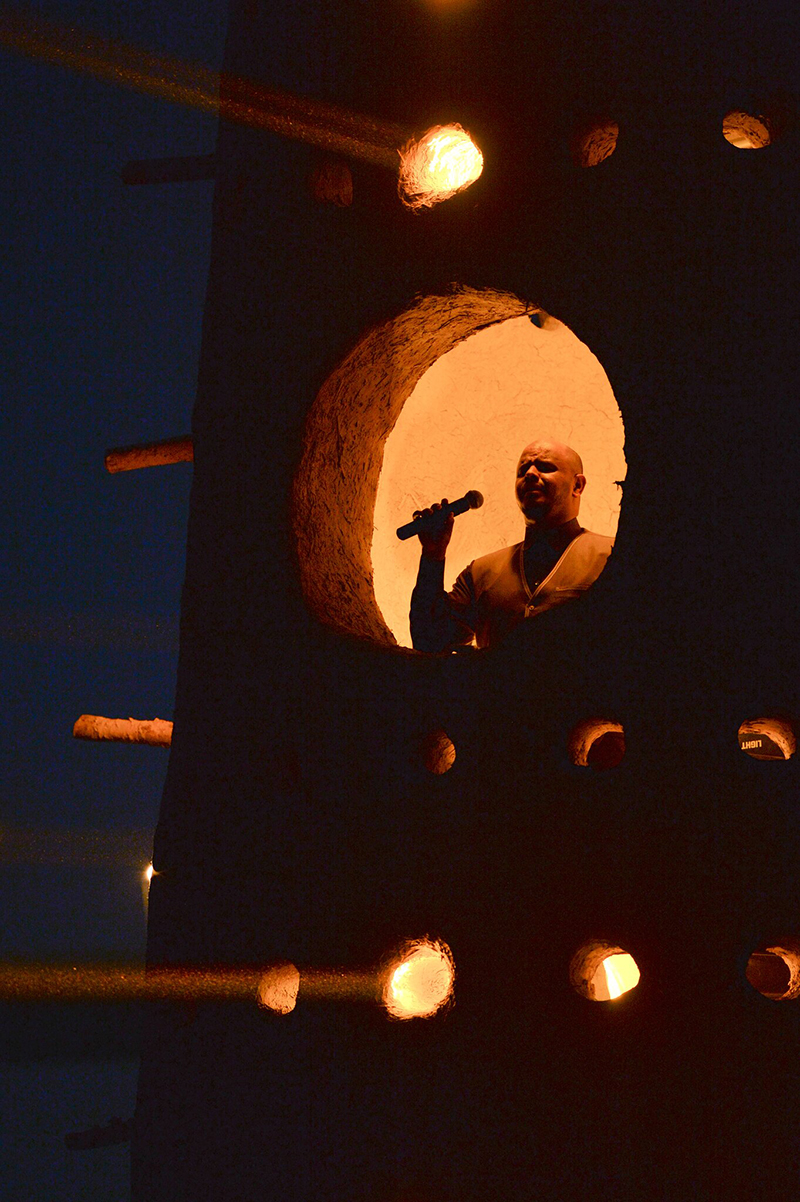 Rather than choosing an outdoor location for his light piece, Saudi superstar Muhannad Shono—who is currently representing Saudi Arabia in the Venice Biennale and was a standout in the first edition of Desert X Al Ula in 2020—is occupying a whole house with an expansive, multi-floor installation of thousands of illuminated threads in his wonderful I See You Brightest in the Dark artwork. Leading viewers through a series of interior presentations, from the basement to the roof, Shono casts an ethereal light onto strands of strikingly displayed white threads, sometimes coming straight from the spools while at other moments monumentally stretched through space, to create a sublime, spiritual experience—complete with a meditative soundtrack that leaves you floating on air.
Additional Noor Riyadh highlights include the festival's fantastic accompanying exhibition, "From Spark to Spirit," on view in the city's burgeoning JAX District through February 4. Organized by British independent art curator Neville Wakefield, who is the Artistic Director of Desert X, and Saudi interior architect Gaida AlMogren, the exhibition traces the role light plays in shaping our relationship to a world where light itself has become the signal of change, exploring themes such as the "Technologies of Light," "Architectonics of Light," and "Consciousness of Light."
"I was interested in this idea that light is really the new ink," Wakefield shared with Galerie. "We've been through the Gutenberg Revolution, and just as the internet has become our library—our source of knowledge—light has now become our primary means of communication. I've always been fascinated with California's Light and Space movement, which took on ideas of aerospace technology and fed it into the art world in the 1960s and '70s. In a way we're at a similar moment with digital technology, so I became intent on making a journey that somehow mapped this moment, where knowledge is moving from the page to the screen."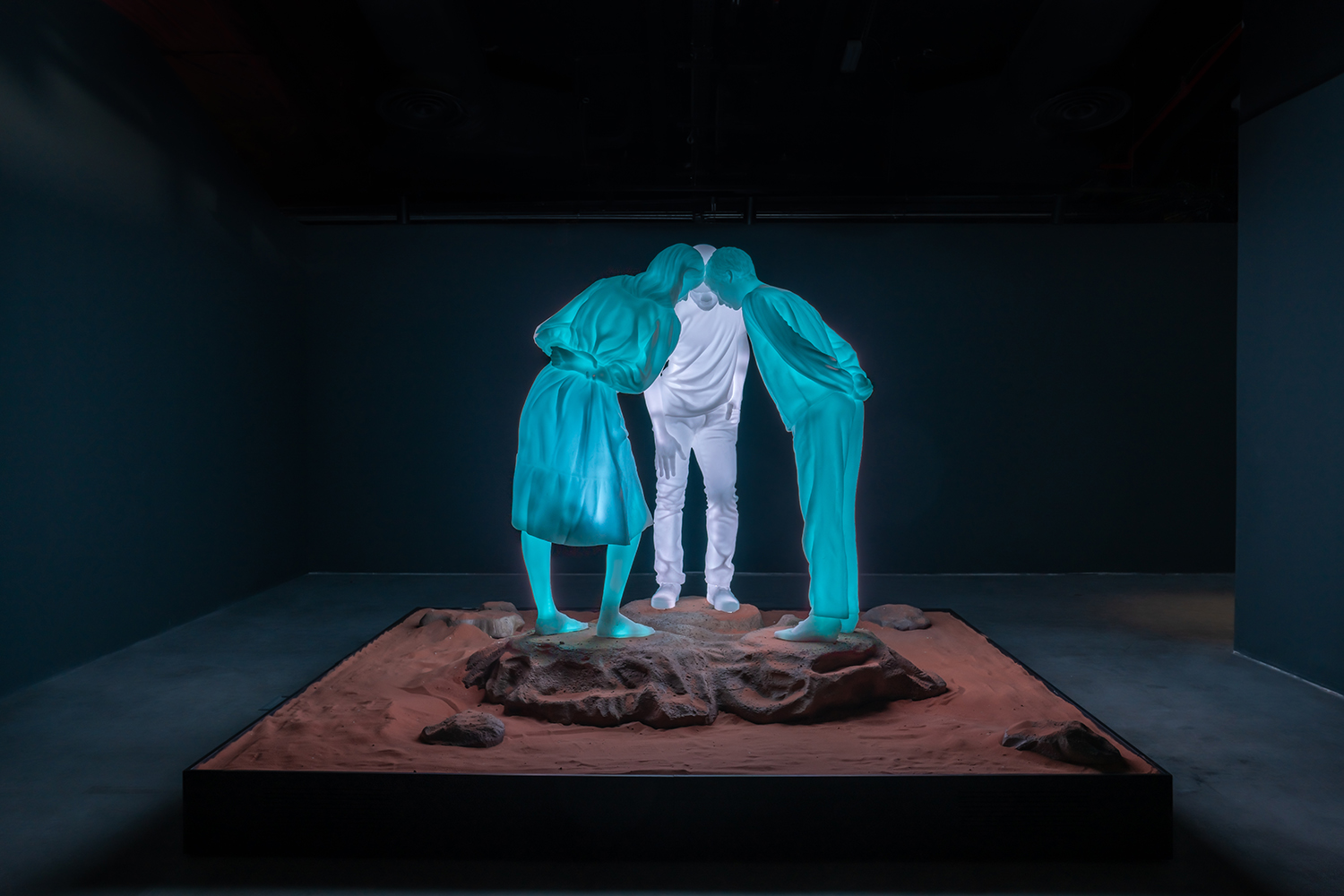 Among the prominent pieces in the "From Spark to Spirit" exhibition, Doug Aitken's newly commissioned artwork, The River, consists of three figures standing together on a desert landscape, gazing towards a central core. Connecting the life-size figures—two men and a women—at their touching heads, the celebrated American artist and filmmaker fills their transparent bodies with an array of changing color lights to playfully project a shimmering, light and sound scenario, where ideas are seemingly being shared by open-minded, peaceful people.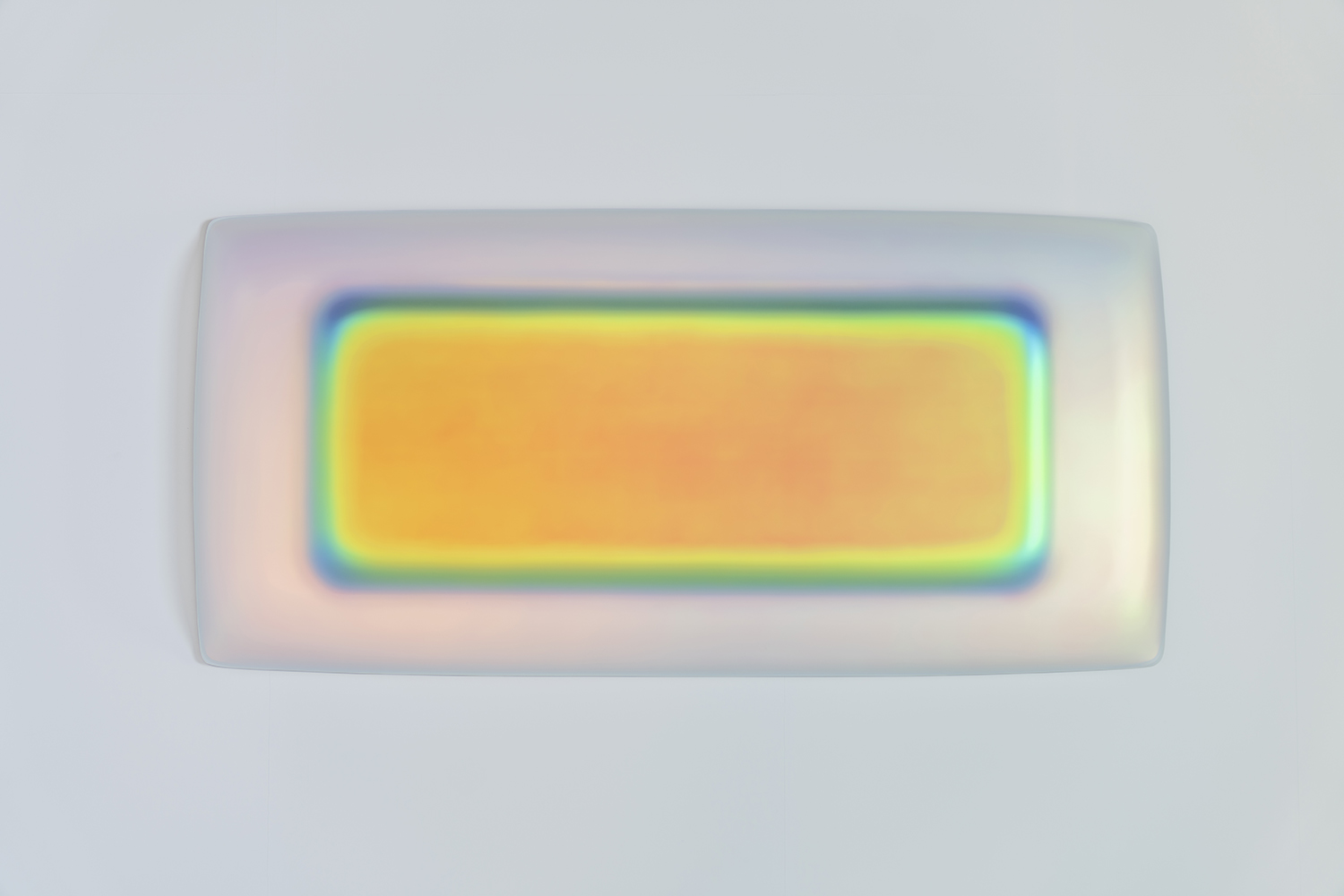 A Los Angeles–based artist of German and Puerto Rican descent, Gisela Colón has a large, sprawling light installation with 100 stainless steel columned light structures at the festival's Wadi Hanifa site and a light-reflective wall sculpture in Wakefield and AlMogren's curated group show. Created with ocular materials, her wall work looks like a painting, yet it contains no paint. Instead, the perceived spectrum of fluid colors comes from the luminosity derived from the environmental lighting conditions and the position of the audience. Depending on the way you see it, her Rectanguloid (Quasar Spectrum) work either lights up your life with color or floats on the wall like a glowing white tub. Either way, it presents a magical mix of 21st-century materials.
Contrastingly, United Visual Artists's Hidden Order installation focuses on the immaterial, with pinpointed laser lights and ambient music defining the artwork's perceptive form. Inspired by Renaissance perspective drawings by Leon Battista Alberti, Leonardo Da Vinci, and Albrecht Dürer, Pythagoras's mathematics and sound observations and the system of geometric patterns found in ancient Islamic art, the collective, which was founded by British artist Matt Clark in 2003, employs perspective and geometry as tools to reshape and redefine a space—in this case, a long, darkened room that fully brought the conceptual nature of the "From Spark to Spirit" exhibition into a distinguishing light.
Next Post