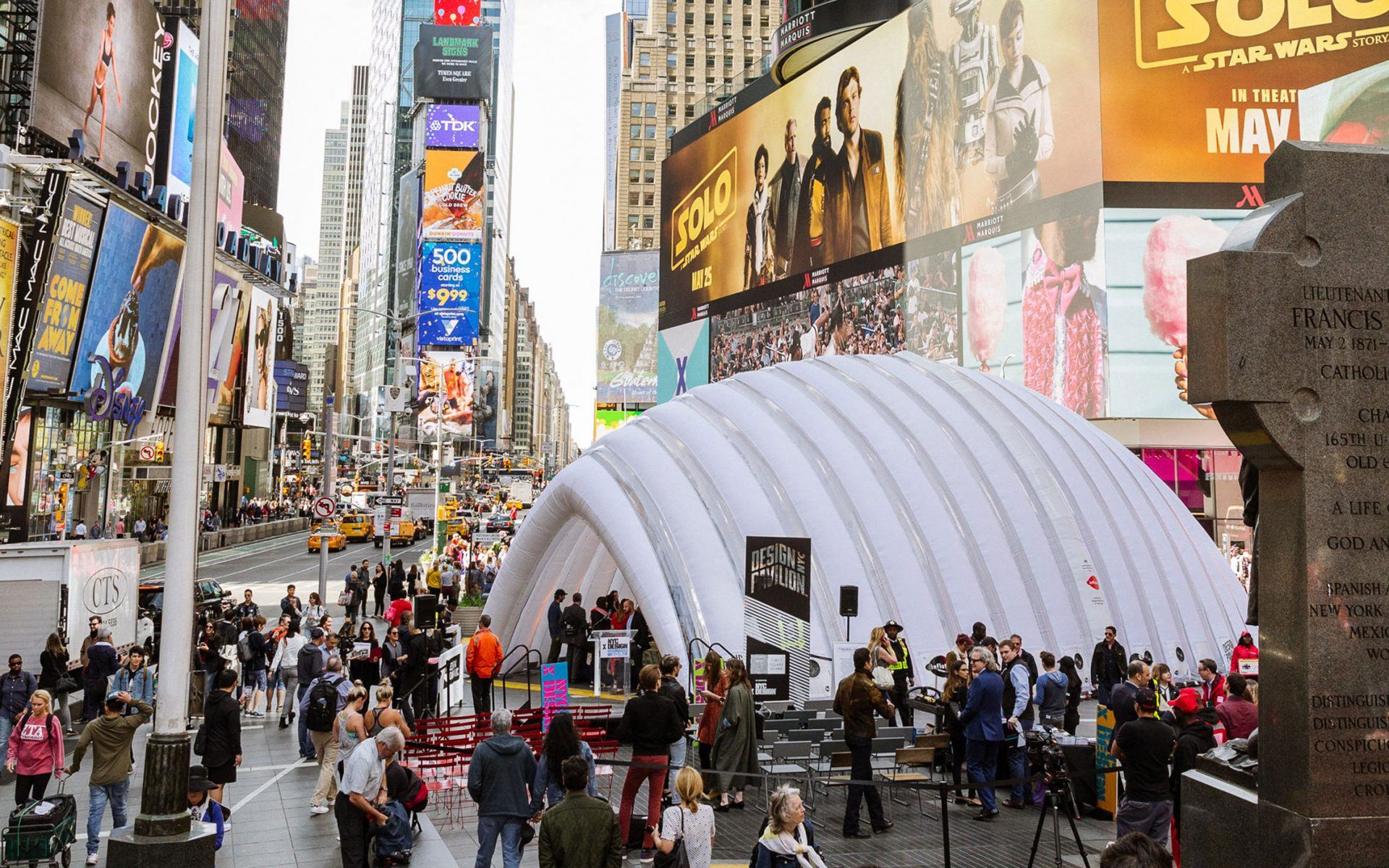 8 Great Things to Experience During 2019's NYCxDesign
The citywide celebration of art and design includes almost 400 events, installations, talks, performances, and other cultural programs
Each year, New York celebrates the boldest and brightest talents in design by hosting myriad installations, exhibitions, and talks during a two-week period known as NYCxDesign. This year's event—running through May 22—will once again create monumental experiences in each of the city's five boroughs.
"NYCxDesign has become one of the most important global celebrations of New York City's thriving design sector in just seven short years," said New York City Economic Development Corporation (NYCEDC) president and CEO James Patchett in a statement. "The program draws both local and international attendees to experience our rich design culture. With almost 400 events for 2019, we look to surpass last year's attendance of nearly 340,000."
Here's a look at some of the not-to-be-missed highlights of this year's NYCxDesign:
1. "Deeper Than Text," curated by the Female Design Council, at 1stdibs Gallery
Nineteen female master makers exhibit their work in a group show at the sprawling new 1stdibs Gallery, just south of Hudson Yards. "With 'Deeper than Text' we are redefining the visual message of women in design," says founder of the Female Design Council and Kinder Modern Lora Appleton, who is curating the show. "This exhibition presents incredibly high-quality and innovative works that challenge viewers to look beyond the mundane and focus on the objects, the investigation, and the dedication to the creative process." Through May 31
2. Next Level in NoHo
Next Level founders Asher Israelow Studio, Patrick Weder, Here Projects, and Eskayel lead this design cooperative, whose works are being displayed in collaboration with Pearl River Mart. More than 35 independent creatives will showcase their unique furniture, lighting, and textiles, while the store's lower level will be transformed using paper lanterns reimagined by 70 local talents, to be sold to benefit the Robin Hood Foundation. Through May 24
Recommended: The 5 Most Talked-About Pavilions at the 58th Venice Biennale
3. Cassina as Seen by Karl
Late fashion designer Karl Lagerfeld collaborated with venerable furniture company Cassina on a photography project that was shepherded into an exquisite coffee table book by the esteemed publisher Gerhard Steidl. "I had never 'worked' on this kind of project," wrote Lagerfeld. "To visually reinterpret examples of perfect design is completely new for me, and therefore stimulating, exciting even." Lagerfeld shot images of many of Cassina's most iconic pieces, including Lebeau tables by Patrick Jouin, Tre Pezzi armchairs by Franco Albini, and the 699 Superleggera chair by Gio Ponti, which will be on view at its showroom during NYCxDesign.
4. Art and Design Graduating Student Exhibition at FIT
Get a first look at the next generation of design talent when FIT mounts an exhibition of work by some of this year's 800 AAS and BFA degree graduates. On display will be product packaging, jewelry, illustrations, photography, fashion, textiles, interior design, and more. Through May 29
5. Design Pavilion in Times Square 
The so-called Crossroads of the World will become a major intersection of art and design with a series of art-centric talks, performances, and more scheduled to appear on five plazas. Shop the American Design Club's Sound + Vision pop-up, celebrate luxury mega-yacht maker Azimut Benetti Group's 50th anniversary with a tour of a 60-foot-long vessel, or take a rest on the School of Visual Arts' Chairousel. Through May 22
6. Tiny House in Times Square
New York design-build studio Brook Landscape has teamed up with Fernando Mastrangelo Studio (FM/S) and a number of technology experts to create a "full-scale, interactive, and sensory immersive" sculpture in Times Square. Titled Tiny House, the space combines reclaimed materials and lush botanicals–including pink flowering dogwood, Hakuro Nishiki willow, and aromatic lavender and juniper—to create a serene space, complete with inspiring videos and healing soundscapes, set against the cacophony of one of the city's busiest neighborhoods. Through May 22
Recommended: Trace the Evolution of Floral Jewelry at Sotheby's
7. Arcade
The expansive hallway leading up to the famed Arcade Bakery in Tribeca has been transformed using Calico Wallpaper's new collection, Relic, and Chamber by Workstead. For the project, the bakery's train-car-like alcoves with fold-down tables implemented by Workstead in 2014 will be enhanced by the luminous new wall covering as well as the addition of sculptural lighting fixtures by the New York design studio. "Our collaboration is meant to create a design moment that can be enjoyed by all visitors, whether they are regulars at the bakery or stopping by for the first time," says Nick Cope, cofounder of Calico Wallpaper. Through May 21
8. WantedDesign
The platform which is "dedicated to promoting design and fostering the international creative community at large," hosts gatherings in Brooklyn and Manhattan during NYCxDesign. In Brooklyn, events will take place at Industry City in Sunset Park; here, catch a presentation by Honoree guest Humberto Campana in celebration of the 35th anniversary of the Campana Brothers design studio and 10th of the Instituto Campana, a look at projects by students in the Young Design Talents workshop, and an exploration of local woodworkers in the exhibition "Timber!" May 16–20
In Manhattan, the event takes over the Terminal stores; here, be sure to take in work by design talents from around the globe, including up-and-coming creatives in Poland, Canada, Mexico, Egypt, Shanghai, and Colombia. North American designers find a platform in the recurring Look Book program, while emerging designers are presented during Launch Pad. May 18–21
Next Post