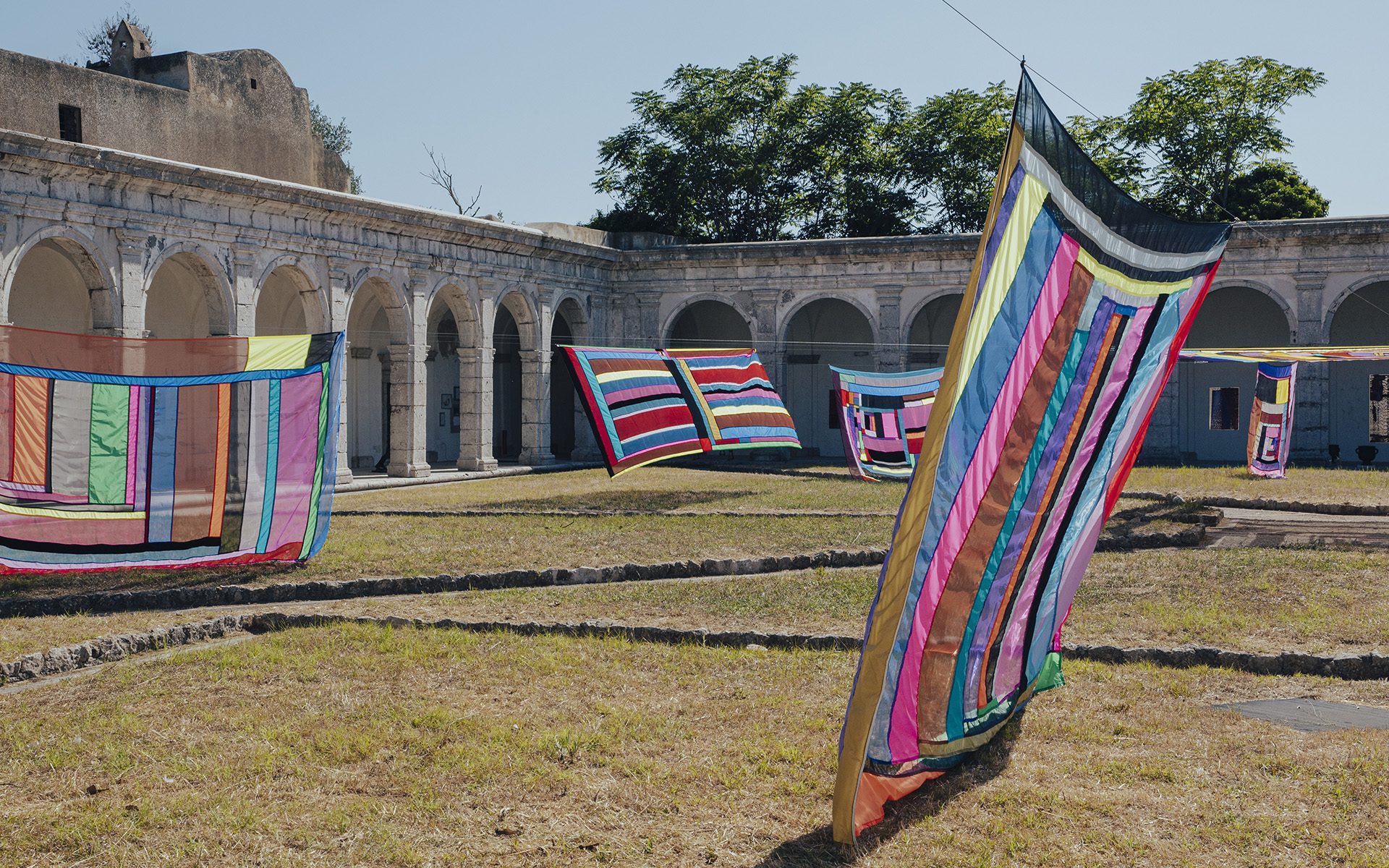 Discover the Most Memorable Moments from Capri Nomad 2022
The 10th edition of the roving art fair transformed a 14th-century monastery into a dynamic backdrop for thought-provoking artworks from around the globe
Giddy anticipation builds with every announcement of a new Nomad Circle edition, the unconventional art and design event that prizes the "where" as much as the "who" and "what." Conceived in 2016 by art world luminaries Giorgio Pace and Nicolas Bellavance-Lecompte, the roving fair has garnered both intrigue and acclaim for eschewing stark-white exhibition halls and sterile venues in favor of significant architectural sites around the world, including past presentations at Villa La Vigie in Monaco, Venice's Gothic Palazzo Soranzo Van Axel, and the Chesa Planta in Samerdan, just outside Nomad's flagship base (and Pace's home) of St. Moritz. A virtual adaptation even took place in 2020, when the fair broadcast from Pierre Cardin's Palais Bulles near Cannes—a testament to Nomad's nimble adaptability and commitment.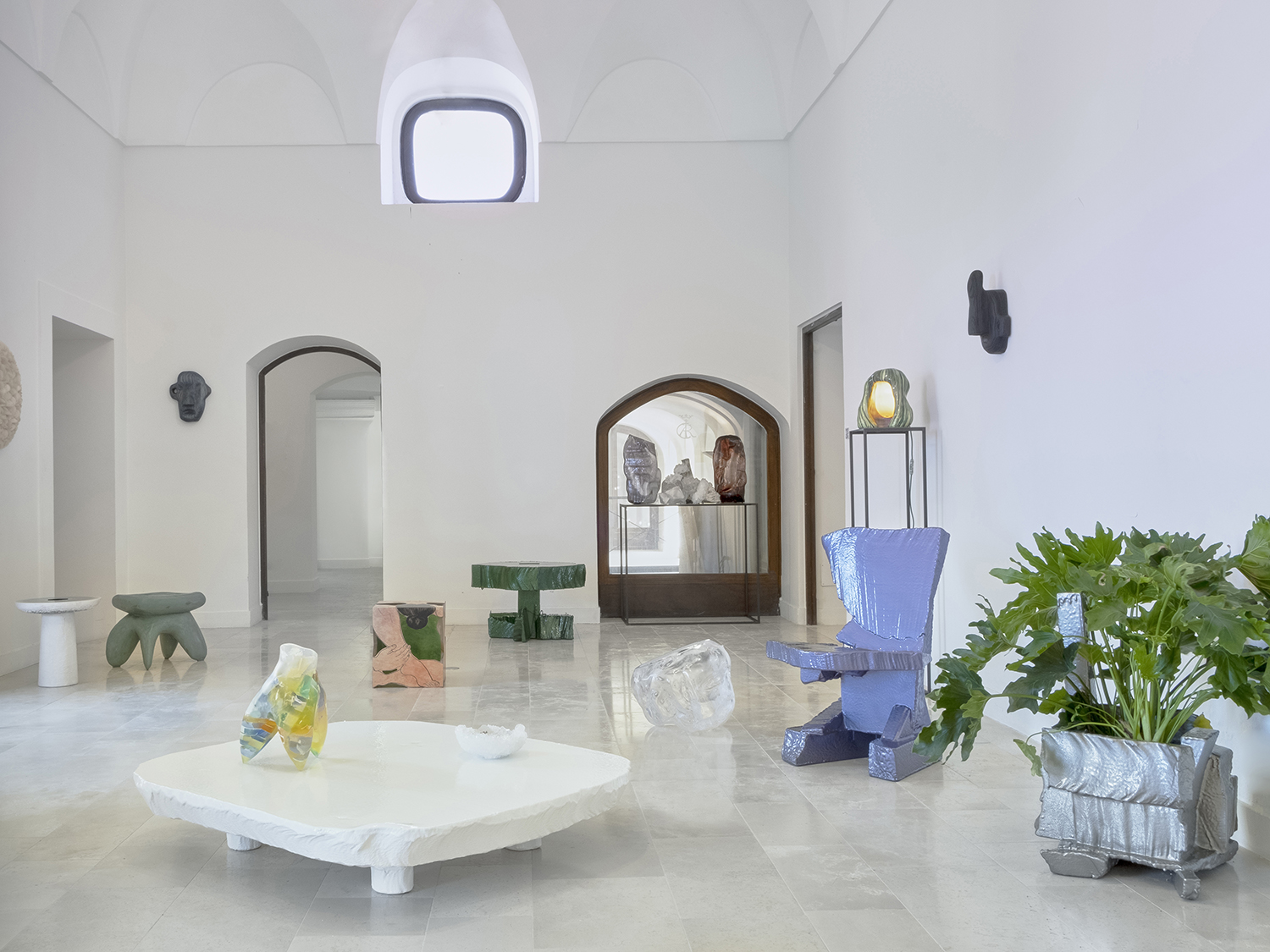 "Our mission is to revisit the classic format of traditional fairs, by offering an experience that truly merges design, art, and architecture," explains Bellavance-Lecompte. "With the advancement of the arts in mind, we invite our guests to partake in a showcase that's surprising, rich, and inspiring. Each edition is one of a kind, hosted in a historical location within a significant architectural setting."
For its 10th edition, which took place July 6 through 10, the fair set its sights on Capri, setting up shop inside the 14th-century Carthusian monastery Certosa di San Giacomo, the oldest building on the island. Considering its long-time reputation as a summertime hive for throngs of jet-set glitterati, the luxe destination boasted very few major art events compared to neighboring Naples, where a robust contemporary art scene has been sizzling steadily underneath the city's characteristically thick dusting of grit.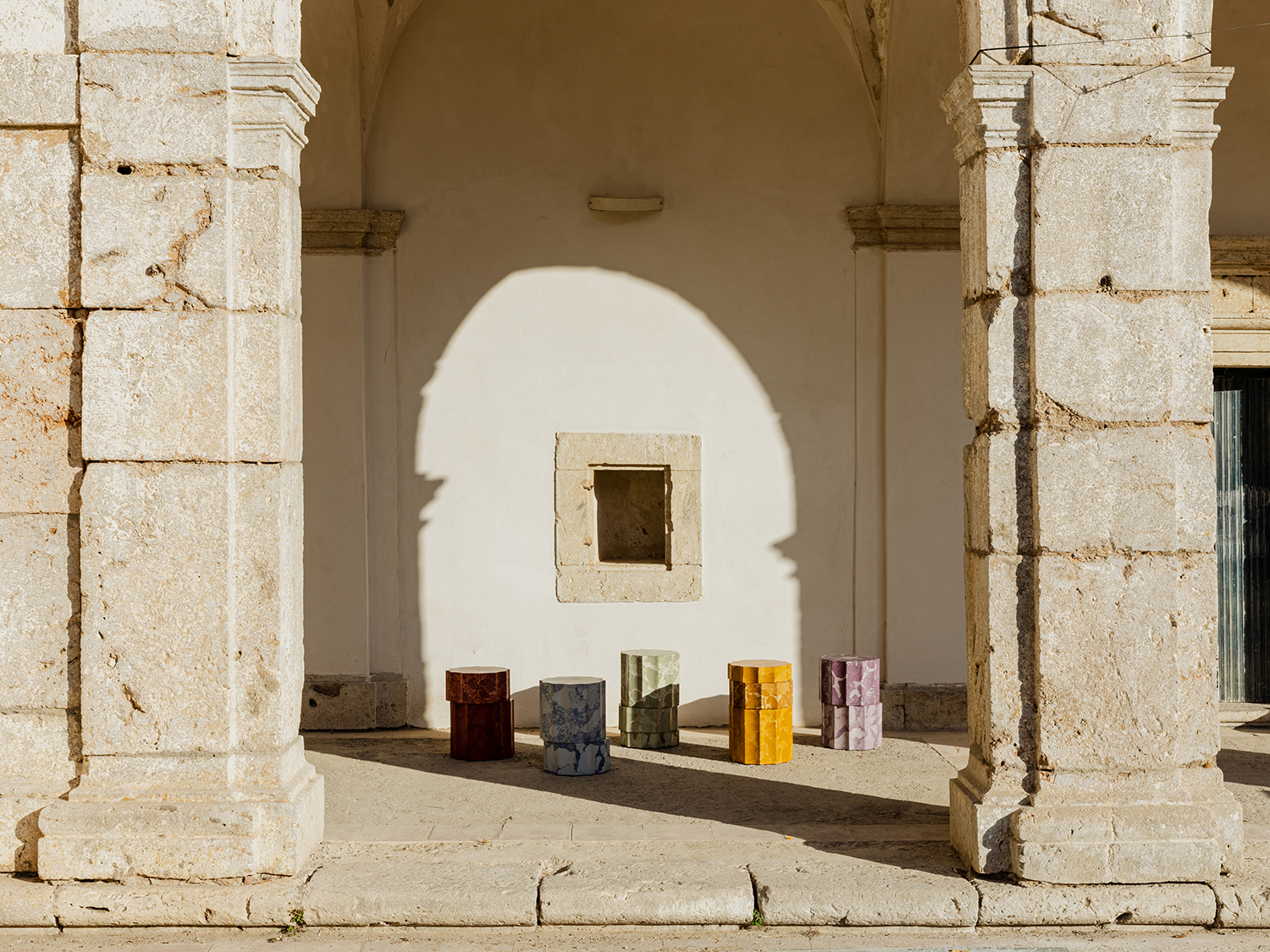 "Capri as a destination and La Certosa as a setting was a natural location and perfect scenery to celebrate our 10th edition," explains co-founder Giorgio Pace. "La Certosa is a monumental and historical place, yet very few have actually visited it. For us, it was immediately clear that it would be the perfect frame to host incredible artworks and design projects from all over the world. It truly has a 5D effect: art, architecture, design, nature, and people, all coming together."
Occupying nearly every pocket of the monastery, from its sun-drenched courtyards to the maze of interior cells surrounding its cloisters, Nomad's dozen-plus exhibitors presented an array of contemporary artworks, collectible design pieces, and site-specific special projects. Below, some highlights from the show.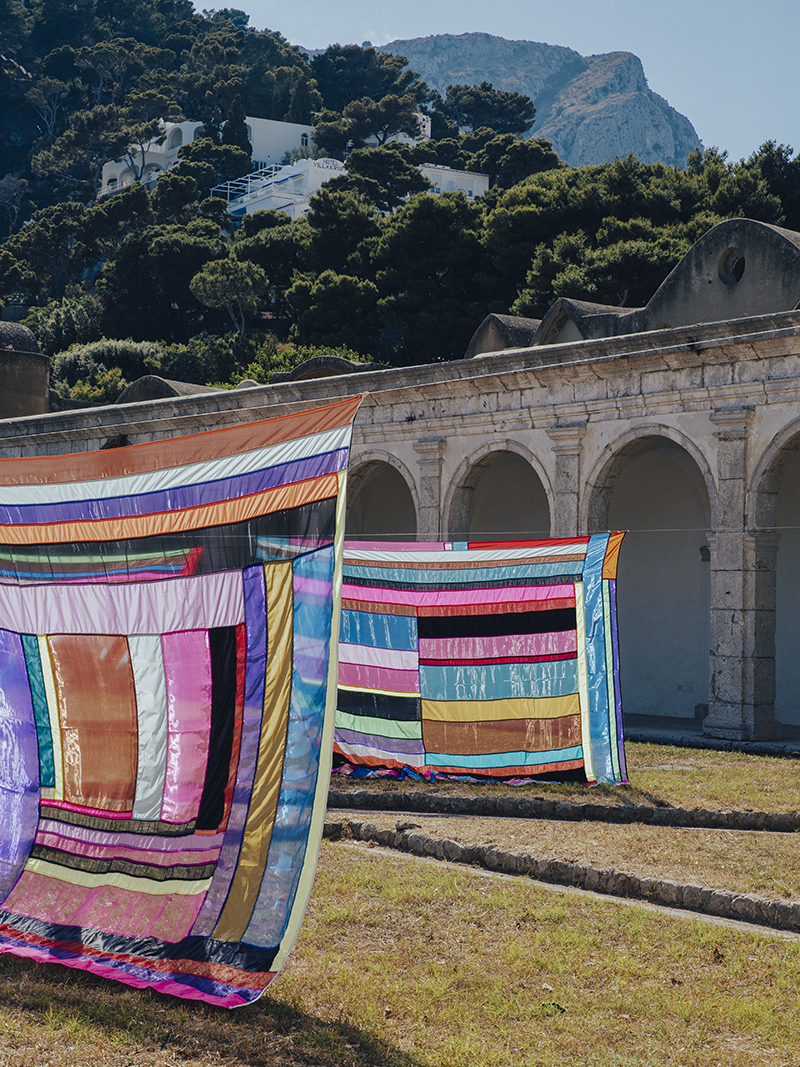 After meandering down a cobblestone path into the monastery's chiostro grande (Grand Cloister), attendees were greeted by Rachel Hayes' large-scale textiles. Suspended from a series of lines, they danced in the wind like fluid panels of stained glass. The commissioned pieces were part of "A Moment in Time," the show presented by the independent Turkish arts and cultural platform Istanbul'74, which also featured contributions from José Parlá, Belkıs Balpınar, Burçak Bingöl, and Federica Perazzoli.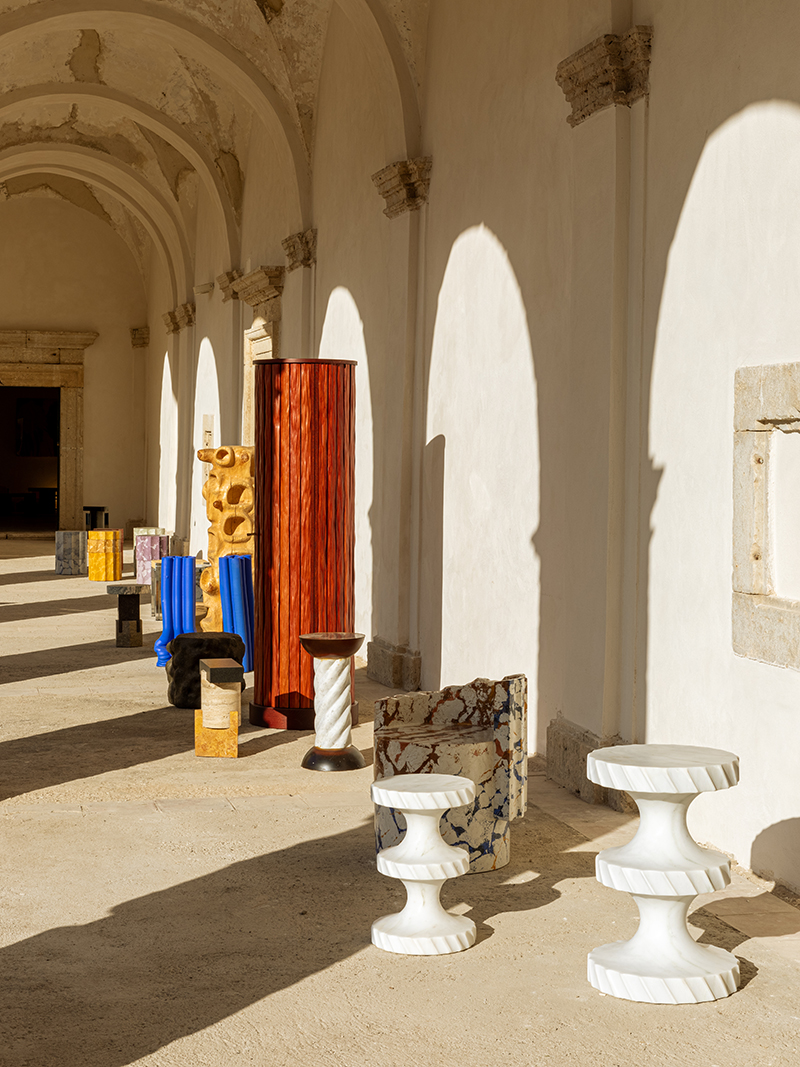 Stationed underneath the surrounding arches, Athens-based Carwan Gallery (of which Bellavance-Lecompte is a co-founder), displayed selections from their spring "Neoneoneo-Classic" show, which tapped designers to explore and interpret the revival of classical ideals. India Mahdavi's signature Bishop stools (and miniature "Babibishops") made from Greek Dyionisos marble, Theodore Psychoyos's Doric stools of Agia Marina marble, and Roberto Sironi's Ruins Pompeii stools all made an appearance.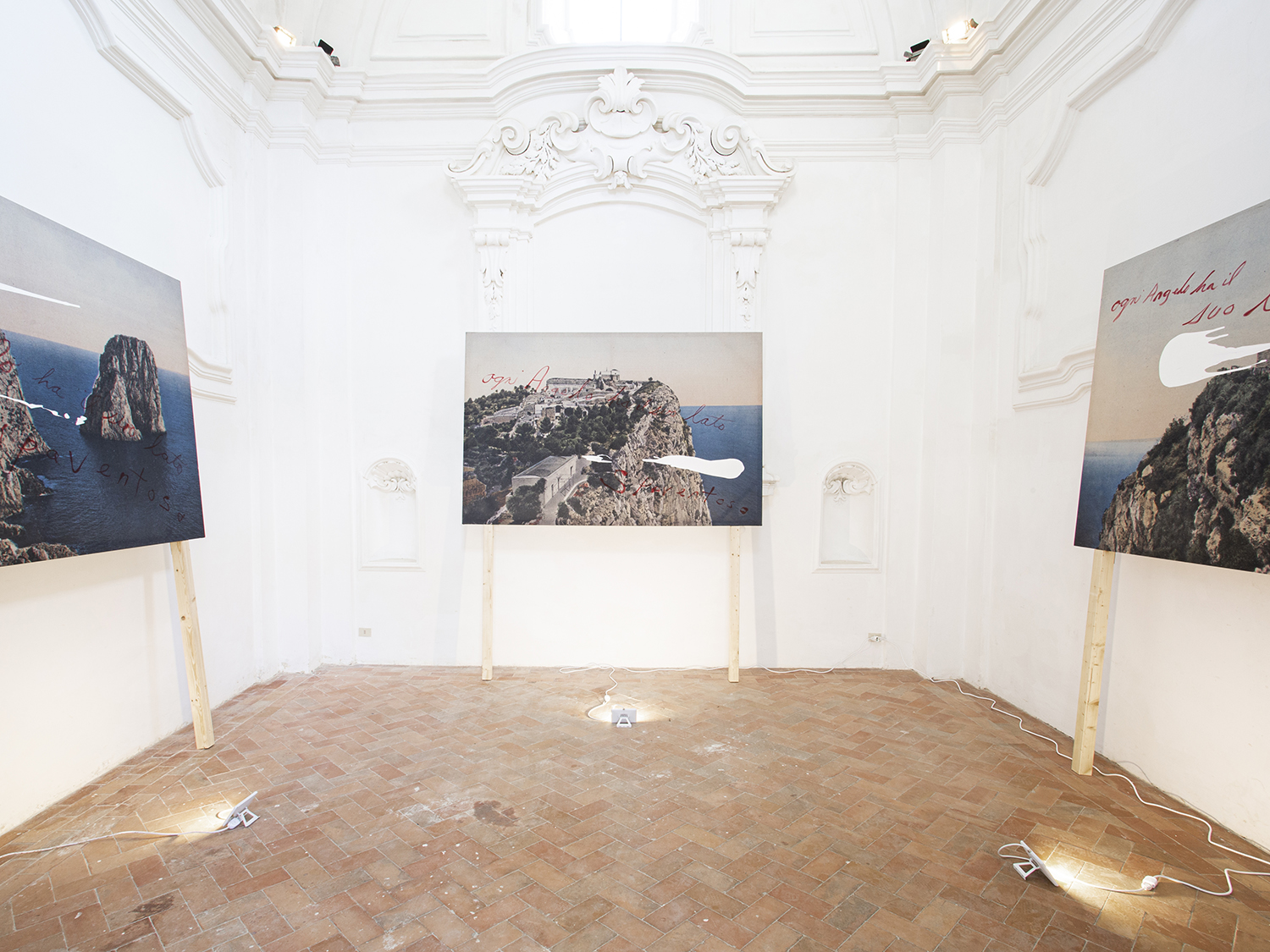 The interior cells once occupied by charterhouse monks were transformed into buzzy booths for a roster of esteemed international galleries. Naples studio Alfonso Artiaco sparked a conversation on the intersection of art and design ("Two different territories bound in a relationship of constant contamination," according to the gallery) by highlighting works from Maria Thereza Alves of Brazil and Neopolitan artist Diego Cibelli. Capri's Studio Trisorio, a gallery tucked just off the Piazzetta, looked to the imposing La Certosa landmark for inspiring its curation: Christiane Löhr's organic sculptures evoked the natural surroundings, while Fabrizio Corneli's quirky projections of light recalled the sunlight pouring through the cell windows as day fades into night. The ode to Capri continued with Marco Voena and Cy Schnabel presenting Julian Schnabel's Ogni Angelo Ha Il Suo Lato Spaventoso ("Every Angel Has a Dark Side"). The quartet of paintings from the artist's ​​Capri Paintings series—shown on the island for the first time—captures vignettes from vintage postcards of Capri, splattered with an eerie, irregular red script.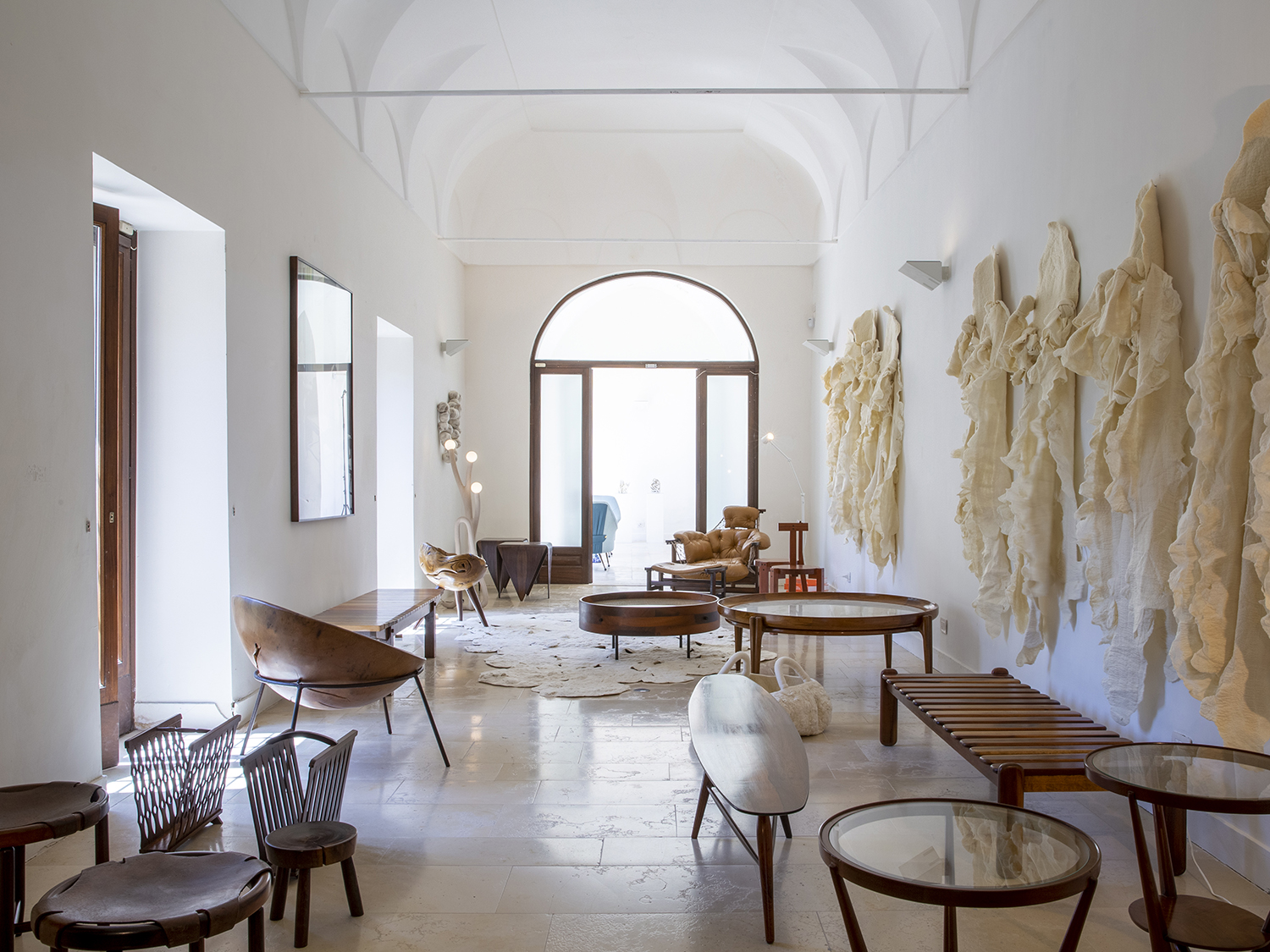 Premier Rio de Janeiro gallery Mercado Moderno drew parallels between Italy and its home country—specifically the Italian influence on Brazilian midcentury-modern design. Streamlined wooden pieces, such as Lina Bo Bardi's Girafa chair and Celina Decorações's Slatted bench mostly filled the room, while one of Ines Schertal's hefty felted wool "necklaces" added an element of softness. Also from Latin America, UNNO Gallery's Volume, The Land and the Maker paired a multi-hued collection of Lava chairs crafted by Mexico City architectural firm Habitación 116 with pieces by industrial and interior designer C.S. Nuñez.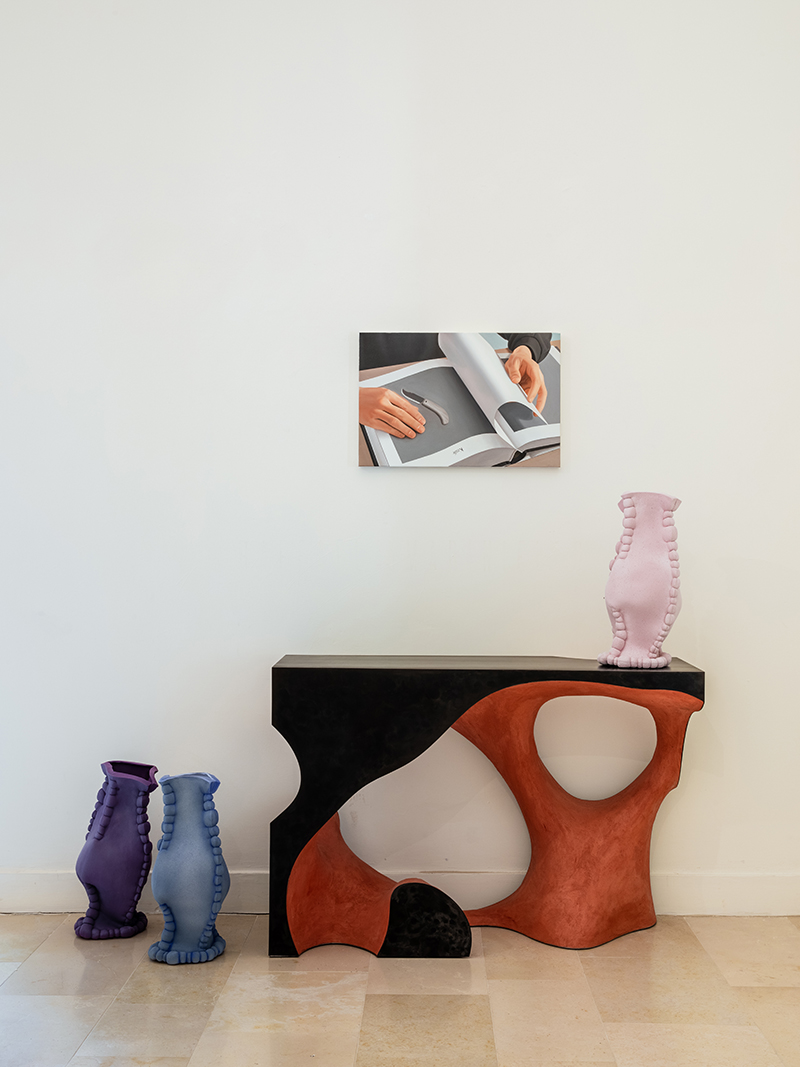 London's Gallery Fumi took advantage of its commodious space with contemporary collectible design objects from nearly a dozen artists, including Max Lamb, who displayed a specially-commissioned Poly coffee table made from expanded polystyrene and polyurethane rubber coating. First-time Nomad exhibitor Objective Gallery from Shanghai and New York explored the tension between desire and control through work by emerging artists, such as Vincent Pocsik, Liam Lee, and Charlotte Kingsnorth. Also from New York, Thomsen Gallery transported a selection of Japanese woven bamboo baskets crafted by 20th-century masters, and displayed them atop their original wooden boxes.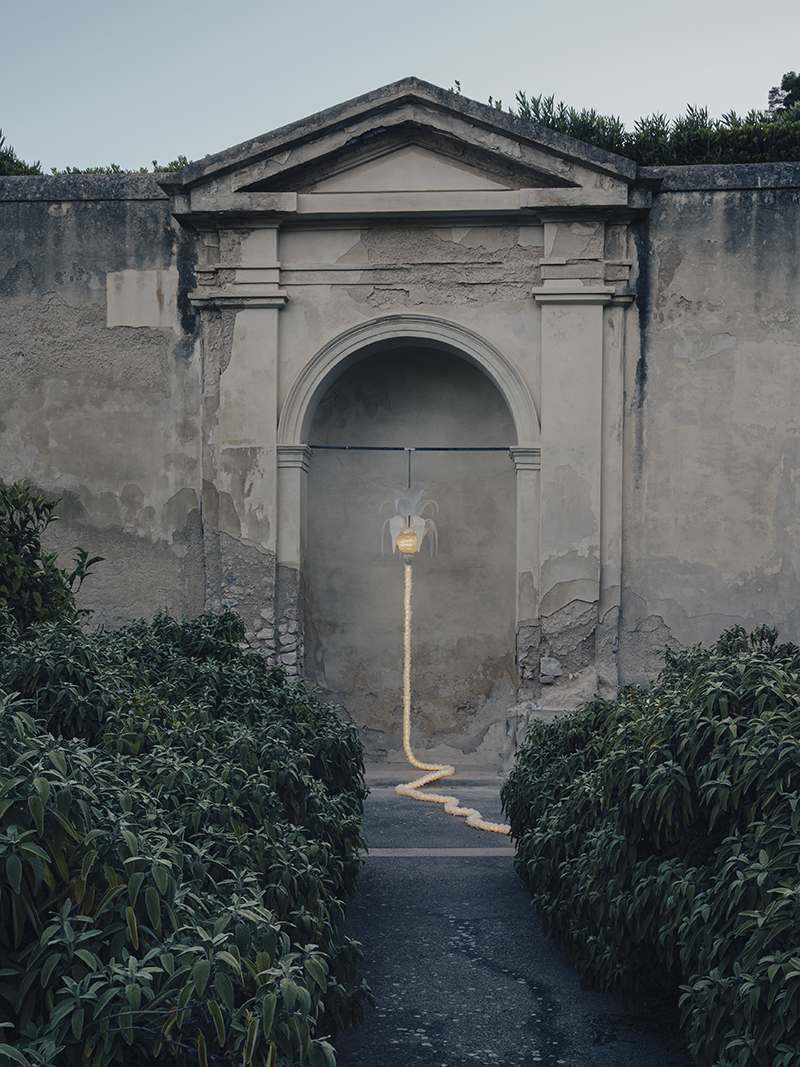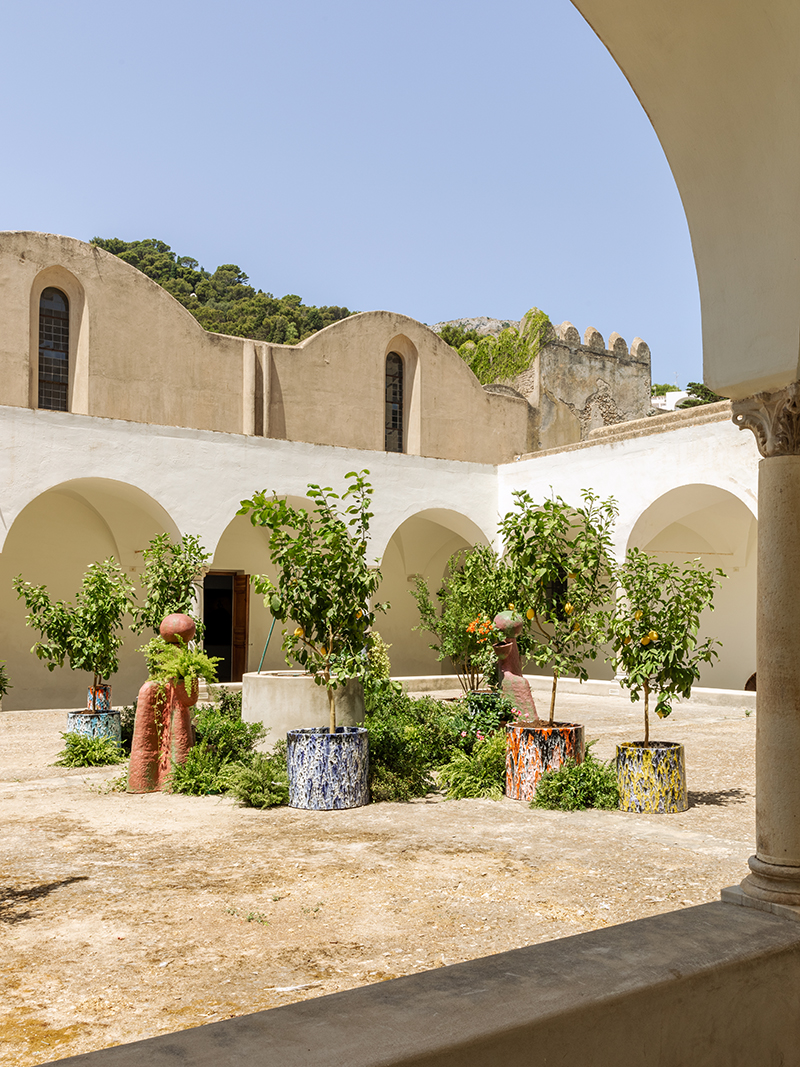 Hanging from a niche in the sage-filled courtyard, Genetic Variations marked the art world debut for Italian fashion designer Christian Pellizzari. Developed with support from Bulgari, the artwork was crafted using 400 hand-blown glass bowls typically utilized in Murano ca'rezzonico chandeliers. An LED tube strung together the silken vertebrae of its spinal tail, illuminating the piece like bioluminescent marrow. "It's supposed to mimic the aesthetic of ancient palms, and reflect how nature evolves without intervention," says describes Pellizzari.
Ceramics heavyweights Officine Saffi Lab teamed up with fashion house Bottega Veneta to present "Glaze Obsession," a clutch of planters coated with a unique volcanic glaze and neon pigments. The installation joined Anders Herwald Ruhwald's Faceless Body (Object for Three Plants), sculptures that formed a habitat for the organic growth of plants. The collaboration inside the Chiostro Piccolo, served as a one-two punch of biophilic collections demonstrating art and design was most certainly in full bloom on Capri this year.
Nomad Circle's next edition will be in Saint Moritz in winter 2023.
Next Post