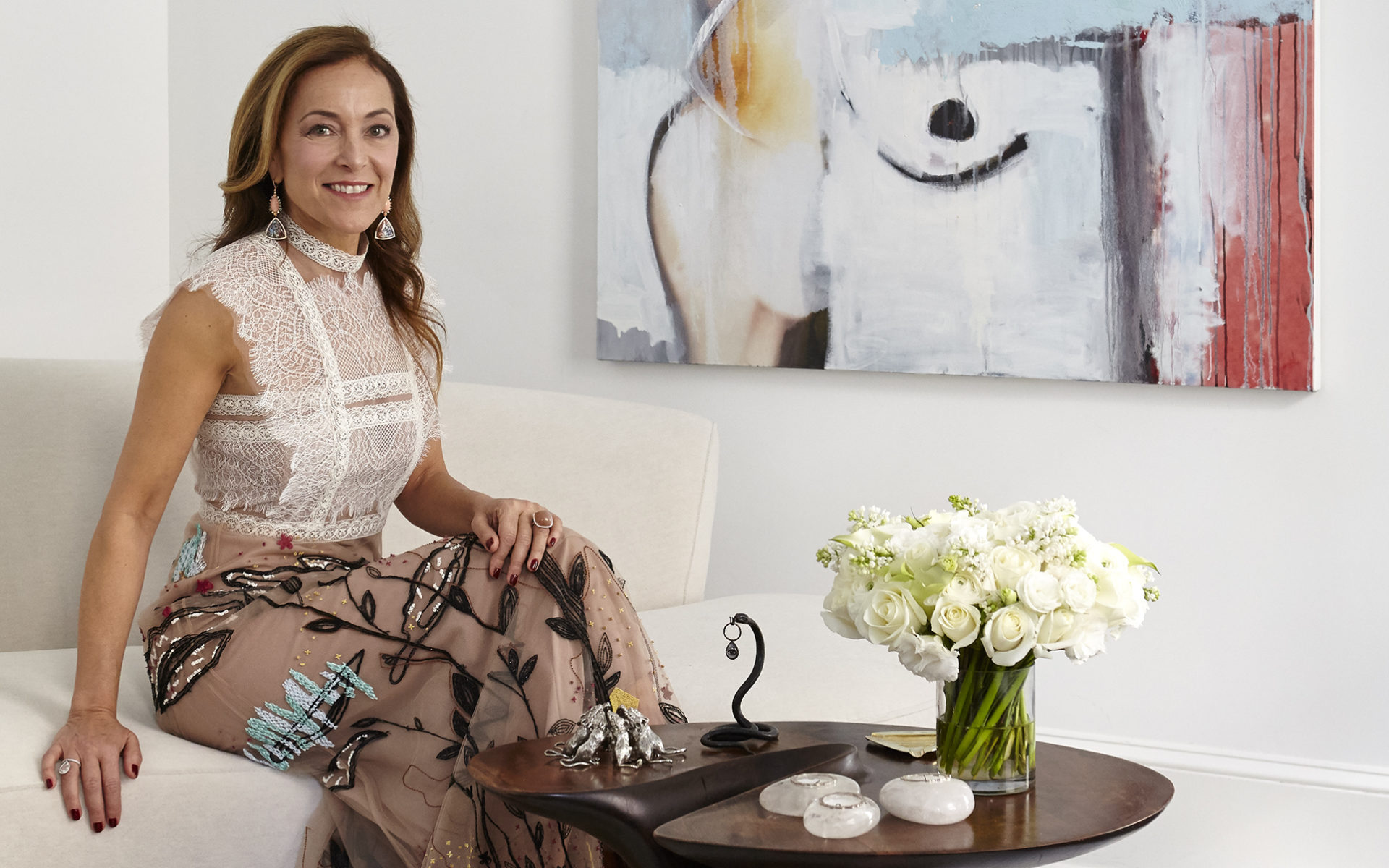 Inside Nina Runsdorf's Exquisite Jewelry Atelier
The superchic designer's intimate Upper East Side showroom befits her captivating jewelry creations
When the superchic Nina Runsdorf greets you at the door of her atelier, on New York's Upper East Side, the immediate effect is that of a warm, engaging hostess. It seems entirely natural that the jewelry designer's first question is, "Would you like a glass of Vouvray?"
Just a few floors above Madison Avenue, and a couple of blocks from her own home, Runsdorf has created an inviting setting that is much more than a showroom. The intimate vibe goes beyond her effervescent welcome—it's integral to the very design of the space. 
"I want you to feel like you're coming into my home, into an extension of my living room," explains Runsdorf. So she raided her nearby residence, taking a few favorite furnishings and personal artworks created by friends: a vibrant painting by Enoc Perez that commands the room, a framed Nurse T-shirt Richard Prince gave her for hosting Thanksgiving, and a shapely bronze stool by Misha Kahn. "I feel like the space is organic because it's everything I love," Runsdorf says. In the end, all that was left for her to buy was a vintage Vladimir Kagan sofa and a cowhide rug to complete the veritable jewel box.
Lining one wall are Donald Judd-inspired cases that display Runsdorf's jewelry designs, ranging from old-mine diamonds in vintage-style settings to a faceted cuff bracelet with emeralds and diamonds to earrings accented with astoundingly rare pink conch pearls. There's even a vintage diamond headband that could serve as an everyday tiara.
Runsdorf also creates and curates eye-catching objets, which are artfully arrayed around the space. Perched atop a 1970s cocktail table carved from a tree trunk are rock-crystal candleholders she embellished with gray diamonds. One of her signature Flip rings, featuring a teardrop-shaped rock crystal dangling from a band, hangs from the mouth of an iron snake sculpture, a collaboration with another friend, artist Nir Hod. And an Ethiopian-opal ring sits inside a black-and-white African dish—two of the pieces the designer is selling to benefit the charity Give a Future . Runsdorf serves on the board for the organization, which provides vocational training and microloans to Ethiopian women and youths.
"I grew up with parents who inspired me to have artists and musicians and passionate people all around me," Runsdorf says. "Here, I wanted to create an environment where people can be surrounded by beautiful, special things." Whether you walk out of Runsdorf's showroom with a new bauble or not, it's hard not to leave feeling at least a little dazzled. 
Next Post