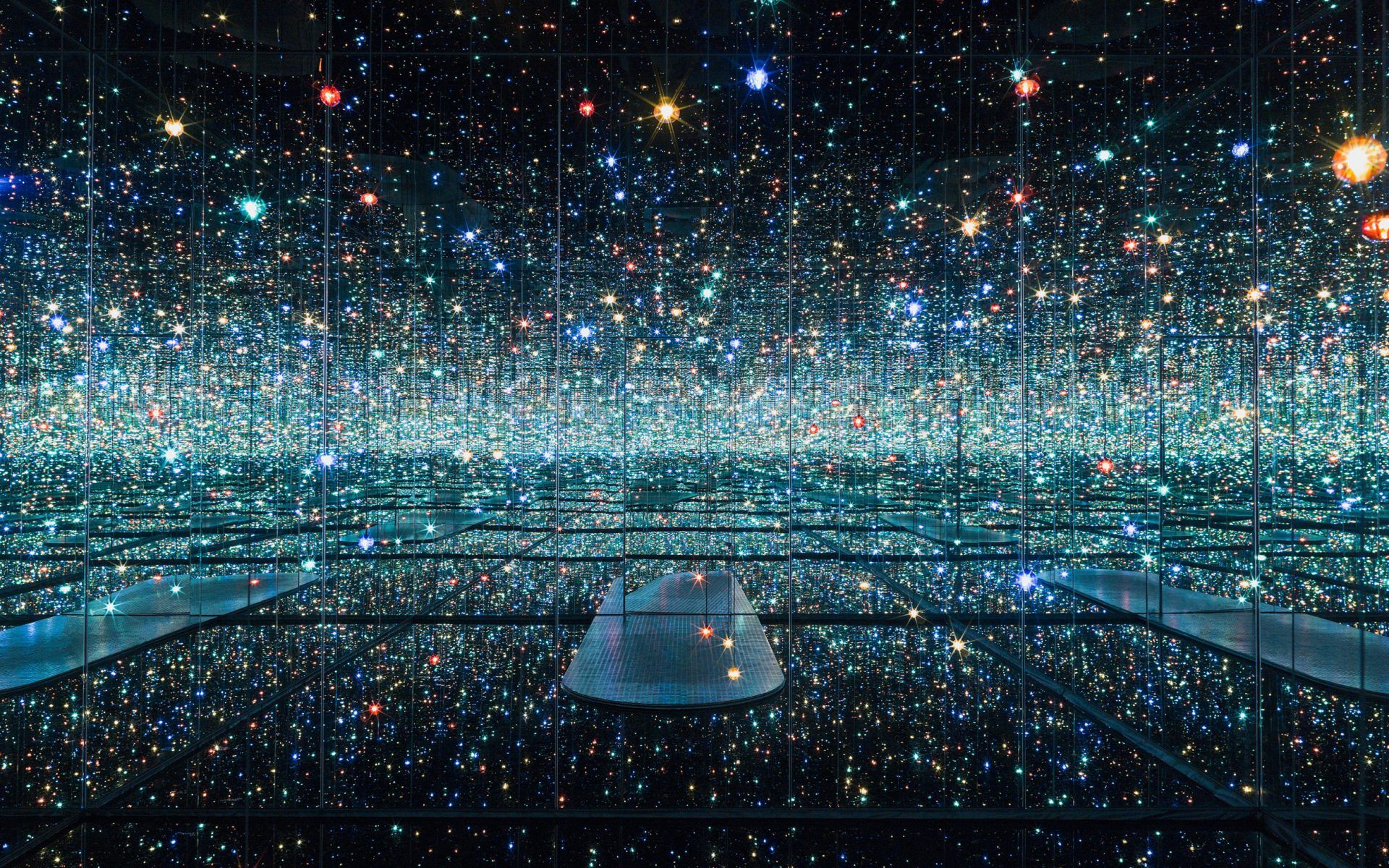 A New Era of Online Engagement Emerges as Museums Close
The show goes on for major art institutions as they embrace surprising uses of the Internet
The overwhelming popularity of Yayoi Kusama's Infinity Rooms usually draw lines around the block, and consequently a time limit for how long visitors can view the artist's enclosed, twinkling installations is imposed. Thanks to the Internet, however, you can now spend as much time with one of them as you like—and from the comfort of your living room sofa.
The Broad Museum just launched "Infinite Drone," an online series that scores footage of Kusama's The Souls of Millions of Light Years Away. Hashtagged #TheBroadFromHome, the first iteration is now available on Instagram, where the slow flicker of Kusama's lights sync hypnotically with composer Geneva Skeen's dolorous melodies.
Offering poetry readings, family workshops, and more, the Broad from Home is one of many new digital initiatives that art museums around the world are launching as their physical doors remain shut in response to COVID-19. "We're thinking of the Broad online as the museum's virtual doppelgänger," says founding director Joanne Heyler, and, "for those who are staying home, we hope these creative efforts will help people remain connected to one another."
During this dire health crisis, while institutions grapple with indefinite closures, layoffs, and losses, art remains a welcome diversion for the quarantined public. According to the Metroplitan Museum of Art, online engagement is on the rise, with a 78 percent increase in traffic to its Instagram, 63 percent to Twitter, 34 percent to Facebook, and 150 percent to Youtube. For the past decade, these social media platforms have served as companions to the museum-going experience and for much of the general public, provided the first step toward visiting the physical museum.
Without knowing when visitors will ultimately return, however, museums are reevaluating their strategies, according to Hirshhorn Museum and Sculpture Garden director Melissa Chiu. The fact that the Internet is the only mode of engagement for the foreseeable future, she says, "is forcing us to actually think about how we communicate with our visitors in a very different way."
Recommended: Vibrant Interiors Where Artwork by George Condo Take Centre Stage 
She hopes that "Afternoon Tea," a new daily 2 p.m. social media spot where Hirshhorn curators share a personal favorite from the collection, makes the kind of connection that doesn't happen on a normal museum visit. "One of the advantages of the virtual world is that it can be, strangely enough, more intimate," Chiu says.
Museums also need to maintain their role as a community space, according to Stamatina Gregory, director of curatorial programs at the LGBTQ-focused Leslie-Lohman Museum of Art in New York. "Visits to institutions are social experiences," she says, and in isolating effects of social distancing, "the challenge right now is not to get our content to as many people as possible, but instead to find ways that our artists can reimagine these structures and relationships."
On March 31, the museum will be presenting a panel discussion around the practice of the late photographer Robert Giard on Zoom, an app conceived for business videoconferencing that's taken a surprising turn as a form of social media. (Ironically, the talk is about how his 1970s practice was shaped by his own social network.) As the museum and its artists are looking beyond "virtual tours or opening up our archives," Gregory says, new online platforms offer a world of potential, "and these differences in interface and transmission really matter." The surprising emergence of queer dance parties on platforms like Twitch and Fortnight, she adds, could offer a glimpse into a bold new direction for museums.
Elsewhere, the Museum of Modern Art in New York has new downloadable coloring book pages by Louise Lawler, and the Peggy Guggenheim Collection in Venice has handed its keys to its interns, who have taken docent roles on its Instagram page.
View this post on Instagram
Of course, traditional media has lost none of its charms. SculptureCenter director Christian Rattemeyer highly recommends a visit to the museum's vast virtual library, where a trove of texts, recordings, and other deep cuts are available free of charge. "You can listen, for instance, to the inimitable New York chronicler Gary Indiana discussing his latest book, or hear Keller Easterling's provocative ideas about space, power, and agency," Rattemeyer says. The doors may be closed, but the show goes on—online.
Next Post