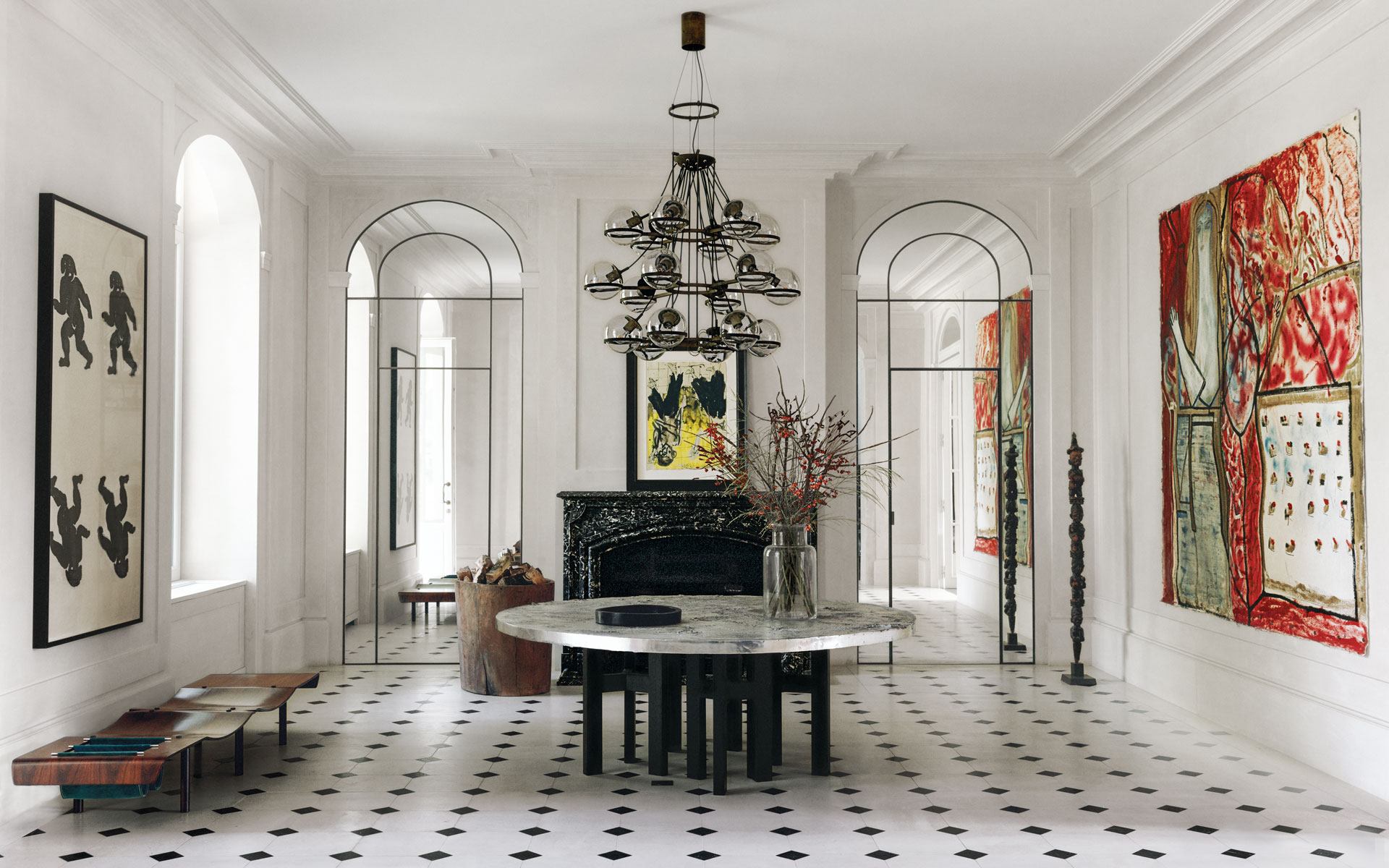 Inside On-the-Rise French Talent Nathan Litera's Transformation of a 300-Year-Old Belgian Château
The designer's thoughtful renovation for an art-collecting family balances old-world grandeur with chic modernity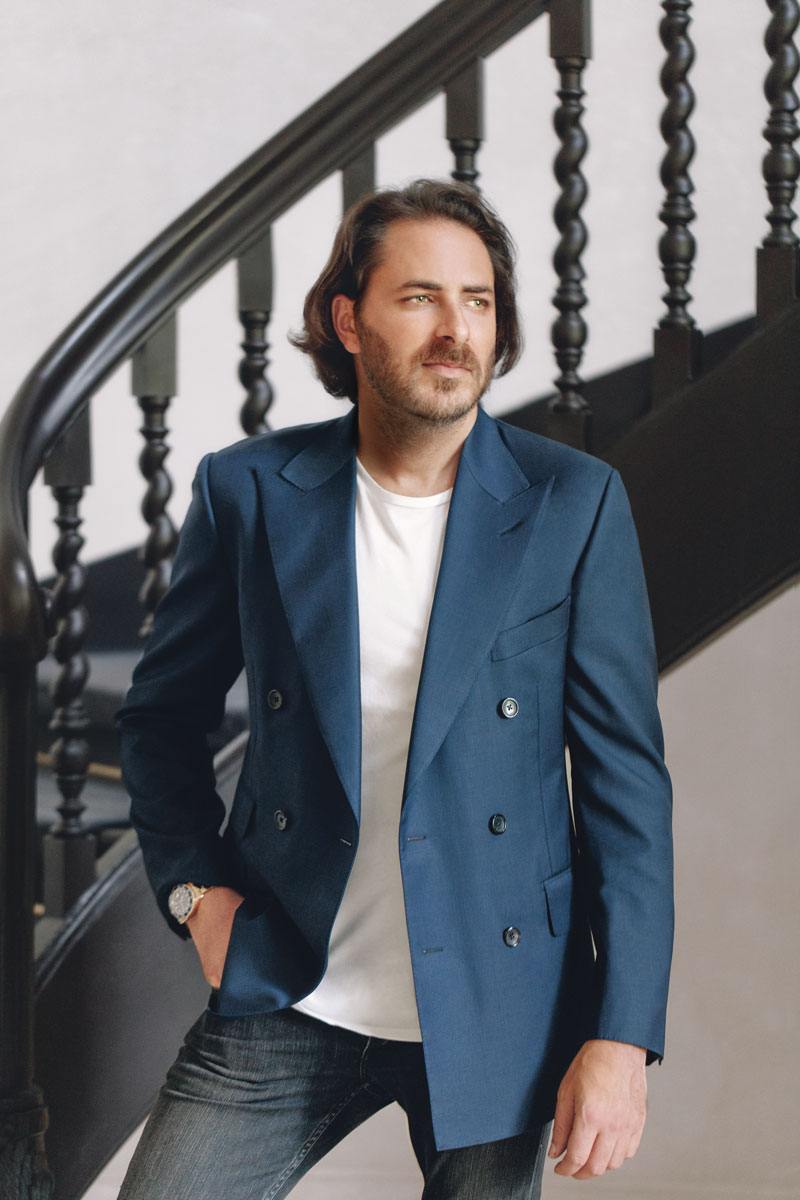 Old houses need a lot of love and often considerable repair. When the home is an early-18th-century, 20,000-square-foot Belgian château with ten bedrooms requiring a top-to-tail renovation, it's not for the faint of heart. Luckily, Nathan Litera, the young French interior designer tasked with the project, has the dual traits of imagination and savoir faire in spades.
His clients wished not only to bring back the grandeur of their faded property but also to inject it with much-needed modernity and sophistication, while making it a comfortable family home. A critical part of the revamp was creating a radiant setting for the owners' thought-provoking art collection, which spans eras and mediums—from an abstract painting by Jean Dubuffet and a conceptual canvas by John Baldessari to a tantalizing bronze mask by Thomas Houseago.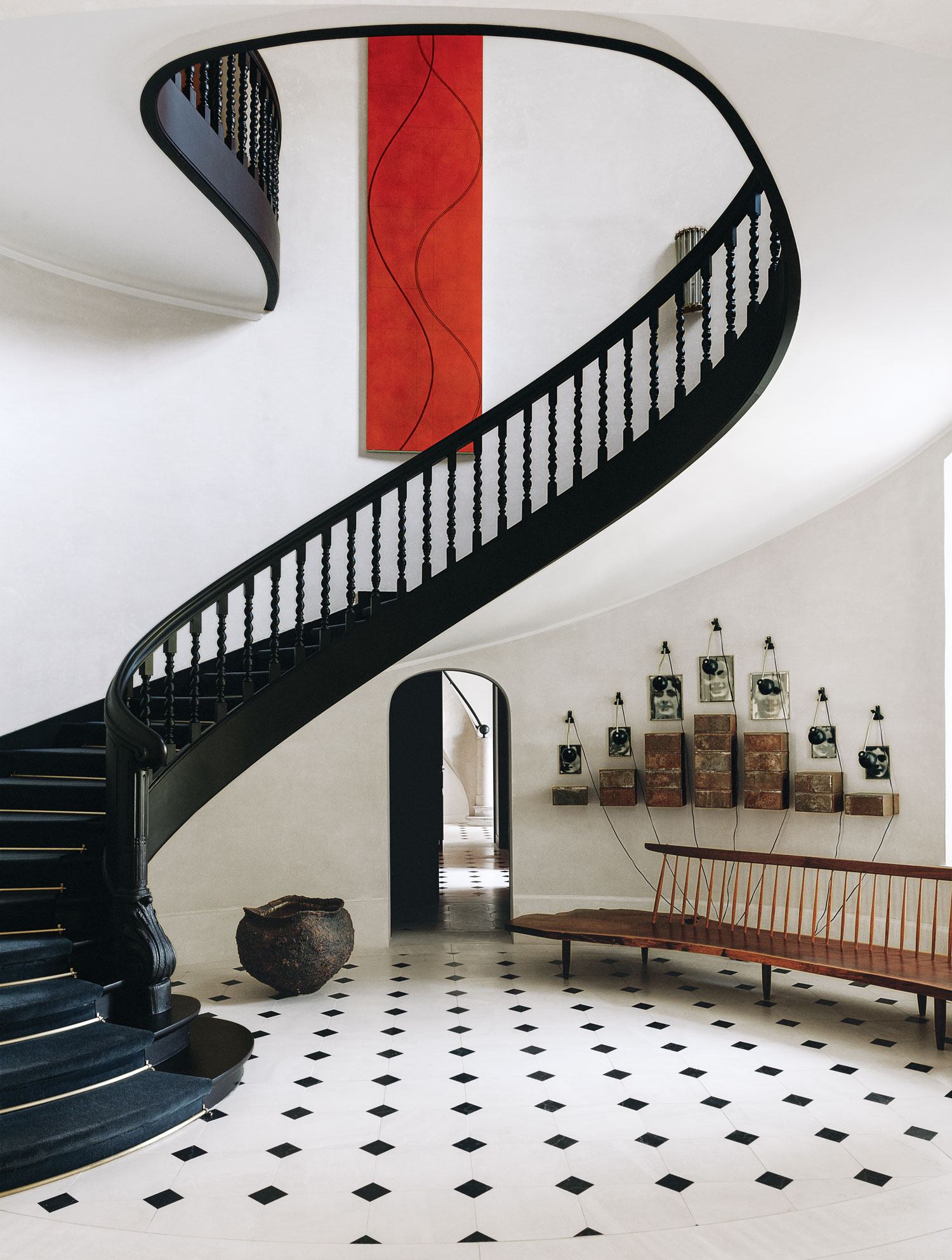 "This is a historic house. It called for very intricate paneling, millwork, decorative paint, and wood floors close to the French Haussmann style," the homeowner explains. "In Belgium we don't have this tradition in the architectural scene. Our style is far more minimal, and the contractors don't have the know-how that the French do, which is why we brought in Nathan."
Litera, who was born in Paris and grew up in the West Indies, certainly had the right credentials for the ambitious project. A trained architect, he worked for the esteemed firm Kohn Pedersen Fox Associates (now KPF) in New York and the cutting-edge Ateliers Jean Nouvel in Paris before teaming up with Parisian architect Joseph Dirand, for whom he designed interiors and furniture. In 2014, Litera launched his own practice with his business partner and wife, Lyatt Samama, and has quickly become highly sought after. To date, his wide-ranging commissions have included a Central Park duplex, a Hamptons tennis cabana, and a Left Bank townhouse. He completed a dazzling makeover of the soigné Manhattan restaurant Spring Place last winter, just a couple of weeks before the COVID-19 pandemic locked down the city. His first furniture line and showroom will debut in 2021.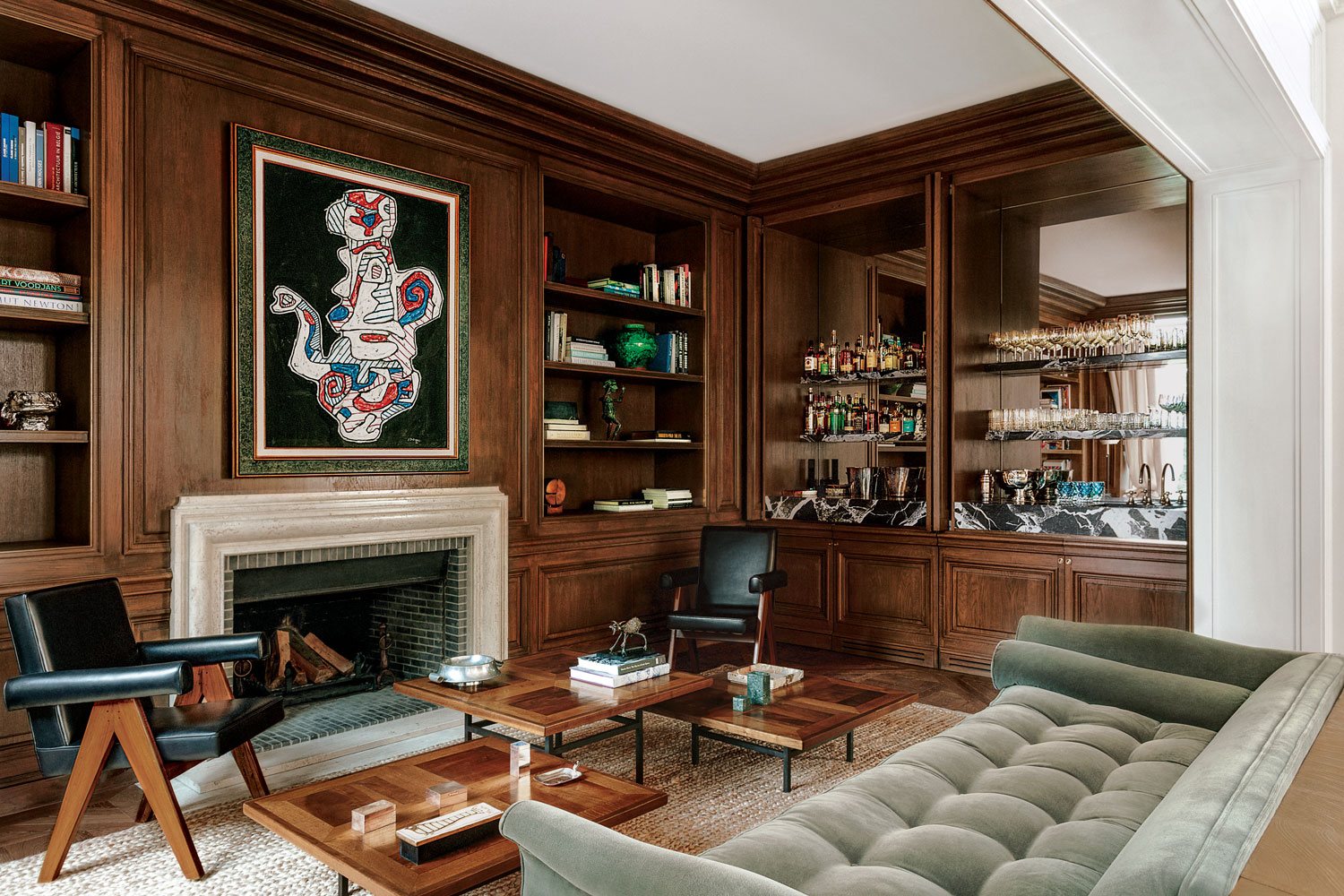 When it came to updating the historic residence, Litera faced several obstacles, not least of which were restrictions concerning changes to landmark buildings. The proportions of the windows couldn't be altered, for starters. In the entrance hall, a green stone fireplace had to stay, as did the carved-wood stair rail, which Litera modernized by painting dark brown. "One of the challenges was to have a dynamic vibe, while remaining faithful to the heritage of the château," he says. "We had constraints, and yet we could find harmony within that framework."
"One of the challenges was to have a dynamic vibe, while remaining faithful to the heritage of the chateau"

Nathan Litera
For the entry, Litera conceived a modern-day reception gallery in black-and-white chic, mixing standout midcentury furnishings with pieces by up-and-coming European designers. The grand curve of the staircase shelters a nearly nine-foot-long bench by George Nakashima paired with one of Christian Boltanski's haunting installations depicting the faces of Holocaust victims. Across the room, large-scale paintings by Georg Baselitz and Marisa Merz join an Ado Chale table, whose aluminum top catches the glint of a 1950s chandelier by Holger Johansson.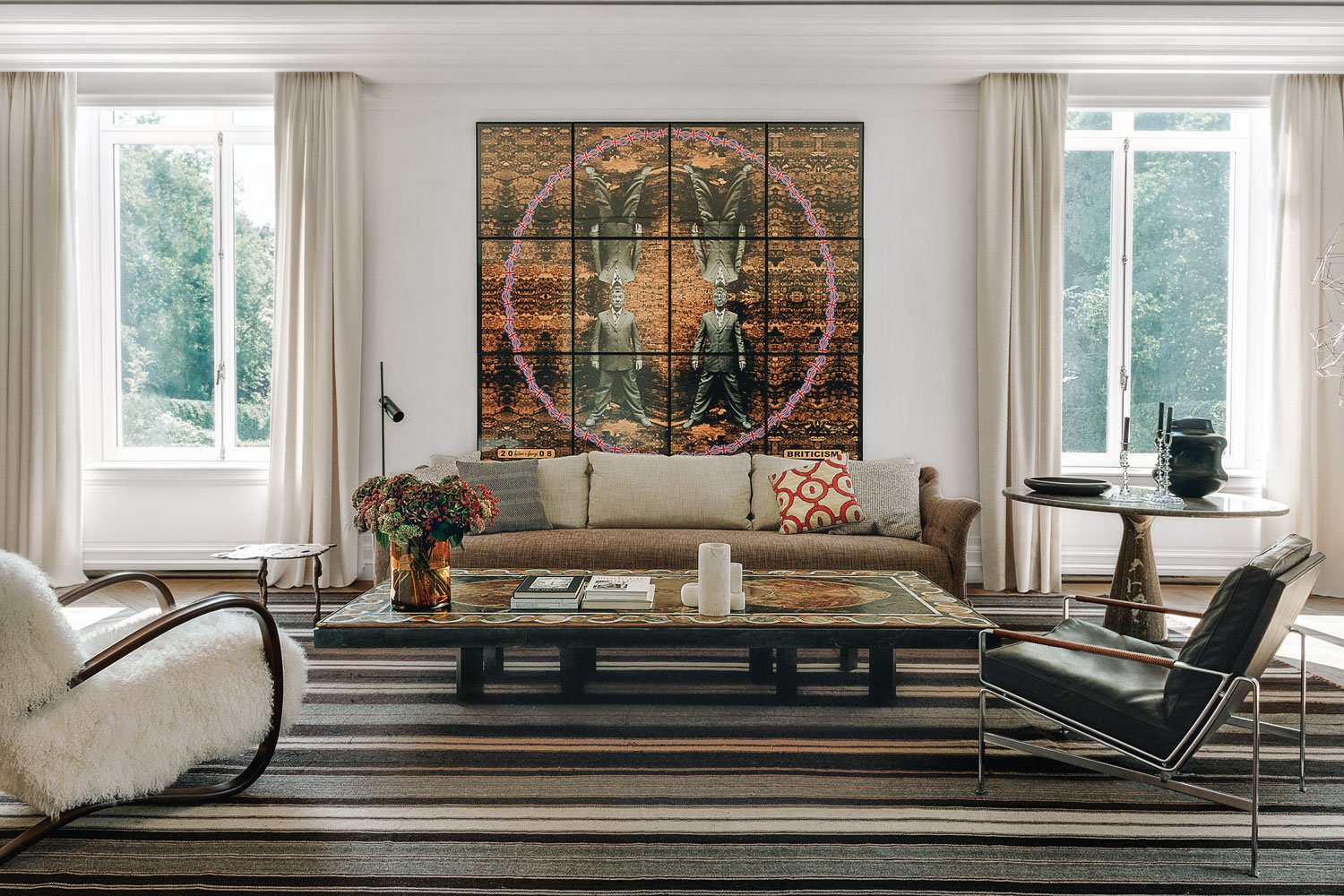 Litera took two very different directions in the private quarters of the residence. For the family rooms, he hewed to classical French elements—employing herringbone wood floors, plaster walls and moldings, and decorative painting details throughout, while keeping the overall feel clean and modern. Art helps to loosen things up in the formal dining room, where gold-painted moldings amplify a series of Günther Förg abstract paintings. Ditto the breakfast room, which pairs choice Pierre Jeanneret cane chairs and a Geoffroy Van Hulle white stone table with provocative canvases by Baldessari and Sterling Ruby.
The primary suite, meanwhile, is an ethereal study in neutrals, with sumptuous light gray carpeting and curtains and creamy-hued millwork framing black-and-white drawings. But when it came to the top-floor guest rooms, Litera treated them almost like a boutique hotel. Each room is customized with vintage finds to create, he says, "a younger, less traditional vibe."
The outdoor spaces were decorated just as imaginatively. Litera interspersed the delicately wrought, stainless-steel furniture of Belgian tastemaker Brigitte Garnier on several terraces that overlook lyrical gardens conceived by Wirtz International Landscape Architects, an Antwerp firm whose legendary founder, the late Jacques Wirtz, was famous for designing royal gardens throughout Europe.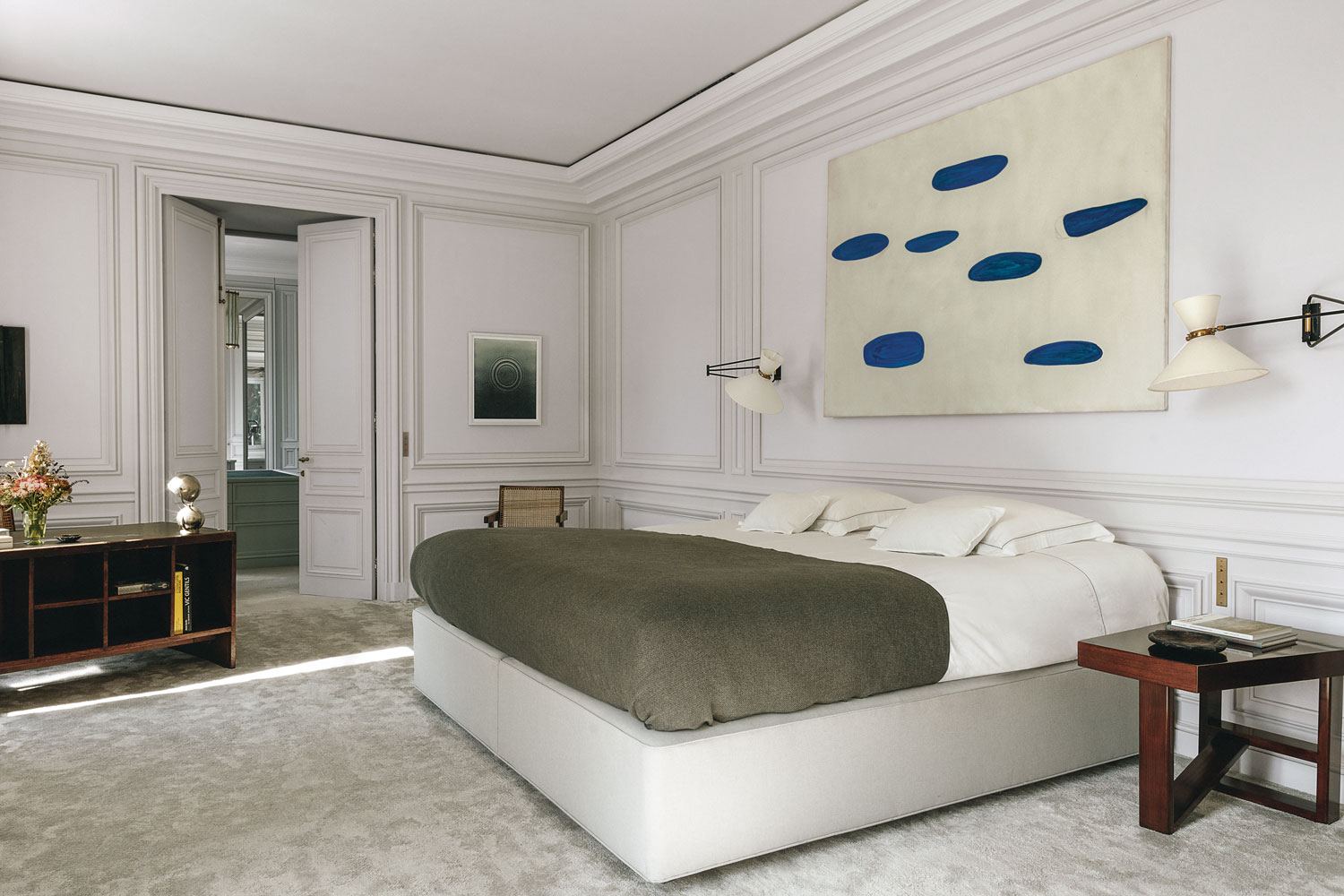 Indoors and out, the refreshed château seamlessly melds past and present, as classical refinement peacefully coexists with contemporary ease. "It's tricky to do a historical building for modern use," Litera admits. "You have to respect the heritage and at the same time be able to entertain children." The ultimate triumph, he says, is "when you have babies running around in one room and a formal dinner going on next door."
A version of this article first appeared in print in our 2020 Winter issue under the headline "Cool Classic, Classic Cool." Subscribe to the magazine.
Next Post