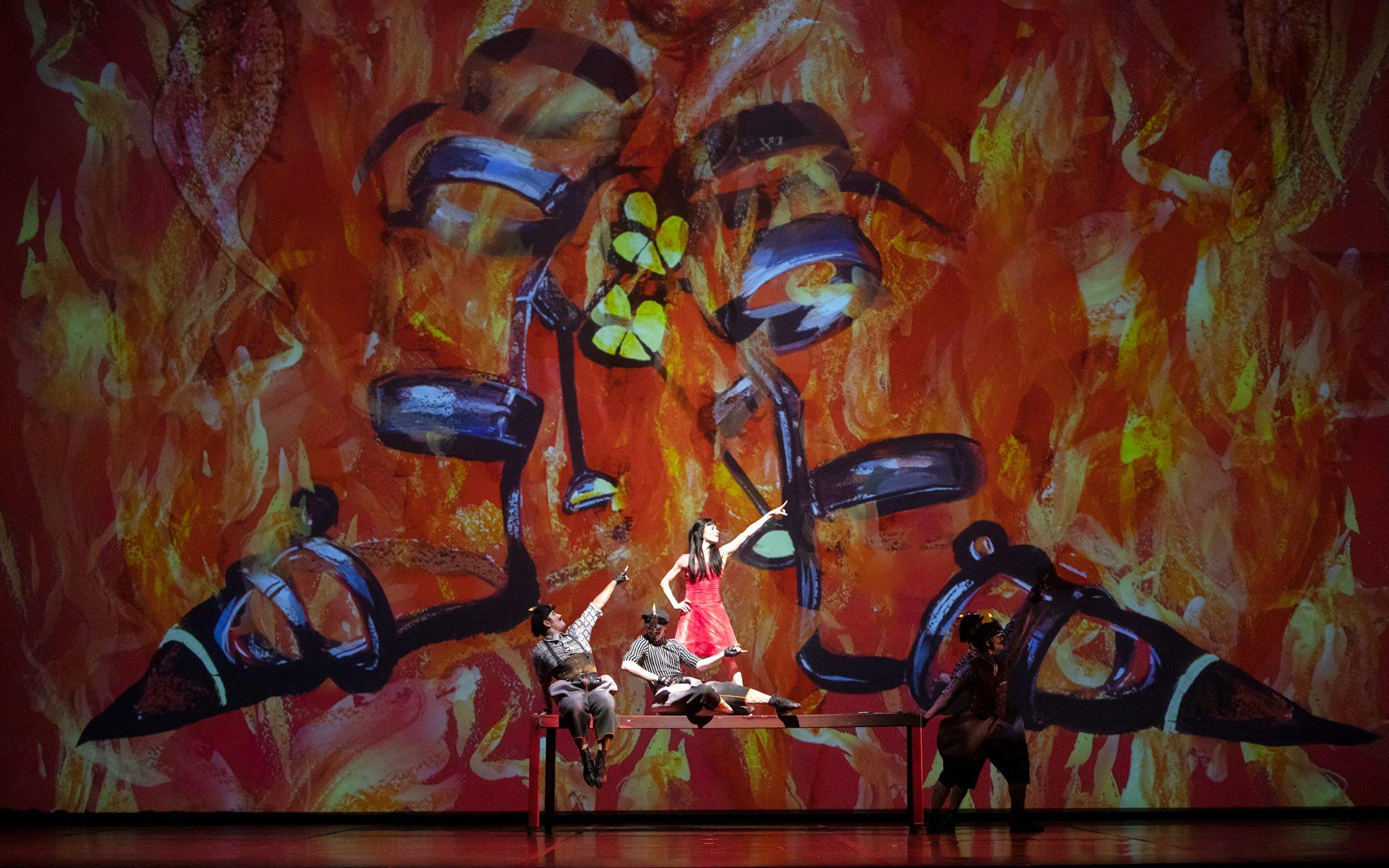 Natalie Frank Lends Her Dark Feminist Vision to a New Production of Ballet Austin
Original Grimm Brothers tales are brought to life in this ballet debut that showcases female power
Artist Natalie Frank is most well-known for a series of portraits she did subverting the happily-ever-after Grimm Brothers tales in favor of their more sinister roots and an emphasis on female power. In Grimm Tales, a collaboration with Ballet Austin that debuted this past weekend, Frank's vision is given new life in the sets and costumes in this production, which reimagines three Grimm Brothers fairy tales through a feminist lens.
With Frank's drawings as a backdrop, the Grimm Tales ballet combines the choreography of Stephen Mills, Ballet Austin's artistic director; the music of composer Graham Reynolds, who has scored many of Richard Linklater's films (and collaborated with Mills on previous shows); and the costume design of Tony Award–nominated and New York–based costume designer Constance Hoffman, to achieve a captivating, and at times disturbing, experience.
"I have always dreamed of working on visuals for a ballet, and, specifically, a Ring cycle," Frank tells Galerie. "Wagner has always compelled such visual imagery in my mind—all-encompassing stories and worlds are and always have been of great interest to me. The entire production of Grimm aims to capture this, and I think it does! It feels like it sprang from my head, and I credit my collaborators for this generosity—the generosity of the process was the most staggering part of all of this."
The first tale in the performance, "The Frog King," depicts the true Grimm Brothers ending, which is often overlooked in favor of the more popular—and palatable—ending where the princess kisses the frog to break the spell, transforming him into a prince. In Frank's version (as in the original Grimms'), the princess, disgusted by the frog, smashes it against a wall.
In the performance, we watch as an animation of one of Frank's drawings, the splattered body of a frog, slides down the white backdrop. Similarly, in "Snow White," Frank does away with the prince entirely, and the tale ends with Snow White fiercely battling her stepmother, the evil queen. But Mills and Frank save the darkest tale for last.
In the most evocative scene of "Juniper Tree," a boy who has been decapitated by his wicked stepmother, is wheeled around the stage wildly on a butcher block as the stepmother chops him up with two massive butcher knives (which were real and apparently sharp—one nicked the dancer during a rehearsal!). There were gasps from the audience as Frank's animated drawing of a dismembered boy tumbles down the screen behind the dancers.
It is difficult to render such a multimedia collaboration without one element overshadowing the other, particularly when combining dance and visual art. One of the many challenges Frank and Mills faced in the conception of this work was finding a balance within this liminal space. What they created was a stunning dialogue between the dancers and Frank's paintings as they floated and panned behind them, together providing a more holistic understanding of the fairy tale as it unfolded.
Recommended: The Best Art & Design Fairs this April
Even the music—wild and discordant in darker moments yet ringing more traditional when the story warranted—and the costumes, each hand-painted by Jeff Fender Studio, a custom fabric painter whose work has appeared on Broadway for decades, coalesced in a beautifully subtle way. Each element of the show could stand alone as a success on its own, and yet all melded seamlessly to create an evocative, startling, sinister rendition of the familiar tales we all thought we knew.
In her career thus far, this kind of daring is not unfamiliar territory for Frank. Her work often deals with women, storytelling, and the body. "Of course," she says, "sex and violence come with this." The Grimm Tales ballet offered Frank a chance to explore these themes from new perspectives and to see her own work in a more expansive way. "This has all taught me about a different type of drawing and storytelling," she explains, "one for the stage that is viewable and understood almost instantaneously, but one with the capacity to allow unfolding through both movement and imagery."
Frank lacks depth perception, a condition she shares with other artists such as Pablo Picasso and Rembrandt. Because of this, she says, "I have a difficult time tracking in real time where forms are in space. There is a beautiful fluidity and compositional aspect to watching this ballet, especially as the three tales overlap in movement and storytelling."
While Frank and Mills explore other venues for staging the ballet in the future, Frank is currently working on a book with Jack Zipes about the 17th-century literary "fairy teller," as Frank referred to her, Madame D'Aulnoy, whose feminist narratives, such as Cinderella, were ahead of their time and who also coined the term "fairy tale." A selection of these drawings will be shown at Frieze in May with Frank's new gallery, Salon 94.
Next Post