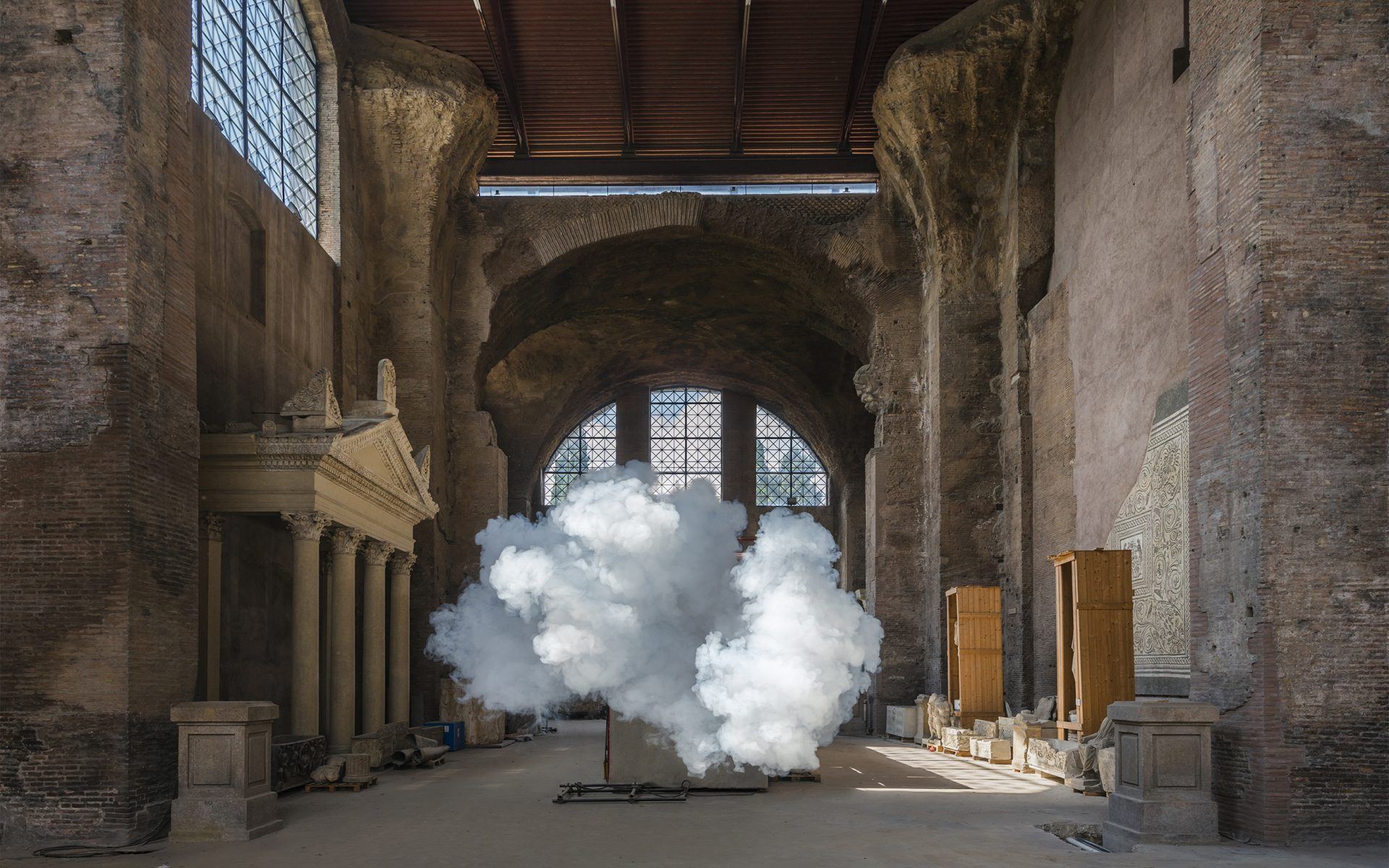 The Best Art & Design Fairs this April
Art and design lovers will head to Milan, Dallas, and Havana for this month's most anticipated fairs and exhibitions
Every April, the art and design world descends on Milan for Salone del Mobile, the world's preeminent design fair. Long days are filled visiting emerging designers, scoping out the latest trends and installations, and viewing activations by some of the biggest fashion houses and tech companies. The 58th edition will also be celebrating the Renaissance master Leonardo da Vinci, who died five centuries ago this year. Referencing Da Vinci's fixation with water mechanics, one installation, titled Aqua, is an incredible immersive experience at the site of a former canal lock, created in collaboration with artist Chiara Luzzana, composer Maurizio D'Aniello, and visual design studio Karmachina. Furthering the Da Vinci devotion are new product launches by Italian brands such as Artemide and Magis, whose pieces expressly implement cutting-edge technology in the spirit of the Italian master's proclivity for invention.
Those seeking a reason to visit the art hot spot of Marfa should look no further: This month, the tiny West Texas desert town is hosting its first art fair. Running from April 4 to 7, the Marfa Invitational will feature ten handpicked galleries, ranging from smaller spaces like James Fuentes and Half Gallery to the more established Nino Mier and Marianne Boesky, each presenting a single artist's work at the Hotel Saint George.
The Dallas Art Fair launches its 11th edition in the heart of the city's downtown arts district. The growing fair will welcome some 30 new exhibitors, kicking off on April 11 with an exclusive preview event benefitting the Dallas Art Museum, Nasher Sculpture Center, and Dallas Contemporary. Early last month, the fair opened a new, permanent exhibition space downtown dubbed 214 Projects. The 2,500-square-foot space is being inaugurated with a solo show of works by multimedia artist Emmanuel Van der Auwera, "White Noise," and is part of a continued effort to expand and enrich the Dallas Design District.
After being postponed in the wake of 2017's devastating Hurricane Irma, Cuba's preeminent art event, the Havana Biennial, is returning with renewed energy. Opening just eight months shy of Havana's 500th anniversary, the show is a powerful celebration of Latin American, African, and Caribbean artists. A beloved staple of past iterations, an exhibition titled "Behind the Wall" will return to include contributions from Cuban-American artists like veteran participant Emilio Perez and newcomer Enrique Martínez Celaya, a physicist turned artist, who is set to debut a large-scale installation titled The Sugar House.
Recommended: Marfa's First Art Fair Kicks Off This April
Contemporary art, striking architecture, and natural beauty combine to stunning effect on the magical islands of Setouchi, an ancient region that includes Japan's South Inland Sea and its surrounding coastal areas. The Setouchi Triennale, a sprawling, multisite exhibition held every three years across Naoshima and 11 other islands, kicks off its first spring edition on April 26.
Read on for Galerie's curated list of the best art and design fairs, biennials, and triennials around the world in April.
NORTH AMERICA
AIPAD Photography Show, New York
April 4–7
Marfa Invitational, Marfa, Texas
April 4–7
High Point Market, High Point, North Carolina
April 6–10
Dallas Art Fair, Dallas
April 10–13

LA Art Book Fair, Los Angeles
April 12–14
Havana Biennial, Havana
April 12–May 12
EUROPE
Art Paris, Paris
April 4–7
Miart, Milan
April 5–7

Salone del Mobile, Milan
April 9–14
Art Cologne, Cologne
April 11–14

Market Art Fair, Stockholm
April 12–14
Art Brussels, Brussels
April 25–28

Gallery Weekend Berlin, Berlin
April 26–28
ASIA
Setouchi Triennale, Japan
April 26–May 26

Art Beijing, Beijing
April 26–29

Next Post