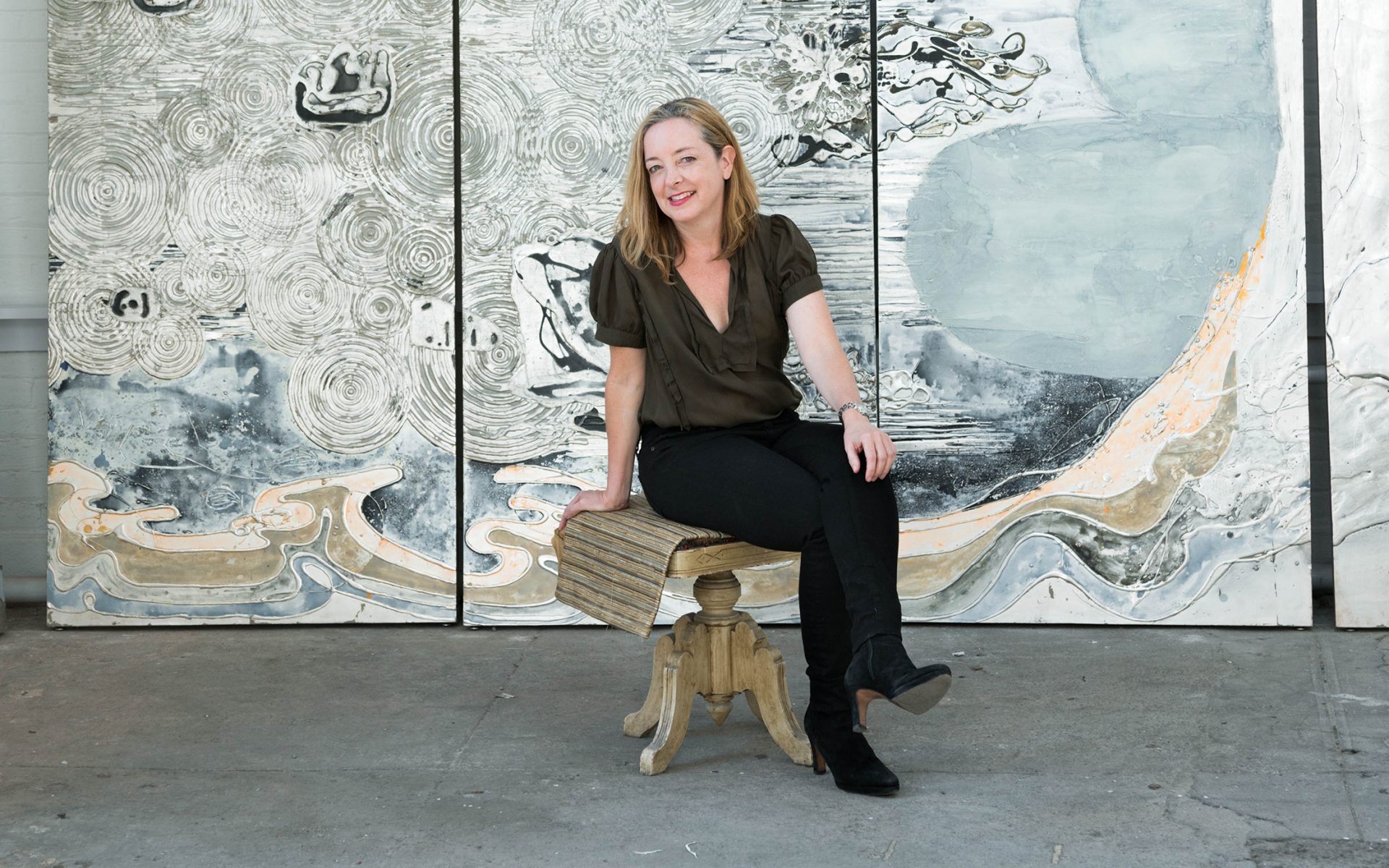 Nancy Lorenz's Luminous Retrospective Opens in San Diego
The San Diego Museum of Art's dazzling exhibition showcases the artist's signature gilded works and never-before-seen treasures
A mid-career retrospective can be somewhat daunting for many artists. Not so for Nancy Lorenz, who absolutely shines—quite literally—with a sweeping solo exhibition at the San Diego Museum of Art. Entitled "Nancy Lorenz: Moon Gold," the show, which runs through September 3, examines both the breadth of techniques behind the New York–based talent's work (lacquering, gilding, painting) and the forms they take (paintings, screens, boxes, and drawings).
On the first morning alone, over 3,000 visitors came to the show, which features a selection of new, never-before-seen works inspired by pieces in the museum's permanent collection, as well as choice selections from her archive. For instance, a new large-scale cedar panel with gilded flowers, entitled Field, was inspired by a chrysanthemum lacquer writing box she discovered there.
Another new work is based on an 18th-century polychromed wooden sculpture of a celestial wind goddess called Flying Apsaras, which is on permanent display at the institution. Lorenz spent time in the museum sketching the work, then abstracted the figure on canvas with swirls of shimmering spirals and dots.
Among her earlier creations on view, two standouts are the Rock Garden Room from 2004, which was originally at J. Graham's gallery in New York, and Silver Water Screen from 2009. Both are examples of her extraordinary technique, which combines free gesture with a very precise craft. "Most of my paintings start on a rigid wooden support, with a spontaneous loose sketch often painted on a large panel in watercolor or Sumi ink to get a sense of scale," Lorenz says of her process.
She then traces the ink with a raised gesso or mother of pearl, and layers clay, gold leaf, burnishing, or water gilding to build up the surface. From there, she applies a loose wash of lacquer. This complex and labor-intensive process can take months. To finish the piece, Lorenz might add some fresh strokes on top. "These keep everything more painterly and filled with life, so it's not a more controlled decorative finish." Her inspiration for this comes from the works of Turner, Whistler, and even Japanese scrolls, where the artists would allow incidental drips and marks to remain on the finished pieces.
Smaller scale works also get their moment, especially her metallic boxes, which have become highly coveted among interior designers, who use them to give cocktail-table vignettes a dazzling touch. For Lorenz, these play an important role in her practice. "I go back and forth between paintings and boxes and screens," explains Lorenz. "By working in different scales, I see things differently. A box can be a room, just an outside-in room that's much smaller."
While taking in all the luminous pieces, it becomes clear why the title "Moon Gold" is so perfectly suited to this ethereal suite of treasures. Lorenz, however, gives credit to her show's curator, Ariel Plotek, for choosing it. "Ariel felt the name worked on so many levels," she says. "Not only is it the name of gold leaf mixed with palladium, which I often use, but the lunar reference evokes the celestial spirit of my work."
"Nancy Lorenz: Moon Gold," is at runs through September 3, 2018.
Next Post