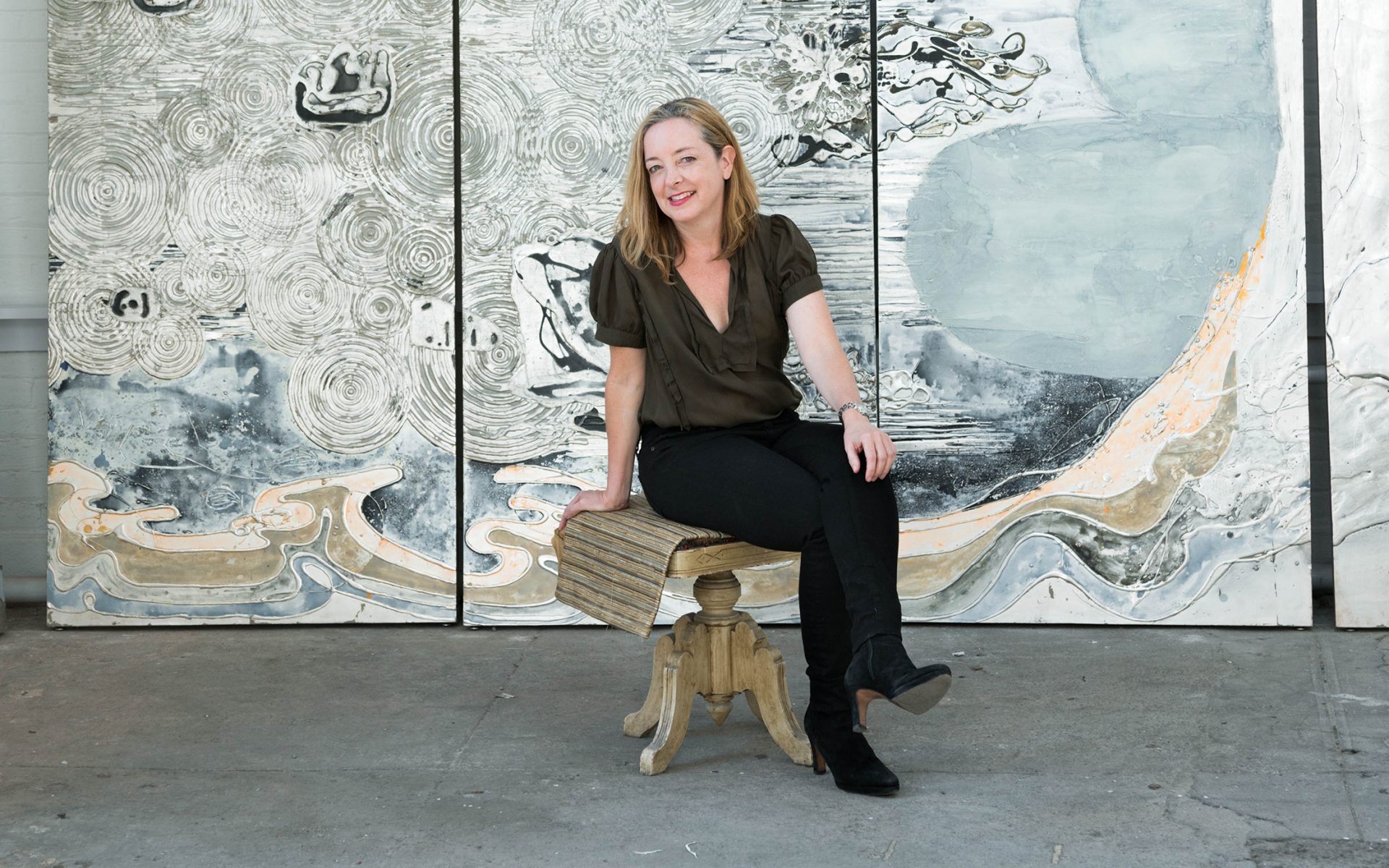 Nancy Lorenz's Stunning Japanese-Inspired Artworks
The artist's luminous work blurs boundaries between fine and decorative arts
In the early 1990s, it was rare, if not unheard of, for galleries to show art and design side by side. Nancy Lorenz is one of the artists who helped change that.
Blurring the boundaries between fine and decorative arts, Lorenz makes paintings, sculptures, and installations that include mother-of-pearl inlay, lacquer, and water gilding. Clients, collectors, and exhibitors include Chanel and architect David Rockwell, as well as galleries and museums worldwide. Her abstract art, which has a luminous East-meets-West quality, references nature and science while employing old-world craftsmanship."I know how to do things in old-fashioned ways, but I also love combining craft with an irreverent use of materials. That's how I get to something new," the soft-spoken artist said with a smile at her new, nicely appointed studio near the Noguchi Museum in Long Island City, New York. "My fascination with lacquer techniques and mother-of-pearl inlay came from my adolescence in Japan, while my interest in gold leafing developed in Italy," where she studied gilded icons at Tyler School of Art's Rome campus.
Moving to New York in 1988, Lorenz first showed her paintings at the SoHo neighborhood gallery of Willoughby Sharp, then exhibited at Aero Studios, one of the first hybrid art-design spaces in New York. Aero co-founder William Sofield met the artist when she was doing lacquer restoration on Asian art objects and soon began commissioning her to make large-scale, site-specific pieces for his clients' homes and commercial spaces. Other designers and interior decorators, including architect William T. Georgis, Michael S. Smith, and art-world star Peter Marino—once dubbed by New York magazine "The Leather Daddy of Luxury"—started collaborating with Lorenz.
For Smith's lavish redesign of the Beverly Hilton Hotel, Lorenz created a striking expansive, almost baroque, golden mural. She has worked with Marino on artworks for Chanel boutiques around the world. "Working on commissions within the parameters of the design world feeds a level of experimentation back into my personal work," Lorenz said.
Science-minded Lorenz won a coveted Guggenheim grant to make work inspired by the periodic table of elements. She's created drawings for all 118 known elements and made paintings for about 90 to date—transforming the esoteric subjects into an abstract, in a mostly monochromatic realm. Lorenz's paintings, mixing gold and silver leaf with resin and pigments, on burlap, cardboard, wood, and ground glass, earned her a solo exhibition at New York's influential Morgan Lehman Gallery in 2015. Her most recent show was at the Chahan Galerie in Paris in January 2017. 
Next Post