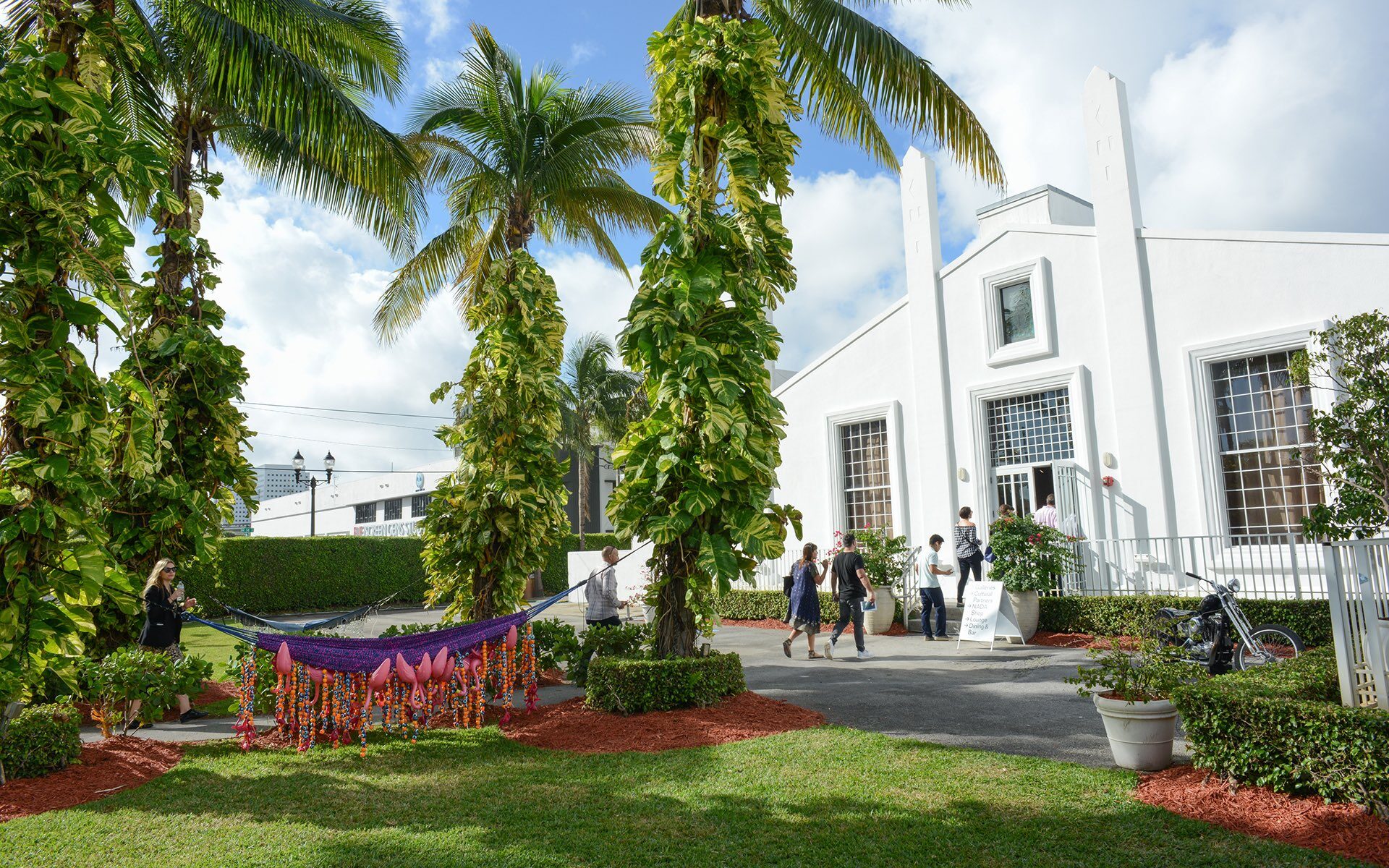 9 Emerging Artists to Discover at NADA Miami 2021
Check out the rising stars making waves at the 19th edition of the buzzy fair, which runs from December 1–4
One of Galerie's favorite art fairs, NADA Miami returns to the Ice Palace Studios better than ever. Presented by the New Art Dealers Alliance, the 19th edition of the fair runs from December 1–4 and includes 170 exhibitors from around the world. Featuring gallery exhibitions, artist book displays, and a curated spotlight show organized by David Zwirner director and curator Ebony L. Haynes, this year's event is guaranteed to have art that appeals to everyone, from the savviest collectors to new buyers.
Here, Galerie has assembled the works that stand out in the crowd. Scroll through to find some of the best works on view—but be sure to move fast if you hope to take one of them home.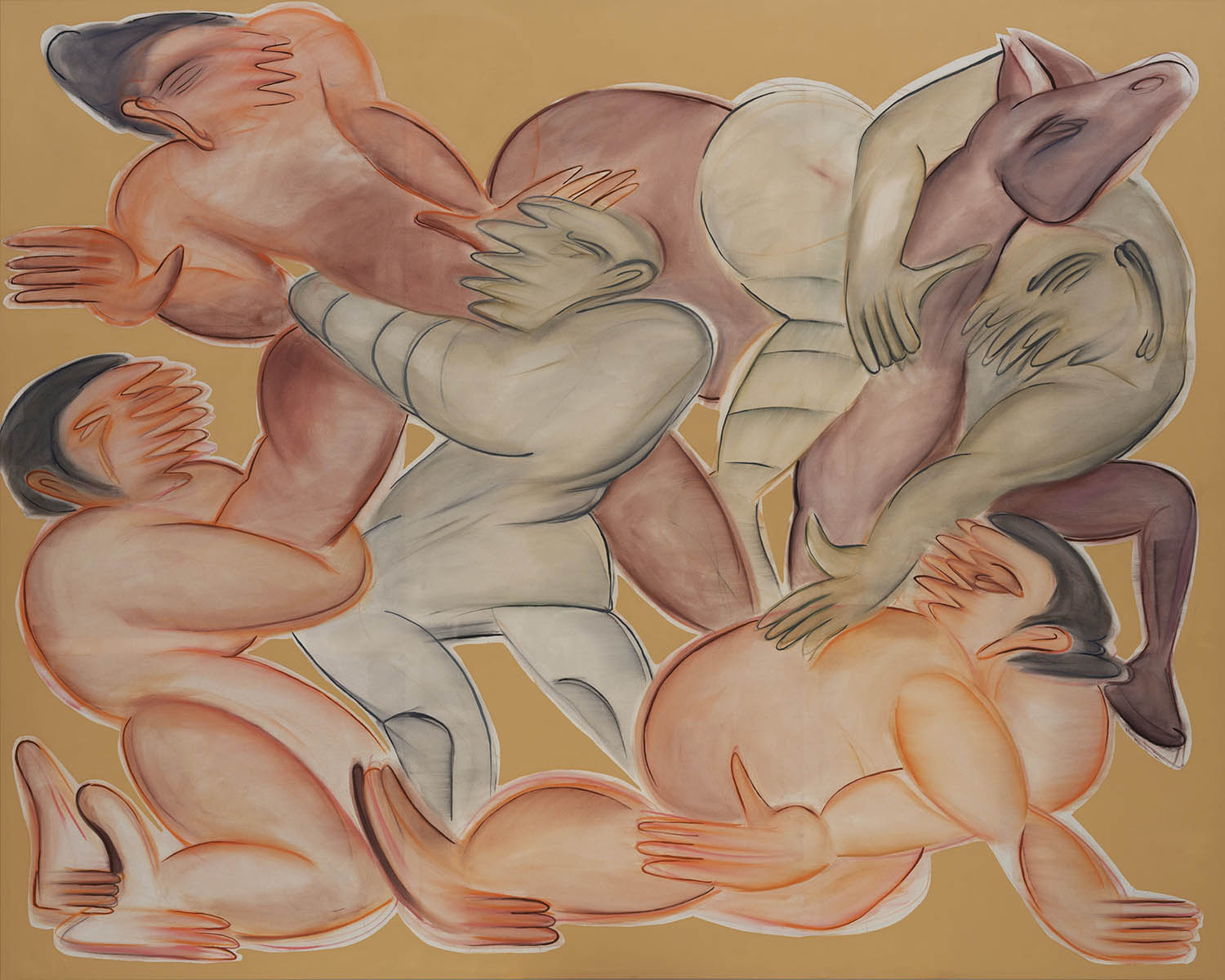 1. Anastasia Bay at Sorry We're Closed 
A French painter living and working in Brussels, Anastasia Bay is a rising star on the European art scene. Making her American debut with a massive painting in a group presentation at Sorry We're Closed, the Ecole des Beaux Arts grad is known for her stylized two-dimensional figures that emerge from flat fields of color and reference Minoan frescos, Egyptian ceremonial scenes and other art historical sources. Fresh off a recent collaboration with Italian fashion designer Pierpaolo Piccioli on Valentino's Des Ateliers collection, she's painted The Battle of the Sabines, a curvilinear caricature of battling nude figures and a horse from past paintings of the subject, at NADA.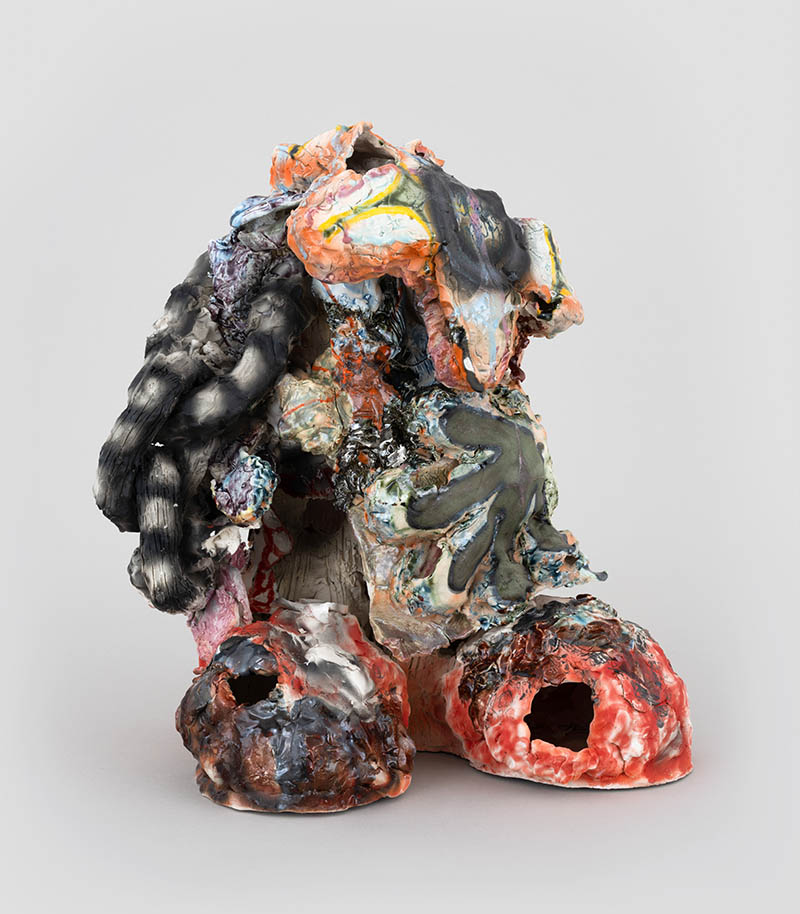 2. Narumi Nekpenekpen at Real Pain
Born in 1998 to a Japanese mother and a Nigerian father, the L.A.-based Narumi Nekpenekpen creates wildly expressionistic ceramics with a colorful street art edge. The subject of a recent solo show, titled "Angels with Dirty Faces" at Real Pain's Lower East Side gallery, the 23-year-old artist makes rough-and-ready, wide-eyed porcelain figurines that offer a deep dive into the uncooked side of urban culture. Her colorfully glazed, slab-built piece in the seas of corruption, on view at the fair, offers a charred and melting figure that charmingly looks as if he just emerged from a festering pile of trash—a somewhat aesthetic version of a Garbage Pail Kid.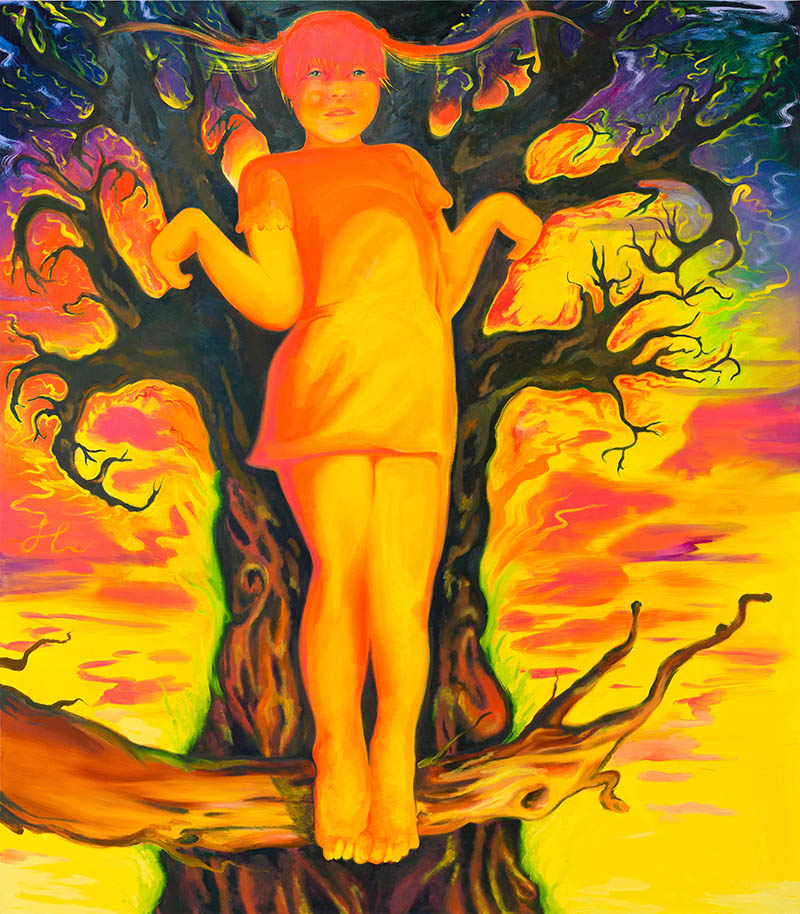 3. Haley Josephs at Jack Barrett
One of the best emerging female figurative painters of the past decade, Brooklyn-based Haley Josephs creates vibrant, sensual portraits of American youths in Huckleberry Finn–like narratives that project a joyful spirit of rebellion and angst. After two solo shows with Jack Barrett, the Yale MFA grad made the leap to the international powerhouse Almine Rech, but Barrett has her back in his NADA booth with her arresting Rare Bird painting, which dramatically captures a young girl coquettishly perched on the branch of a tree as a blazing sunset illuminates both her and the surrounding sky.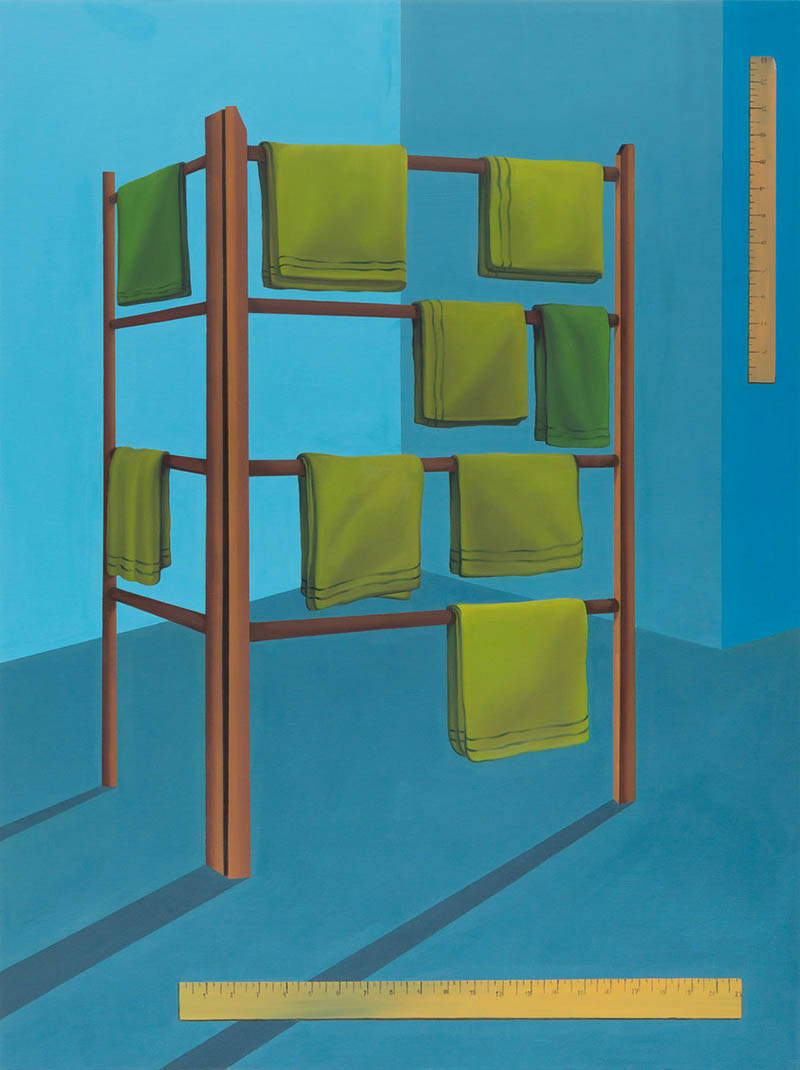 4. Caitlin MacBride at Abattoir Gallery
Exploring issues of labor through the realistic depiction of utilitarian objects, Caitlin MacBride makes illustrative paintings that highlight the otherworldly nature of ordinary objects. With an eye for compelling compositions, the Connecticut-born artist, who received an MFA from Bard in 2015 and settled in Upstate New York, has been making a splash across the region and more recently abroad. At NADA, her canvas Right to Curiosity offers a straightforward look at green towels hanging on a brown wooden rack in a blue room, but the tableau is delightfully disrupted by the artist's representation of two wooden rulers painted on surface of the picture plane, which adds both surreal and conceptual overtones to the otherwise simple scene.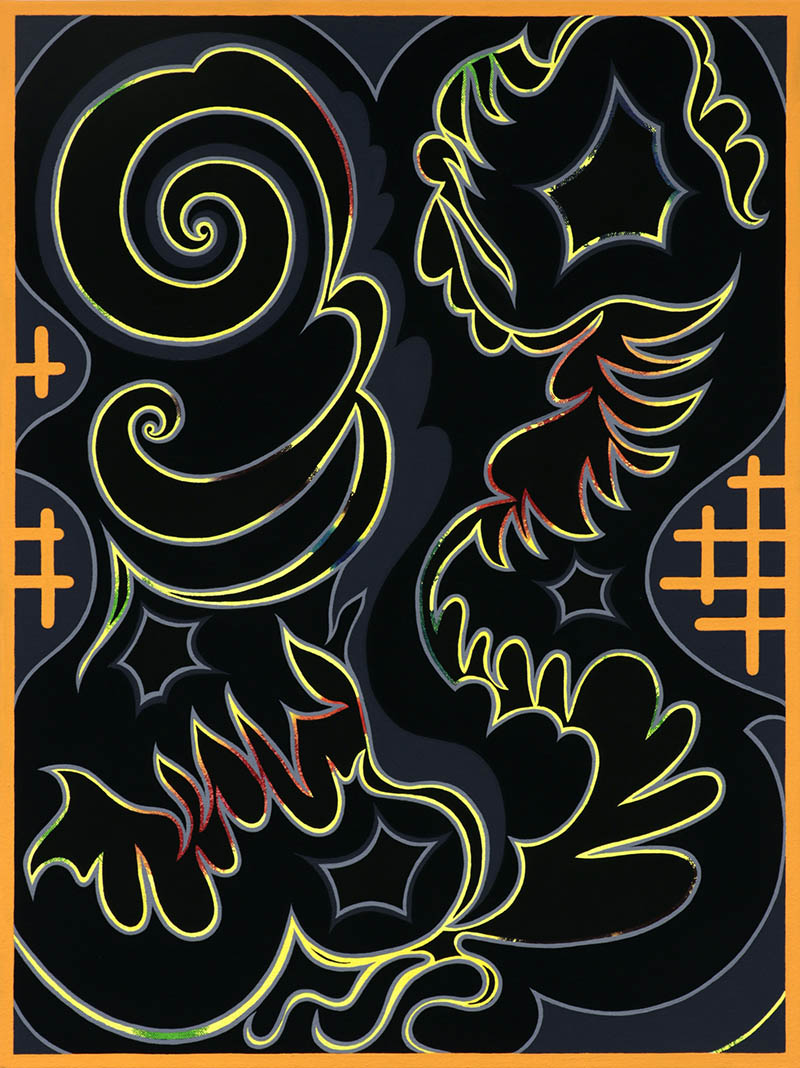 5. Amie Cunat at Dinner Gallery
A painter of abstract pictures, Amie Cunat creates colorful landscapes and still lives inspired by early American paintings, Japanese textile patterns, Art Deco and sci-fi films. Painting animated plant life that looks as though it could have just jumped off an old movie poster for The Little Shops of Horrors, the imaginative painter constructs dynamic color combinations, which make her graphic imagery sing. Her canvas Iron and Neon Barbed captures two comical characters coming to life to interact in a mystical, gated realm—a sort of secret garden, where vegetation can become highly spirited after dark.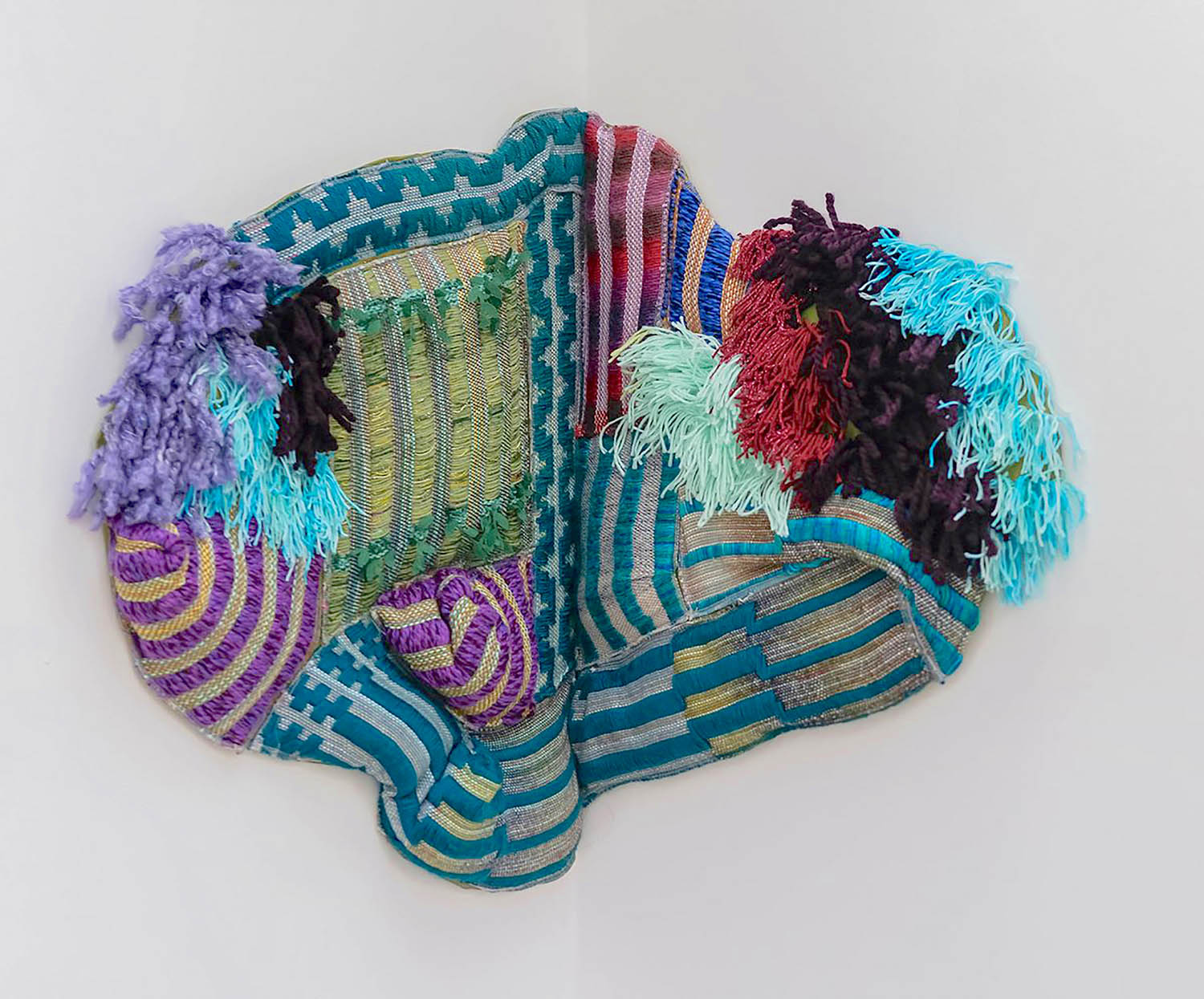 6. Sarah Zapata at Deli Gallery
A Texas-born textile artist living and working in Brooklyn, Sarah Zapata makes woven pictures, sculptures and installations that radiate lively patterns and colorful energy. A 2016 artist-in-residence at the Museum of Arts and Design in New York, Zapata was also one of the 2019 Burke Prize finalists at the museum, where she exhibited a surreal shag rug interspersed with feminine pony tails and mannequin parts. Her wall-work for NADA, titled Land Gargoyle III, is handwoven from bits of colored cloth and natural and synthetic fibers to create a corner-hugging creature that's amusingly meant to float high above our heads.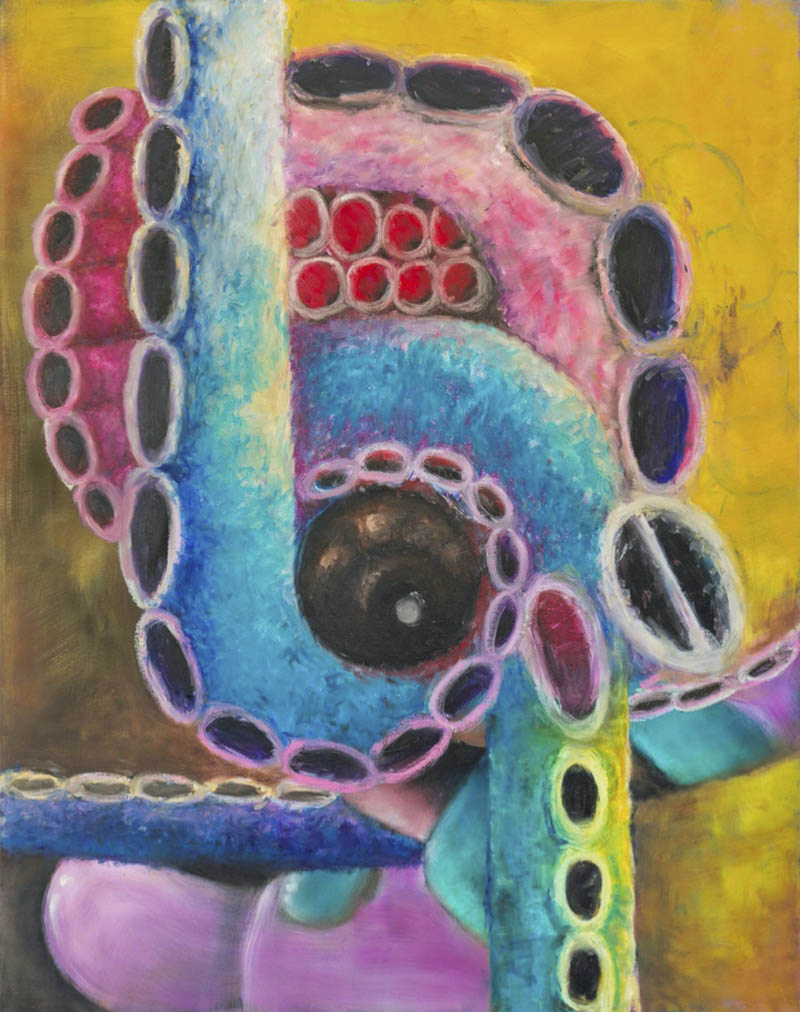 7. Mie Yim at Olympia
An abstract painter making figurative references to animals, toys and manga characters, Mie Yim beautifully blurs the line between abstraction and representation by creating mutant imagery that seems to be in a continuous state of flux. Working with oils and pastels, she constructs soft, fuzzy forms that surreally combine cartoons, body parts and plants. Showing on the heels of her solo at Cy Schnabel's Villa Magdalena space in Spain, Yim's painting Sucker, presented at NADA, offers a mashup of furry, suction-cupped pipes, which wind around like intestines to form a head-like mass sitting atop a female torso—a kind of nightmarish version of Jessica Rabbit as seen on drugs.
8. Hannah Whitaker at Marinaro
With degrees from both Bard and Yale, Hannah Whitaker has had no difficulty in getting her experimental photography exhibited in museums and galleries around the globe. Working figuratively and abstractly, her most recent body of work features a singular female model filmed using lighting techniques Whitaker acquired through jobs as a commercial photographer. Her picture Eyes Shut, Slit presents a silhouetted figure with a strip of red lighting her eyes while she stands before a staged sunset, optically created by gradated lights. Futuristic and robotic looking at first glance, the figure, however, maintains her humanity through the imperfection of loose hairs revealed by the light glowing from behind.
9. Sam Shoemaker at OCHI PROJECTS
Interested in mycology as a point of departure for his art, L.A.-based talent Sam Shoemaker creates strangely shaped ceramic vessels that he inoculates with exotic fungi. Exploring this unusual way of art making over the past few years, the recent Yale MFA grad has made a fascinating series of living sculptures, which are part science and part art. At NADA, Shoemaker proudly presents Vessel #VII, a glazed stoneware vase with a reishi mushroom popping out of its opening. Simulating smoke coming out of the engine of a moving train, the age-old fungi strikes a mystical pose in the face the artist's freshly formed pot. Star Wars Chia Pets can't hold a candle to these works of art.
Next Post