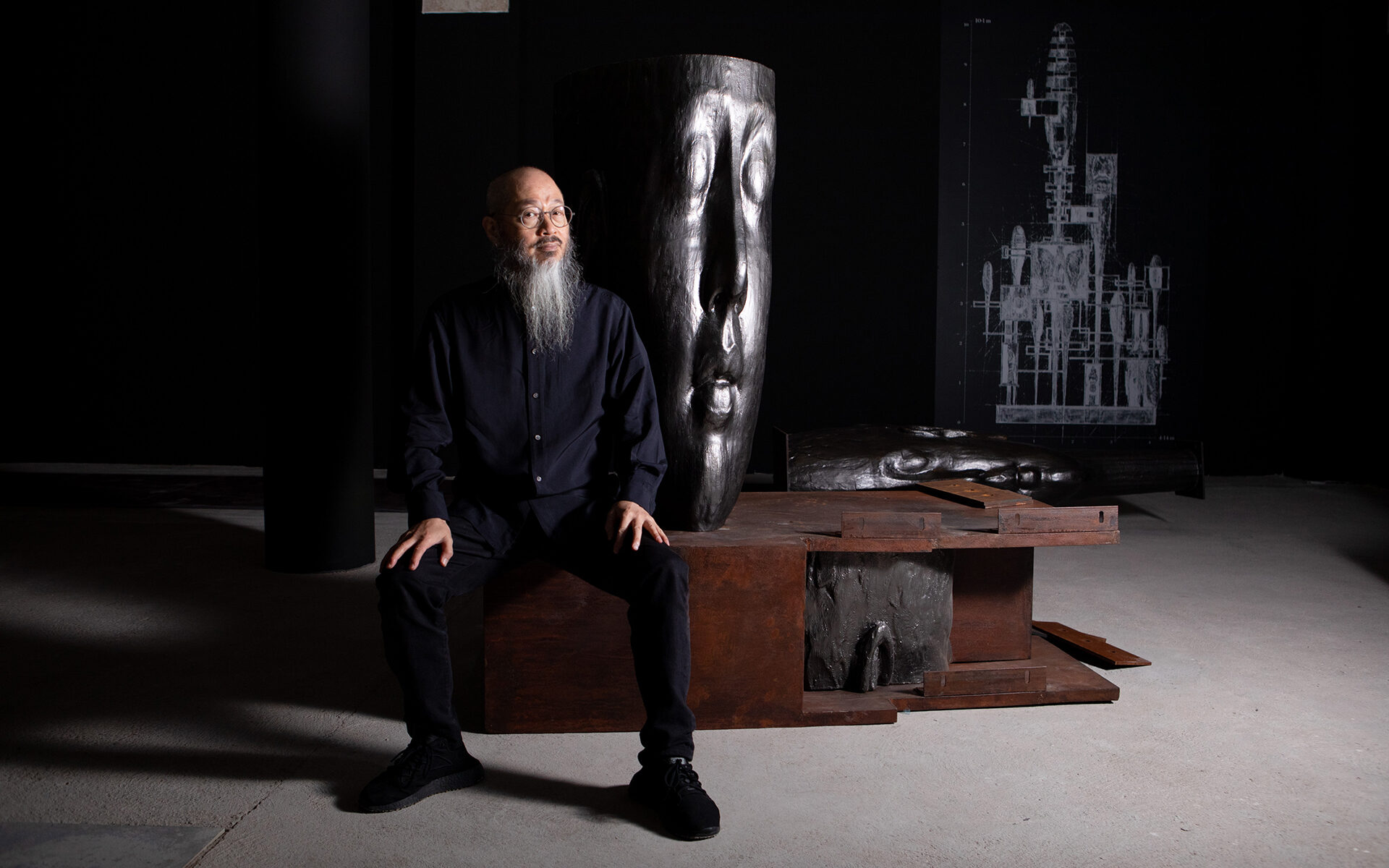 Multidisciplinary Artist Wallace Chan Invites Spiritual Reflection with Large-Scale Sculptures at the 59th Venice Biennale
The Chinese talent explores the possibilities of titanium with a deeply philosophical installation entitled 'Totem'
Guru. Innovator. Genius. These are just a few of the words that get tossed around when you mention the name Wallace Chan.
Those illustrious descriptors have now been proven once again by the multidisciplinary talent's breathtaking exhibition currently on view during the 59th Venice Biennale.  Masterfully combining his work as a jeweler and his spiritual awareness as a Buddhist, the exhibition is unlike any other with its audacious use of materials and mystic atmosphere.
Mounted in the Fondacio Marcello on the Grand Canal, Chan worked with curator James Puntam, who he also collaborated with on the exhibition "Titans" in Venice in 2021. The new project, which is titled "Totem," makes use of titanium and iron to create large-scale sculptures, which are combined to assemble one enormous 32-foot-high work, A Dialogue Between Material and Time, Titans XV.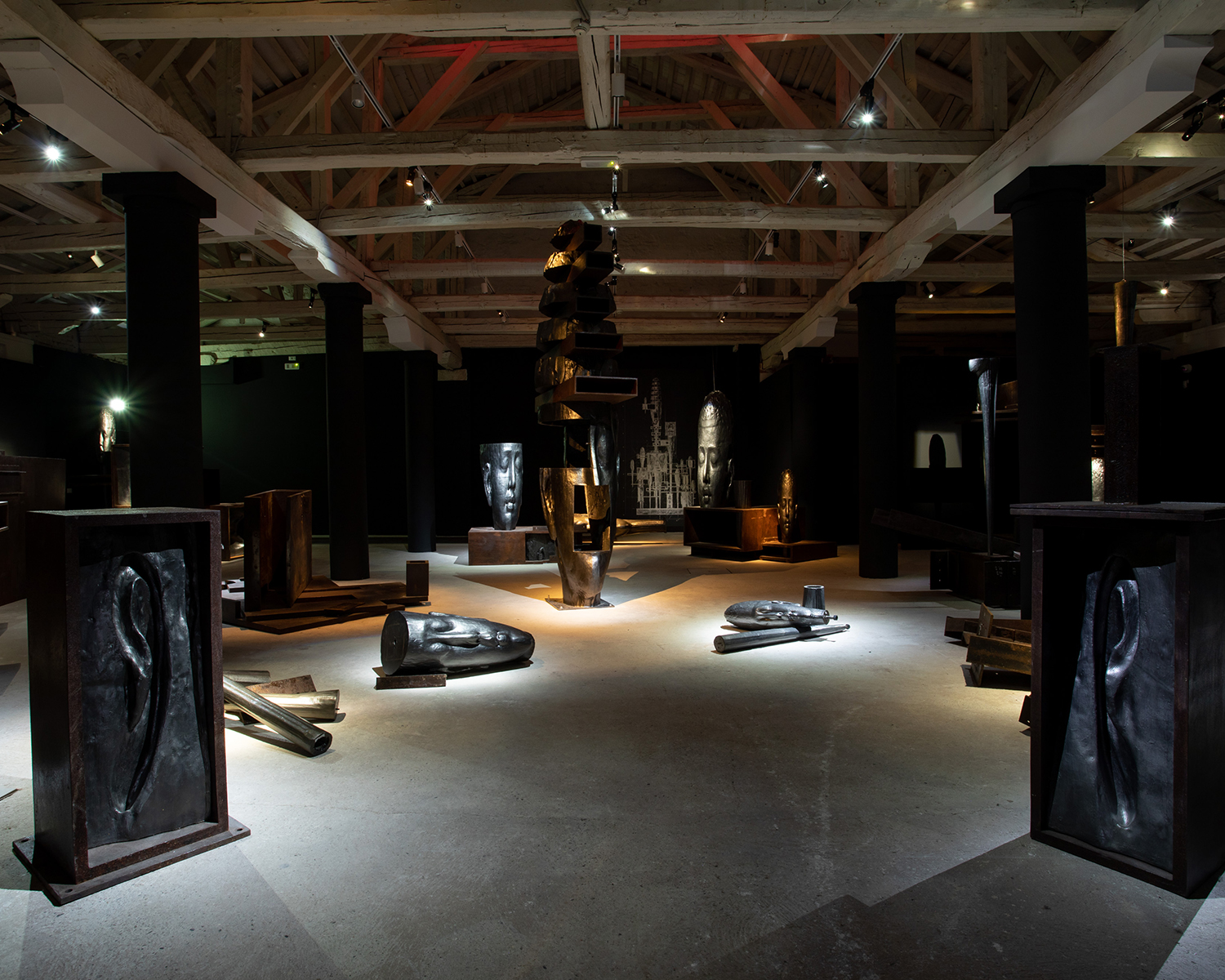 Visitors are invited to travel through the darkened space with a path that weaves through the various works. The journey is complemented by a transportive sound landscape orchestrated by composer and sound healer Alistair Smith. The nature of the installation allows works to be experienced from multiple angles, thereby allowing one to witness how Chan has manipulated the metals and reversed their characteristics. "Titanium is supposed to be hard, strong, and reluctant to change," Chan says wandering through the exhibition space on the opening day. "With the faces, there are very gentle shapes, lines, and contours." On the other hand, iron appears stronger, although it's much more susceptible to deteriorate when exposed to air, humidity, and temperature.
Encountering one large sculpture in such disarray—as if remnants of an alter from a long-lost civilization—one begins to think about social fragmentation and the fragility of our social networks. The overall effect brings a sense of hope, as the viewer can see how the work might be reassembled.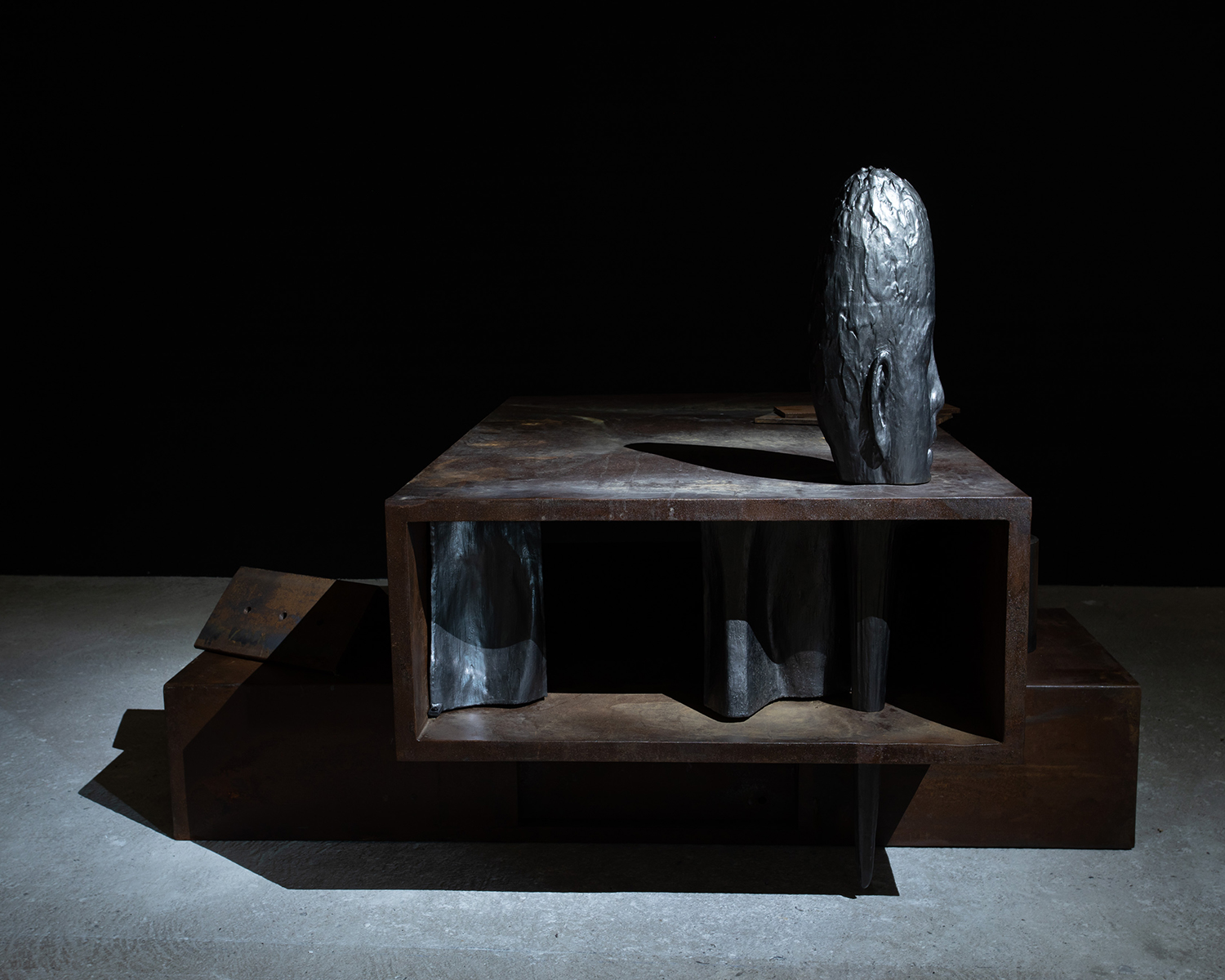 The success of the exhibition is decades in the making—the sum of Chan's extraordinary life experiences. It was during the late 1950s as a child in Hong Kong that Chan first heard of Venice. But this Venice was a restaurant with fresh baked breads in the window. He recalls being hungry every day and longed for whatever they had displayed. Thirty years later, when a friend asked him to join him in the city for the biennale, he had little idea what to expect. "All these years I had this idea of this little restaurant in Hong Kong in my mind," he explains. "But when I came here, I realized 'Oh my god this is completely different,' and it's even more enchanting."
At that point, art wasn't part of his vocabulary. But ever since he's visited the magical city at least every two years—learning and absorbing more with each trip. "I didn't understand contemporary art at that time because I was still very much focused on carving and craftsmanship," says Chan. "Since I didn't understand, I was curious. I tried very hard to communicate with the artworks and establish a dialogue. I even meditated in front of the artworks."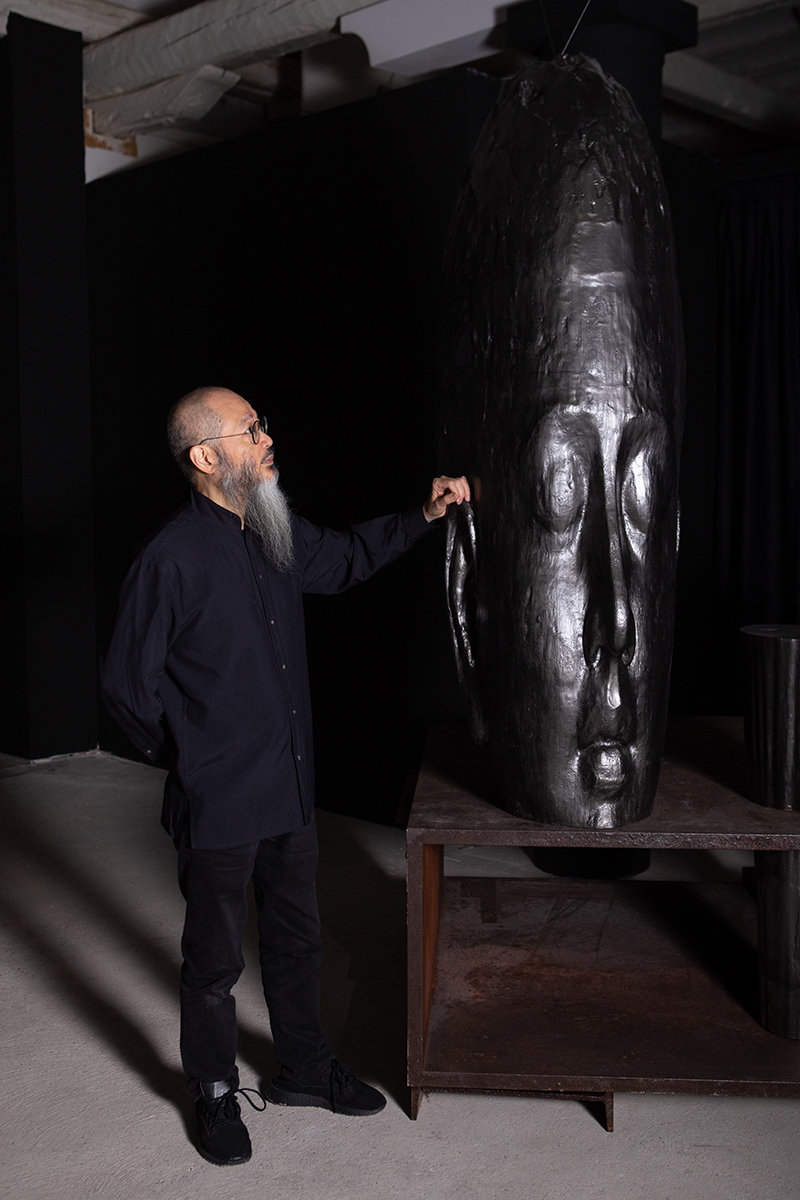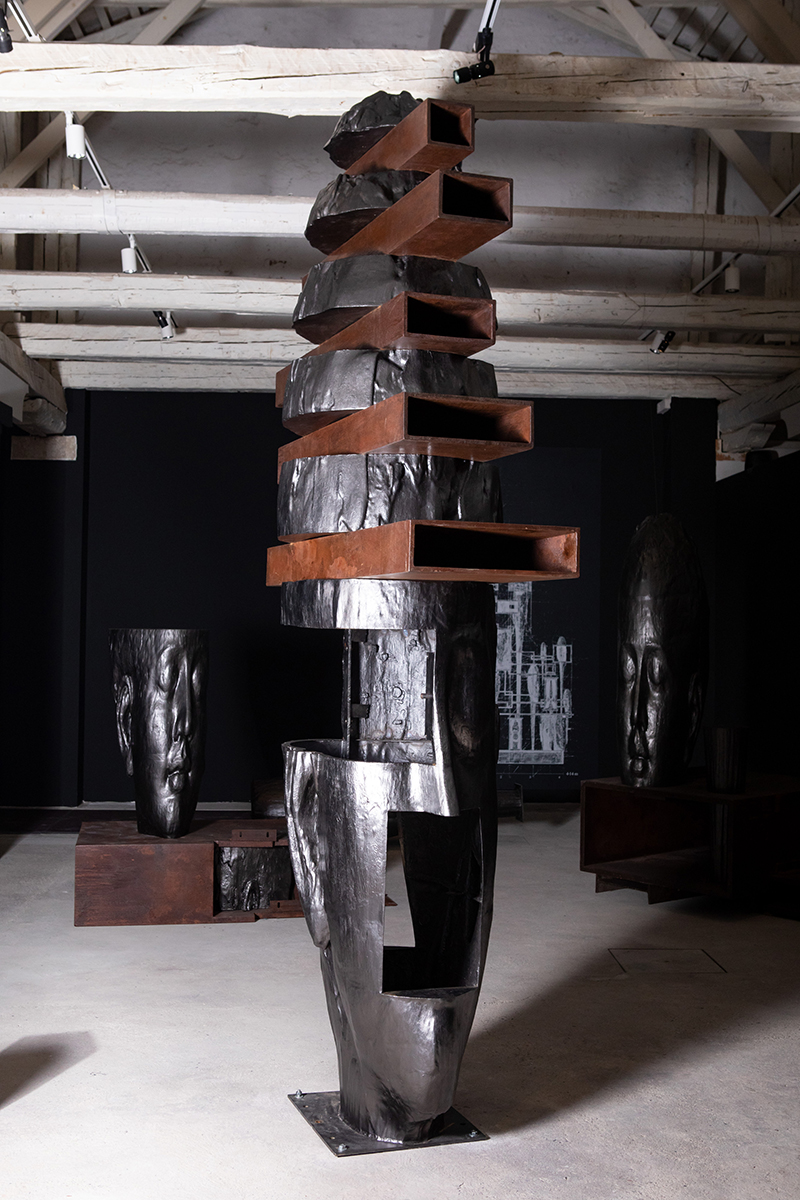 After decades of absorbing the art, he finally began to dream of his own exhibition just a few years ago. Although he had not been a traditional fine artist in the past, his career was already filled with artistry, inspiration, and beauty. In 1973, as a gemstone carver, he looked to gods and goddesses from Chinese folklore and Greek mythology for inspiration. This led to the creation of his signature Wallace Cut, a three-dimensional carving technique. He then left the craft to become a monk. Only once he returned to the practice in the early 2000s did he explore the possibilities of titanium, when a client came to him with a pair of diamonds, one weighing 20 carats and the other 21. When Chan designed settings for them in gold as earrings, the result was too heavy. So, he started to experiment with this other metal after learning about its properties on a news show about pacemakers.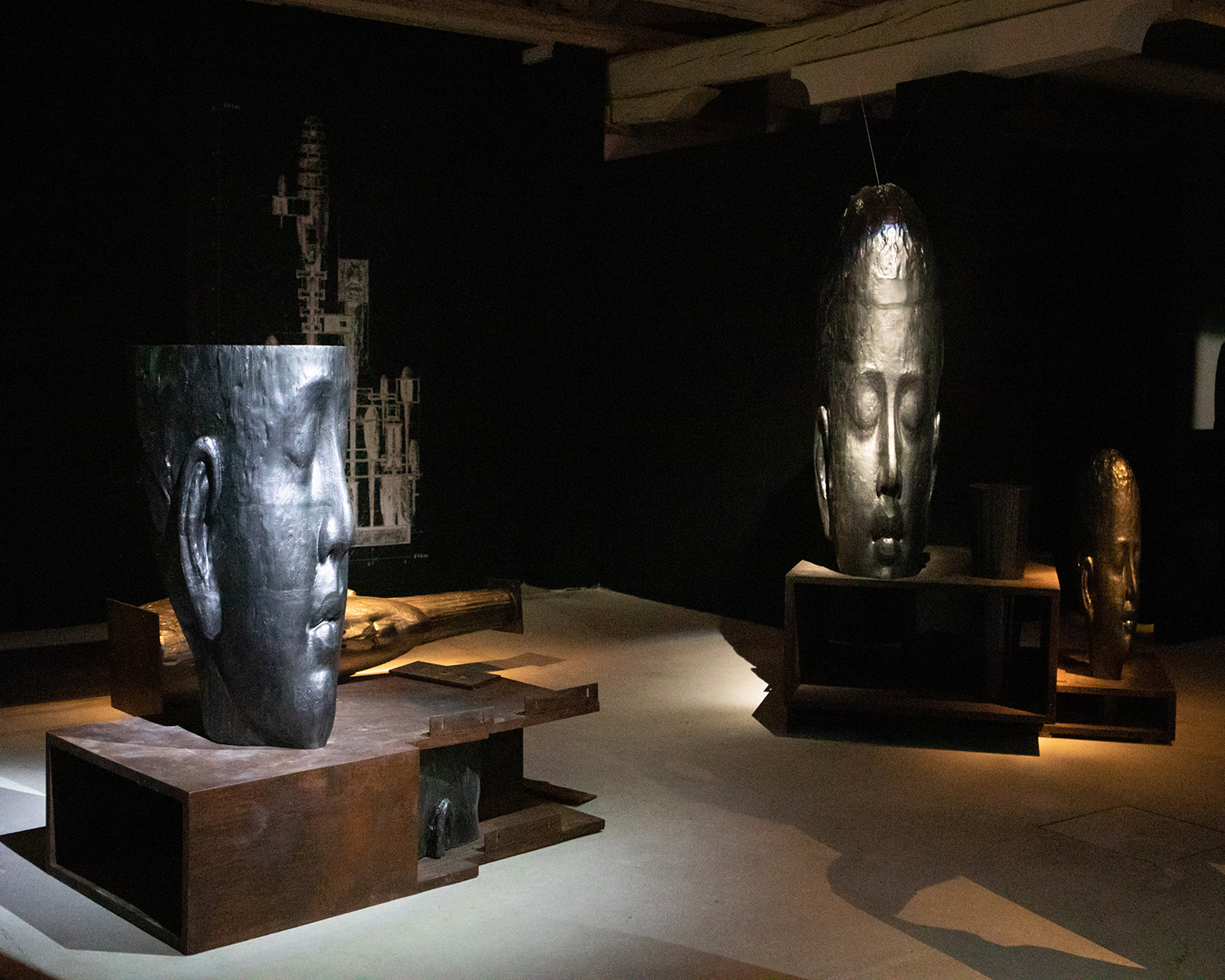 Eight years into working with titanium, he finally felt like he understood the evasive substance—both light and strong. His jewelry is revered as highly collectible art pieces, and he was the first Chinese jeweler to show at TEFAF in Maastricht. But that was far from the end of his journey with the material. "After I managed to use titanium for my jewelry art, I began to explore whether there are ways for me to make titanium grow as a material," he says. "That's why I started working on a bigger scale and at last it came to what you see in the Venice exhibition." Although "Totem" clearly displays his technical mastery of material, its meaning goes much deeper touching on the delicate nature of civilization and the mystic bonds that hold together cultures.
"When I was a child, Venice to me meant food, literally, for the physical body," says Chan. "But today, Venice has become my spiritual food."
"Totem" is on view at the Fondaco Marcello through October 23, 2022. 
Next Post