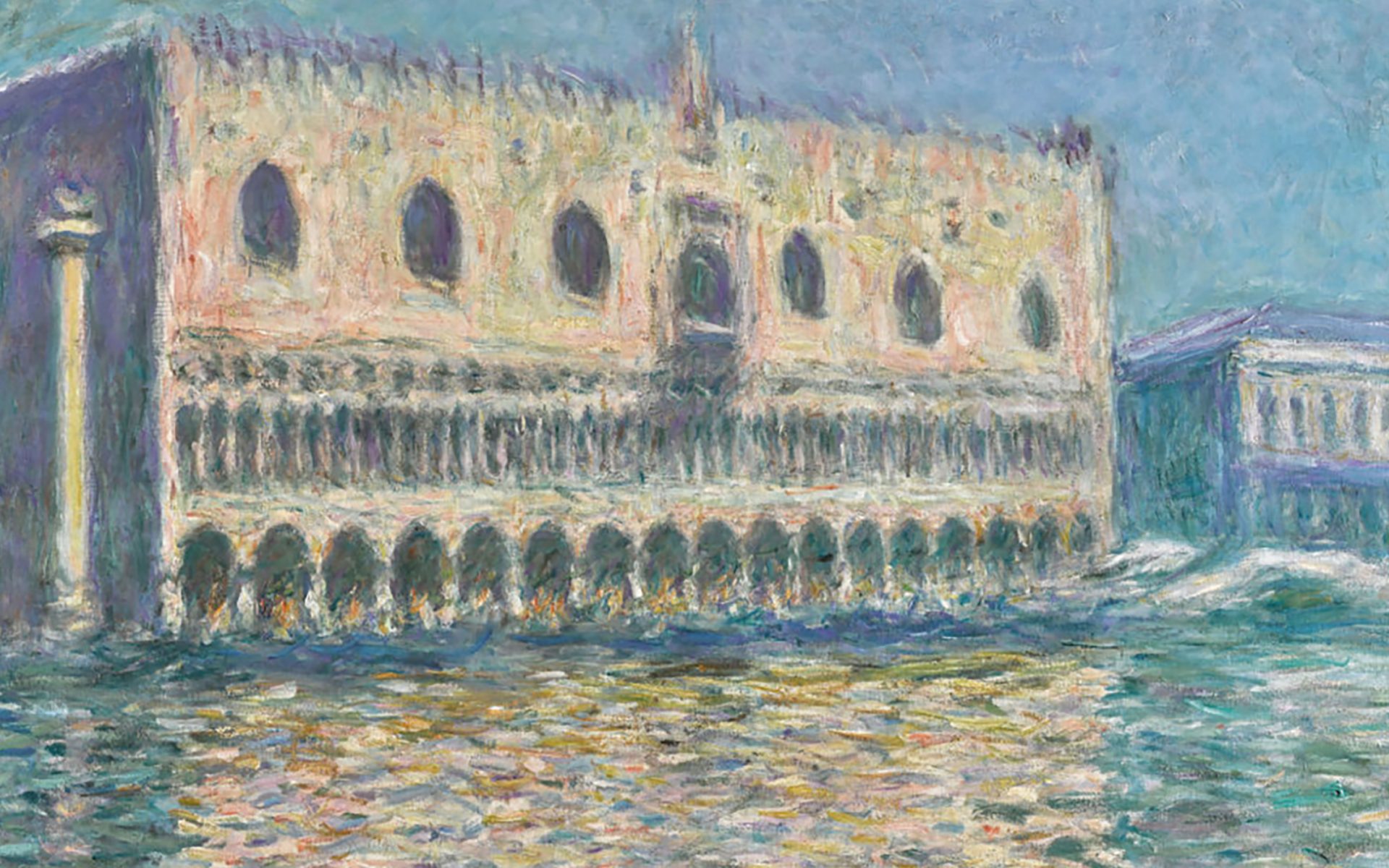 Monet's Venetian Masterpiece Sets New Record at Sotheby's
The top ten lots from last night's sale included Monet, Schiele, and Kandinsky
The Impressionist, Modern, and Surrealist art sale at Sotheby's London had the lowest results for the category since 2009, earning just $115.3 million, down from $180 million in 2018. While the auction response may have been tepid, there were nonetheless several significant sales, with Claude Monet's Le Palais Ducal fetching $36.2 million—a new record for a Venetian view by the artist. The sale also attracted a record number of visitors to the presale exhibition, with 10,000 visitors flocking to the New Bond Street location.
Below, Galerie takes a look at the top ten lots from last night's sale.
1. $36.2 million: Claude Monet, Le Palais Ducal
The sale was headlined by this 1908 work, which made its auction debut and sold for $36.2 million. Sold to an anonymous buyer, the painting was hotly underbid by two further bidders, one of whom was represented on the phone by Sotheby's managing director of Japan. The exceptionally pristine work had previously been in the same family collection since Erich Goeritz acquired it in 1926.
2. $14 million: Egon Schiele, Triestiner Fischerboot
Shiele's square-format work led a group of German and Austrian art and sold for $14 million, garnering bids from Asia and elsewhere. This was the painting's first time at auction, having remained in the same collection for over 50 years.
3. $8 million: Wassily Kandinsky, Vertiefte Regung (Deepened Impulse) 
This work by Kandinsky was one of three pieces by three key proponents of the Bauhaus movement offered during the sale. The painting, which is a meditation on the essential beauty of circles, once hung in his Masters' House.
Recommended: Full Artist List for the 2019 Whitney Biennial Is Unveiled
4. $6.9 million: René Magritte, L'Etoile du matin
Leading the Surrealist portion of the evening, this painting made its first appearance at auction and fetched $6.9 million. Painted in the same moment as Le principe du Plaisir, which set a record for the artist in New York last November, it was acquired a year after its execution by a renowned Belgian couple and had remained in the same collection since.
5. $5.1 million: Ernst Ludwig Kirchner, Mädchen auf dem Diwan (Girl on a Divan) 
This exuberant early work of Kirchner's made its auction debut at the sale to benefit the Museum of Modern Art's acquisition fund.
6. $4.9 million: Francis Picabia, Atrata 
Impressive in scale and superbly executed, this 1929 piece by Francis Picabia appeared at auction for the first time since 1974 to meet with an extended seven-way bidding battle. A record for a work from his "Transparences" series, the painting made $4.9 million.
7. $4.3 million: Alberto Giacometti, Tete de femme (Annette) 
Four bidders competed for Alberto Giacometti's haunting 1959 portrait of his wife, which was appearing at auction for the first time.
8. $3.9 million: Edgar Degas, Cheval au Galop sur le Pied Droit 
Previously sold at Christie's in 2012, this piece is the largest of all of Edgar Degas's sculptures of horses and fetched $3.9 million. Cheval au Galop sur le Pied Droit was conceived following the explosion of interest in understanding the horse in motion during the late 1800s.
Recommended: 150-Year-Old Bottle of Chateau Lafite Rothschild Wine Is Coming to Auction
9. $3.4 million: Oskar Schlemmer, Tischgesellschaft
Another Bauhaus devotee, Schlemmer produced this rare, museum-quality 1923 work, which came from the collection of Dr. Erika Pohl-Ströher, a prominent European collector. It sold to a Russian buyer for $3.4 million—setting a record for the artist, whose last major oil was sold at auction in 1998.
10. $2.7 million: Pablo Picasso, Le Repos du Faune
This 1956 work from Picasso—a classical allegory on the three ages of men that also serves as a moving self-portrait—sold for $2.8 million to a bidder from Asia. Prior to the sale, this important late work had been in the same private collection for decades and had never appeared at auction.
Next Post