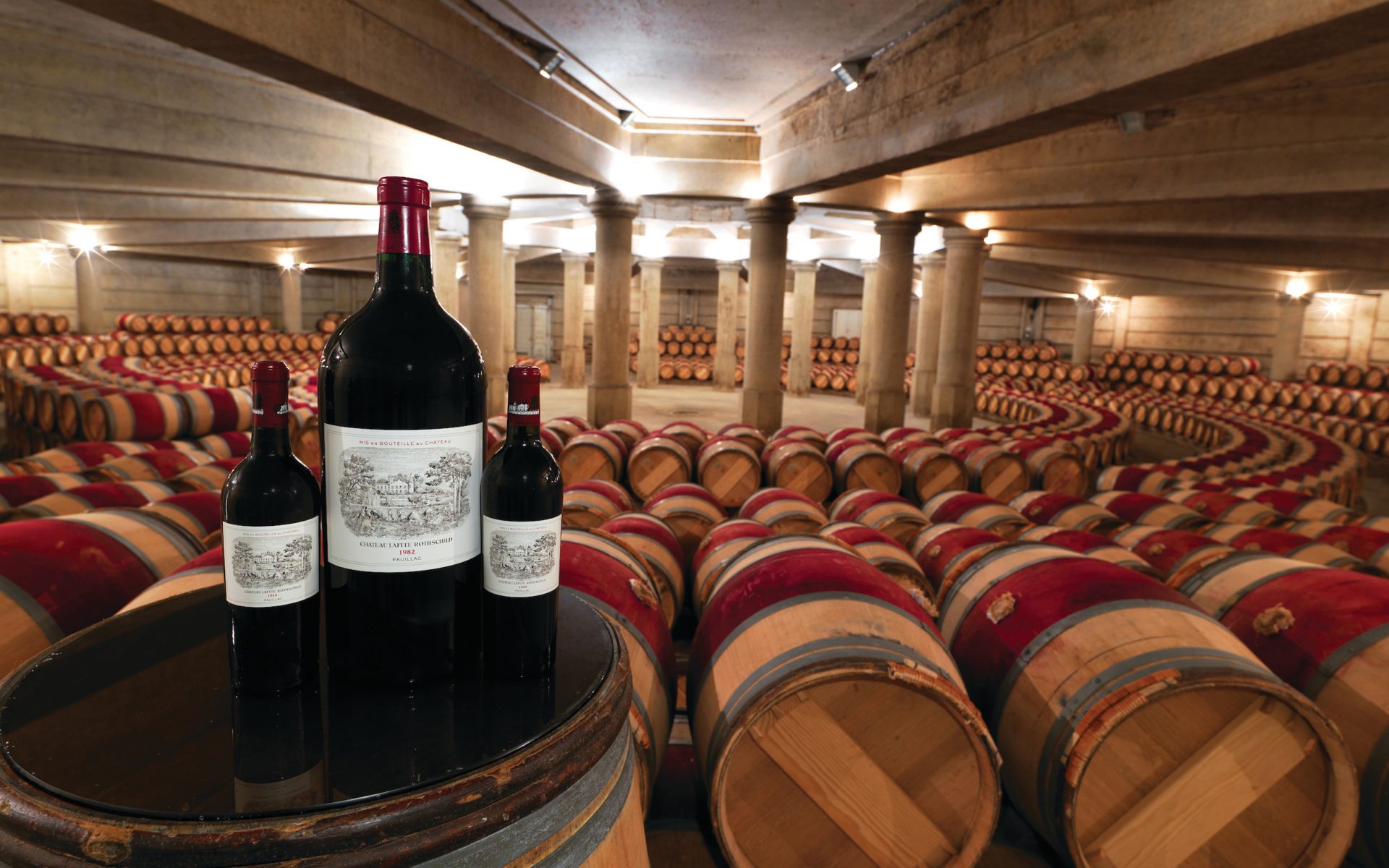 150-Year-Old Bottle of Chateau Lafite Rothschild Wine Is Coming to Auction
Zachys's March 30 sale includes a selection of rare bottles pulled directly from the château's cellar, to commemorate its 150th anniversary
On March 30, oenophiles will have the rare opportunity to bid on a selection of wines pulled directly from the cellar of Château Lafite-Rothschild, as well as several of the family's other esteemed vineyards, in an auction being held to celebrate the 150th anniversary of Baron James Mayer de Rothschild's purchase of Château Lafite in 1868.
Among the 526 lots of large-format bottles are a magnum of Château Lafite Rothschild 1869 as well as double magnums and imperials of Château Lafite Rothschild 2010. Eleven 19th-century bottles will be available in the auction, which also includes vintages from the highly sought-after years of 1945, 1947, 1949, 1959, and 1961.
"The bottles we decided to share for this auction tell the story of births, deaths, and wars, of numerous winemakers and members of my family who always had a heart to protect these wines and see them make it through time," says Saskia de Rothschild, chairwoman of Château Lafite. "Each vintage has a different tale to share, may it be the years when all vineyard workers were sent to war to the years of frost attacks and hail storms, to the phylloxera fight and the new technical advancements of most recent years."
The winner who wins the auction for the 1868 bottle of Château Lafite Rothschild Pauillac, Premier Cru Classé, will also be invited back to the estate for a tour followed by a special dinner for four, prepared by the château's in-house chef, coupled with a selection of wines from its cellars and a barrel tasting.
"Something that is 150 years old and still has fruit—it's an experience you'll never get again," says Jeff Zacharia, president and owner of Zachys, which is leading the auction. "You'll never be able to repeat this experience. You can drink lots of wines, but to drink something like this is priceless."
Recommended: MoMA PS1 to Launch New Restaurant with Acclaimed Chef Mina Stone
The auction, to be held at New York's Le Bernardin Privé, will also include vintages from the family's other vineyards in Bordeaux: Duhart-Milon, L'Evangile, and Rieussec. "All three estates are a tribute to how we have developed our wine-growing tradition over the years and learned to master the terroirs of the Bordeaux region, both on the right and left bank," says Rothschild. "A tradition that has always been updated because we never settle and constantly put everything into question to get better."
All of the wines being offered come direct from the respective châteaux and have been inspected, labeled, capsuled, and proof-tagged, then put into wooden boxes customized with a "150 Years at Château Lafite Rothschild 1868-2018" band; a number of six-liter bottles have been signed by Baron Eric and Saskia de Rothschild. "Buying wines that are released direct from the château, for provenance reasons, are by far the best way to collect wine," says Zacharia, whose multigenerational wine auction house is celebrating its 75th anniversary this year. "These wines will taste younger, fresher, more vibrant than anything else out there in the market.
"I would encourage everybody who buys these wines to open them up and consume them," he continues. "That's what the château wants. That's what everybody wants. It's not for a library; it's to enjoy, it's for the pleasure of it."
Next Post