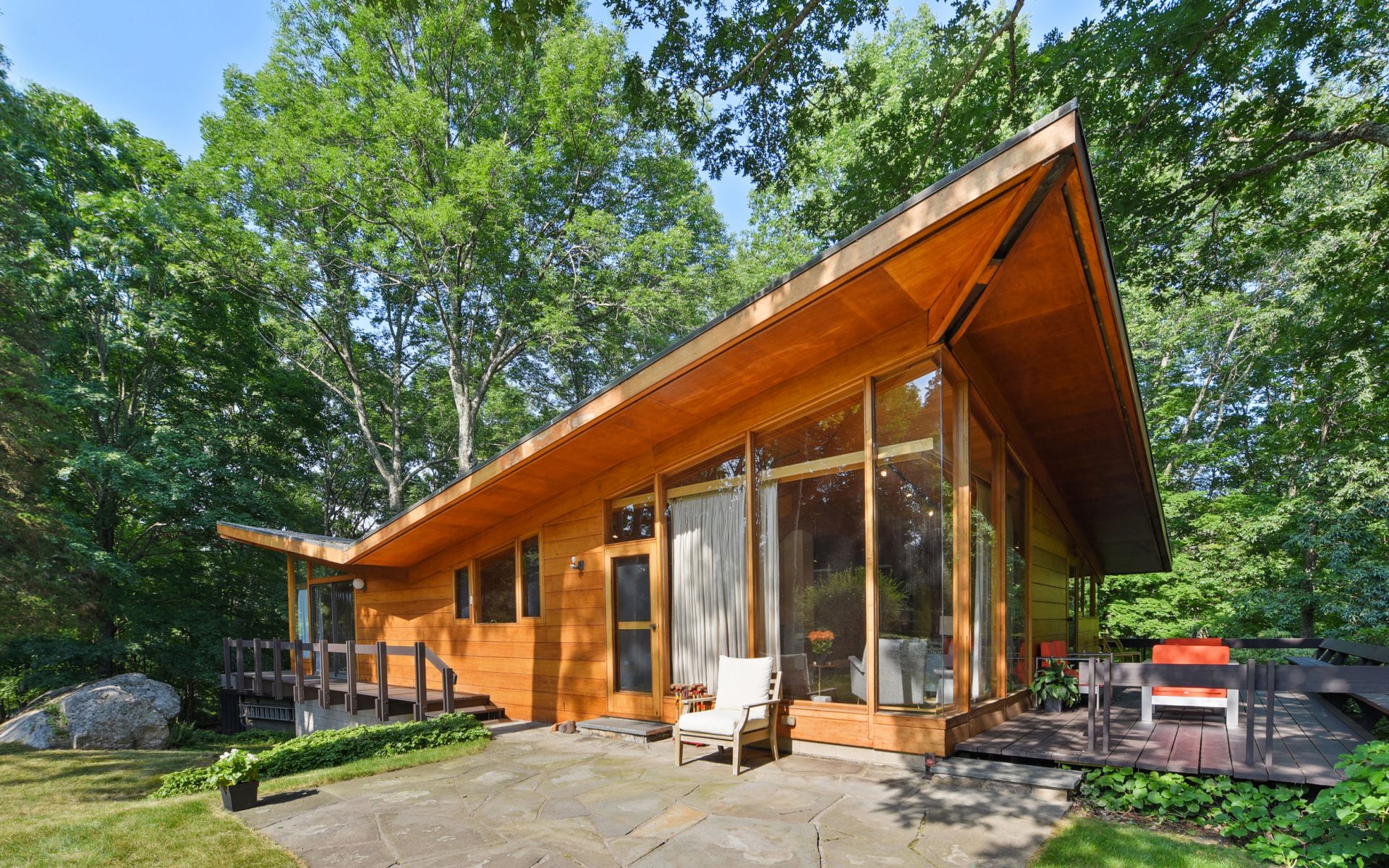 Moby to Sell Mid-Century Home for $1.3 Million and Donate Proceeds to Animal Rights Fund
The home was designed by David Henken, a disciple of Frank Lloyd Wright
The musician Moby is selling his marvelous mid-century home for $1.3 million and plans to donate the proceeds to a variety of causes.
"I'm going so sell it," he wrote on an Instagram post earlier this week, "and take the money to "support progressive political candidates, support my animal rights foundation, produce documentaries, and fund scholarships."
The mid-century home was purchased by the musician back in March when he was looking for a place near his childhood home in Connecticut, but as he stated on Instagram, "I'm rarely there."
The 3,162-square-foot residence located on the sprawling woodlands of Pound Ridge, New York was designed by David Henken, who once studied under famed architect Frank Lloyd Wright. Natural elements are emphasized in the three-bedroom, three-bathroom home with mahogany paneling, floor-to-ceiling windows, and natural stone especially in the downstairs office area which was built around an old rock formation.
"Oddly, a lot of midcentury modern houses in Westchester are quite dark," he told Curbed, "and this house has big soaring panes of glass, so it's really beautiful and bright."
Recommended: Tommy Hilfiger's All-American Connecticut Estate Lists for $6.75 Million
While famous for his dance music, Moby has also become known for his political activism and vegan lifestyle. His L.A. vegan restaurant Little Pine also donates proceeds to animal rights organizations. Moby had been on a string of real estate dealings recently with his Wolf's Lair castle-style home in Los Angeles selling for $12.4 million in 2014 and then another Los Angeles Tudor Revival-style home he renovated coming to the market for around $4.5 million.
Other amenities of the rustic two story home, which is listed with Ginnel Real Estate, are a luxurious spa bathroom in the master suite, vaulted ceilings, a fireplace, a sleek kitchen area, and a large swimming pool on the grounds making it the perfect place for mid-century design enthusiasts as well as the ideal escape from the hustle and bustle of city living.
SaveSave
SaveSave
SaveSave
SaveSave
Next Post