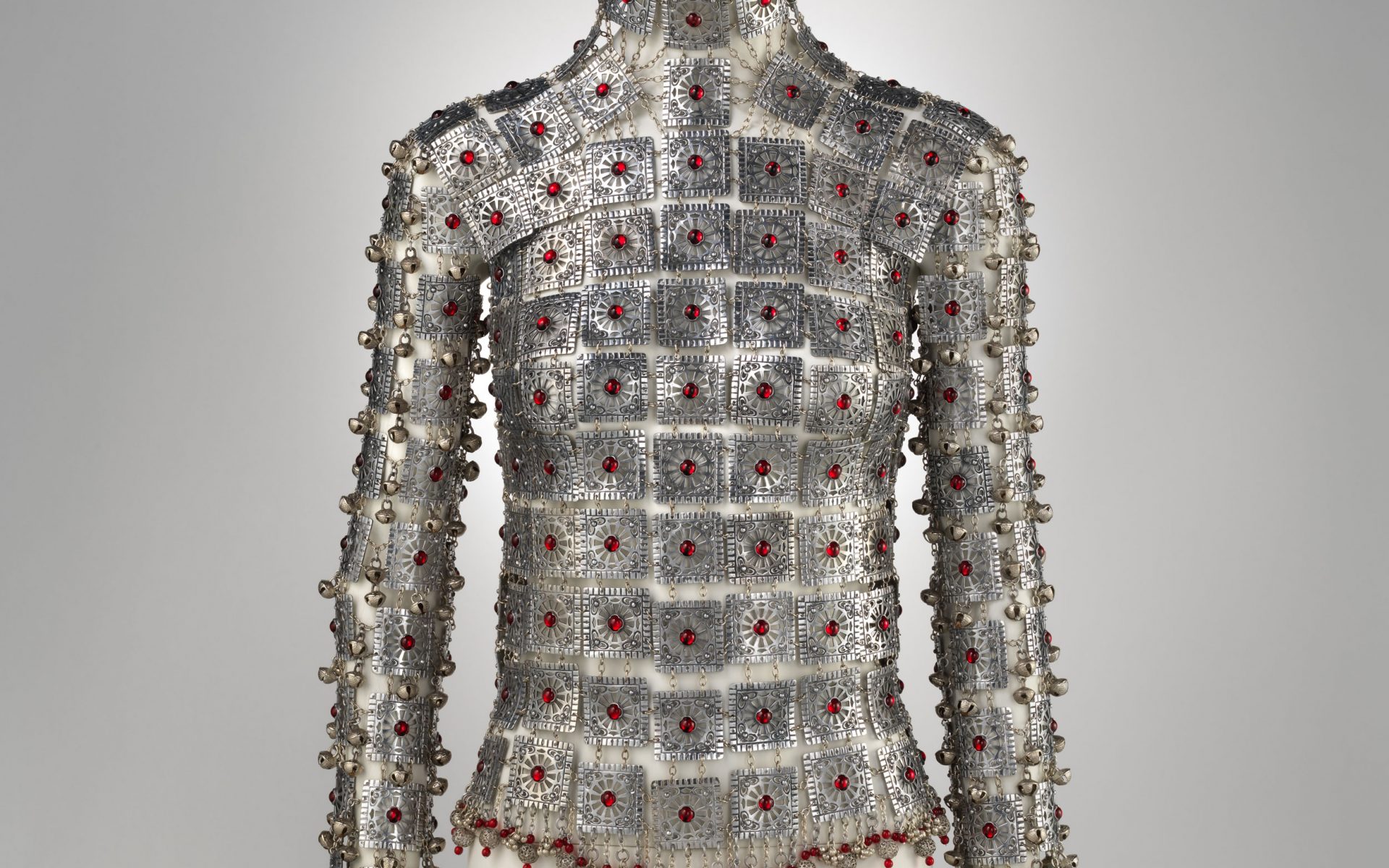 Explore the Metropolitan Museum's Blockbuster Jewelry Exhibition
From an ancient Colombian headdress to a hooded bodysuit by Alexander McQueen, go inide "Jewelry: The Body Transformed"
Men and women have been captivated by the transformative power of jewelry for millennia, ever since the most primitive hammer was used to shape a hunk of dull metal into a gleaming object of desire. "Jewelry: The Body Transformed," an exhibition opening November 12 at New York's Metropolitan Museum of Art, features 230 bedazzling objects, including jewels, paintings, and photographs from the institution's vast holdings. Here, we highlight the show's most memorable pieces—including an ancient Colombian leader's solid-gold headdress, a 19th-century French queen's amethyst tiara, and a contemporary aluminum bodysuit studded with Swarovski crystals—which tell the story of our enduring lust for wearable art.
EVERY WOMAN A QUEEN
When Meghan Markle donned Queen Mary's ravishing diamond bandeau tiara, designed in 1932 by London jeweler Garrard, for her May wedding to Prince Harry, she upheld a ritual that has always marked royal occasions: wearing over-the-top jewelry. The British monarchy's vault overflows with centuries' worth of priceless baubles, many of them in matching sets called parures, which usually consist of a bejeweled tiara, necklace, brooch, bracelet, and pair of earrings.
Recommended: These 12 Extraordinary Jewels Will Debut This Fall
Throughout history, royals have displayed the wealth of their nations, and their own status, on their bodies. Elaborate bijoux appeared everywhere, from the kingdoms of ancient Egypt, Mesopotamia, and Hellenic Greece to 18th-century France, where Napoleon showered his wives—first Joséphine, then Marie-Louise—with gem suites. In 19th-century Italy, the nobility were mad for elaborately carved cameo sets that draped the ears, nape, wrists, and head. "This idea that jewelry is linked to class is embedded into everything we do," says Melanie Holcomb, lead curator of The Met's jewelry exhibition. By sporting matching sets, the aristocracy hoped to emulate "the last gasps of splendid royalty in Europe."
The trend for wearing matching pieces may have waned in the 21st century, but adorning oneself with a special jewel still imparts a sense of regal elegance. "Marriages, deaths, grand balls, ordinations, military promotions, romantic dates, even the daily preparation for a job all look to the magic that jewelry works," Holcomb writes in the exhibition catalogue. "Donning a piece of jewelry is a bid to be a better self; wearing it affirms you have become one."
GOLDEN MAN OF CALIMA
One of the most precious metals, gold has long been coveted for its rich, gleaming attributes. The ancient Egyptians draped their hair and necks with gold jewelry. In the first century, the Calima people of Colombia considered the metal a divine substance, sheathing themselves in life—and death—in ornate golden headdresses, armbands, nose ornaments, and breastplates.
The Calima headdress, in particular, was designed to astonish, with feather-shaped rays that channeled the sun's divinity and dangling pendants that chimed in movement. "One of the most ancient ideas about jewelry is its link to immortality," says Holcomb. "Decking yourself in gold offered suitable ornamentation and protection for making your way into the next life or world."
Even today, gold's ability to enthrall remains potent. "It's the most beautiful and workable metal and the most wearable," says Mark Emanuel, co-owner of luxury jewelry maker David Webb, which is celebrating its 70th anniversary. "Gold not only has an alluring sheen and historic value, it also complements the skin. It can be worn by day and by night—it really is the most adaptable of metals for the human form."
Click here to view more photos of the exhibition.
THE SEDUCTIVE PEARL
The pearl has been revered since antiquity, long before Botticelli painted The Birth of Venus, in which a goddess emerges naked from an oyster shell. For centuries, painters and photographers have used pearls to capture women's allure, from placing a single gem on the earlobe to draping models in torso-length strands. The art world's original pinup girl, the 19th-century stereograph featured tantalizing three-dimensional views of women clad in nothing but these iridescent gems.
Coco Chanel later made pearls both chic and an emblem of independent, self-possessed women. In modern times, a single strand on a new bride's neck has a more chaste symbolism.
Recommended: Chanel Will Stage a Fashion Show at the Metropolitan Museum of Art
"Pearls are the most prized gift we have from the ocean—a rare and beautiful treasure," says Christina Lang Assael, who presides over the legendary house of Assael, which has been designing exquisite pearl jewelry for almost a century. "Their luster reflects pure radiance upon a woman's skin. We have been adorning ourselves with pearls since ancient times, and today, pearls are more popular than ever, thanks to fashion leaders like Chanel, Oscar de la Renta, Michael Kors, Valentino, and more."
JEWELRY ON THE EDGE
A different form of seduction arrived with modernism, which introduced an avant-garde look to jewelry that pushed the envelope of what was considered pretty and alluring. Designers explored radical ways to shape metal and introduced unusual materials into their arresting jewelry. Elsa Schiaparelli brought a sharp edge to a gold neck cuff and a surreal touch to a pair of silk evening gloves that glistened with dark gelatin disks that evoked the scales of a reptile, while Elsa Peretti explored the boundaries of inspiration from nature. Alexander Calder twisted brass wire into a sculptural necklace and called it The Jealous Husband.
Contemporary British jewelry designer Shaun Leane creates striking works that push body adornment squarely into scandalous territory. Dartlike earrings fashioned from colored feathers are meant to look like they hurt, as does a hooded bodysuit crafted from aluminum and Swarovski crystals for an Alexander McQueen collection. "Western European and American jewelers have been playing around with notions of desire, such as: Do we equate eroticism with pain?" says Holcomb. "It's pretty dramatic and a little scary, and also quite glamorous."
REDEFINING RESPLENDENCE
What makes a fabulous piece of jewelry? It used to be the most precious materials, such as gold and platinum, combined with peerless gems like quarter-size diamonds and pear-shaped rubies and emeralds. But in the past century, head-turning boldness has expanded to encompass everyday objects, from cheap glass beads and paper flowers to plastic detritus and No. 2 pencils.
Bijou splendor comes in surprising forms, many with a strong cultural message and named like the works of art they are. Eugene and Hiroko Pijanowski's gleaming neckpiece, a 1986 design, was fashioned not in gold but from paper cord and canvas and whimsically titled Oh I am Precious #7. Kiff Slemmons strung pencils, Indian- and buffalo-head coins, and horsehair onto a silver frame and called it Sticks and Stones and Words. Joyce J. Scott tackled issues of race, sexism, and violence through jewelry created from wildly colorful beads that make reference to craftwork done by women in indigenous cultures. Daniel Brush combined the humble with the haute to dazzling effect in a neck collar fashioned from aluminum that was embedded with small, glittering Moghal diamonds.
Click here to view more photos of the exhibition.
"This is the jewelry that demands, 'Look at me'—that insistence that its wearer be noticed," Holcomb says. "It shows how true craftsmanship contributes to that bling factor."
A version of this article first appeared in print in our 2018 Fall Issue under the headline The Art of Jewelry. Subscribe to the magazine.
Next Post