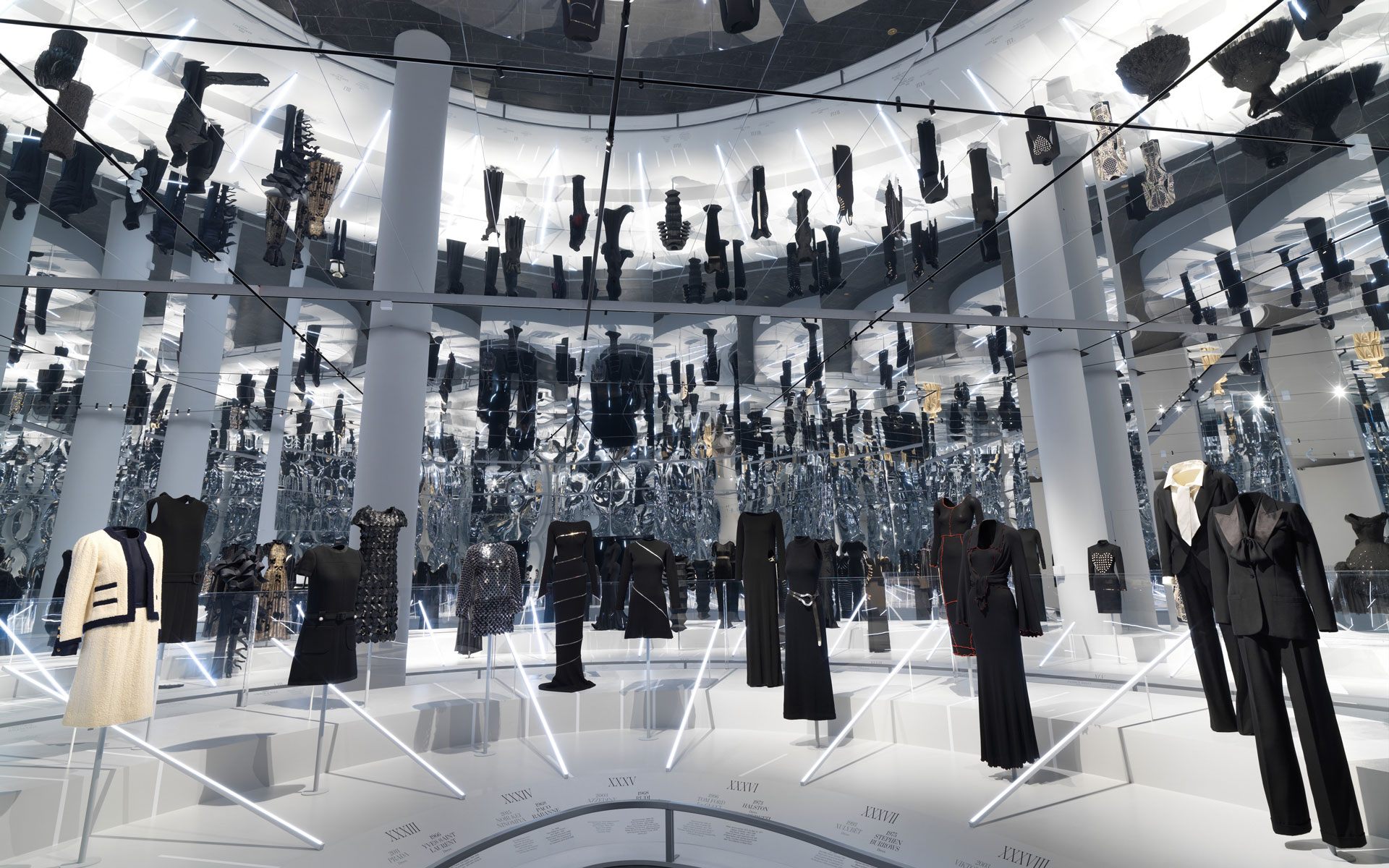 The Met's 'About Time' Fashion Exhibition Shatters the Confines of Chronology
Part of the museum's 150th anniversary programming, the carefully and creatively composed show provides a dash of hope and centuries' worth of head-turning ensembles
Any other year, the first Monday in May kicks off the Metropolitan Museum of Art's annual Costume Institute blockbuster. But, in light of the COVID-19 pandemic, even the most glamorous show in Manhattan has had to be fashionably late. Now open from October 29 to February 7, 2021, the aptly titled "About Time: Fashion and Duration" exhibition features 120 looks dating from 1870 (the year of The Met's founding) to the present. Rather than being organized chronologically, the ensembles have been paired based on uncanny similarities in silhouette, construction, and material.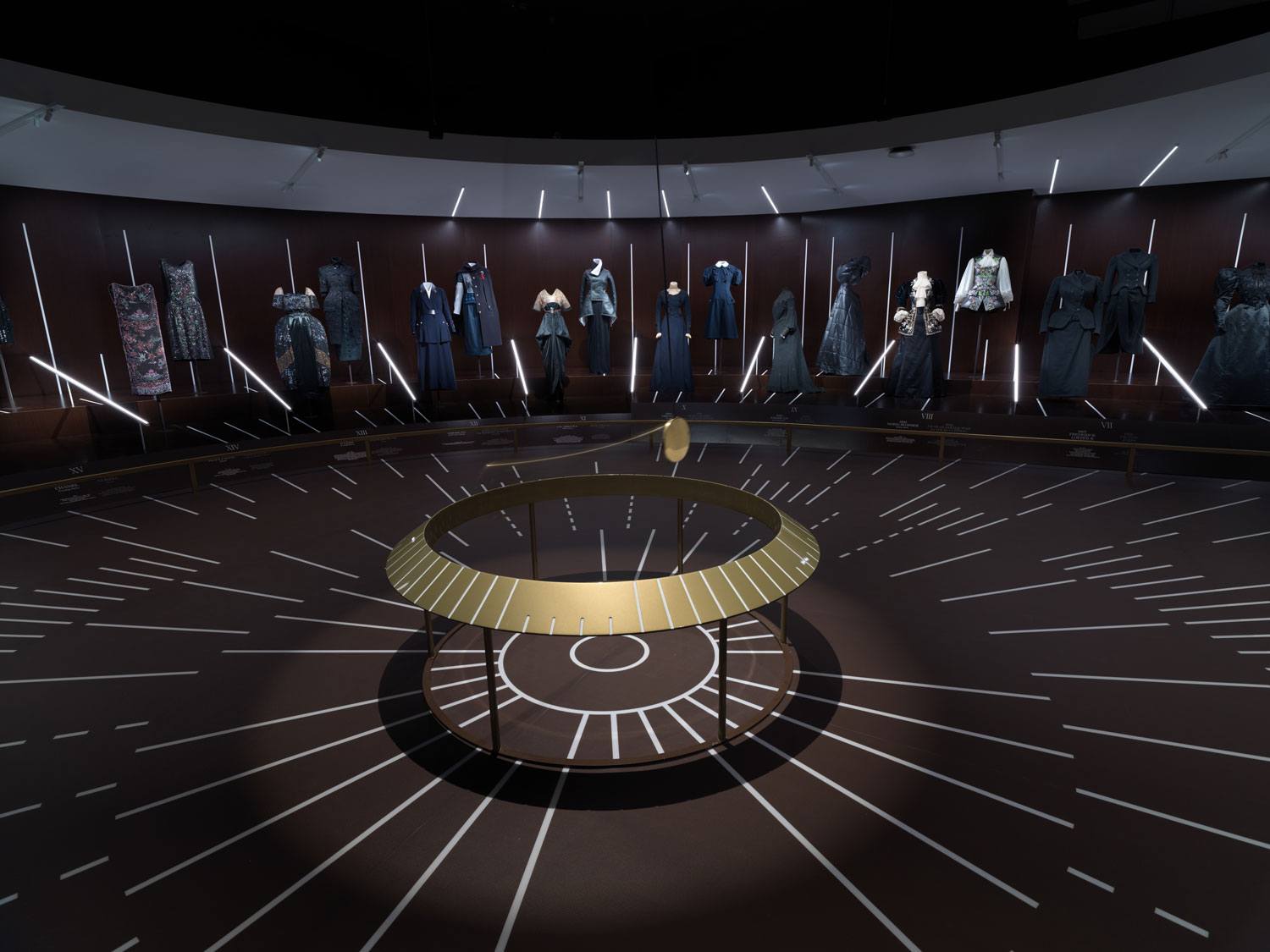 "The show was always about a meditation on time: fashion and temporality, how the past and the present coexist," Andrew Bolton, the Wendy Yu Curator in Charge of the Costume Institute, tells Galerie. "With the pandemic and also Black Lives Matter, the show has taken on a different meaning—while nothing within the exhibition has changed that dramatically, our perception of time has changed radically."
One change Bolton's team did make to the original lineup of featured designers was modifying the curation to be more inclusive of indigenous people and people of color. "Even though the show is about how fashion reflects time so accurately, its resonance and meaning reverberates beyond the confines of the museum walls," he says.
"You have the objective time of the clock, but you also have the subjective time of the mind"

Andrew Bolton
Like last year's exhibition, themed around Susan Sontag's 1964 essay "Notes on Camp," "About Time" presents a more theoretical approach to fashion exhibitions as opposed to the traditional designer retrospective or regionally focused show. Though far less text heavy than "Camp," this presentation takes its jumping off point from another female writer, Virginia Woolf, who serves as its ghost narrator. Throughout the galleries, Meryl Streep, Julianne Moore, and Nicole Kidman can be heard reciting Woolf's Orlando over a soundtrack of classical music (and, of course, a ticking clock).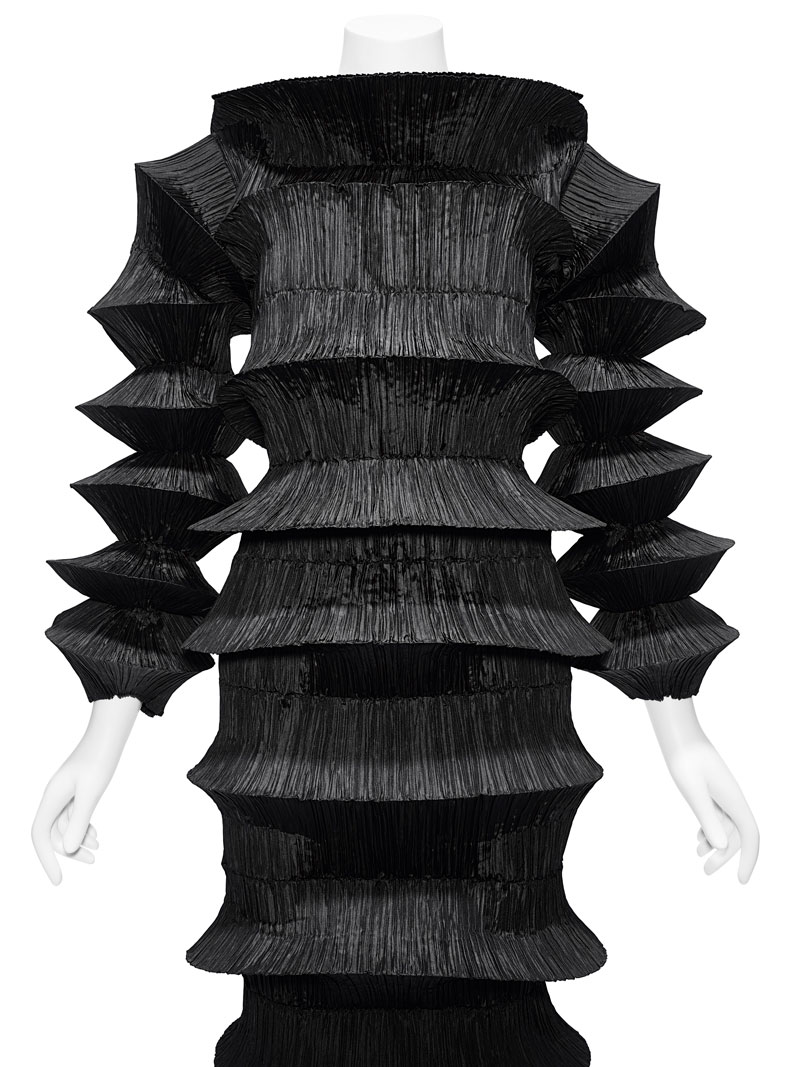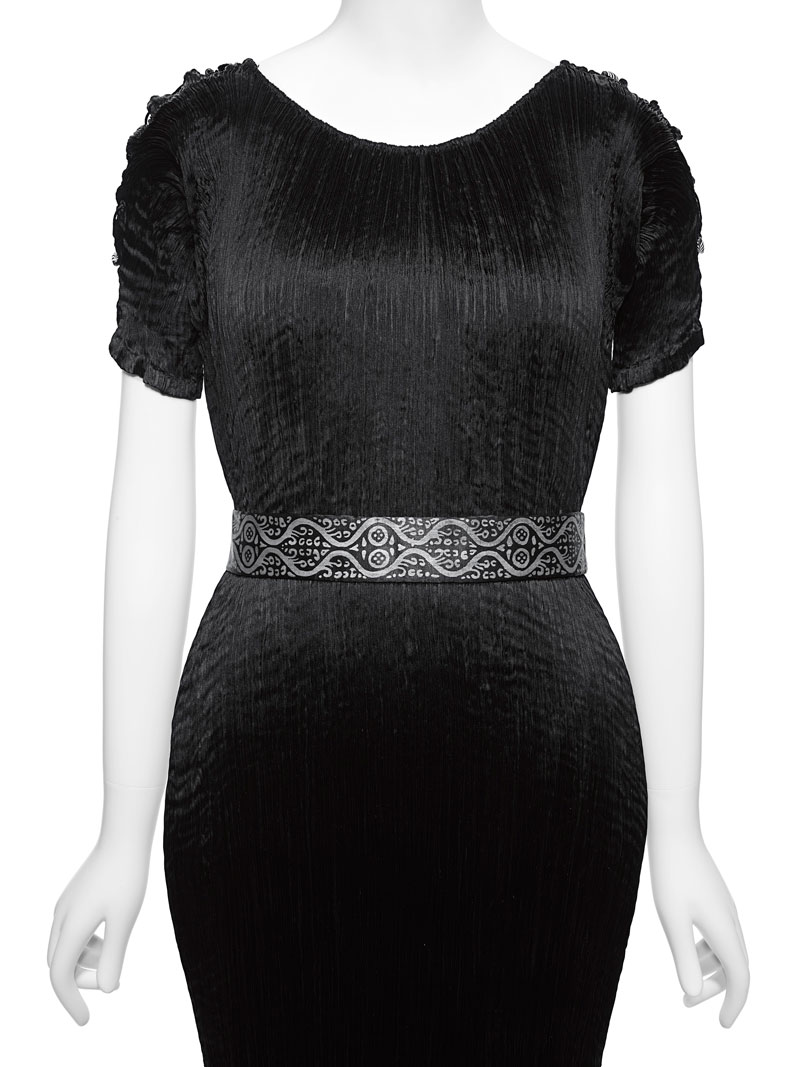 "Being at home constantly, time just expands, it contracts, and you can't separate your home from your work, and I think that's why Virginia Woolf was so appropriate," explains Bolton, who reread the author's works earlier this year during quarantine. "What's interesting about her is when she started writing, she had a quite traditional approach to time—events occurred chronologically in succession. Then, when she matured as a writer, her work became much more about the inner time. That resonated with me a lot when I was working outside of the museum because you have the objective time of the clock, but you also have the subjective time of the mind, and they don't always synergize."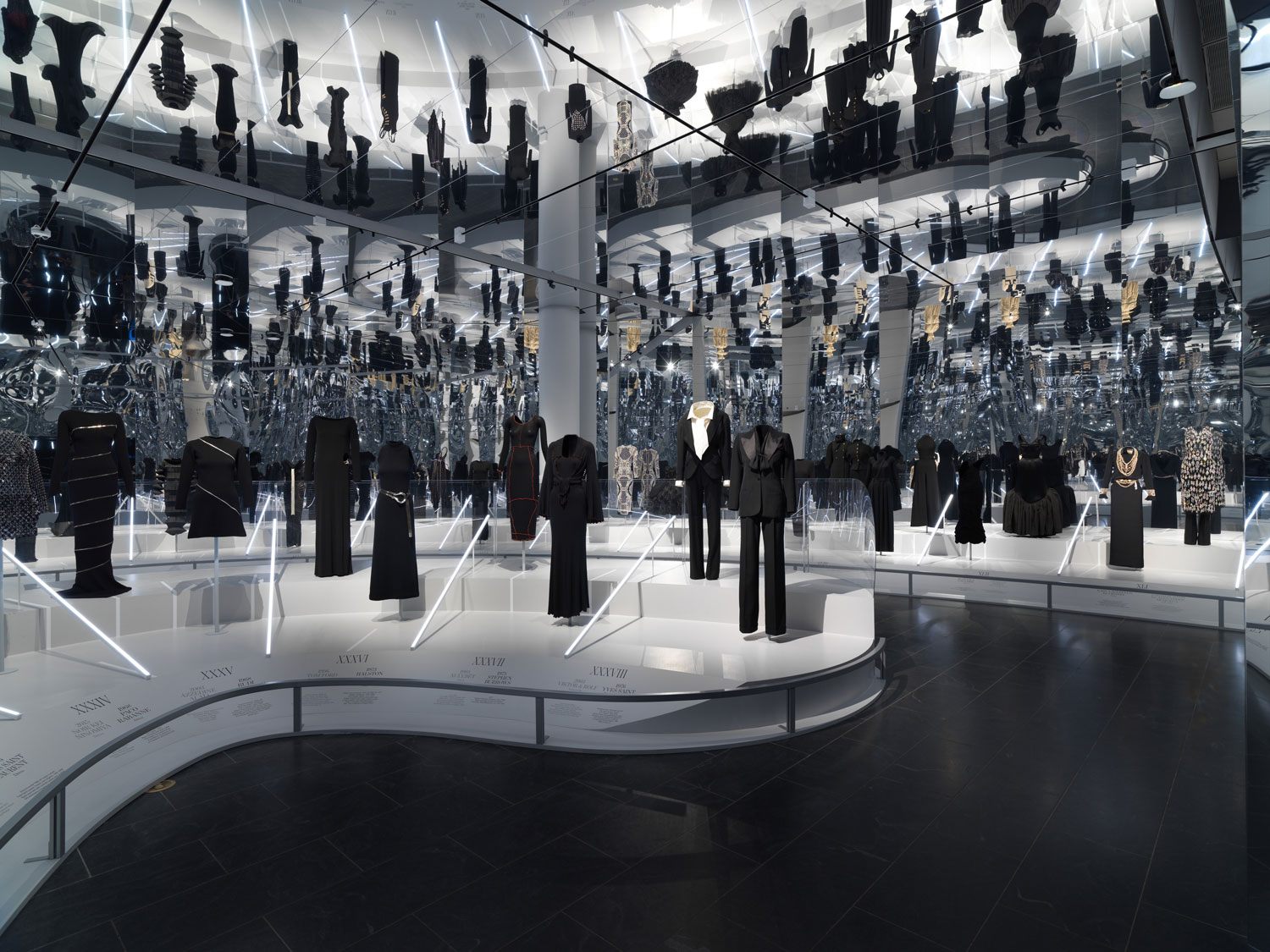 Playing with time in a more literal sense, the exhibition features 60 pairs of ensembles, each grouping representing a minute of the hour. In stark opposition to the explosion of color that populated last year's "Camp" show, all of the garments currently on view are predominantly black, or black and white. However, the funhouse effect is still very much alive. British stage designer Es Devlin, whose past sets include those for Louis Vuitton—the exhibition's sponsor—conceived its design to resemble interlocking clocks. Centered by a swinging pendulum, the entry room is a decidedly monochromatic experience that gives way to a larger, immersive gallery covered in mirrors. The high-contrast ensembles reflect dramatically on every surface, intentionally disorienting the visitor and further muddling any perceived sequence.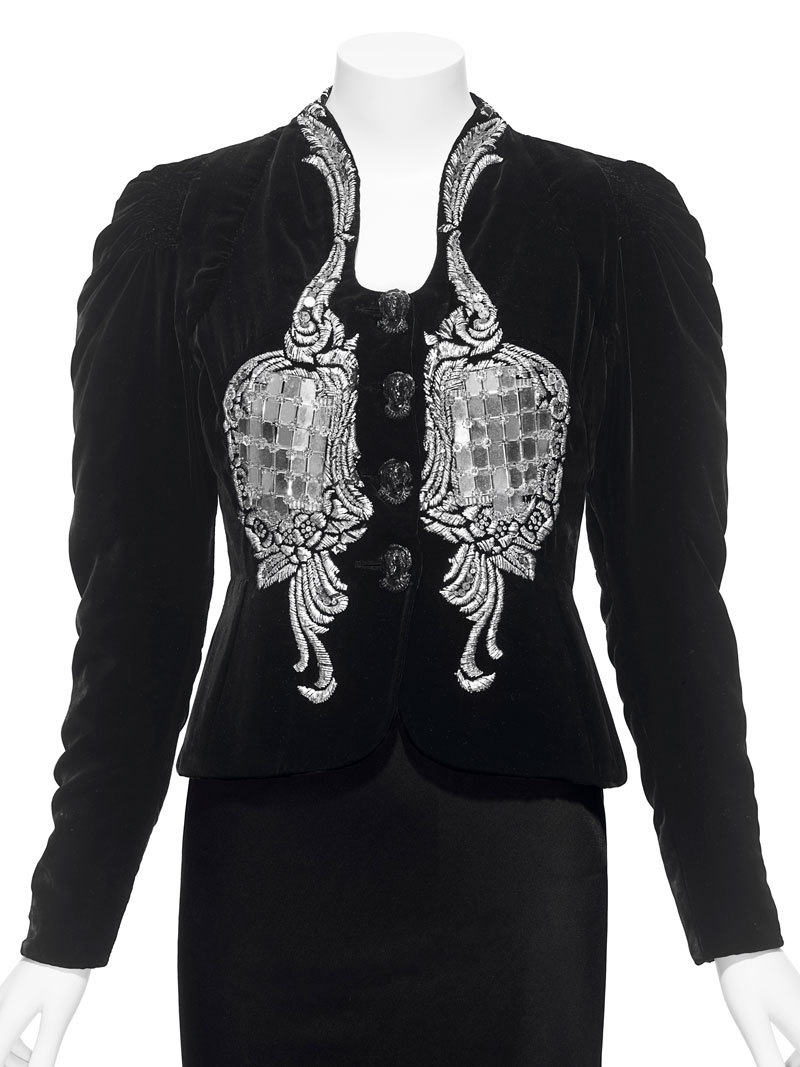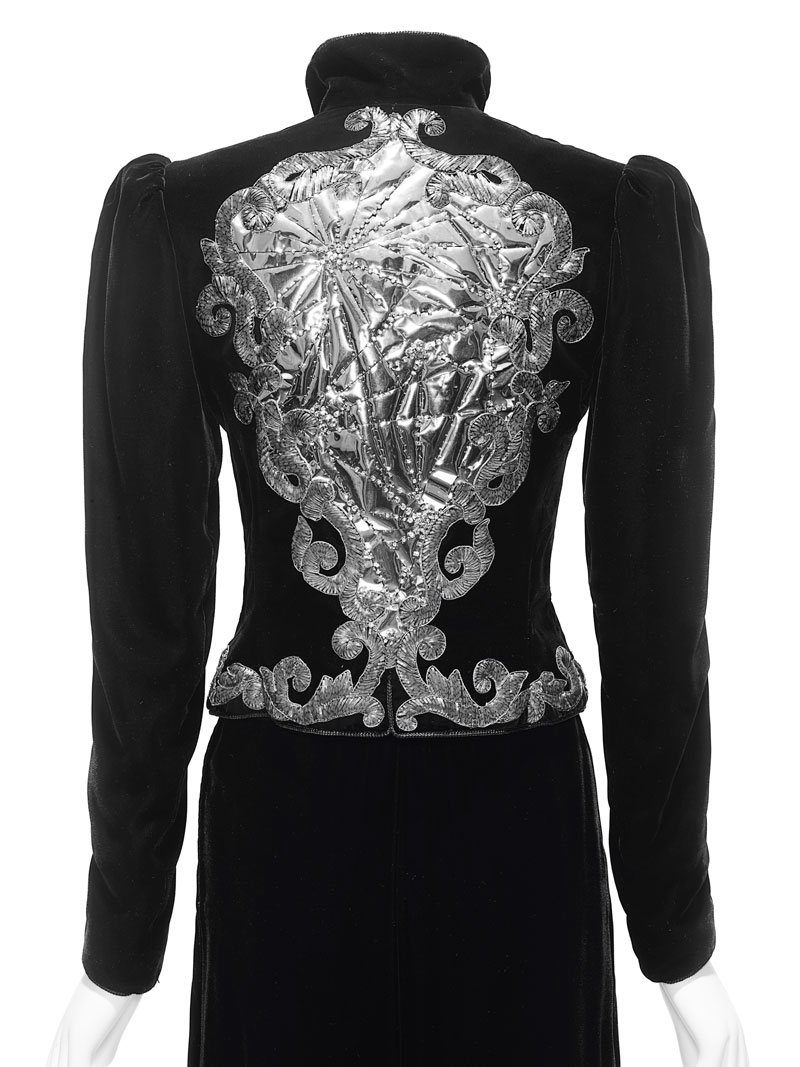 To illustrate how the past and the present coexist, garments largely drawn from The Met's permanent collection are shown in juxtaposition, often highlighting the cyclical nature of taste and trends, such as 1950s and 1980s voluminous frocks versus the slinky gowns of the 1930s and 1990s. Historical silhouettes like leg-of-mutton sleeves and bustled gowns meet contemporary examples by Comme des Garçons and Yohji Yamamoto. In several instances, it's unclear which look was created first, such as the diaphanous evening dresses from 1928 and 1997, or a 1930s evening jacket by Elsa Schiaparelli that sits in conversation with Yves Saint Laurent's 1970s "Broken Mirrors" ensemble, both Surrealist in design.
"Certain pieces are so forward thinking that for me, they almost transcend time," says The Met's director, Max Hollein, who shares he is "completely stunned" by a Rudi Gernreich 1960s mini dress paired with an Azzedine Alaïa gown, and the Issey Miyake Flying Saucer dress juxtaposed with Fortuny's Delphos dress.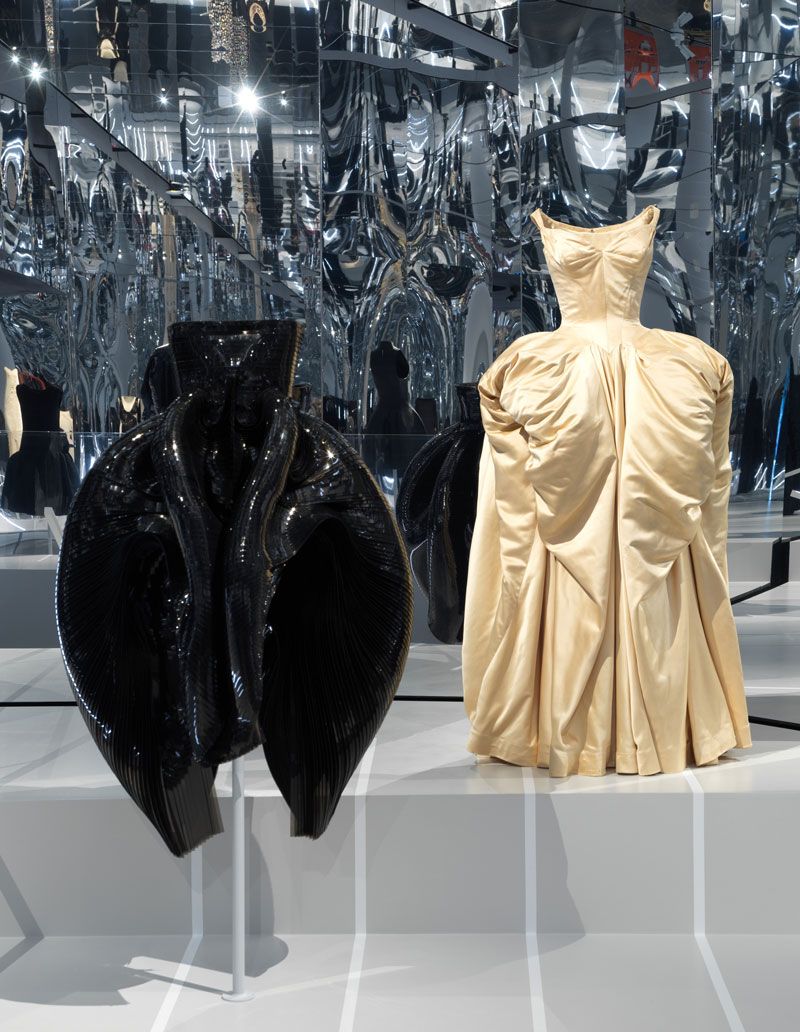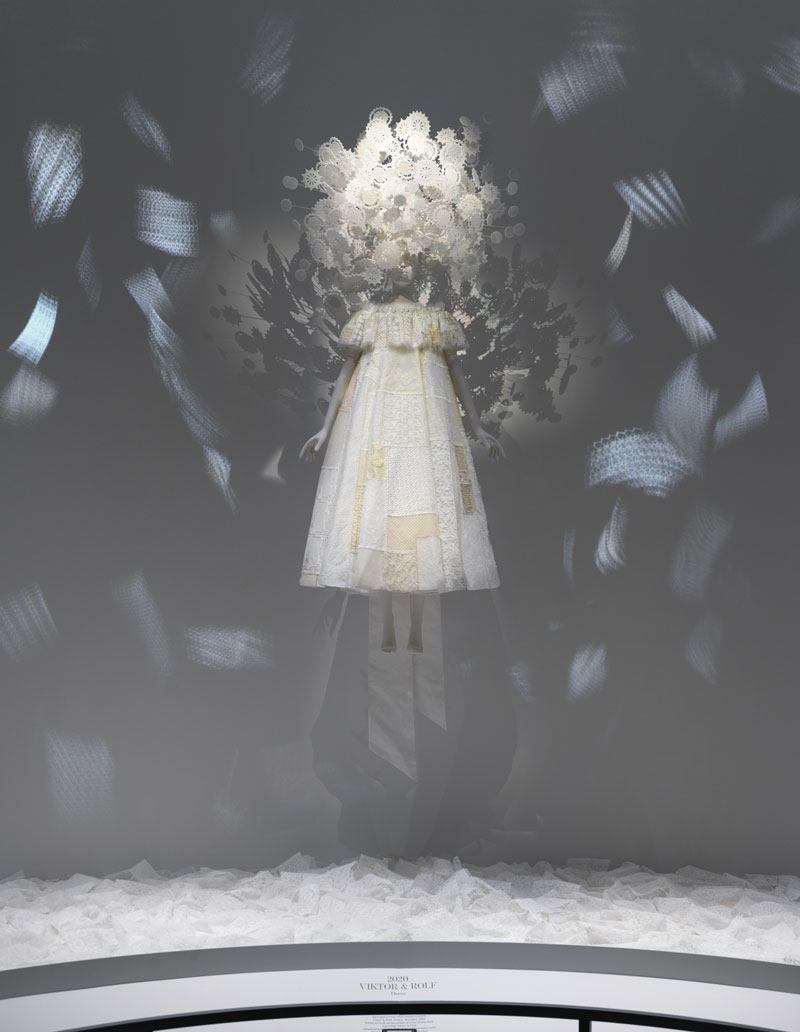 The show concludes with a single, ethereal, white patchwork dress from Viktor & Rolf's spring/summer 2020 collection, suspended in midair, which Bolton calls "a manifesto of change." "As fashion reflects our times so acutely, it also reflects this accelerated temporality in which we are living," says the curator, recognizing the toll that the production, circulation, and consumption of fashion has taken on the environment. For the last four years, Viktor & Rolf has been creating Haute Couture pieces with surplus fabric in its showroom. After running out, the house began using swatches to produce assemblage dresses. "I like the idea of patchwork because for me it reflects a pre-industrial era," states Bolton. "It suggests handcraft, as well as notions of community, collaboration, and sustainability. It's a symbol of hope."
Echoing Bolton's optimism, Hollein calls the "About Time" opening "a strong signal that The Met is back on its feet." He adds, "I think that people want to see something that not only reflects our time, but is uplifting and exciting, and this show delivers that."
Next Post