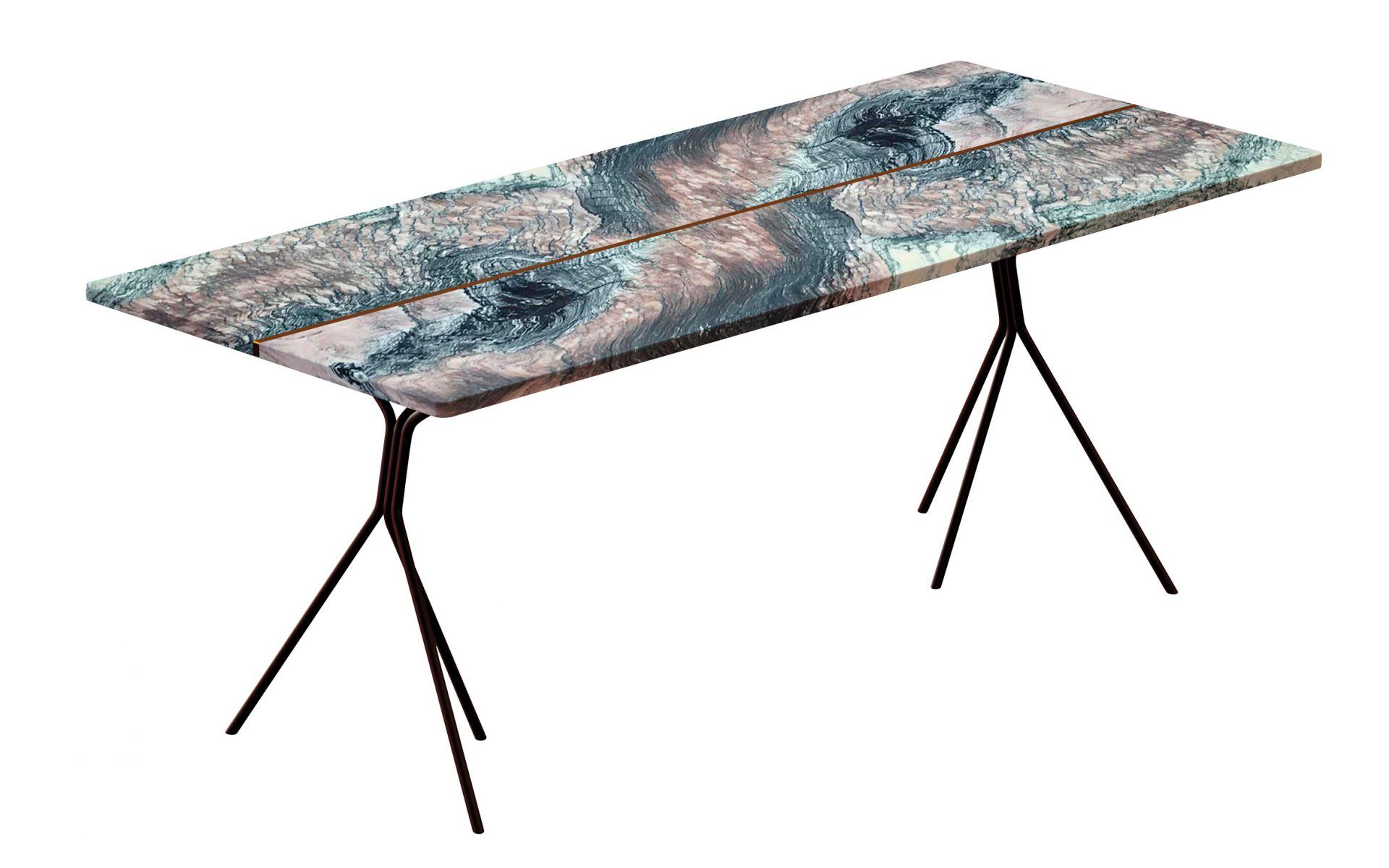 3 Breakout Designers Using Marble in Exciting New Ways
These buzzworthy artisans create sublime tables, lamps, and decorative objects from richly veined stone
1. Carla Baz
Carla Baz's first foray into designing with marble began as an exploration of color via a series of watercolors the Beirut-based designer created to "determine an emotion, a feeling, and a mood board" for what she deemed an "experiment."
"Marble has a lot of character. I wanted to show its versatility and break away from this perception we have about it being heavy, expensive, and this somewhat ostentatious expectedness in its use," she says of the resulting Minerals series of tables, based on her watercolor sketches, which debuted to great acclaim at Joy Mardini Gallery during Beirut Design Week last year. "I wanted to treat it with more lightness and femininity."
Baz, whose résumé reads like a who's who of design—Zaha Hadid, Campana Brothers, Burberry, and Vivienne Westwood—is currently creating a lighting collection using the material "as rhythmic embellishment, an adornment."
2. Francesco Meda
As the son of a journalist mother and a father who is considered design-world royalty, it seemed inevitable that Francesco Meda's life would involve creative pursuits. The Milanese native studied industrial design and worked in the London studios of Sebastian Bergne and Ross Lovegrove before returning to his hometown and joining his father, Alberto Meda's studio ten years ago.
While he still collaborates with Alberto on select projects, Meda has forged his own path, launching his brand six years ago, exhibiting a chandelier at the famed Nilufar gallery in Milan, and, more recently, debuting a series of marble tables called Split. Like many others, Meda was intrigued by the material's contradictions. "It is both heavy and fragile, encapsulates history and is full of life," he says. With the Split collection—which features a marble surface that's divided into two or four pieces, then rejoined with a brass frame—Meda aimed to "give this ancient material a modern twist."
Recommended: 6 Captivating Rugs That Double as Works of Art
3. Ben Storms
Ben Storms likes to "astonish people" with his work—which is exactly what he did with In Hale, his collection of coffee tables created from huge slabs of marble that appear to float atop metal "pillows." 
The line, which debuted at Collectible, the pioneering design fair held last March in Brussels, was the remarkable follow-up to the Belgian designer's In Vein table. It was trestle-style, with a ridiculously thin marble top, but the flip side was mirror-polished stainless steel. Once the trestles were removed, the table could become a mirror. This innovative creation won him Best Contemporary Design at PAD Paris.
The designer's affinity for marble dates to childhood—his parents were in the business of reclaiming building materials from old homes, churches, and other structures scheduled for demolition, and many of these remnants would end up in the family's backyard. "It resulted in an interesting playground for me and my brother," says Storms, "and shaped my love for and interest in materials."
A version of this article first appeared in print in our 2019 Fall Issue under the headline "Rock Solid." Subscribe to the magazine.
Next Post