Luke Edward Hall's First Hotel Is a Quirky, Maximalist Haven in Paris
Madeleine Castaing, David Hicks, and Wes Anderson all served as inspiration for what the designer calls "a mashup of French and English style"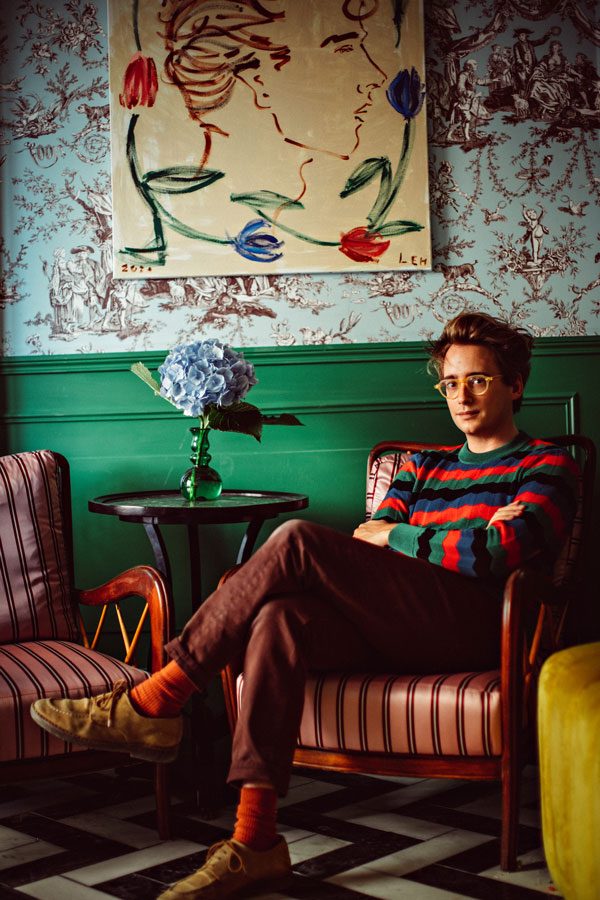 Known for his charming illustrations, which have been artfully translated onto textiles and tableware, Luke Edward Hall has designed his first full-fledged hospitality project, Hotel Les Deux Gares, in Paris's 10th arrondissement with equally robust with pattern and color. Part of Touriste's boutique offerings, which include the design-forward Hotel Panache and Hotel Bienvenue, this new accommodation has a playful, English-leaning, candy-colored aesthetic that is immediately recognizable as Hall's.
"I hope the hotel will put a smile on your face when you walk through the door," the artist, columnist, and designer tells Galerie. The lobby sets the tone for the hotel's mélange of retro and contemporary fabrics, finishes, and furnishings, which could best be described as a tasteful funhouse brimming with hand-crafted touches. A 19th-century French marble-top gilt console sits beside violet club chairs from the 1960s and a leopard-print sofa, one of several pieces selected in homage to the legendary Madeleine Castaing, among Hall's favorite French designers. Another lobby statement piece is a grand white mirror that Hall hand-decorated with a trompe-l'oeil design evoking William Kent's 18th-century court interiors.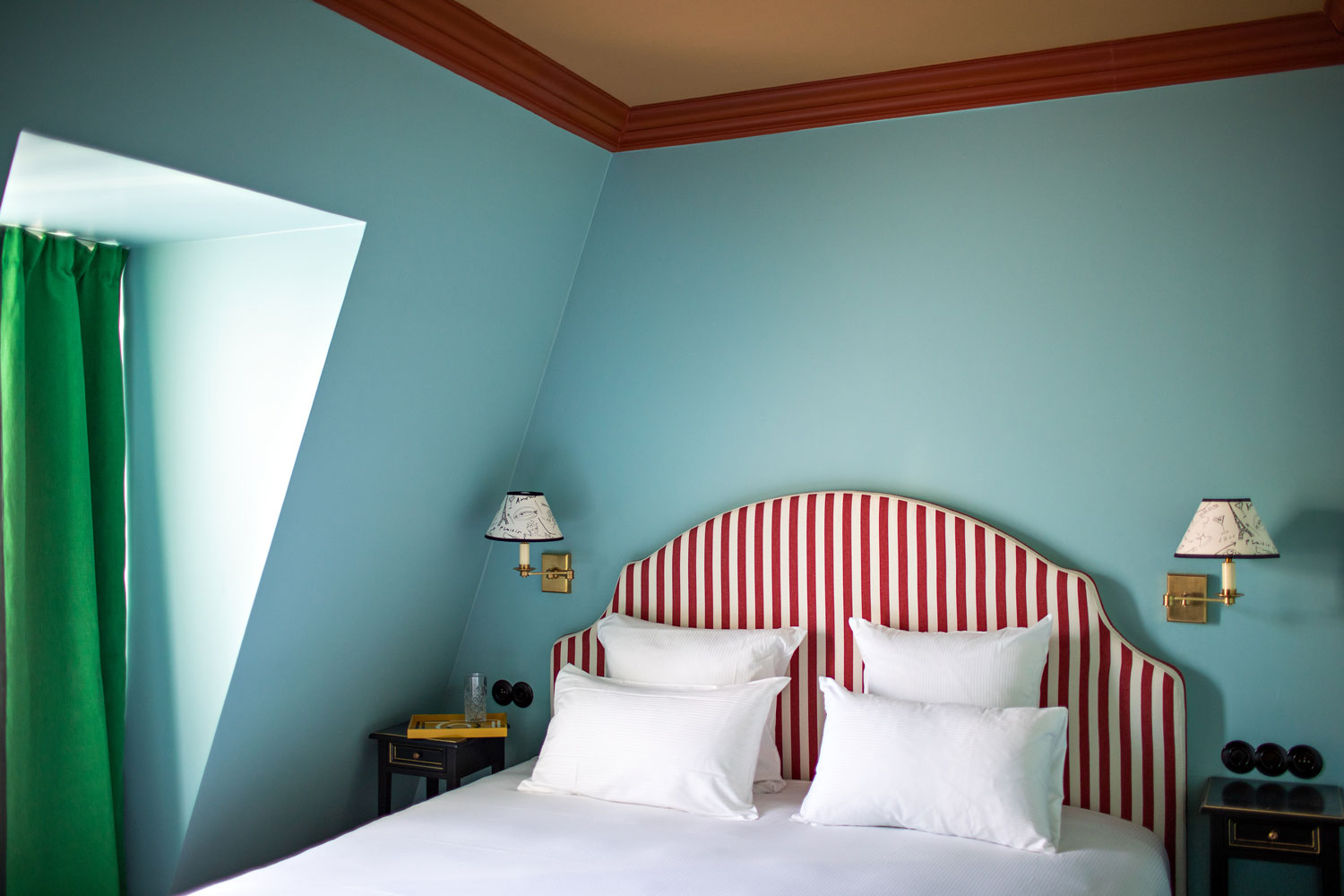 The designer also likens the hotel's distinct mix and vibrant palette (primarily emerald green, canary yellow, and cotton candy pink) to the dreamy style of filmmaker Wes Anderson, whose iconic vision has been translated into everything from an art exhibition to a popular Instagram feed. "Someone said to me this lobby looks like a film set, which is what I wanted," says Hall, emphasizing the space's approachability and ease, as well. To complement the hotel's moniker, which was chosen in honor of its location between two of Paris's most bustling stations, Gare du Nord and Gare de l'Est, Hall sprinkled vintage French travel and exhibition posters throughout the rooms as nostalgia-inducing details that reference its railway history.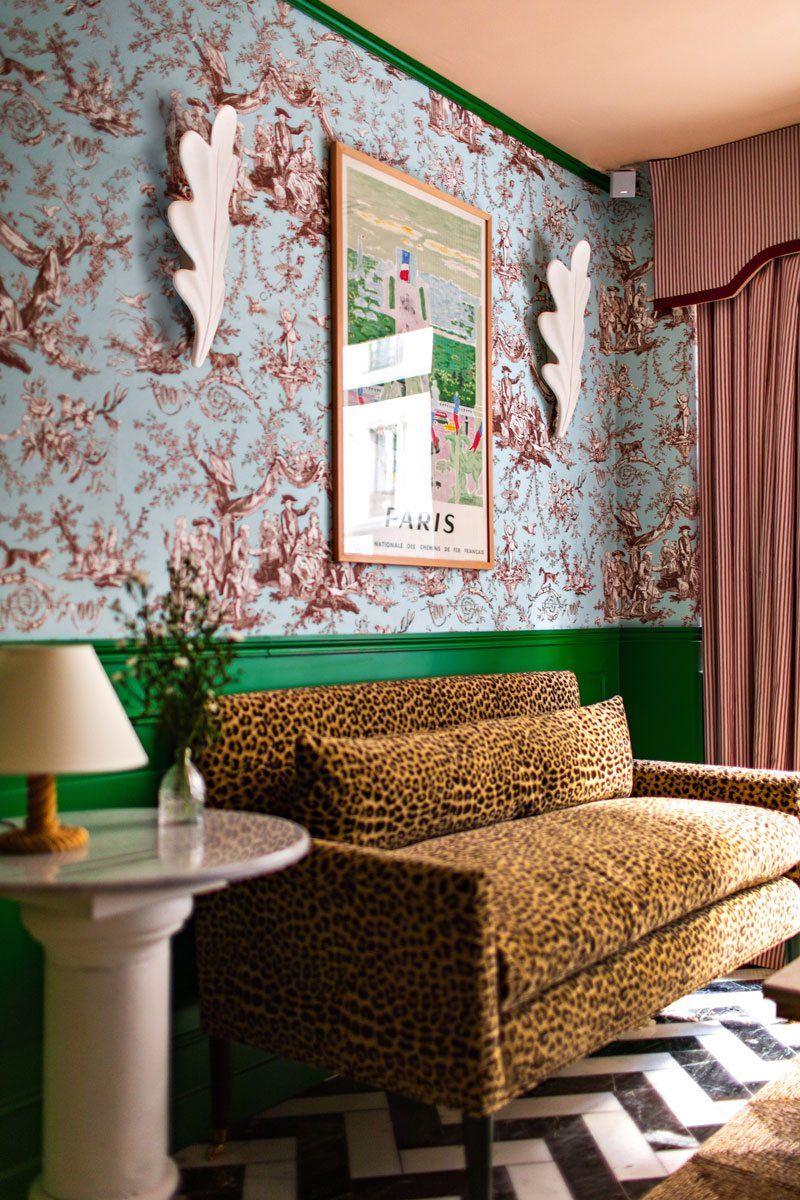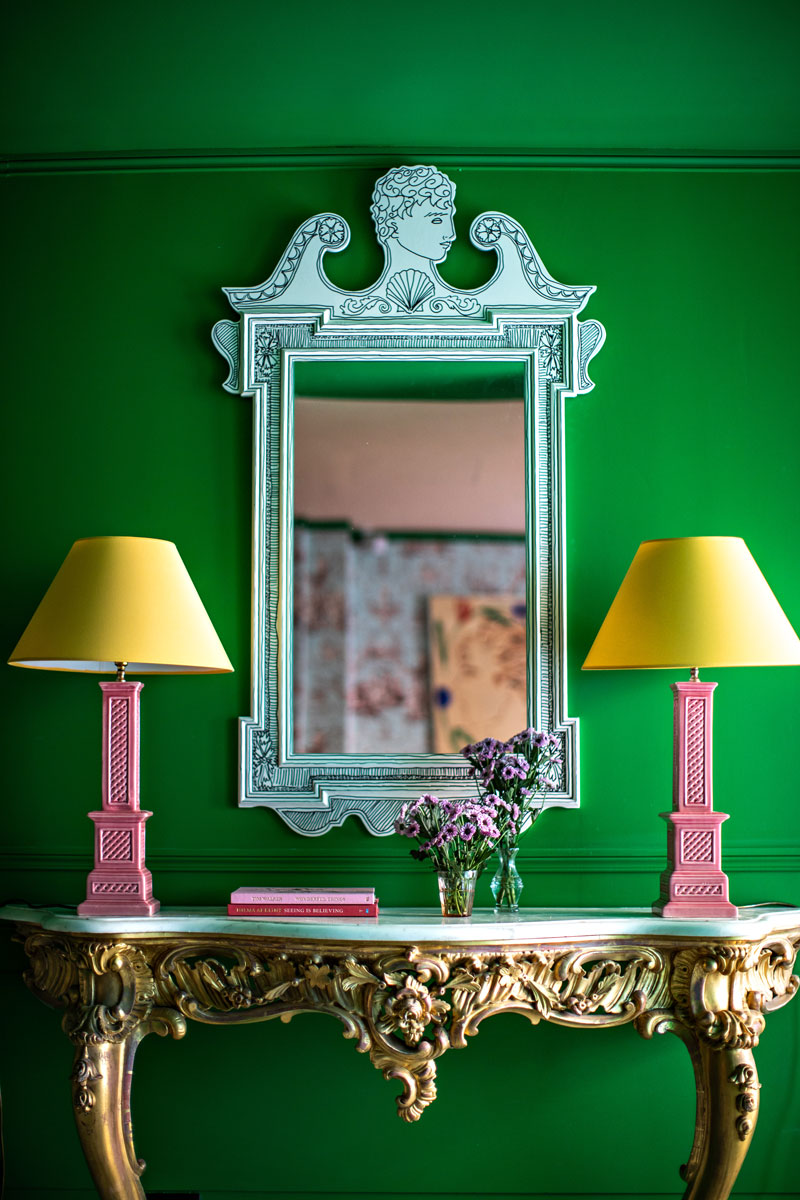 But, perhaps, Hall's largest source of inspiration came from British designer David Hicks, whose eye for the eccentric is echoed in the designer's own sensibility. Describing the hotel's ambience as "a French vibe with an Englishman's take on it," Hall nodded to the Parisian locale with toile wallpaper in the lobby and empire-inspired guest room furniture. Referencing his heritage, however, Hall used "1970s Hicks-y"color combinations and geometric carpets throughout the corridors and guest rooms.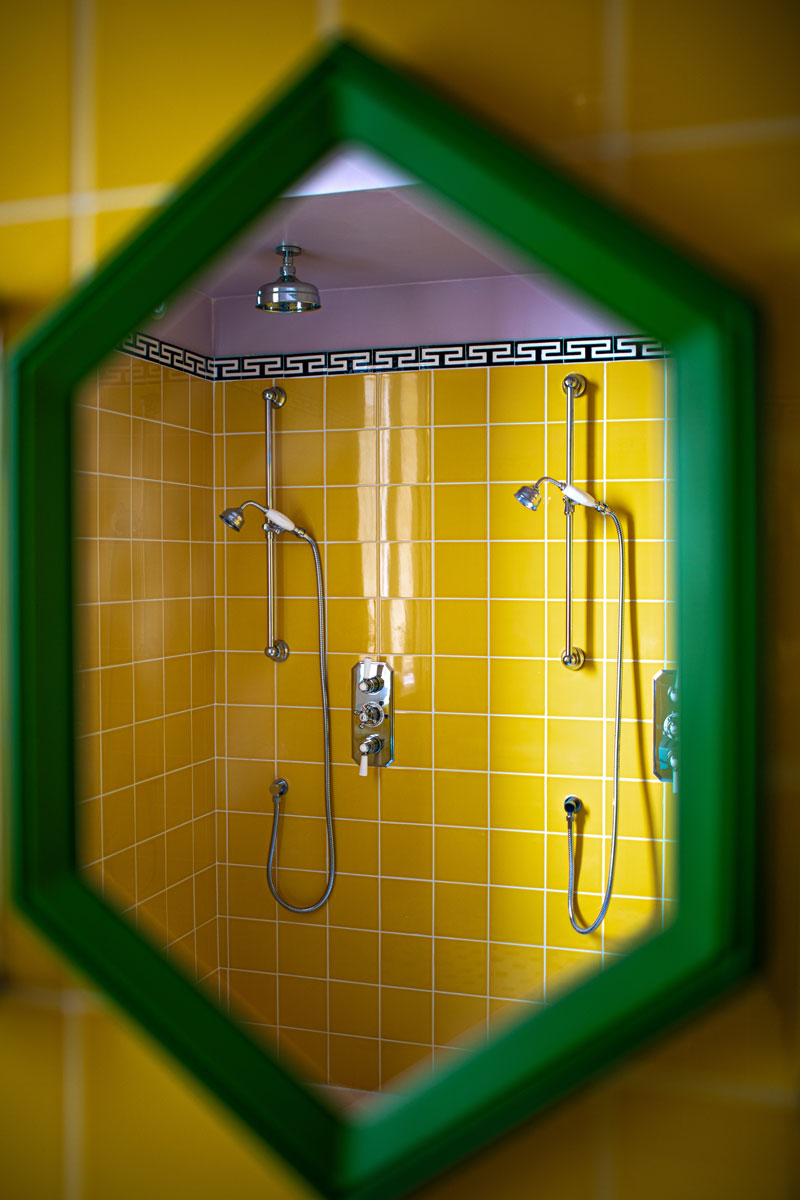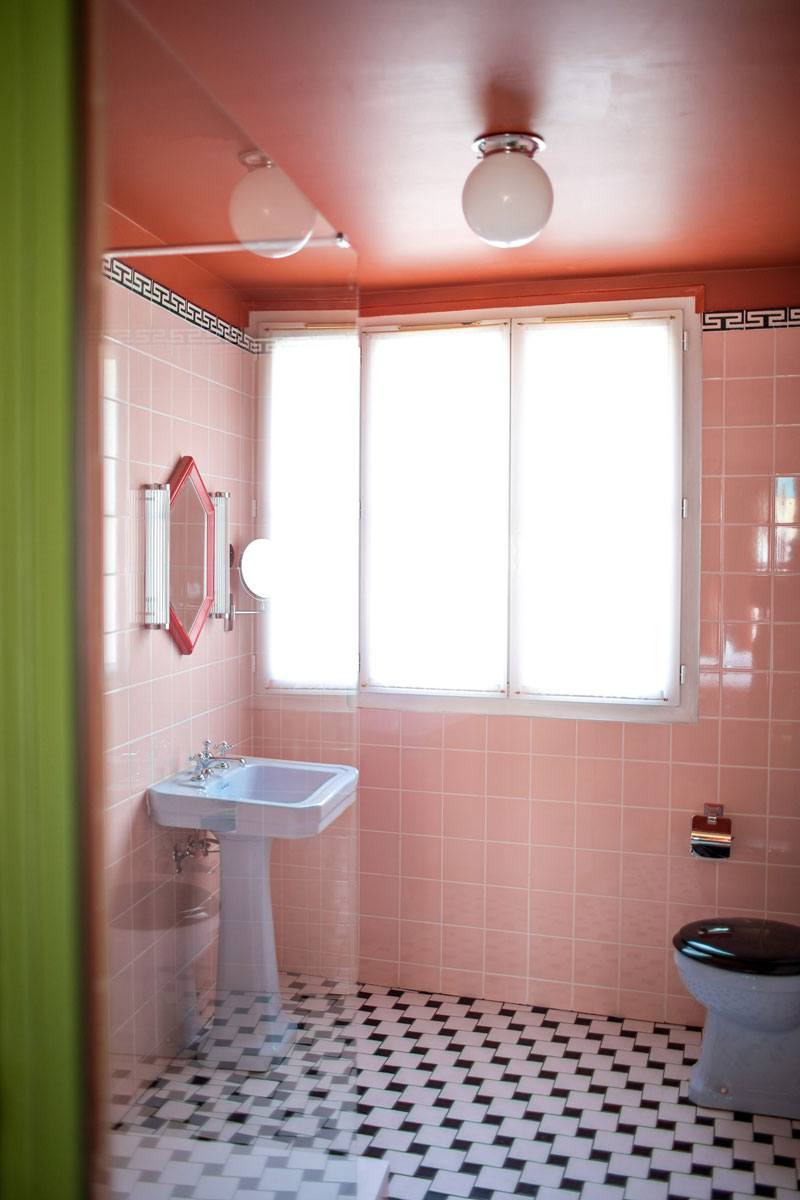 The 40 guest rooms, which vary in layout, retain a retro feel despite being comprised exclusively of contemporary furnishings. Baths feature pastel-hued fixtures, with black and white tile floors, and walls trimmed with a Grecian meander, one of Hall's signature motifs. Classical references abound in Hall's artwork, which often depicts male sculptural busts, and framed works can be seen throughout the hotel (this time, donning red berets); his distinct illustrations can also be seen on the bedroom lampshades, which are decorated with drawings of martini glasses, Eiffel Towers, and Frenchisms.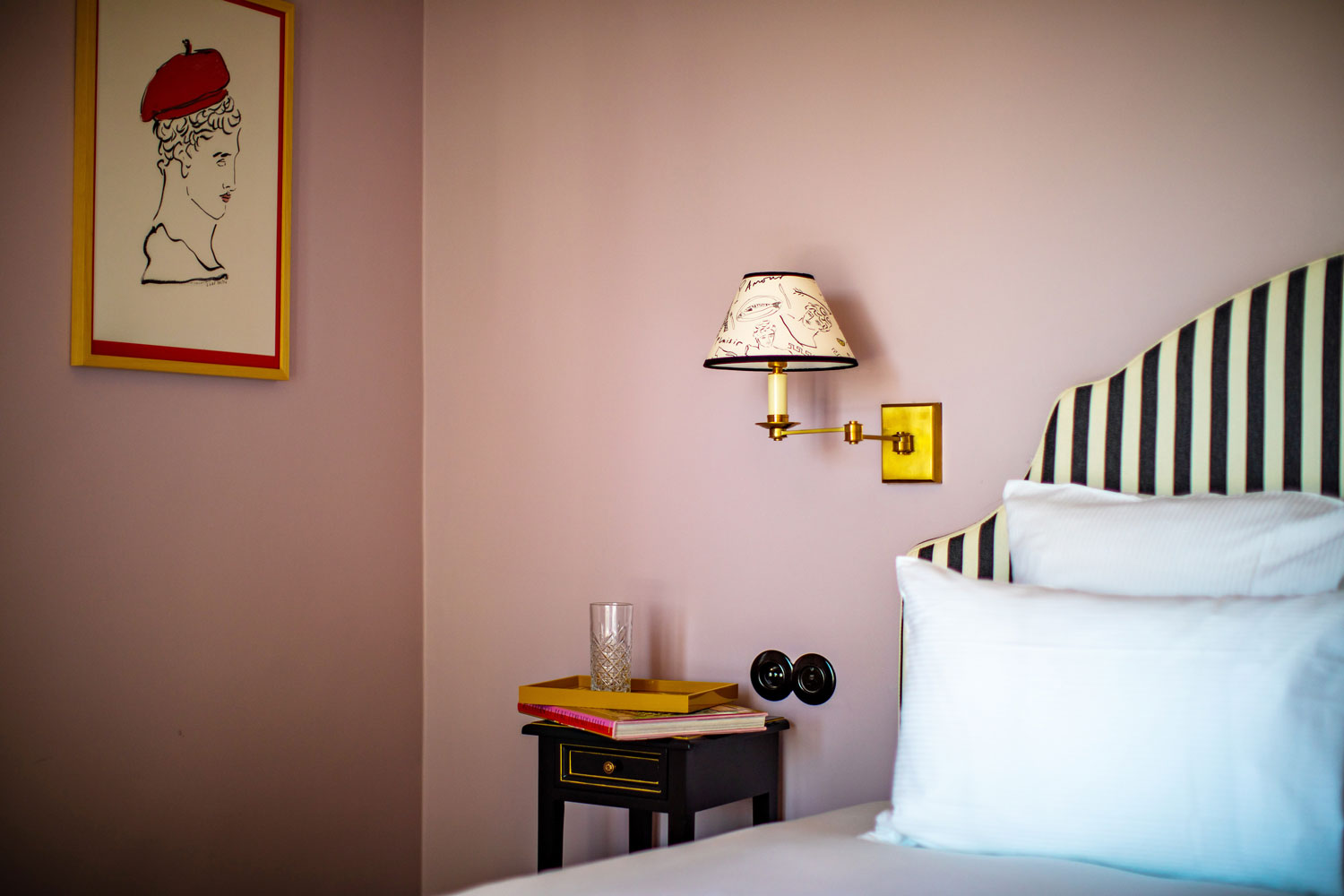 Hall's quirky illustrations especially shine in the hotel's cafe across the street, where despite having a more rigid brief for the overall look and feel, the designer injected his own light-heartedness and wit in sketches for the awning, matchboxes, and more. "It was meant to be a classic Parisian bistro but with my take on it," Hall tells Galerie. While there are familiar Thonet wood chairs and mirrored walls, the real gem is the ceiling painted by local artist Pauline Leravaud. "We wanted to use tortoiseshell tiles and then realized the structure probably wouldn't be strong enough to hold them, so we thought, 'Why don't we paint it instead?'"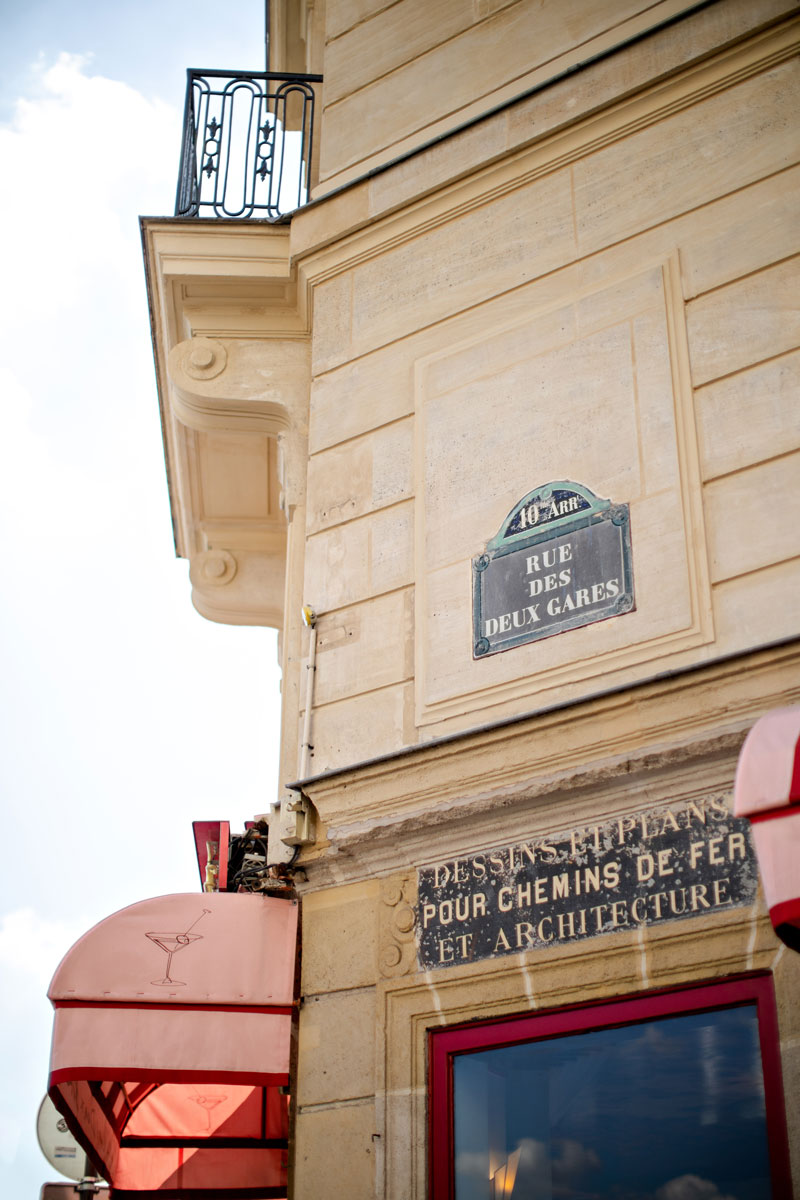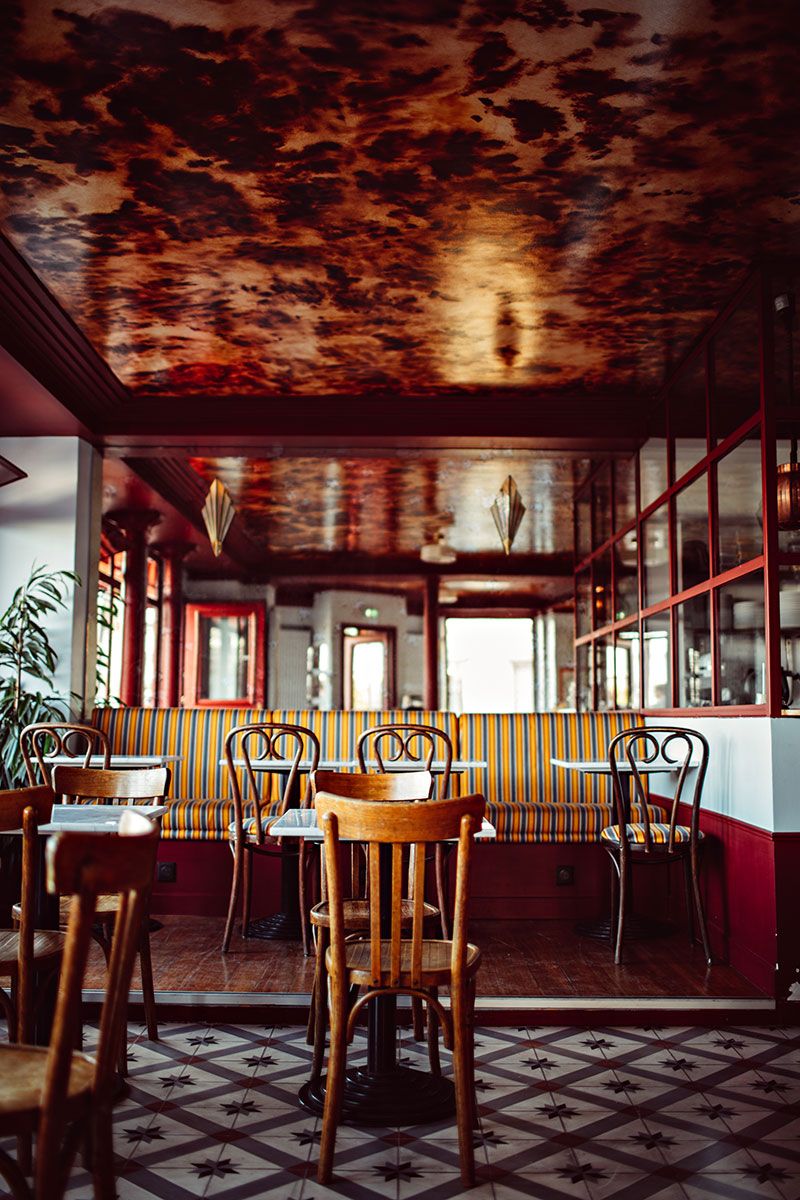 Following this project, Hall envisions more hospitality ventures in his future. "I love hotels and restaurants," says the designer, who is also currently planning a 2021 exhibition of his art in Athens, Greece. "It has been really fun working on the branding and creating the entire hotel environment." Indeed, for admirers of the designer looking to step inside his whimsical world, Hotel Les Deux Gares is undoubtedly the Parisian answer. Where else would you find a red-and-white-checkerboard-floored gym wrapped in psychedelic floral wallpaper?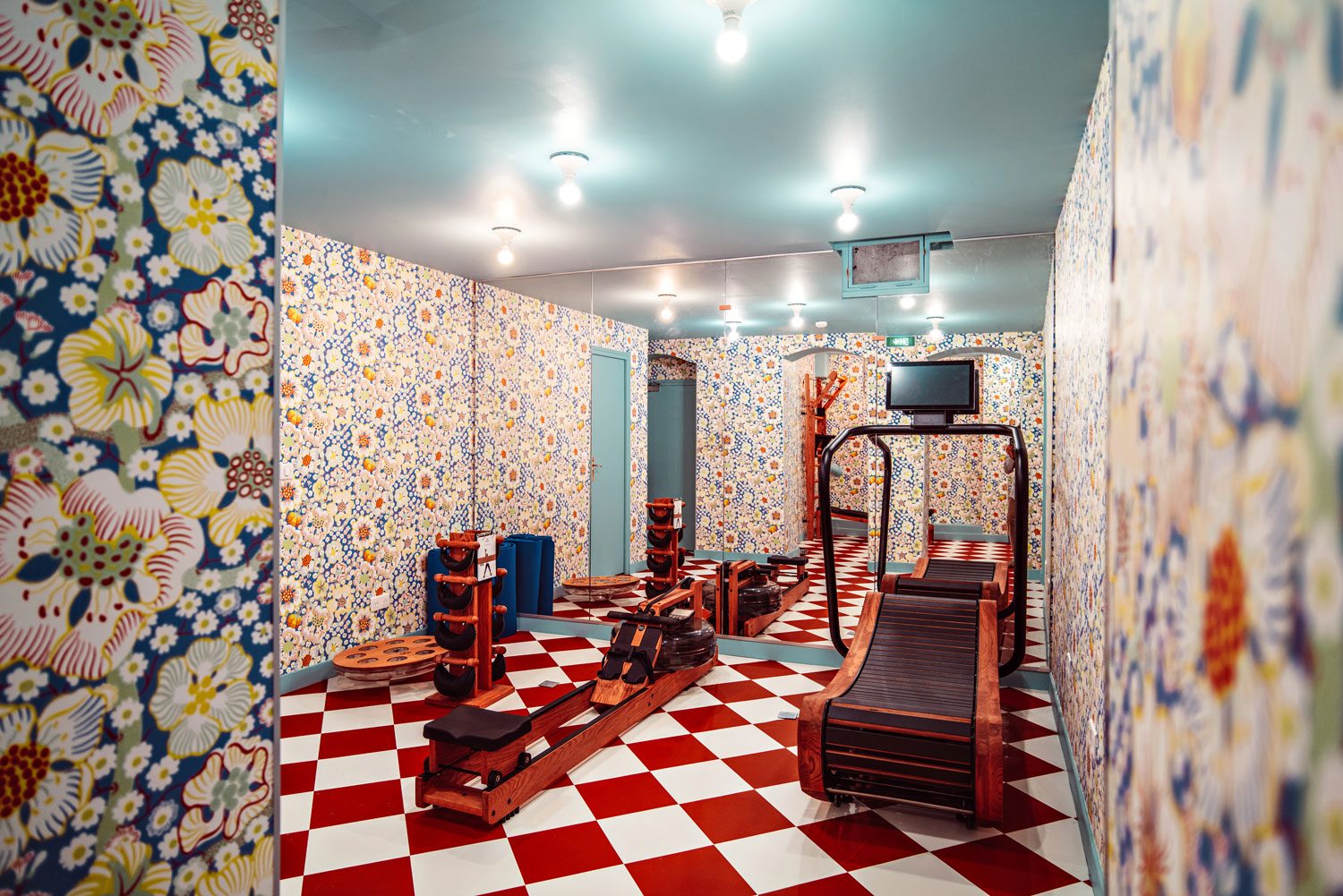 Next Post