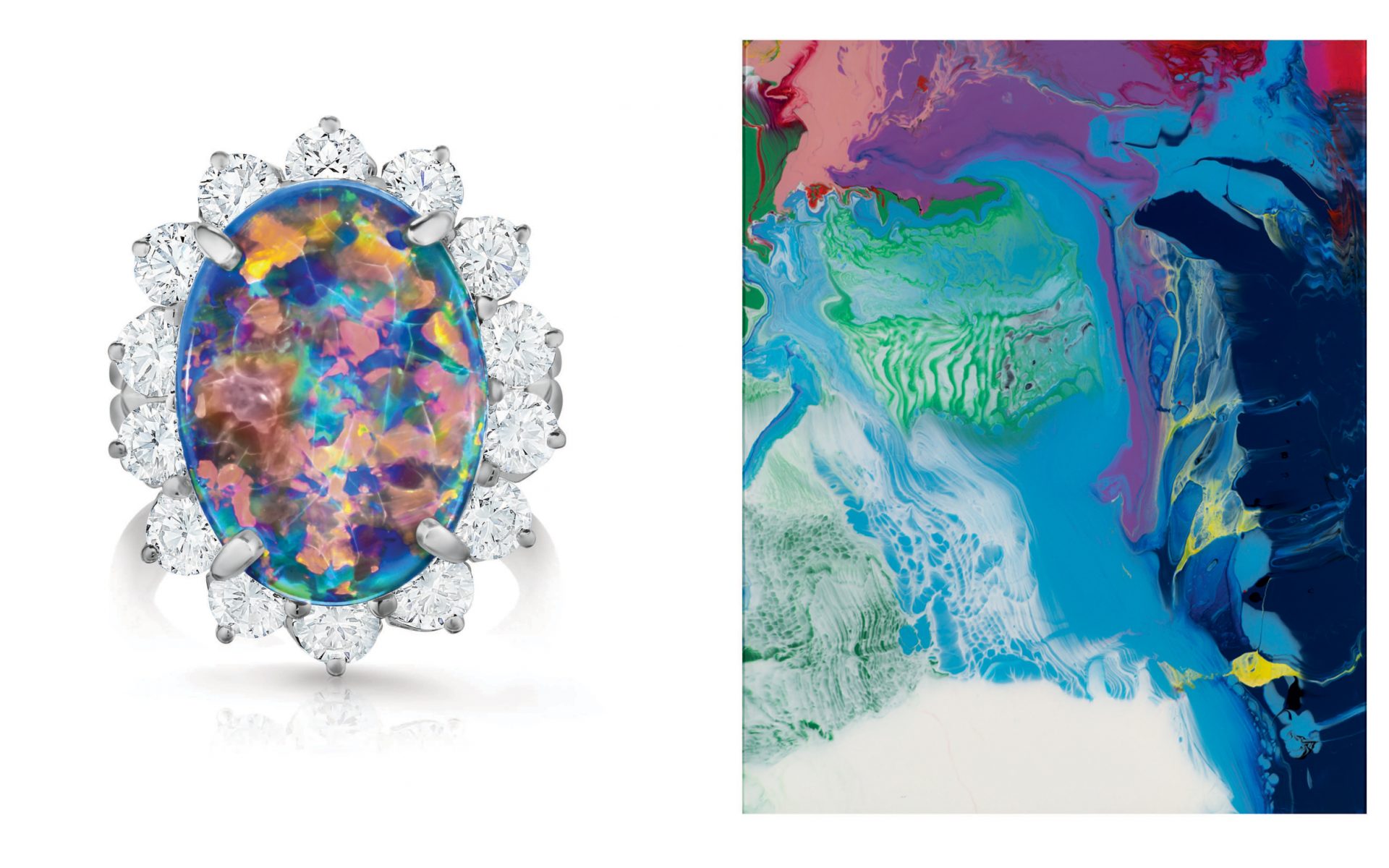 Life Imitates Art: 4 Extraordinary Examples
From Louise Bourgeois to Moncler, these pairings exemplify how art, design, and fashion converge in the most spectacular ways
Left: As the myth goes, donning a black opal strengthens the wearer's character, so just imagine the power bestowed by this sublime Oscar Heyman ring, which showcases a staggering 8.26-carat stone surrounded by 2.28 carats of round diamonds. Right: Celebrated for his psychedelic use of color and movement, German artist Gerhard Richter channels the magic and force of nature by smearing lacquer on glass to create the small but impactful paintings in his "Sinbad" series.
Left: New York artist Tara Donovan, the subject of a major solo exhibition at the MCA Denver through January 2019, elevates overlooked materials to precious works of art. In Untitled (Styrofoam Cups), an undulating, cloudlike installation of the everyday object glows from within. Right: Crafted from cast-resin cones, the ethereal Fanad chandelier by Oly exudes a soft, radiant light.
Recommended: Life Imitates Art: 4 Beautiful Examples
Right: Fantastical arrangements dominate the inky canvases of 17th-century Dutch still lifes. Pure products of the artists' imagination, the works mix stems from different seasons and parts of the world, as seen in this masterpiece, Flowers in a Vase, by Jan Davidsz. de Heem. Left: Romantic, moody florals are ready for the slopes in Moncler's 3 Grenoble collection. Featuring a playful fusion of scale, the prints reflect the fashion-forward mission of the Moncler Genius Project, with collaborations by esteemed designers, including Pierpaolo Piccioli and Simone Rocha.
Right: A master of modernism, James Magni uses rich materials in sculptural forms to create coveted design pieces. His Amsterdam console juxtaposes a striking marble top against delicate, shimmering bronze legs. Left: At nearly 30 feet tall, Louise Bourgeois's monumental Maman stands guard outside the Guggenheim Bilbao Museoa. Made of bronze, marble, and stainless steel, the iconic sculpture symbolizes the dualistic nature of the creature as both predator and mother.
A version of this article first appeared in print in our 2018 Winter Issue in the section called Life Imitates Art. Subscribe to the magazine.
Next Post