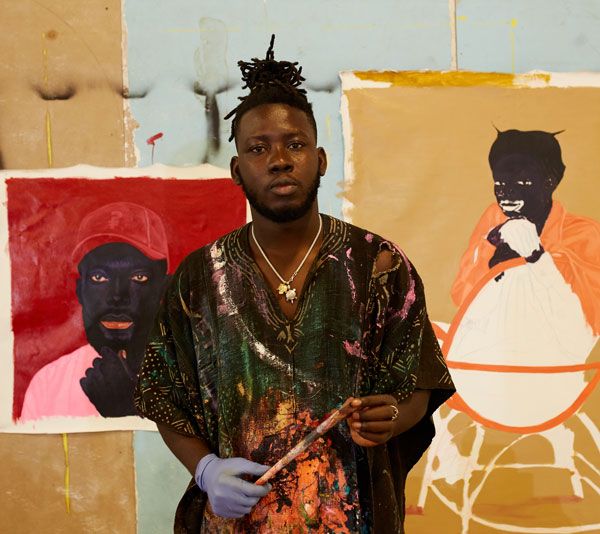 In recent years few countries have ascended in the art world quite like Ghana. The West African nation dramatically commanded the global stage at the 2019 Venice Biennale, where its highly praised pavilion debut included pieces by El Anatsui and Lynette Yiadom-Boakye, who are among the slew of Ghanaian artists increasingly commanding six- and seven-digit prices for their work at auction.
Poised to represent the country's next round of greats is Kwesi Botchway, a graduate of the Ghanatta College of Art and Design who is currently enrolled in the Academy of Visual Arts in Frankfurt, Germany. The 26-year-old had his first solo exhibition at Gallery 1957 in the country's capital of Accra earlier this year and became the first artist to show at the gallery's new London outpost this October. Even up against a global pandemic, Gallery 1957 founder and director Marwan Zakhem calls Botchway's rise "meteoric."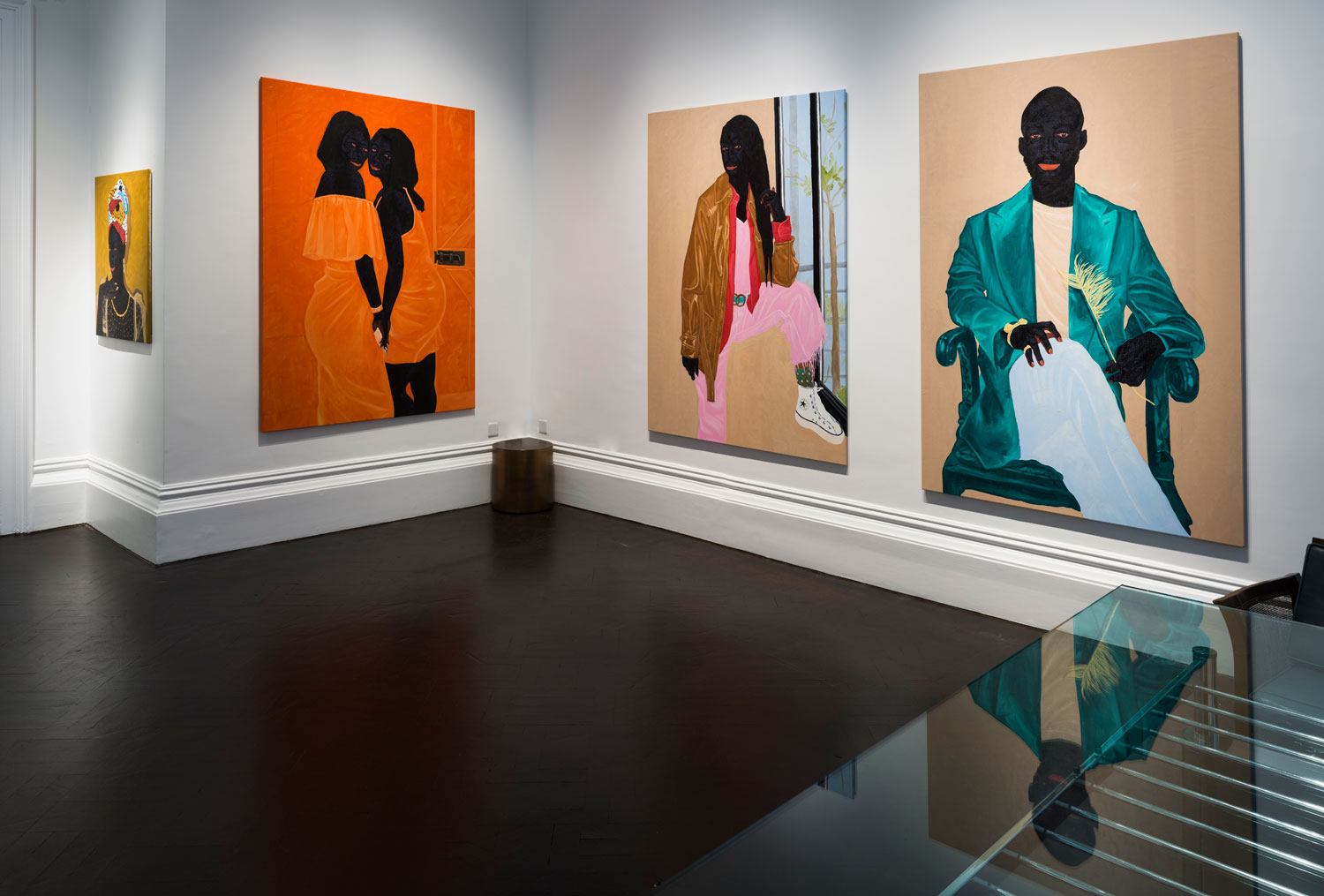 Although "Kwesi Botchway: Becoming as well as Being," the artist's new London exhibition, is temporarily closed due to government-mandated lockdowns, it has already fulfilled the gallery's mission of exposing inspiring artists working across the African diaspora to an international audience. Zakhem tells Galerie: "Kwesi is the right artist for this time. As the show's co-curator, writer Ekow Eshun, stated in comparing his work to the African American cinematographer Bradford Young, 'he is similarly dedicated to creating imagery that captures 'the nuance…and greater depth of humanity' of Black people.' Botchway's declaration of the Black identity is like a testimony of the contemporary life."
Inspired by Kerry James Marshall, Lisa Yuskavage, Stephen Bennett, and Amoako Boafo, whom he has worked with since 2015 and tells Galerie is "like a brother," Botchway has coined a style he calls "Afro-Impressionism," which he explains as "Impressionism from the Black perspective." Rather than naturalistic depictions, the artist strives to convey the vivacity of his subjects through an unabashed color palette, confident poses, and supreme style.
"Kwesi is the right artist for this time...[his] declaration of the Black identity is like a testimony of the contemporary life,"

Marwan Zakhem
"I love the emotional play of portraiture, that feeling of trying to put yourself in the state of the subject," says Botchway, adding that the human face has fascinated him since childhood—in class, he preferred to sketch his teacher while she taught. "The moment the emotions come in, there becomes a connection with the viewer. It's like a conversation without words."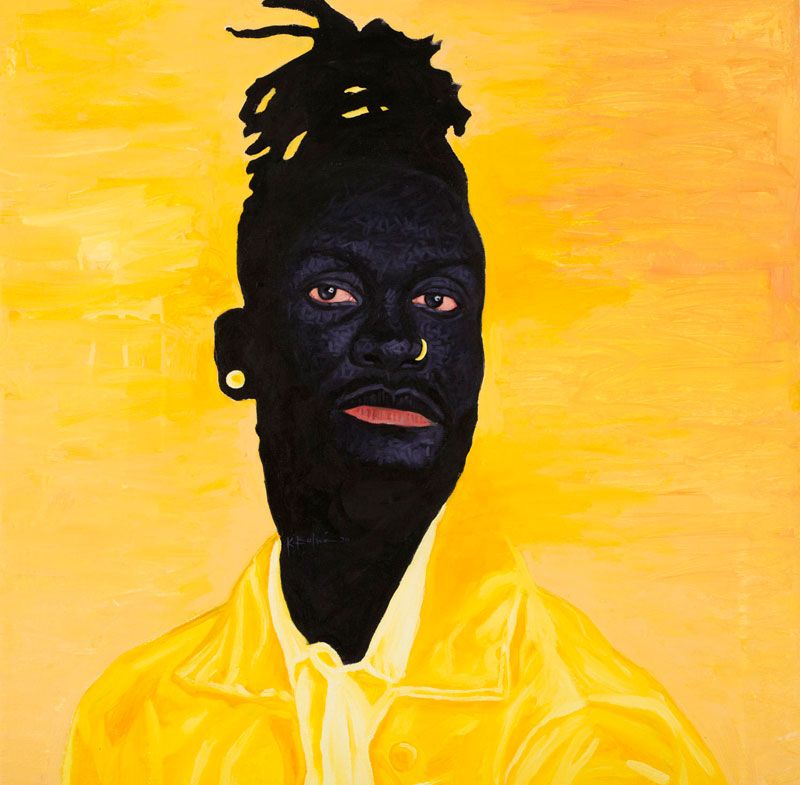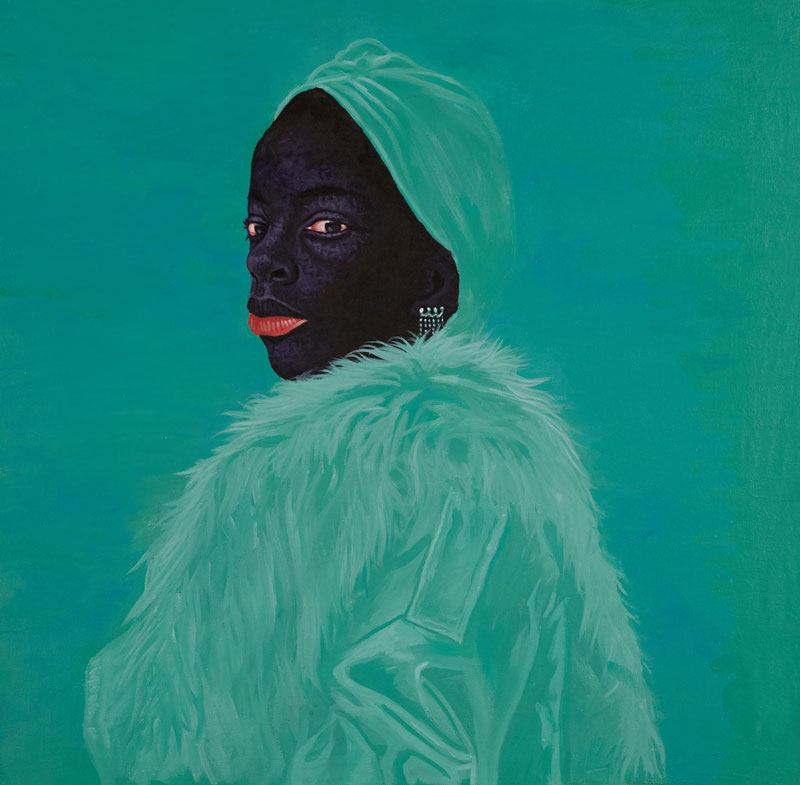 Whether emitting an air of cheekiness or a more self-assured sense of ease, the exaggeratedly red eyes of Botchway's figures almost always directly confront the viewer. Botchway possesses color consciousness in a dual sense—striving to "elevate Blackness," the artist uses a decidedly unconventional palette that resulted from research into how dyes and sumptuary laws influenced a color's value. "Purple historically was one of the most expensive colors. Even in London people were banned from wearing it because it was only worn by superiors like queens and people of authority," says Botchway who uses the pigment for his subjects' skin (he had previously tried turquoise, green, and red). "I wanted to give Black people the feel of royalty."
"I always want my figures to be vibrant, full of confidence and happiness because that's how I want to see Black people,"

Kwesi Botchway
For Botchway, fashion serves as a crucial extension of his figures' personality. Against monochromatic backgrounds in saturated pinks, reds, yellows, and greens, many subjects wear the finery one would expect of classic society portraits—think fur coats, tailored blazers, and diaphanous gowns. But under Botchway's hand, sunglasses, baseball caps, mascot T-shirts, and Converse sneakers readily feature, as do traditional African textiles and head wraps. The look is at once grounded yet aspirational; reflective of an intermingling of cultures new and old, and an ever-evolving definition of luxury.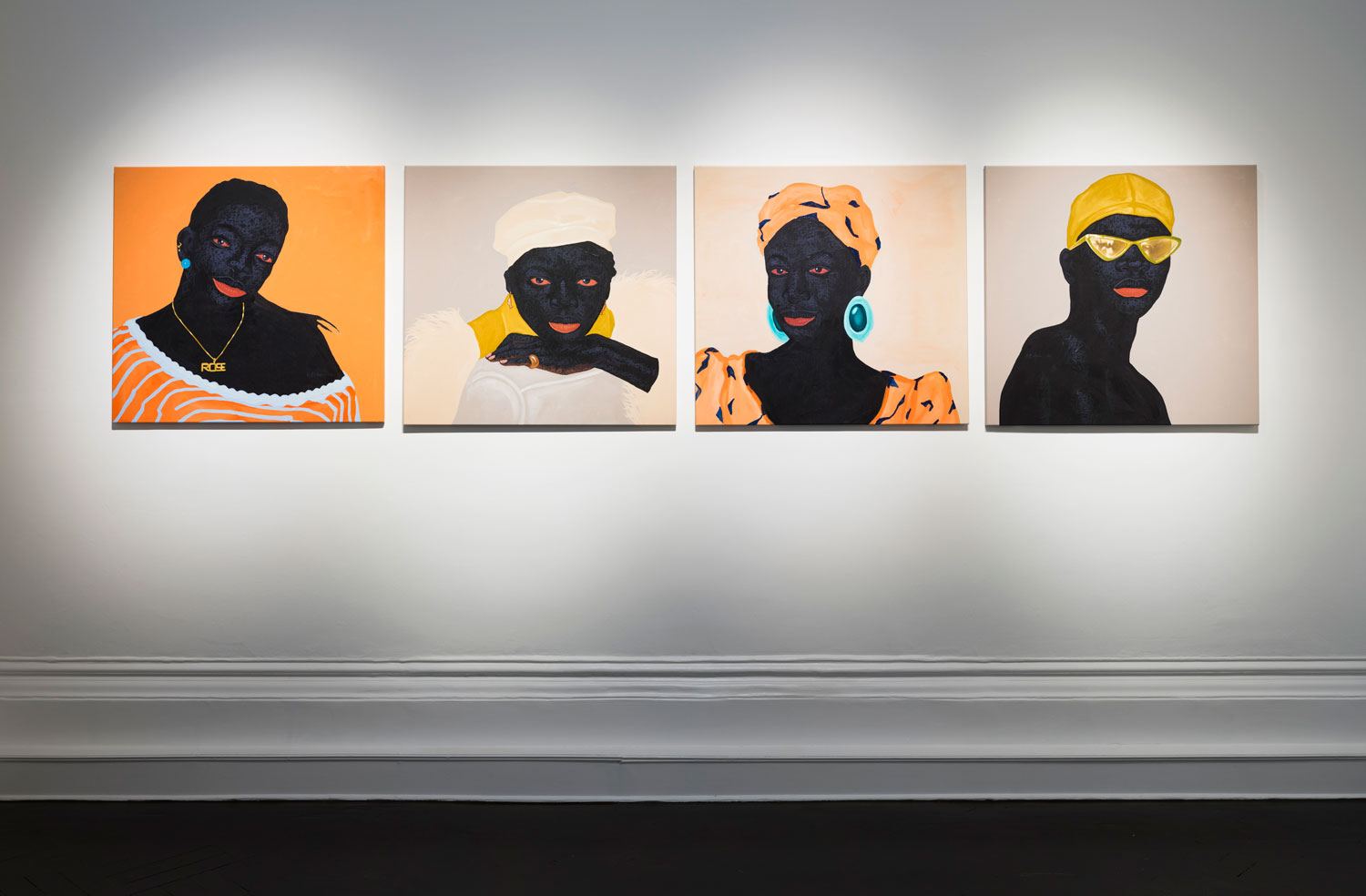 "I grew up in Nima, which is more like a slum. You see a lot of culture and different lifestyles, and I always want to juxtapose those experiences," says Botchway, who melds his actual subjects' garments with others sourced from Instagram or his own imagination. Turning to the canvas as not only an artist, but also a fashion illustrator and stylist, Botchway may complete an outfit with jewelry, or change the hue of a dress. "Fashion is like a language, and at the end of the day, when we dress ourselves, we want to feel good," he says. "I always want my figures to be vibrant, full of confidence and happiness because that's how I want to see Black people."
Botchway, however, is not afraid to tackle less glamorous matters at hand—in his London exhibition at Gallery 1957, he includes a new work in which subjects are protesting for Black Lives Matter. "I'm a Black artist, and I feel like we are one people—and I need to represent my people," he says. Likewise, his desire to elevate communities goes beyond skin color. "There are subjects that art-world people really love, and I always want to go the other way around," he says on painting the physically disabled and the elderly in his Age of No Return series, among others.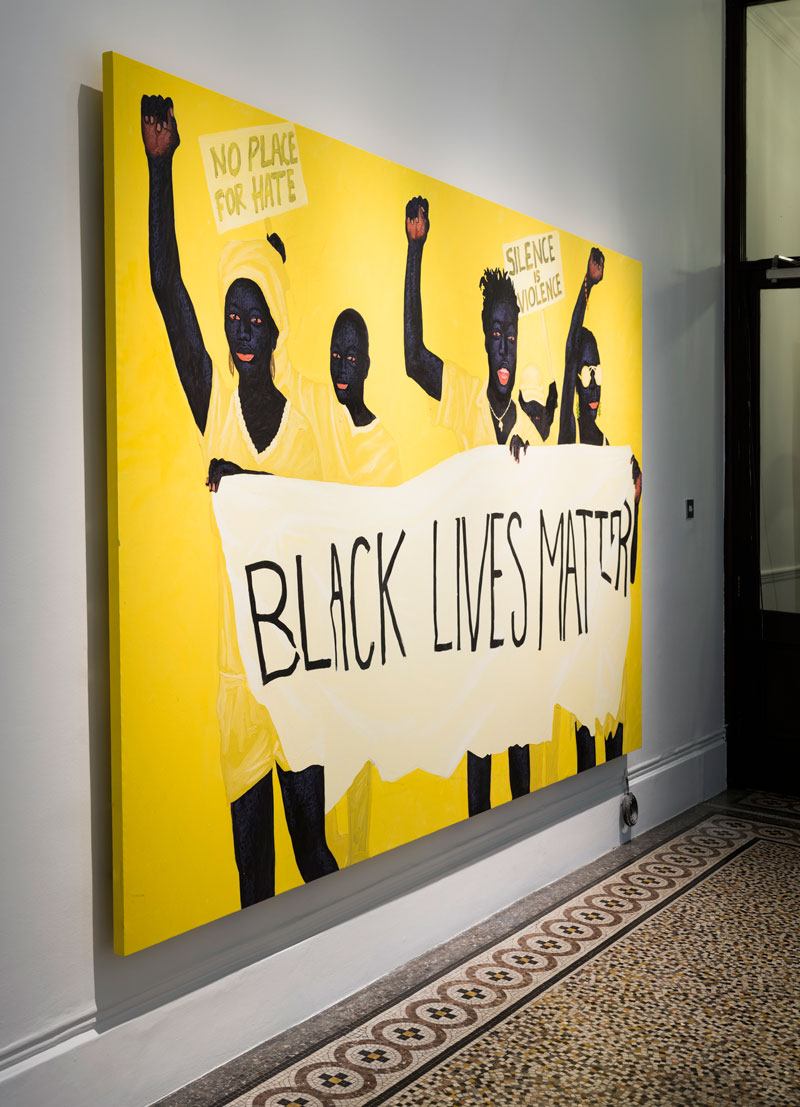 The artist uplifts through action as well. He runs Worldfaze, a studio in Accra where he educates and motivates young children to pursue art careers, a path which despite Ghana's myriad success stories, is still often frowned upon locally. "I'm really grateful for how the world is supporting and embracing Ghanaian artists," he says of his whirlwind year and not losing sight of giving back. "I want to show these kids that if art is what you're meant to do, you have to keep going."
Next Post