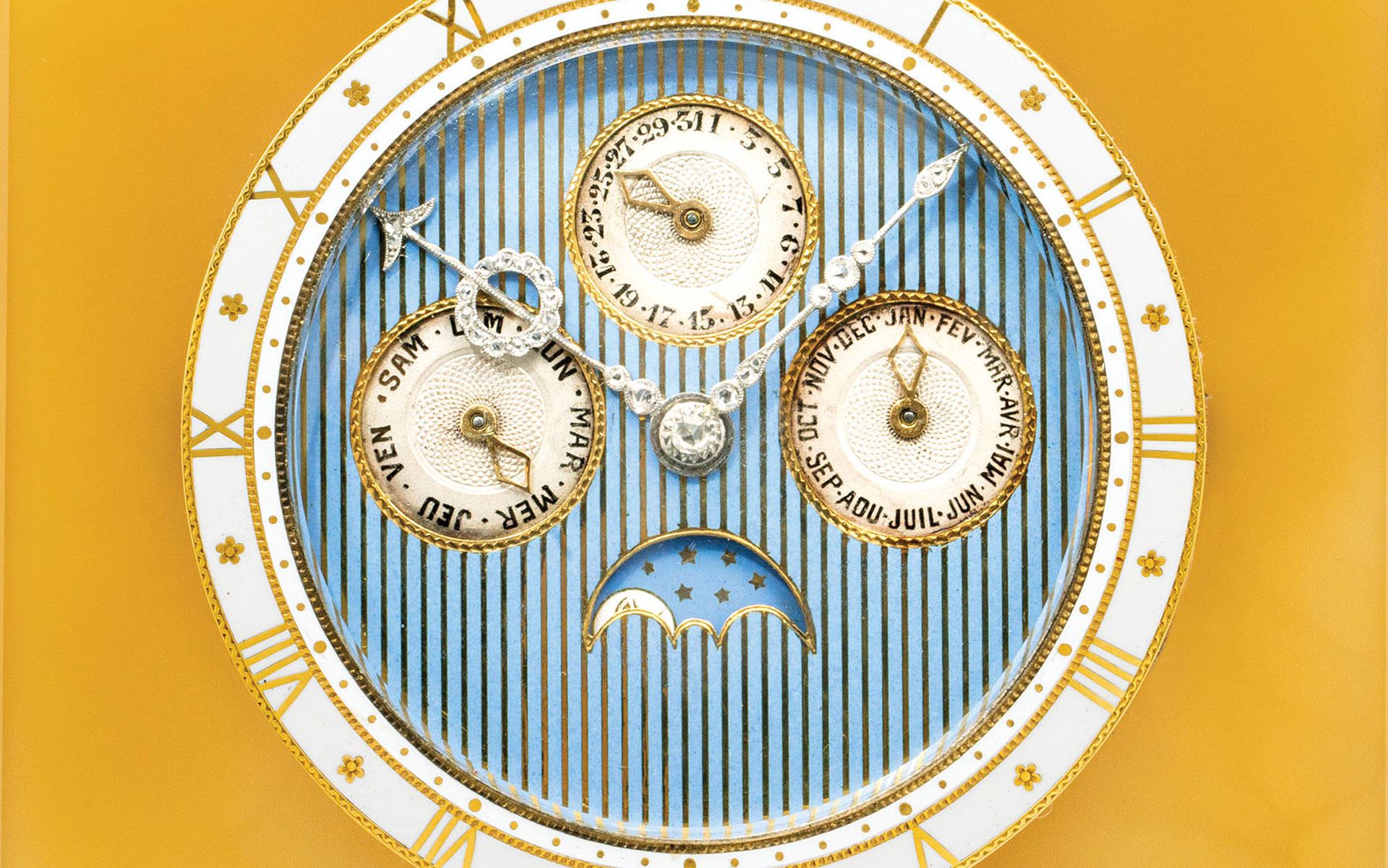 In Christie's Largest-Ever Sale of Cartier Clocks, Tabletop Jewels Meet Magic
Beyond its legendary mystery clock, the French house has many time-telling tricks up its sleeve
No maker quite epitomizes the seamless blending of form and function like Cartier. So masterful are its timepieces' fusion of artistry and mechanics that the final design's impression is one of pure magic. "Since the beginning of the brand, Cartier made pieces that were special. Especially in the 1910, '20s, and '30s, a jewel could take six months to make," Christie's Geneva-based jewelry specialist, Marie-Cécile Cisamolo, tells Galerie. Through working on the auction house's A Lifetime of Collecting—101 Cartier Clocks sale, running online from July 7 to 21, Cisamolo has gained an even deeper appreciation for the maker. "They were very innovative, and they still are today."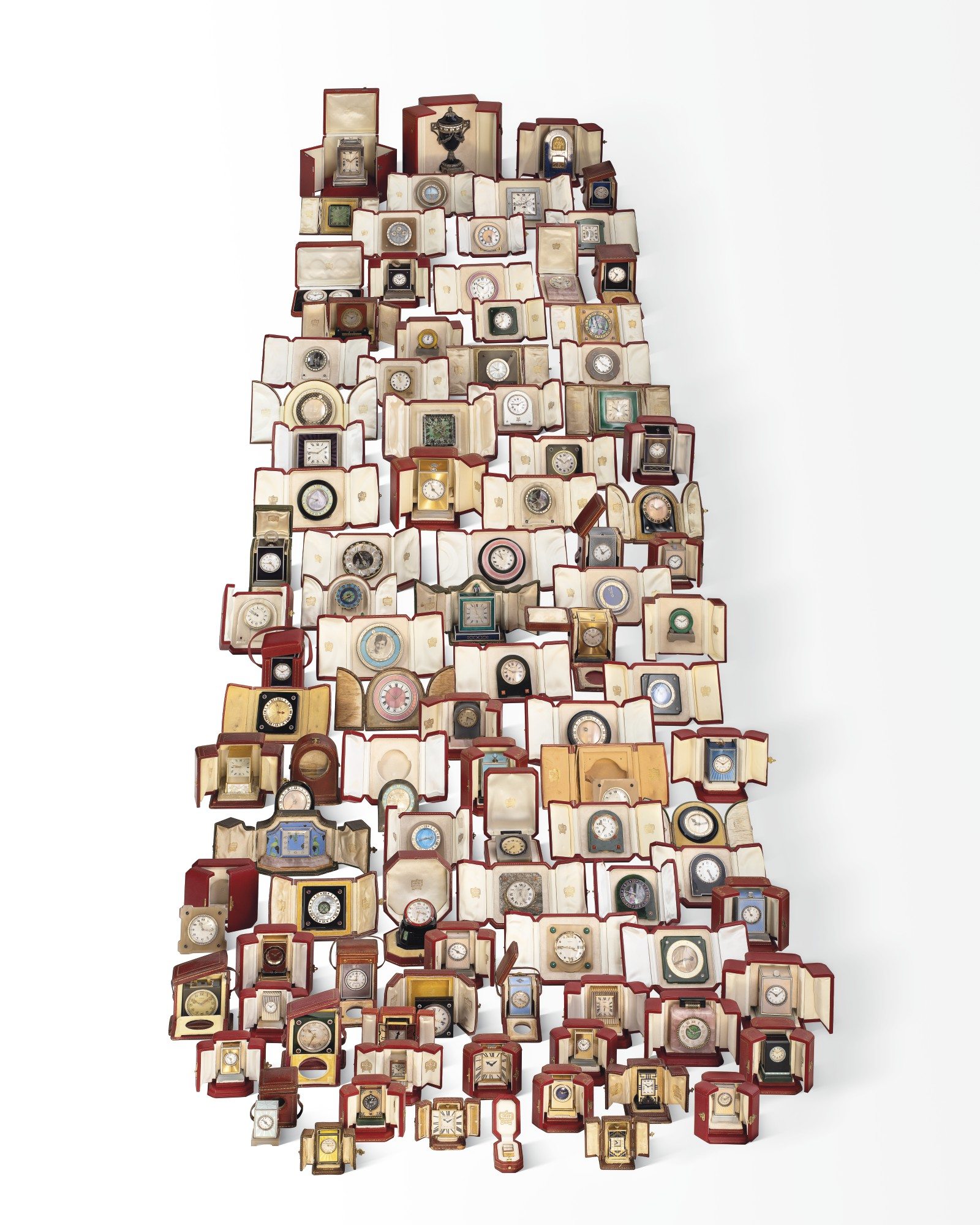 The single-owner sale is the largest collection of Cartier clocks to come to auction. The fact that each and every piece, spanning from the Belle Epoque to the 20th century, is working (and most come in their original cases) is not just a testament to their meticulous European owner, who amassed them over 30 years, but also to Cartier for its unparalleled craftsmanship. While the collector could not part with some of the pieces in his personal trove, those he did represent an encyclopedic display of the house's visual and technical mastery nonetheless.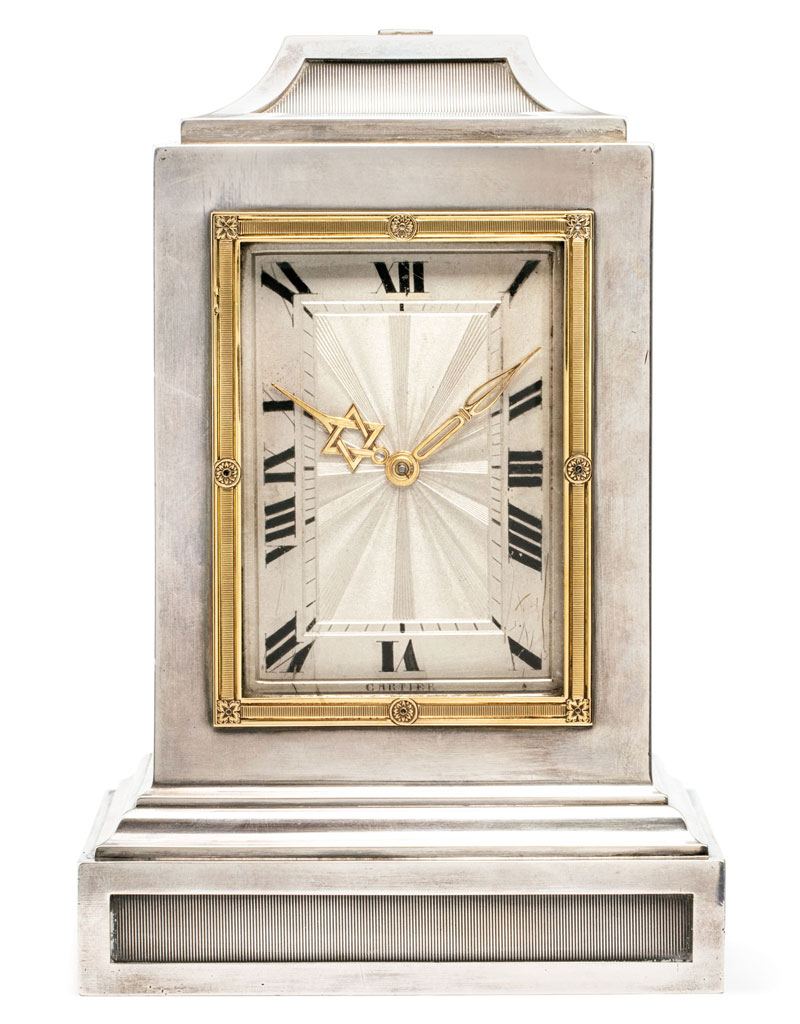 "We have 200-carat diamonds; in Hong Kong we just sold a blue diamond for $15 million, so we are used to dealing with things that we are lucky to touch quite often and that most people can never have in their hands their whole lives," says Cisamolo. While clocks generally offer a bit less immediate glitz than jewels, their magic lies behind a little door; their wand, a tiny key. Upon opening the backdoor of an Art Deco clock in the sale, reminiscent of the Chrysler Building, and discovering it was a sound-producing minute repeater, Cisamolo and her colleagues were amazed. "We're looking at the little hammer going down like kids, and I thought, That's why I come to work every day. Just to be astonished."
Mystery and Prism Clocks
Cisamolo also admits that learning more about Cartier clocks, and particularly experiencing them firsthand, has "humbled" her. While the sale does not contain a mystery clock—where the hands appear to float in a transparent dial—its many deceptively simple pieces illustrate how the company was far from a one-trick pony. Aspiring to the same notoriety and creative vision for the house's timepieces as its jewels, the three Cartier brothers, Louis, Pierre, and Jacques, secured top clockmaking talent, namely Edmond Jaeger and Maurice Coüet, in the early 1900s to work exclusively for them.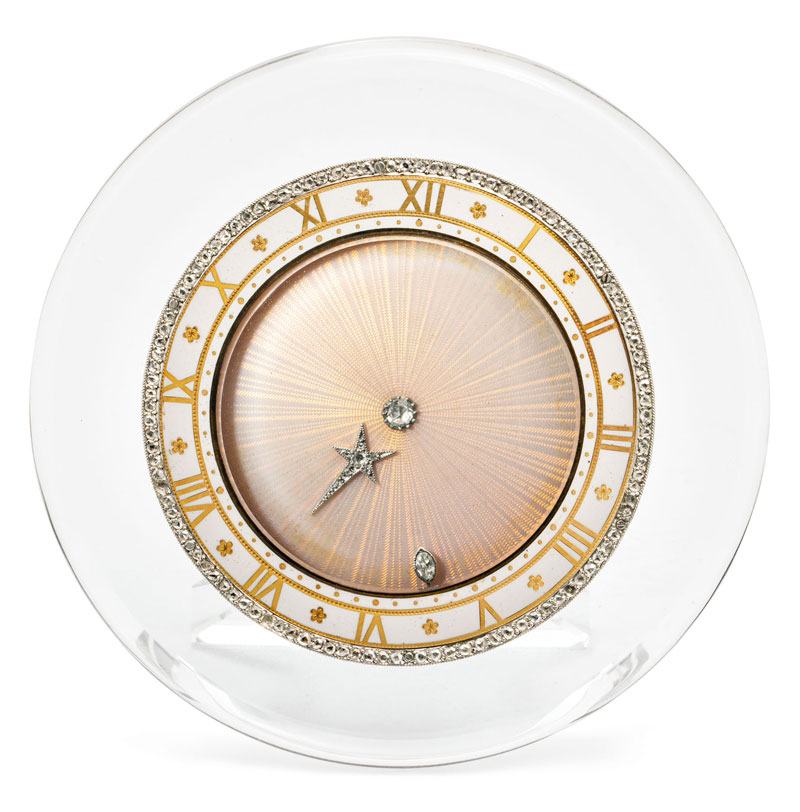 "Like his boss Louis Cartier, Coüet wasn't interested in doing the same as everyone else: He wanted to push the boundaries of clockmaking, to amaze, astound, and delight," Francesca Cartier Brickell, tells Galerie. A direct descendant of the Cartier family (her great-great-great grandfather founded the firm in 1847, and her grandfather Jean-Jacques Cartier was the last of the family to manage a branch of the business), Cartier Brickell recently published an extensively researched book titled The Cartiers: The Untold Story of the Family Behind the Jewelry Empire.
"That's why I come to work every day. Just to be astonished"

Marie-Cécile Cisamolo
Inspired by watchmaker and magician Jean-Eugène Robert-Houdin, Coüet created his own illusionist timepieces, including mystery and semi-mystery clocks, such as lot 11, an early-20th-century "Comet" clock, where a diamond comet and star float around a pink guilloche enamel dial. "In 1910 Halley's comet came terrifyingly close to the earth, and it was all anyone could talk about," explains Cartier Brickell. "So not only was Couët's invention magical in terms of how it told the time, but by associating it with the comet, the Cartiers were ingeniously imbuing this clock with awe and mystique."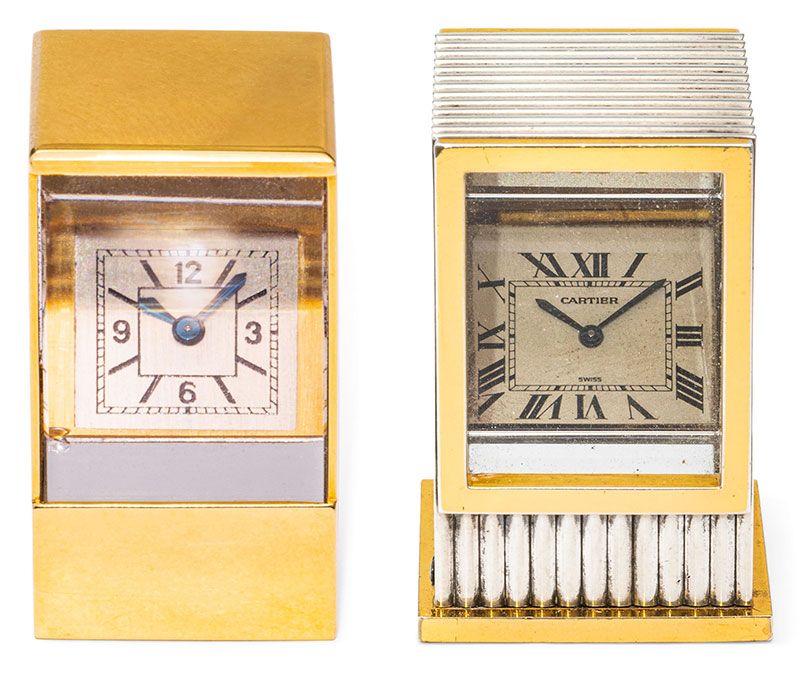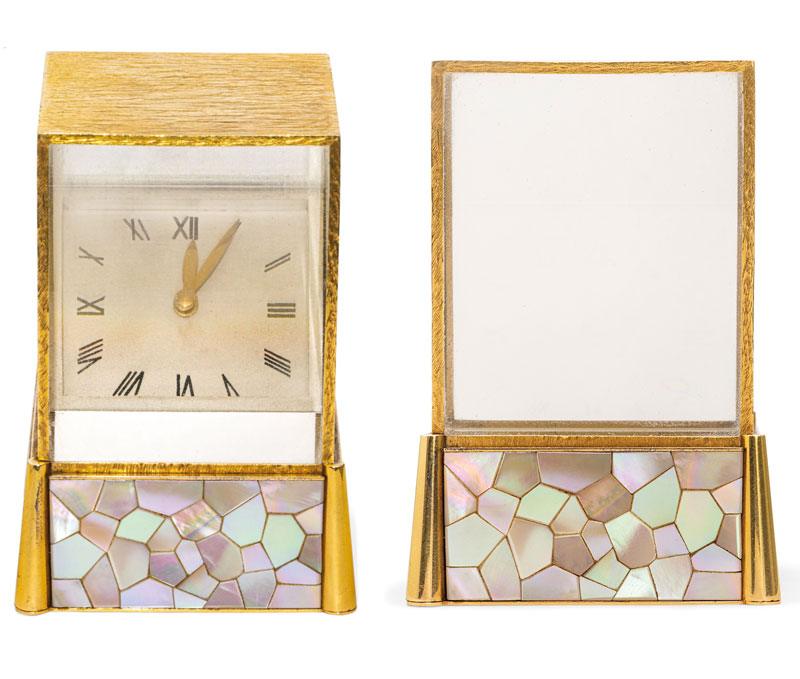 Another remarkable Cartier invention was the Prism clock, created by Gaston Cusin, who worked with Coüet, and patented in 1937. Inspired by the technology of an underwater periscope, a clock dial is reflected through prisms, which give it an appearance of disappearing all together depending on the angle through which it is viewed. There are three examples in Christie's sale: Lot 68 was made in the 1950s, lot 69 in the 1980s, and lot 71 in the 1960s.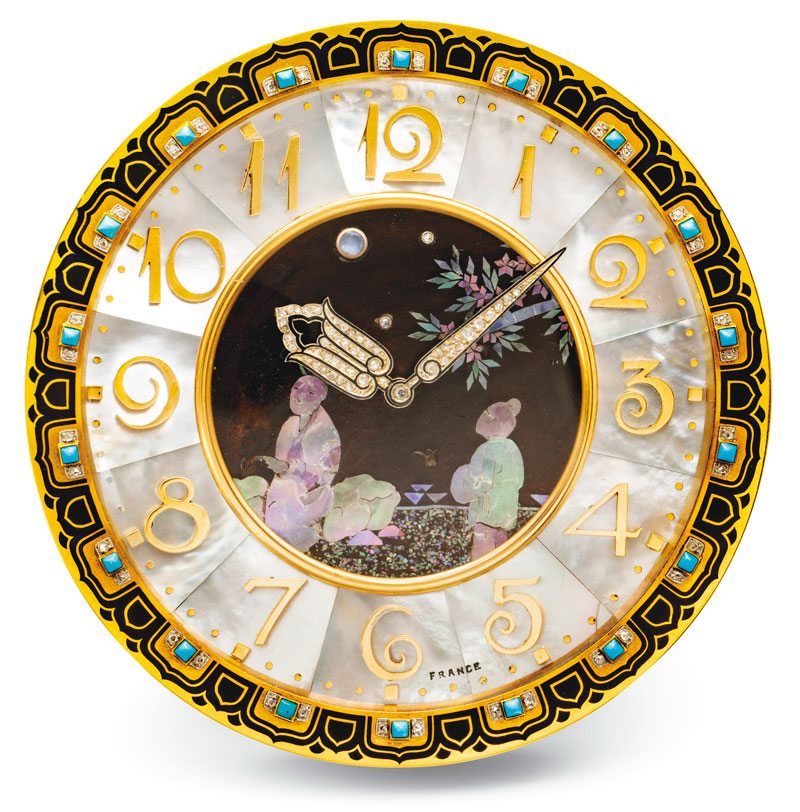 Other clocks that Cisamolo finds particularly special are lot 95, a 1920 Coüet-created chronoscope with many moving parts, inspired by those of the 17th century, which doubles as a photo frame; lot 31, a circa 1914 calendar moon phase clock with mille raies striped gold and blue enamel; and lot 45, the exquisite cover lot, a 1926 Art Deco clock with lacquer, mother-of-pearl, diamonds, and unusual gems. "There are so many details on it—Art Deco, Chinese, Persian, and Arabic influences—you'd think it comes from a bazaar, but it's made by Coüet, and you can feel it just works for reasons that are illusive," says the specialist.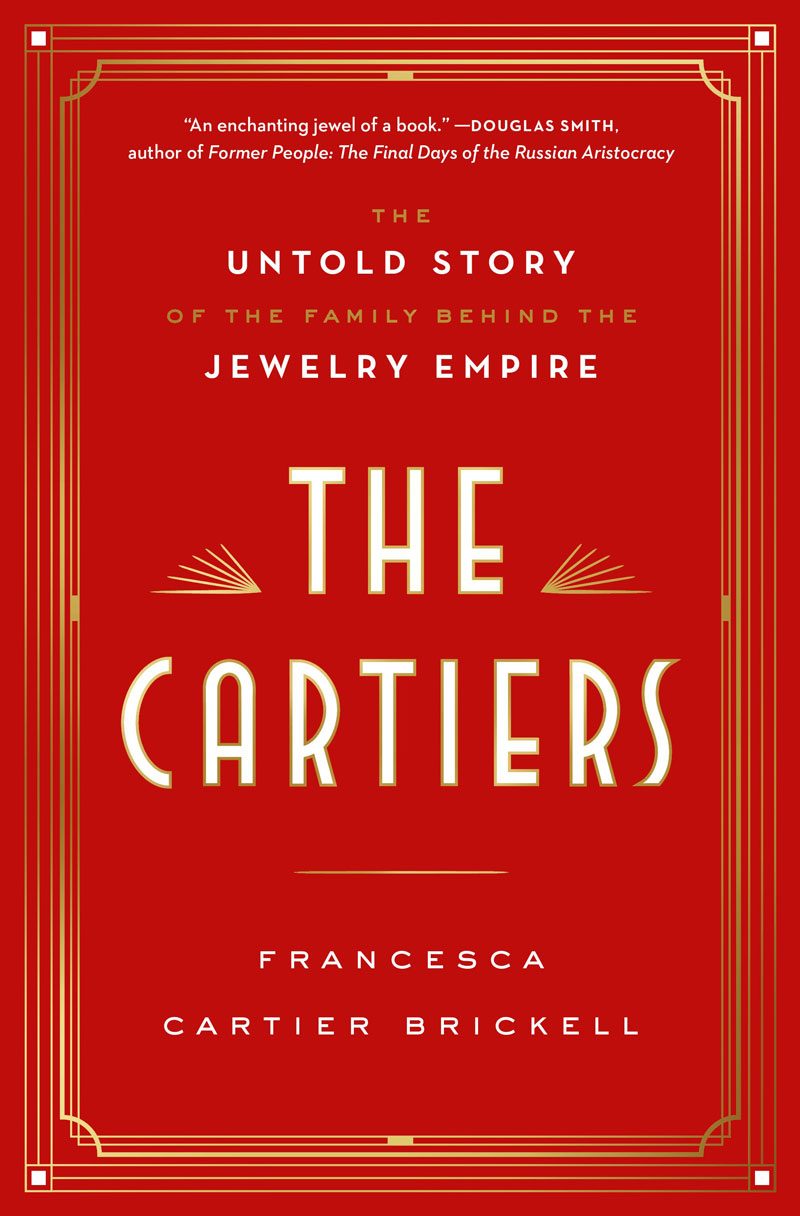 As with many Cartier creations, the stories behind the clocks are as exotic and intriguing as the materials with which they are made. "Researching them, I uncovered a whole host of colorful characters that almost reads like a fairy tale: three remarkable brothers, an illusionist, a star-gazing inventor, a six-foot-tall Russian model, a clock-obsessed maharaja (or two), a team of master craftsmen, a jealous duchess, even a president and a king thrown in for good measure," Cartier Brickell says. "Put simply, each clock is a living legacy: Some of them may chime, but if only they could talk!"
Next Post