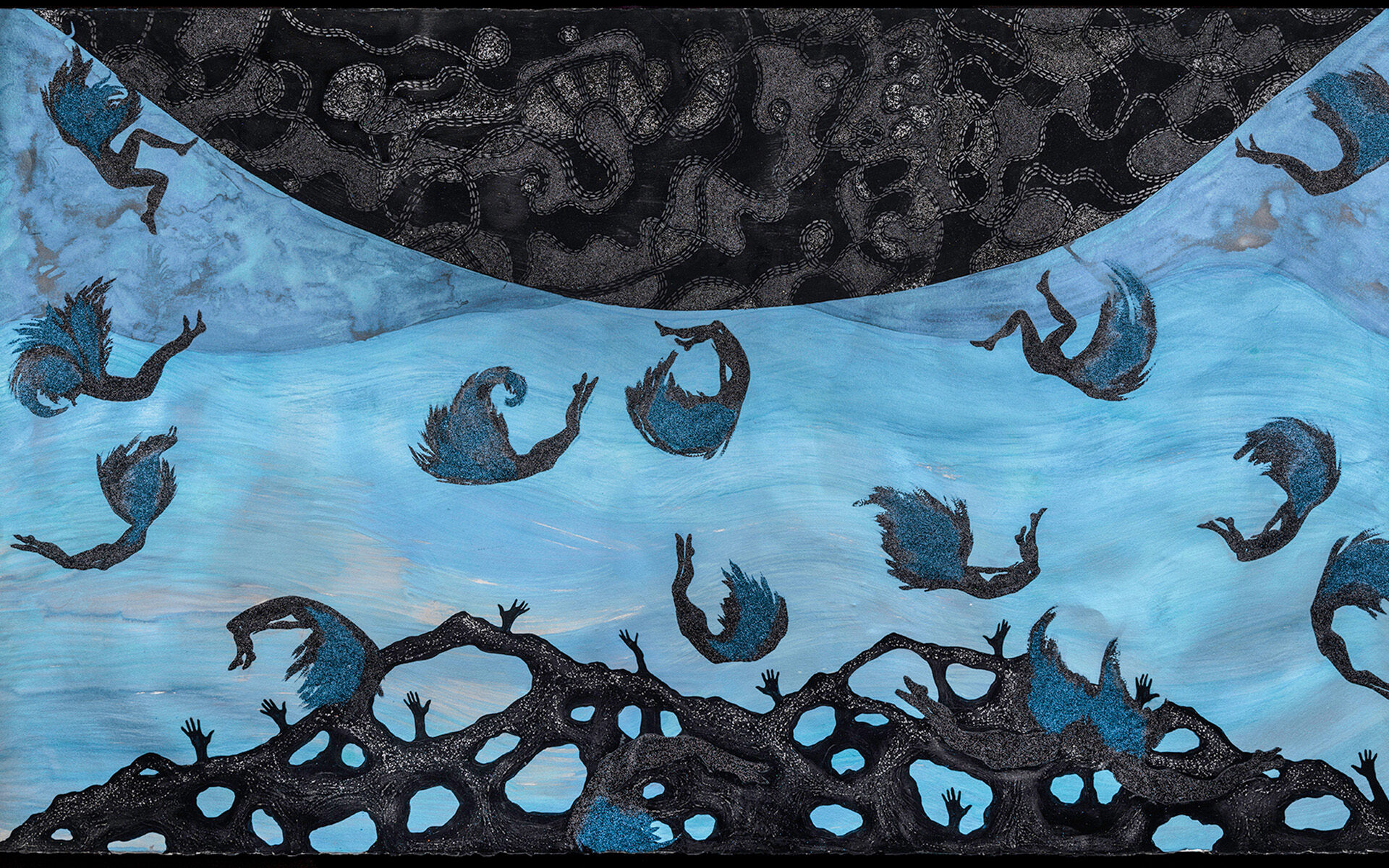 Go Inside Alisa Sikelianos-Carter's Magical Underwater Universe at Kavi Gupta Gallery
The artist's must-see exhibition 'Stars Are Born in Darkness' presents a mythological world where Black bodies are celebrated and revered
What if there was a world in which white supremacy and all forms of racism had been totally eradicated? One in which Blackness was celebrated and honored as a divine manifestation of the mystical? That is exactly what the New York-based multimedia media artist Alisa Sikelianos-Carter has created in her lush, large-scale paintings, on view through June 11 at Kavi Gupta gallery in Chicago.
The dazzling solo show of the artist's latest body of work, "Stars are Born in Darkness" features Black figures with flowing braids and dreadlocks that dance harmoniously in a dreamy underwater parallel universe, free of all pain, suffering, and trauma. "My work is based on a mythology that imagines Black bodies responding to racism and white supremacy as a proactive measure," the artist tells Galerie. "I am thinking about our bodies mutating and responding to things in order to survive."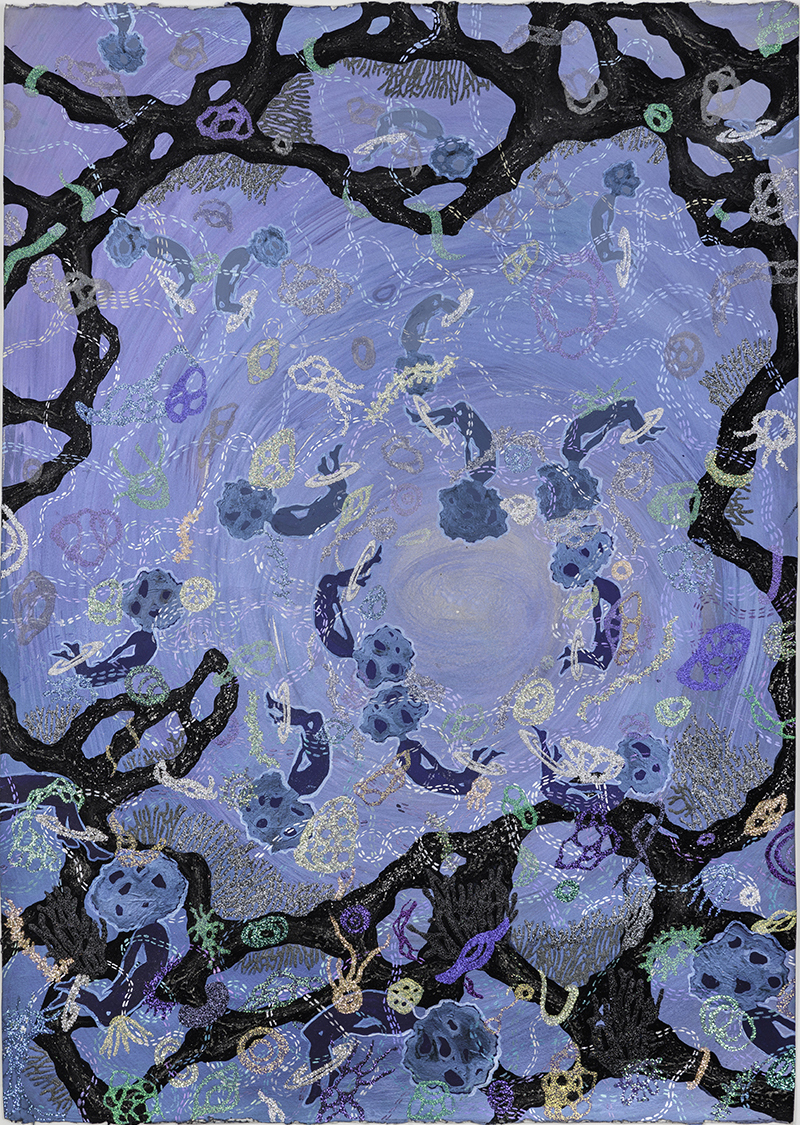 The exhibition explores the true story of kidnapped Africans, trafficked on ships to be enslaved in the Americas, who were tossed or jumped overboard during the passage. In the hands of Sikelianos-Carter, these people didn't perish but were instead transformed into magical beings that the artist dubs Afronaughts. A highlight of the show is a work titled There is a Wave in Every Cell (2022) that depicts the very moment that the transformation takes place—when the figures reach the water, they are freed from their shackles and adorned with beautiful abalone shell rings. The artist's use of materials, like acrylic with black mica, glitter, and shells, add to the works' magical, otherworldly quality. "I wanted to capture the moment their bodies went through this dramatic transformation, like a choreographed moment."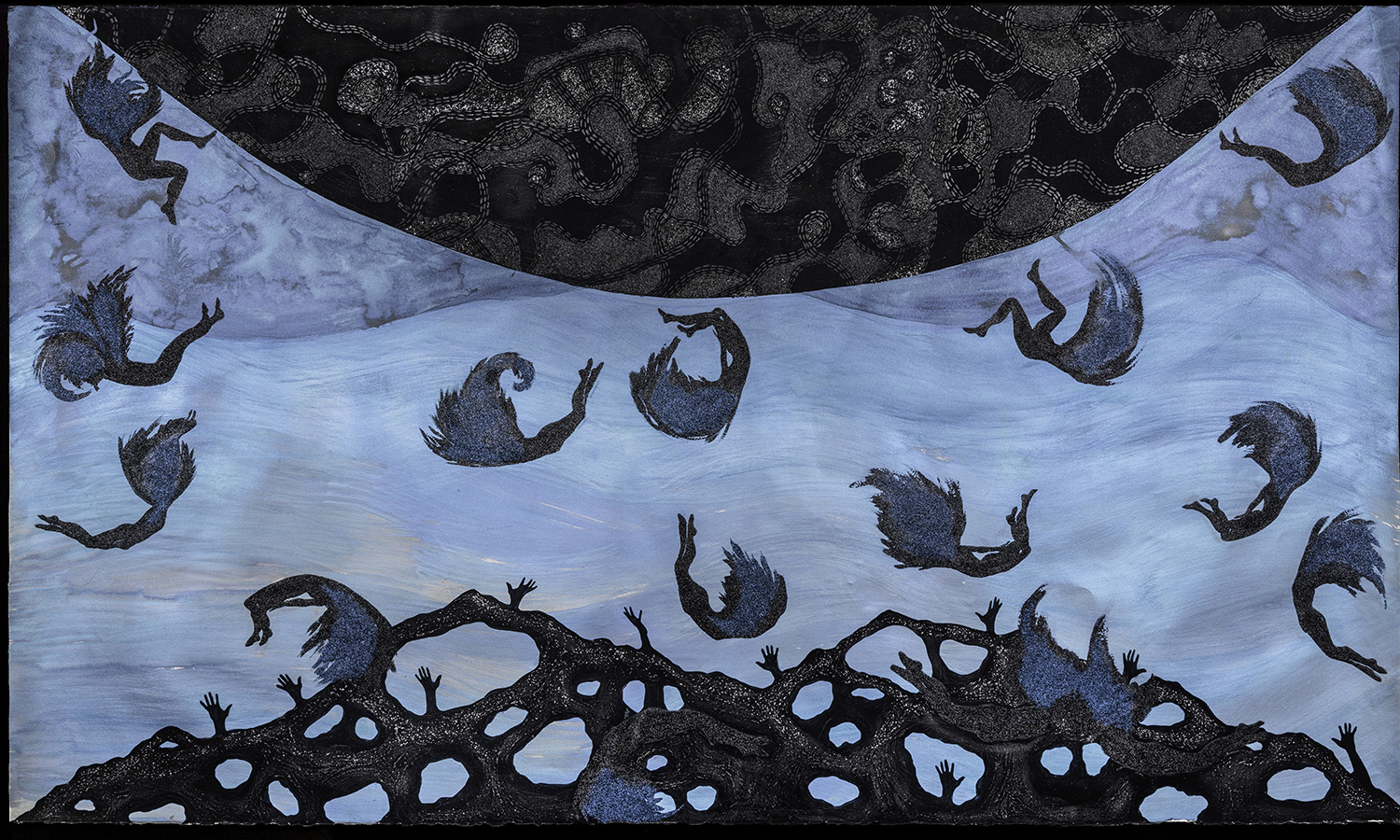 Across the artworks on display, visitors are invited to chart the journey towards this new world that the artist has created. There are several larger works on linen that depict oceanic figures who seem to be made up of coral and other elements from the ocean floor. "I imagine these deities as the size of a blue whale," the artist explains. "Like a siren song, they call the shackled beings into the water. They remind them that they will survive, and that they will survive because they are Black. Their hair, what I deem as this divine technology, has been gifted to them. The deities are saying come into the water, you will be safe. There is a beautiful abundant magical world here. They are safe, they are free, and they are protected."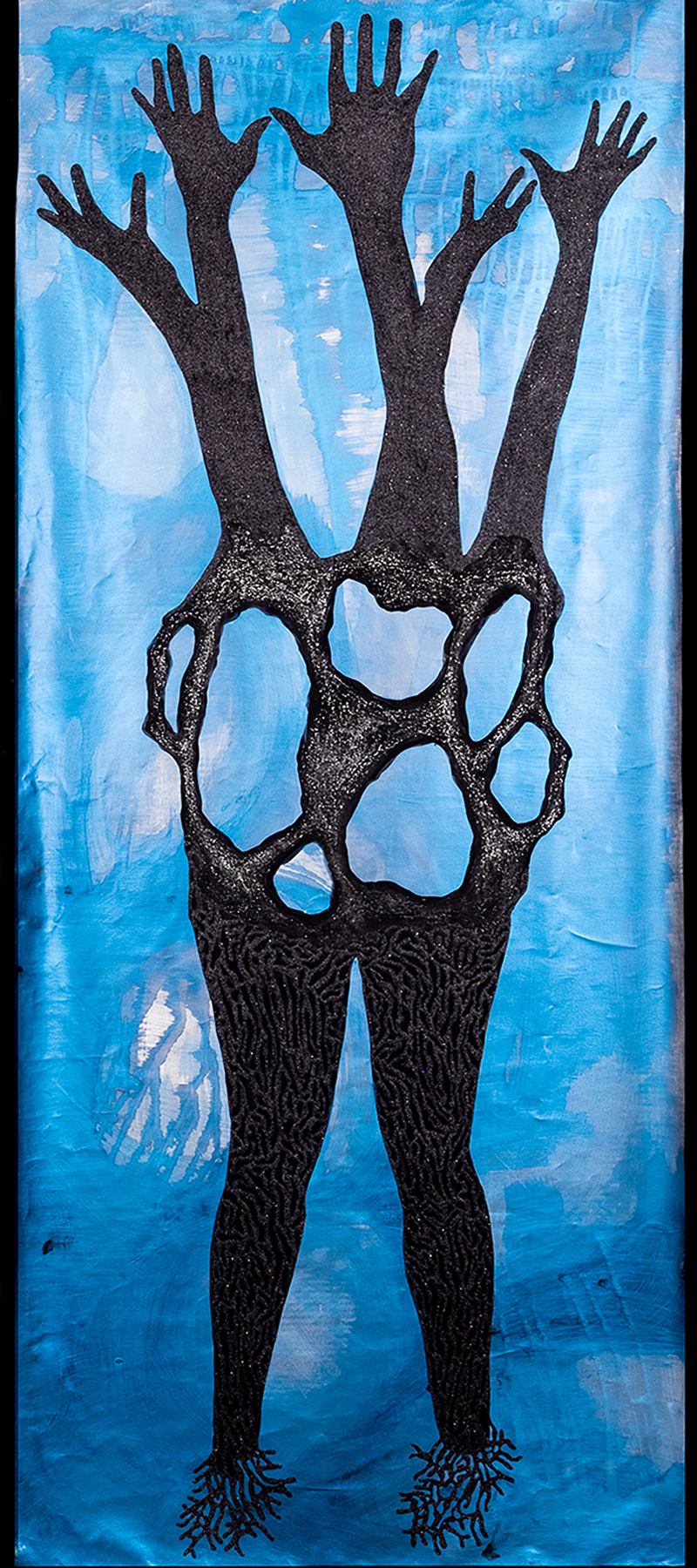 Observing the more than ten pieces in the exhibition may remind viewers of the universal myths and narratives of origin and transformation in history, but these stories are actually drawn purely from Sikelianos-Carter's imagination. "I prefer not to research too much and I deeply trust my intuition. I feel that the things I am calling upon have been passed down through my ancestors. The images I see are in my head. I am a Black American. And while this isn't the case for everyone, my recorded history only goes back as far as my grandmother. I don't have a lot of stories, so I am creating stories myself."

The concept for this theme came during her days as an undergraduate student, completing her BA and MA in Painting and Drawing from SUNY Albany. During that same period, Michael Brown Jr., an 18-year-old Black man, was fatally shot by a 28-year-old white police officer in Missouri. "I went to a diverse school but it was still predominantly white. The energy felt heavy. People were talking about his murder and sort of justifying essentially why this child was killed. There were many microaggressions at play," she says. "I imagined my ancestors like giant gods coming in and bulldozing where I was. Wiping it out like a Godzilla destroying the scene. It was rage—total rage. I thought, I want to feel safe and protected."
From there, the artist began to explore the idea and symbolism of hair and particularly about how Black hair is perceived. "I was interested to think about how it is seen as confounding but also downright unattractive and unprofessional. I thought, what would happen if I turned it into a superpower?"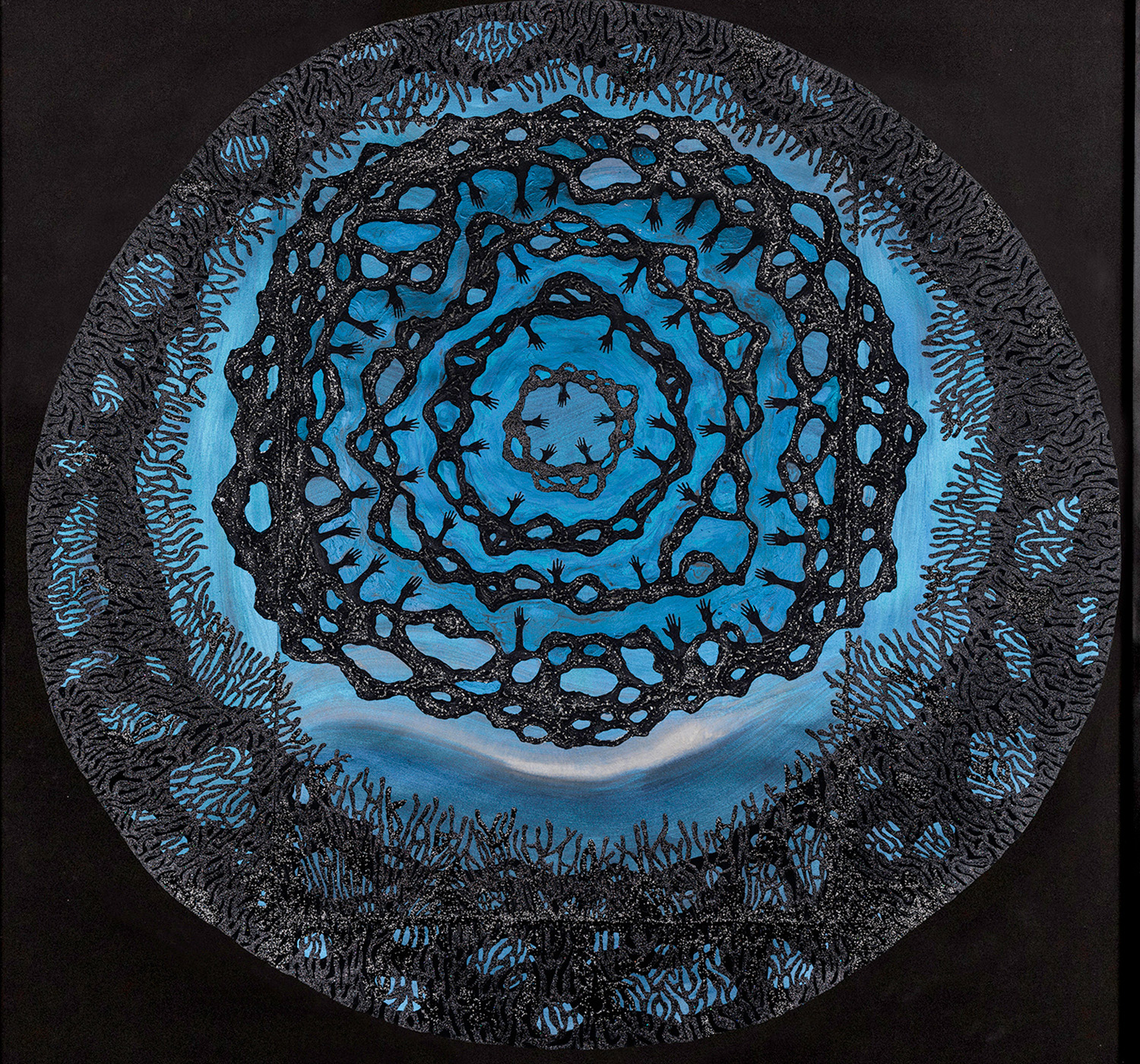 Sikelianos-Carter's star is on the rise and she was recently a fellow at the renowned NXTHVN, a residency in New Haven, Connecticut, founded by Titus Kaphar. Last year, she was awarded the inaugural fellowship at Foreland, a six-month studio residency in the Catskills conferred biennially on an outstanding artist of color, and was also a 2022 Artist in Residence at the Headlands Center for the Arts in Sausalito, California.
"Visually, Blackness is beautiful, and my images are inherently Black"

Alisa Sikelianos-Carter
For Sikelianos-Carter, her painting practice is a way to reimagine horrific historical trauma and offer a new future, and most importantly, a power to heal. "Making my work is so soothing. It's like a balm or a salve to my spirit. Visually, Blackness is beautiful, and my images are inherently Black," she says. "Making art is a way for me to escape, as well as a way for me to heal….And I want that for other people to heal too."
"Stars Are Born In Darkness" is on view at Kavi Gupta in Chicago through June 11.
Next Post